Recent Posts From
All Categories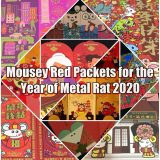 2020 is the Year of the Rat, it's the Year of the Metal Rat to be more...
Popular Posts
This Month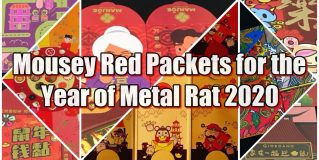 2020 is the Year of the Rat, it's the Year of the Metal Rat to be more precise! This year, we see many different designs of red packets from various brands, shopping malls and restaurants. The red packets design includes family reunion, cute kids, flowers, fishes, rats and the iconic Mickey & Minnie Mouse. Here are some of the exclusive and beautiful red packets given out by companies for the Year of the Rat 2020 :- APOSTROPHE MARKETING COMMUNICATIONS I've always look forward to receiving the exclusive red packets from Apostrophe because their red packet designs are always one of the very best. This year, their red packets feature 2020's zodiac animal – a cute rat and printed with auspicious new year greetings. Bump up the cute factor by folding the flap to reveal the rat's favorite CHEESE! It's definitely a must-have set for ang pow collector to have in their ang pow collection. BREW HOUSE Usher into the Year of Rat with a set of absolutely cute Family themed red packets from Brew House featuring Papa Mouse, Mommy Mouse, Brother Mouse and Sister Mouse. Grab these limited edition red packets for free when you purchase RM99+ (Frozen Brew...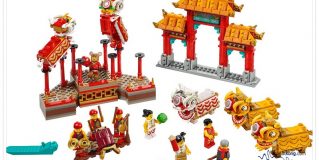 LEGO Malaysia, who recently unveiled two 2020 Chinese Lunar New Year themed sets – Lion Dance (80104) and Chinese New Year Temple Fair (80105) is ushering the Lunar New Year with their LEGO Lunar New Year Event. The event will be at Mid Valley Megamall in Kuala Lumpur and The Mall, Mid Valley Southkey in Johor Bahru from 5th January to 2nd February 2020. This LEGO Lunar New Year Event, which is the first ever large scale LEGO Chinese New Year event in Malaysia will take up all of Mid Valley Megamall centre court and the centre court at The Mall, Mid Valley Southkey. The event promises a slew of LEGO building activities which include :- Rat Building Competition : Team up with your family or friends to build a LEGO Rat as fast as you can. One grand prize winner will walk away with LEGO sets worth RM1000. Drum Up The Lion : Children will have to build the LEGO Traditional Drum and use it to wake up the sleeping lion on the screen. Participants will get to redeem a 'wishing card' to make a wish for their desired LEGO set. Creative LEGO Shadow Play : Children can...
Recent Reviews From
All Categories
Food & Beverage
Parenting
Technology
Travel