Last year, I planned a few trips overseas with AirAsia X but unfortunately the Covid-19 pandemic ruined all my travel plans. All my trips were cancelled and I was offered a Credit Account instead of a refund. However, just a few days ago, I received an email from AirAsia X about the proof of debt (POD) exercise for refunds. In short, it means that now AirAsia X allows their passengers to claim refunds.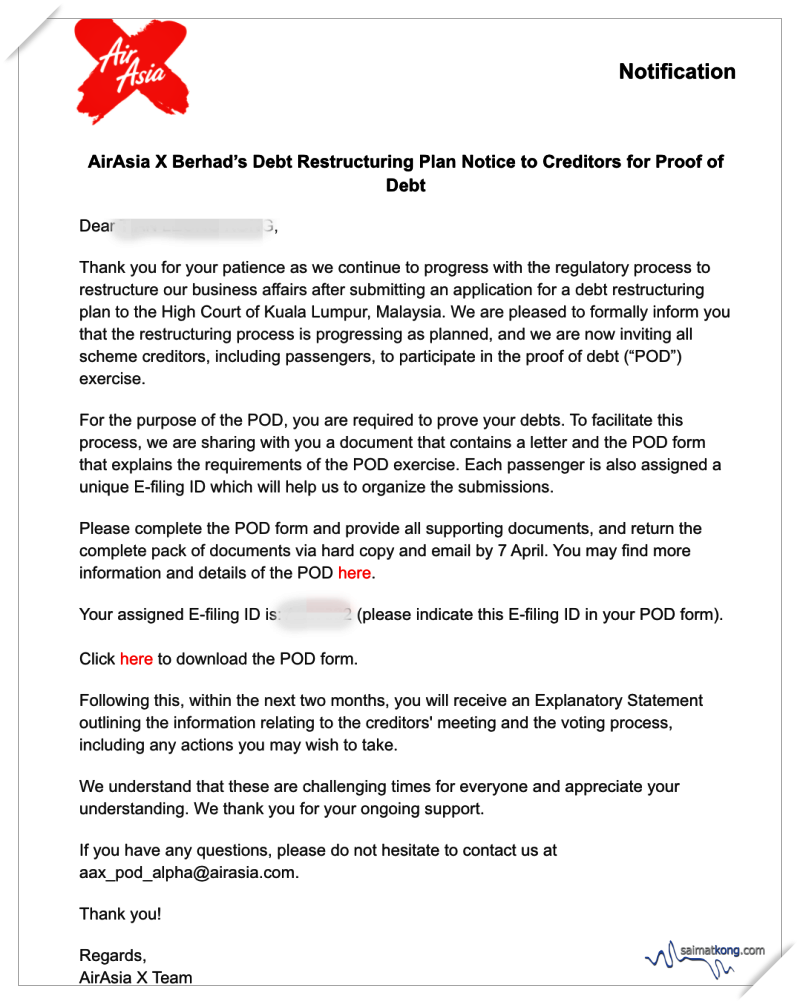 The company emailed a letter and the POD form to customers. They were also assigned a unique E-filing ID and required to submit the form by 7 April.
Steps to fill up the POD Form:
Download POD Form (print it out), note down the unique E-filing ID given in the email.
Visit https://taxinvoice.airasia.com/ to get your invoice details.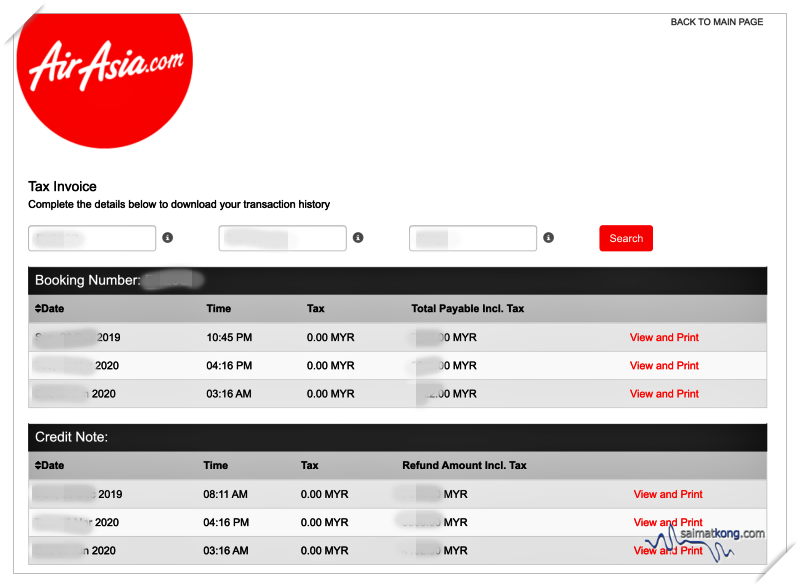 Fill up the POD form that you have downloaded from the link from your email.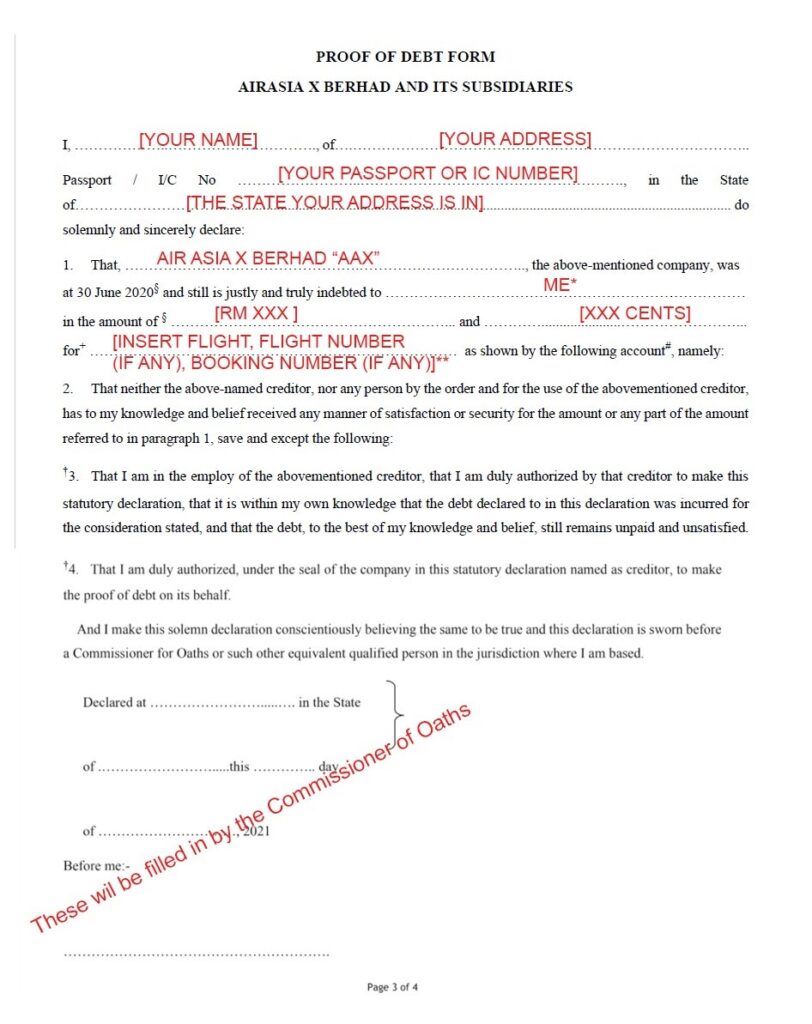 To avoid any confusion, fill in the information using block letters, eg. KHAIRUL AZMAN instead of Khairul Azman.
There are also paragraphs, namely paragraph 3 and 4 which you need to cut out depending on who you're claiming for. To cut out, simply take a pen and a ruler, then strike out the whole paragraph. So it should look like this.
Claiming for yourself: Cut out paragraph 3 and 4
Claiming for someone else: Cut out paragraph 4
Claiming on behalf of a company: Cut out paragraph 3
* If claiming for yourself, put in "me." If claiming on behalf of someone else, such as your child, put in their name and IC number. Eg. MATLAN BIN KHAIRUL (IC NO. 876543-21-1234). If it's for a company, put in the company name.
** This is the reason AirAsia X owes you money. Put in "Cancellation of [FLIGHT], [FLIGHT NUMBER], [BOOKING NUMBER].
Leave the bottom of page 3 blank, as you will fill that in when you get it signed by the Commissioner of Oaths (Pesuruhjaya Sumpah).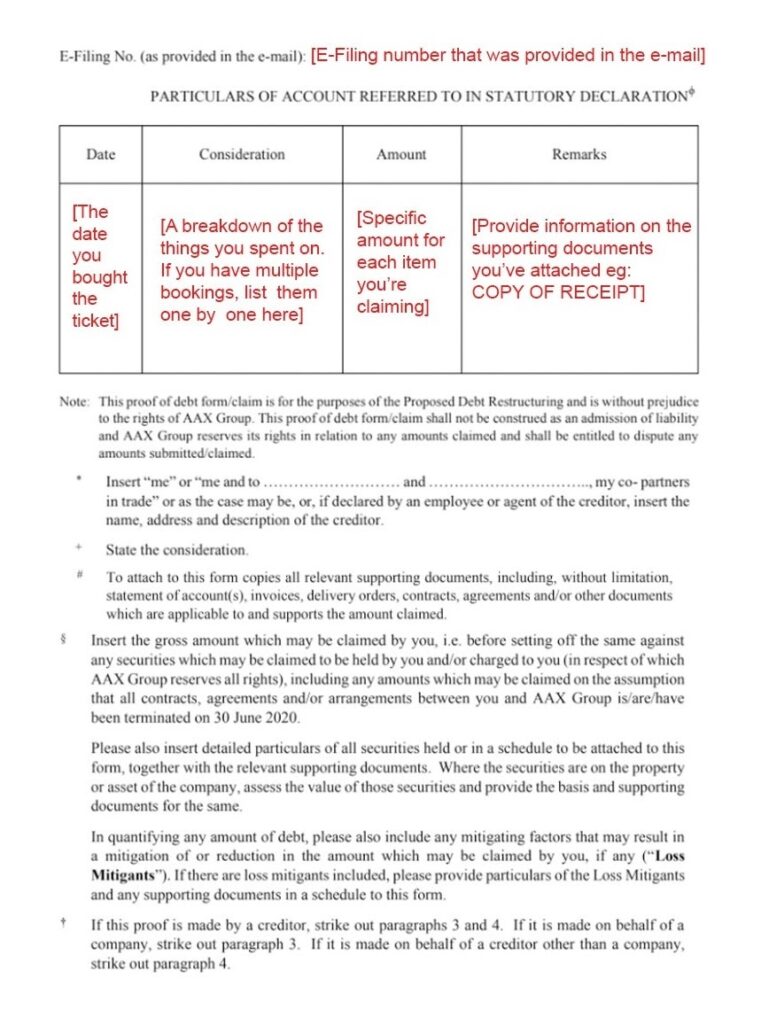 At the top of page 4, insert the e-filing number that was included in your e-mail. As for the box, fill in the detailed breakdown of what you're claiming.
Date: Insert the date you bought the ticket
Consideration: Fill in the flight, flight number and booking number
Amount: RMXXX.XX
Remarks: Put in any information on the supporting documents you've attached
If there isn't enough space in the box to fill in the breakdown, send an attachment with the additional information.
The rest of the notes pretty much reiterate the terms and conditions—include any proof to strengthen your claim, include any other information that may be relevant to you, and so on.
[Source : ASKLEGAL]
After you fill in the form, take it to the nearest Commissioner of Oaths for them to sign and stamp it. You can also take it to someone with similar qualifications as a Commissioner of Oaths. [Nearest Commissioner of Oaths]
Your duly attested POD Form together with copies of supporting documents to substantiate your claim is to be sent to and received by AirAsia X on or before 7th April 2020. The said duly attested
POD Form together with copies of supporting documents must be submitted by hard copy by mail to AirAsia X Berhad (POD), RedQ, Jalan Pekeliling 5, Lapangan Terbang Antarabangsa Kuala Lumpur (klia2), 64000 KLIA, Selangor Darul Ehsan, Malaysia.
You may, in addition to sending the hard copy by mail, complete the e-form using the following link: https://forms.gle/TC4vBHYxeifUB4zR9.
Disclaimer: This is a general guide on how to fill in the Proof of Debt form. We will not be responsible for any unsuccessful refund claims.
Updates [29/03/2021]: Proof of Debt (POD) Form Latest Update from AirAsia X
Follow my Youtube, Instagram, Twitter & Facebook for more updates.
Collect Lazada voucher for the Birthday promo. Click https://bit.ly/3cPx8pz Search: 9BDAY & LAZ9BDAY. Collect and use it @ 27.3.2021, collected your voucher dy or not?
Comments
comments