Aiden has always been a huge fan of Thomas & Friends and already own quite a few Thomas & Friends engines (both motorised & die-cast metal trains) so it's no surprise to see trains everywhere in the house. So, few months back, The Husband started a new train collection for Aiden when he purchased the first Thomas & Friends minis blind bag for him. At first, I was quite skeptical of the pint sized train afraid that it'll go missing easily :/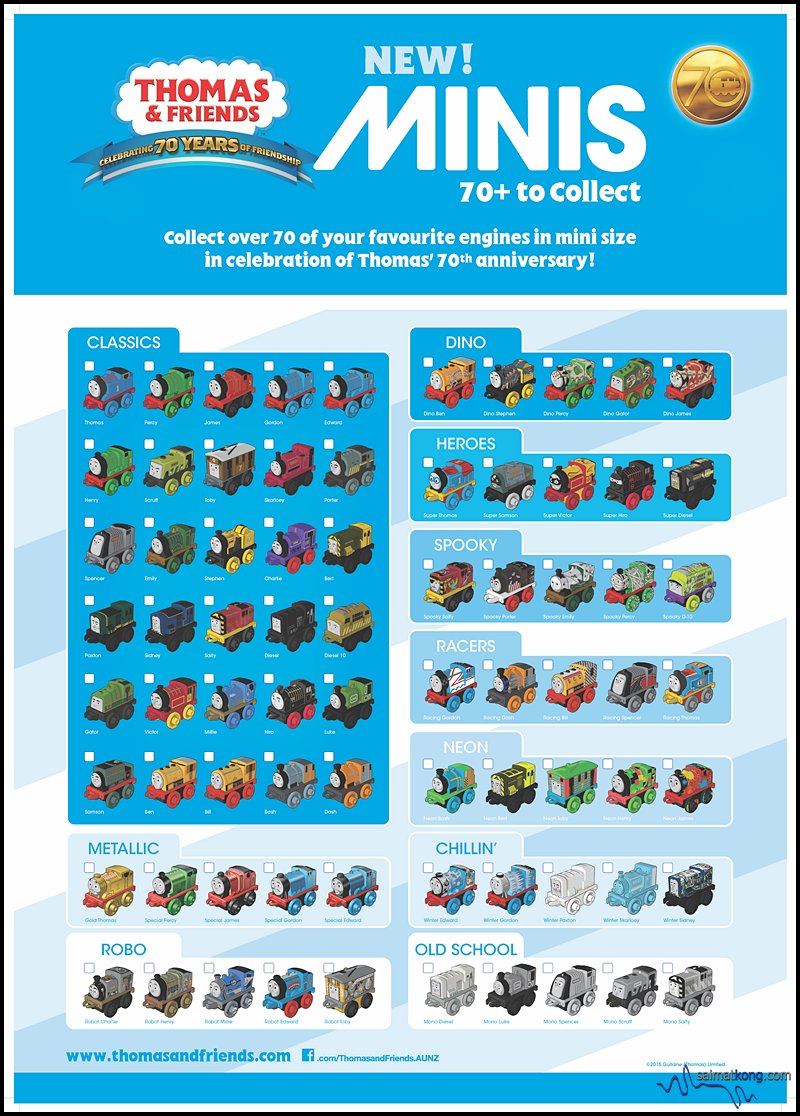 In case if you don't know, Fisher-Price came out with a line of collectible Thomas & Friends mini trains. There are over 70 mini engines to collect and it comes in different themes and styles.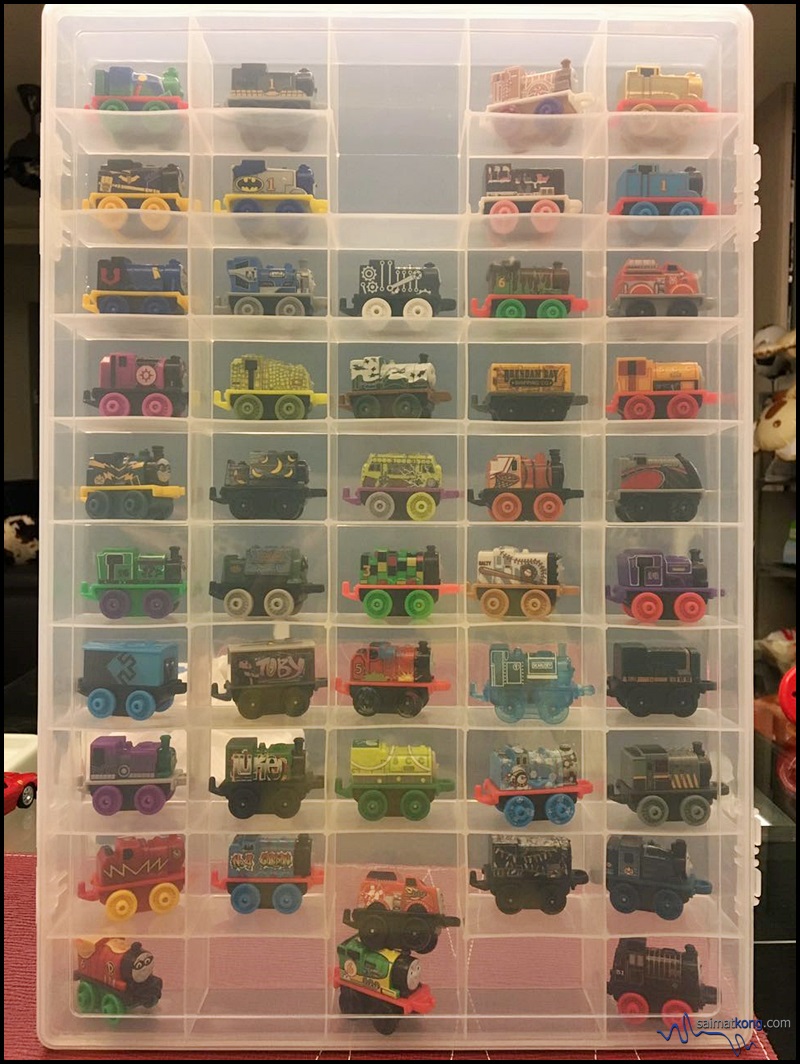 Each of the single blind pack contains one mystery Thomas & Friends minis engine. Part of the fun is, you won't know which Mini you're getting till you open the bag or you can actually play cheat by looking at the codes on the bag 😉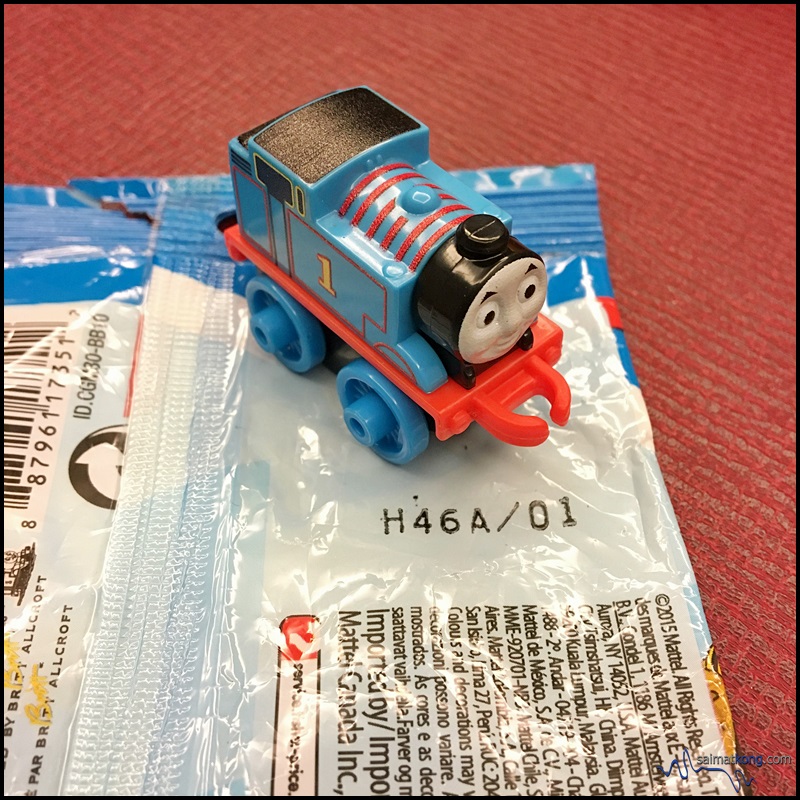 As I said earlier, you can actually know what's inside the bag by looking at the codes printed at the back of the bag. You may refer to Thomas Mini Wikia page that lists all the codes and characters.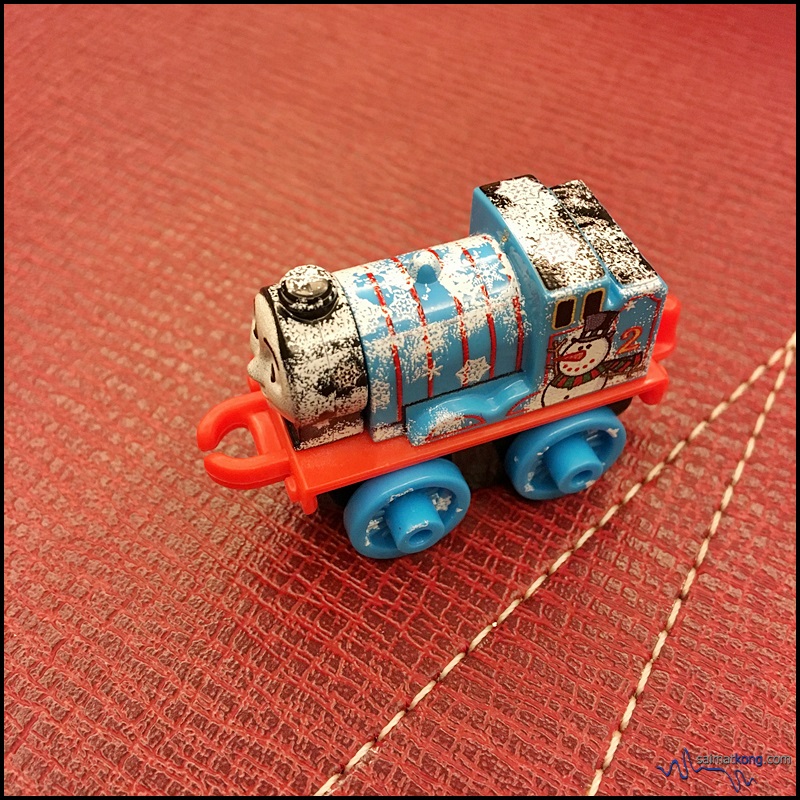 This is Aiden's very first Thomas & Friends minis engine. It's no.66 Chillin' Edward from 2015 Wave 4. Edward is covered in snowflakes and snowman illustrations with a number 2 printed on its blue engine.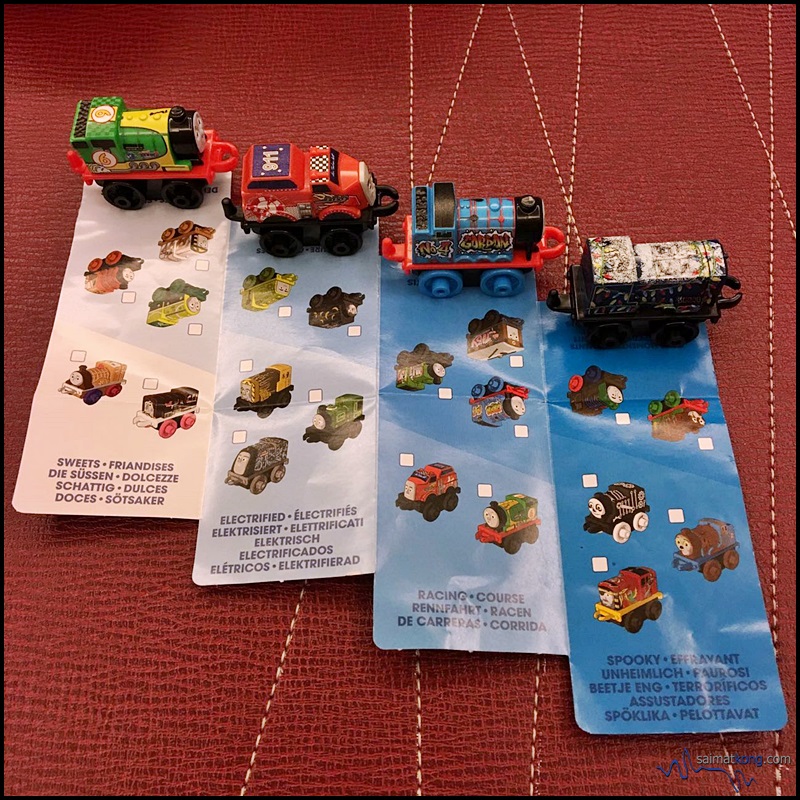 There is a Thomas & Friends minis list inside each blind pack. The minis has a variety of themes including the Classic, Metallics, Chillin', Heroes, Robo, Spooky, Racers, Dinos, Old School, Neon and DC Super Friends.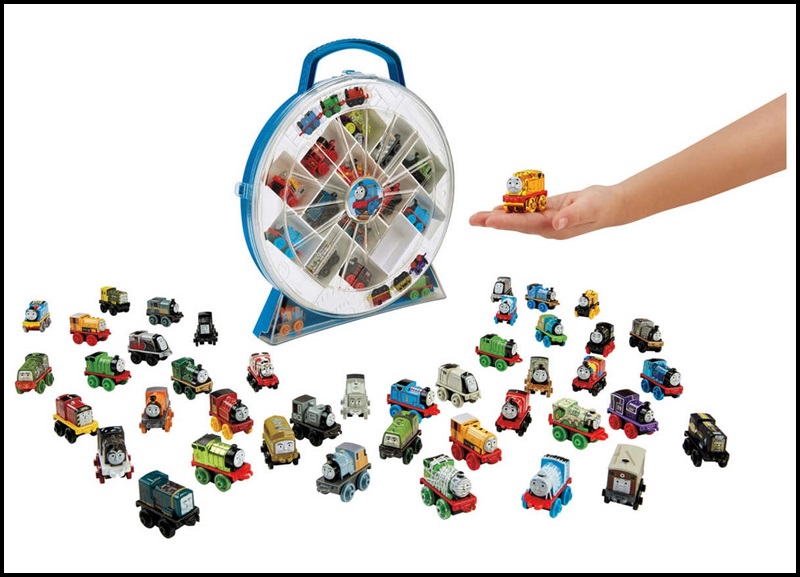 This Thomas & Friends Minis Collector's Playwheel is one of the accessories that you can get to keep your Minis collection. It can hold 16 mini engines and makes the perfect home for your Minis. It's designed to look like one of Thomas' wheels and it also comes with a Mini Golden Thomas.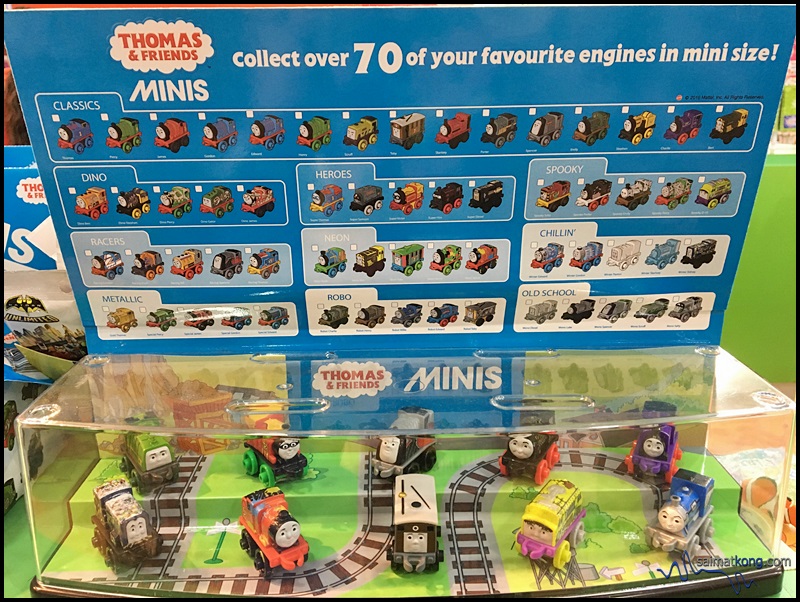 Priced at Rm8.90/pack, the Thomas & Friends Collectible Mini Toy Train in Single Blind Pack can be purchased from Hamleys, Toys"R"Us, Aeon Jusco, myNEWS, Parkson, Robinsons and Popular Bookstore.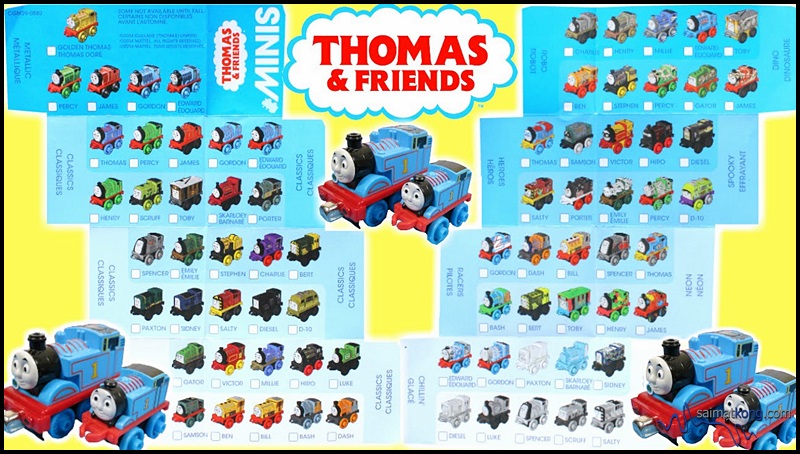 Now, are you tempted to get all these super cute Thomas & Friends minis trains to add to your toys collection? Trust me, these Thomas & Friends minis are quite addictive – once you start, you can't possibly stop with just buying one blind pack because when you look at the cute mini-sized train, you'll want to collect them all! Hehe
Next : I'll be sharing some of my minis train collection from 2015 wave 4. I'll also share the codes on the blind packs with you, so it's easier for you to hunt for the Minis that you want 🙂 Why wave 4 you may ask, because Malaysia only started with 2015 wave 4 and the earlier wave 1, 2 & 3 are not available in Malaysia 🙁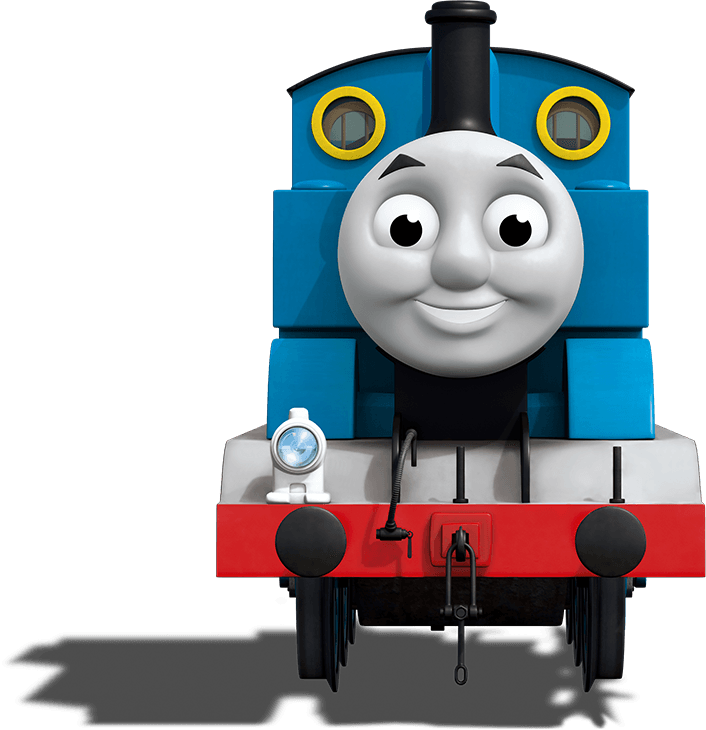 About Thomas & Friends®
Thomas the Tank Engine™ was created by a father for his son 70 years ago and today is enjoyed by families in more than 300 territories and in over 40 languages. The No.1 blue engine and his friends invite children to enter a world of imagination through the tracks of a train and the words of a story. Children embark on adventures with their engine friends while experiencing timeless life lessons of discovery, friendship and cooperation.
—
You can subscribe to
my blog, follow me on Facebook, follow Instagram, follow Twitter and Youtube for more updates!
—
Comments
comments