Road closure in Bandar Utama – Jalan Tanjung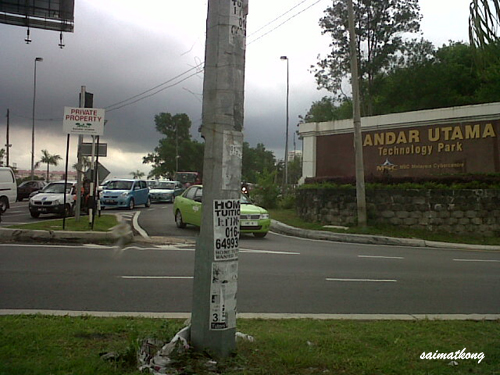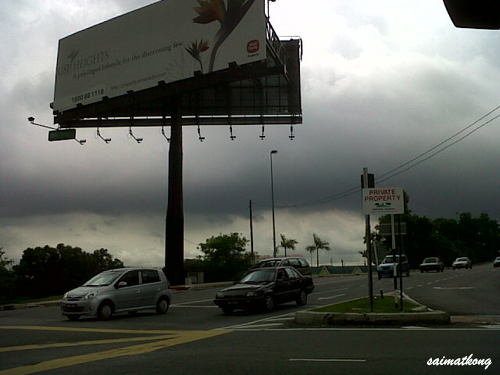 How could this road be closed? If this road close, meaning you will have to take a long cut to a lot of the places and this road is already become a main road to most user in Petaling Jaya,Bandar Utama,Tropicana and Kota Damsara. So if the road closed then the resident will need to redirect the traffic to the NKVE Tunnel which is near to the Aman Suria / Taman Bukit Mayang Mas or another new road beside Bukit Utama.
Affected areas will be – Riana Green, Casa Tropicana, SRJK Damansara Jaya, Sunway Damansara, Casa Indah, Opal, Palm Spring, Kota Damansara and a lots more.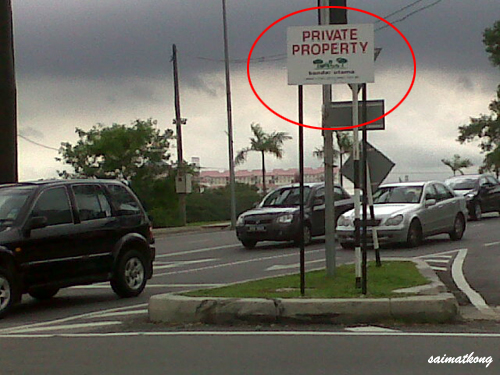 As you can see Bandar Utama City Corporation (BUCC) already put up a sign stated as Private Property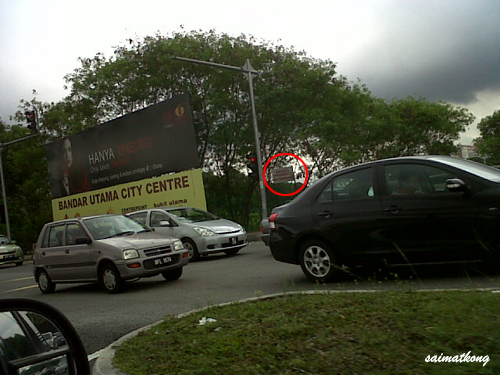 Another side of the road "Southern Access" which closed in 2006
The date was scheduled to 20 November to turn that road into one way and only allowing cars coming out from Tropicana. So what say you? What's your point and will you support for the road not to be closed? Come on!
11,000 reasons to keep road open

by Karen Arukesamy


Tropicana Resident Association vice president Mohd Shukri Zain (right) handed over 11,000 signatories and petition to Petaling Jaya City Council(MBPJ) deputy mayor Puasa Md Taib yesterday urging the council and Selangor State Government to stop the road closure.

PETALING JAYA: More than 11,000 households today petitioned the mayor to stop the closure of the a road which partially sits on land belonging to Bandar Utama City Corporation (BUCC).

BUCC has put up notices to inform motorists that the ungazetted Jalan Tanjung would be turned into a one-way street on Nov 20 and closed for good six months later.

Motorists use the road to access Lebuh Bandar Utama, Jalan Tropicana and the New Klang Valley Expressway (NKVE) — see map .

BUCC had in 1993 signed an agreement allowing Dijaya Corporation (Dijaya) to use the land temporarily to access areas for Tropicana development.

Today, Tropicana Residents Association vice-president Mohd Shukri Zain led a 19-man delegation to hand over the petition to the Petaling Jaya City Council (MBPJ) represented by Deputy Mayor Puasa Md Taib.

The petition, carrying 11,000 signatures, including those of officials of 19 residents associations, a school and commercial managements in the affected areas — Tropicana, Kota Damansara and Sunway Damansara covering some 20 housing estates.

Puasa said the council's Infrastructure and Road Traffic Advisory Committee would meet today to decide whether to allow the road closure or not.

He said based on a traffic study conducted early this year, "it is better to let the road operate as usual".

"This is just an opinion and a decision will be made by the committee chaired by the mayor, after taking into consideration views from both parties, including BUCC.

"MBPJ will also ensure that till Nov 20, the road will not be closed to public because it will worsen matters," he added.

Shukri lamented MBPJ's lack of response to the issue and urged it to push for a decision to acquire the land on which Jalan Tanjung sits.

"We cannot accept (Bukit Lanjan assemblyman and state executive councillor) YB Elizabeth Wong's statement that it is not feasible for the Selangor government to acquire the land," he said on behalf of an action committee formed by the 19 aggrieved groups.

The petition claimed if the road was closed, it would inconvenience some 20,000 daily users.

"The usual 15-minute journey would become an hour-long one due to the existing daily traffic congestion. It will affect thousands of pupils of SJK(C) Damansara located on Jalan Tropicana Selatan," said Shukri.

He said Jalan Tanjung had been in use since 1996 by commuters from Kota Damansara, Tropicana and Bandar Utama.

BUCC only owns a small portion of the road, about 8,600 sq ft, representing about 4.75% of Jalan Tanjung to Lebuh Bandar Utama and NKVE.

The agreement between Dijaya and BUCC was to allow Dijaya temporary access into Tropicana Golf & Country Resort (TGCR) and the land be returned after a permanent road is constructed.

However, Jalan Tanjung evolved into a "public road" since then as several more development projects were approved in the area over the past 10 years.

"If Jalan Tanjung is closed, traffic volume will be diverted to Persiaran Damansara Indah, Persiaran Tropicana and Persiaran Surian which are already congested," Shukri explained.

"At valuation, the part of the land which BUCC owns may not cost more than RM1.5 million. Why is BUCC adamant in closing this road and not yield in the interest of the public?" asked Shukri.

On Aug 28, last year BUCC issued a 14-day closure notice to TGCR after which two meetings were held among the aggrieved groups, the two developers, MBPJ officers and Wong to try and resolve the problem.

BUCC proposed to turn the road into a one-way street exit road temporarily, while the entry road should be through Persiaran Bukit Utama from Nov 20 and six months later the road will be closed for good.

Shukri said none of the groups present at the meetings agreed with the decision but it was put to them as a "no-choice-option".

"All the 19 aggrieved parties want the status quo to remain, that is to allow the public to use the road freely," he said.

Shukri said closing the road just because part of it was on private property "is unfair" and it deprives the rights of the public".

"Furthermore, the owner does not have any plan to use the land for any development," he said.

Meanwhile, Wong told theSun: "The state government has no intention to acquire the land as it has no clear objectives to do so. The land was not supposed to be a road in the first place."

She said the land, however became a "road" when the public started using it to get across more conveniently.

However, the aggrieved parties said they could not confirm from the state government Wong's statement on the acquisition.

Wong said Lembaga Lebuhraya Malaysia (LLM), which owns about three quarters of the land where Jalan Tanjung sits, has submitted a proposal to expand the toll plaza on the highway and thus there was no point to acquire the land.

On this, a resident commented that the extension of the toll plaza, if any, has no relevance to the road closure and would not become an alternative route. The resident stated that that he was surprised with Wong's solution to the problem.

The residents want the state government to step in to address the problem and not let BUCC to close the road arbitrarily.

Since the land involved is small, which may cost some RM1.5 million based on current valuation, there is a suggestion that the few developers in the area should chip in if the state says there is no budget allocated for an acquistion.

Source: TheSun
BUCC to be asked to postpone road closure

by Karen Arukesamy

PETALING JAYA (Nov 11, 2009) : The Petaling Jaya City Council (MBPJ) will write to Bandar Utama City Corporation (BUCC) to postpone its decision to close down an ungazetted road sitting on its land until a more viable solution is found.

"MBPJ will write to BUCC to request it to postpone its decision to turn Jalan Tanjung into a one-way street from Nov 20 and close it completely after a certain time," Deputy Mayor Puasa Md Taib told theSun today after a three-hour intense meeting with the councillors at its headquarters.

The decision was made following more than 11,000 signatories petitioned to the mayor on Tuesday to stop the closure of Jalan Tanjung which partially sits on land belonging to BUCC.

Puasa, who chaired the meeting in the absence of the mayor said this is the outcome of the meeting after taking serious consideration from all parties.

"Nevertheless it is totally up to the discretion of the land owner to take the necessary action about matters concerning his land," he said.

Puasa said the matters discussed in the meeting will be informed to the Selangor state government, however there are certain aspects of enforcement and execution that empowers the city council to make its own decision.

"We will refer to the state government in all the developments of the issue but MBPJ still has more discussions and meetings to go before the final decision can be made," he explained.

"We also need to re-discuss the matter further with all the residents associations and the developers and will solve this issue in stages."

BUCC has put up notices to inform motorists that the ungazetted Jalan Tanjung would be turned into a oneway street on Nov 20 and closed for good six months later.

Motorists use the road daily to access Lebuh Bandar Utama, Jalan Tropicana and the New Klang Valley Expressway (NKVE).

BUCC had in 1993 signed an agreement allowing Dijaya Corporation (Dijaya) to use the land temporarily to access areas for Tropicana development.

On Tuesday, Tropicana Residents Association led a 19-man delegation to hand over the petition to MBPJ urging it and the state government to intervene and stop the closure.

The petition carries 11,000 signatures, including those of officials of 19 residents associations, a school and commercial managements in the affected areas – Tropicana, Kota Damansara and Sunway Damansara covering some 20 housing estates.

Source : TheSun
Residents against road closure

By TAN KARR WEI

A NOTICE announcing the closure of Jalan Tanjung in Bandar Utama has residents in the area up in arms.

The road serves as an entrance and exit point for motorists travelling between Bandar Utama and Tropicana.

The road was also frequently used by motorists from Bandar Utama and Tropicana to get to and from Kota Damansara and Sunway Damansara via Persiaran Surian.

Tropicana Residents Association vice-president Mohamed Shukri Zain said they were in the process of collecting about 6,000 signatures from residents in the area, including Sunway Damansara, Sunway Opal, Damansara Lagenda and Riana Green Condominiums.


One way only: A signboard informing motorists that Jalan Tanjung will be turned into a one-way street for cars coming out of Tropicana starting Nov 26. Motorists are advised to use Persiaran Bukit Utama as an alternative road into Tropicana

"Many of the residents do not want the road to be closed. We will be meeting the mayor (Datuk Mohamad Roslan Sakiman) to hand over a petition," said Shukri, who is heading the action committee.

He said that even though the road was owned by the Bandar Utama developer, it was a matter of public interest as many other people used the road besides Tropicana residents.

"When the agreement was made between the developers of Tropicana and Bandar Utama to temporarily use the road as an access, there were no other residential areas.

"But, over the years, many other developments have sprung up," Shukri said.

He said the main access through the Tropicana tunnel would not be able to cope with the traffic if Jalan Tanjung was closed.

"It would merely shift the congestion from that junction to the BU11 junction," he said.

He said that in the interest of public convenience, residents were calling for the state government to acquire the land under the Land Acquisition Act 1960.

Petaling Jaya City Council (MBPJ) public relations officer Zainun Zakaria said the notification signboard to change the traffic flow to one-way was put up by the developer, not the council.

"So far, the council has not made any decision on the road closure. Any decision would have to go through the Infrastructure and Traffic sub-committee," she said.

She added that the council would discuss the feasibility of acquiring the land for public use.

The sub-committee is scheduled to meet on Nov 11.

Source : TheStar
Jalan Tanjung access road reopened to traffic

By TAN KARR WEI

SIGNBOARDS informing motorists that the access to Jalan Tanjung in Bandar Utama, Petaling Jaya, was closed have been covered up with black plastic bags.

Jalan Tanjung has been used as a connection between Bandar Utama and areas like Tropi­cana, Sunway Damansara and Kota Damansara.

The Bandar Utama developer announced recently that the road would be closed after 12 years of being used as a temporary access road as a piece of land near the Bandar Utama Technology Park belonged to them.

The agreement was for the road to be changed to a one-way flow coming out of Tropicana starting from Nov 20 for six months before being closed.


Covered up: The 'Access Closed' signs in front of the Riana Green condominium covered with black plastic bags.

After the announcement that the road would be closed, residents from areas like Tropicana and Sunway Damansara submitted a petition to the Petaling Jaya City Council (MBPJ) on Tuesday.

Many were also against the closure because of the potential increase in traffic going into Persiaran Tropicana and into BU11 and BU12.

Residents who submitted the petition at the MBPJ headquarters in Jalan Yong Shook Lin also protested when signboards with the words "Access Closed" had been put up near the Riana Green Condominium.

Bandar Utama Development Sdn Bhd director Datuk Teo Chiang Kok told StarMetro that his contractors were not supposed to put up the signboards until later and had asked them to cover the signs for now.

Source : TheStar
Comments
comments