I absolutely love babywearing! It is the perfect way to keep my kids close to me and I can pretty much go anywhere with them in a carrier. If I could recommend one must-have item to new parents, it would be a baby carrier because it clearly make the lives of parents much easier!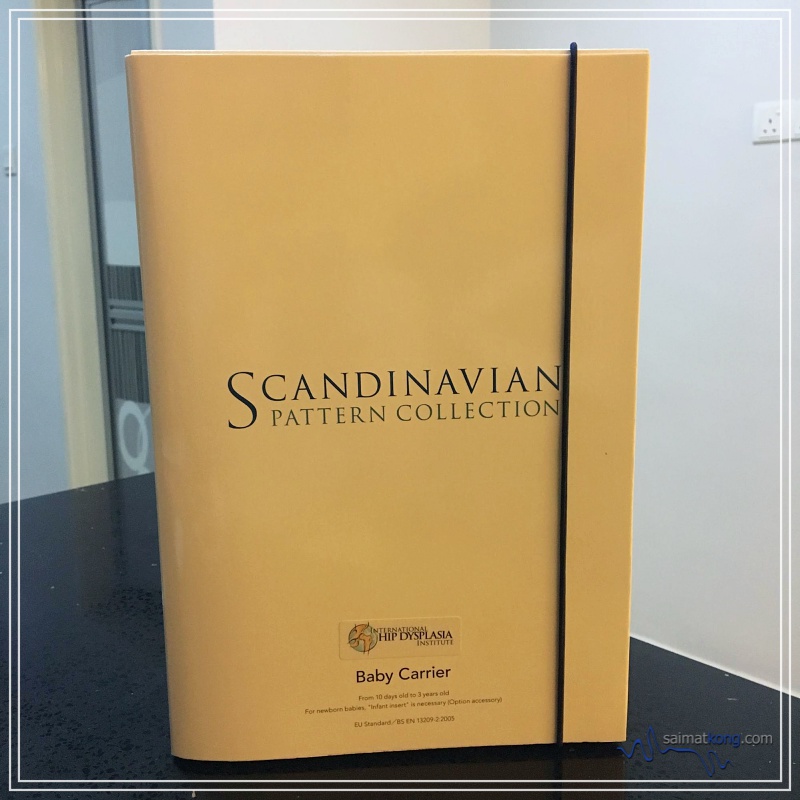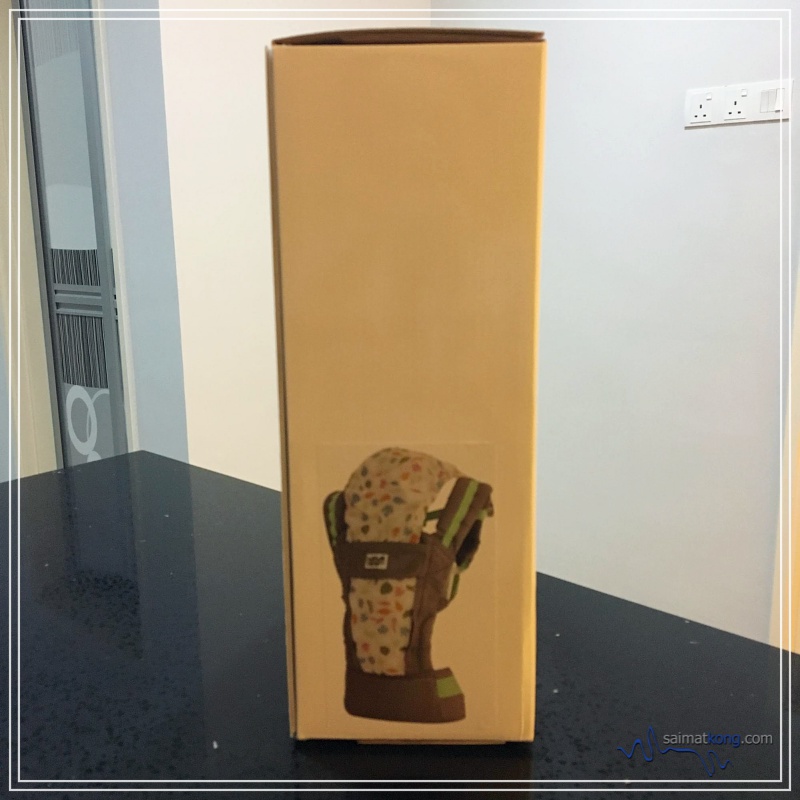 Recently, I am absolutely thrilled to have the opportunity to try and review the Scandinavian Pattern Collection Carrier in Beige x Woodland Beige.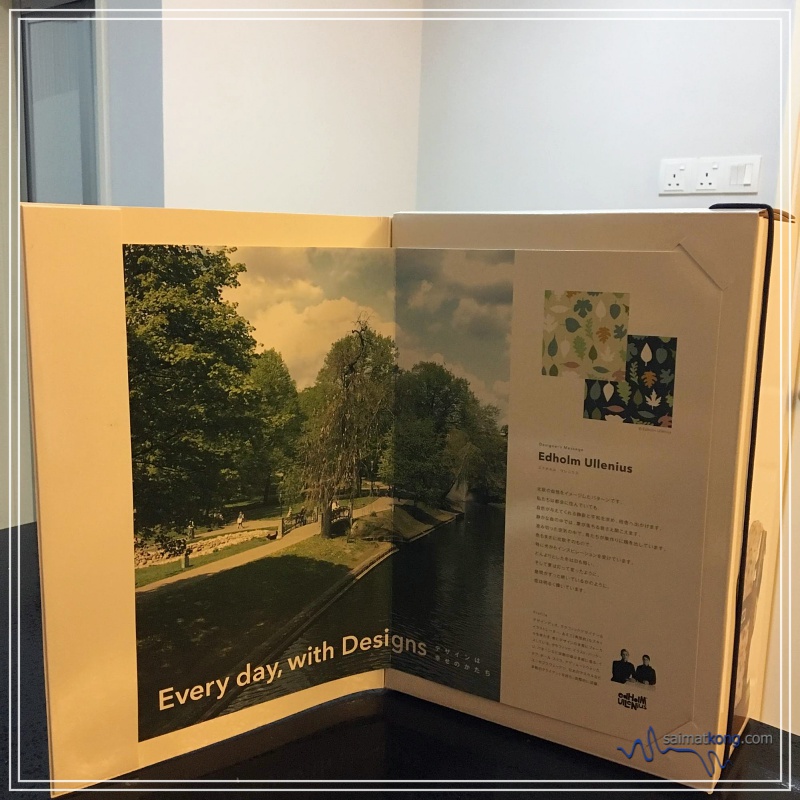 The Scandinavian Pattern Collection's baby carrier is a designer series by the renowned Edholm and Uilenius, the graphic designers & illustrators often engaged by UNICEF, Paul Smith, Absolut Vodka, Ikea, and other international brands. In short, it's call the "EU SPC Soft Structure Carrier".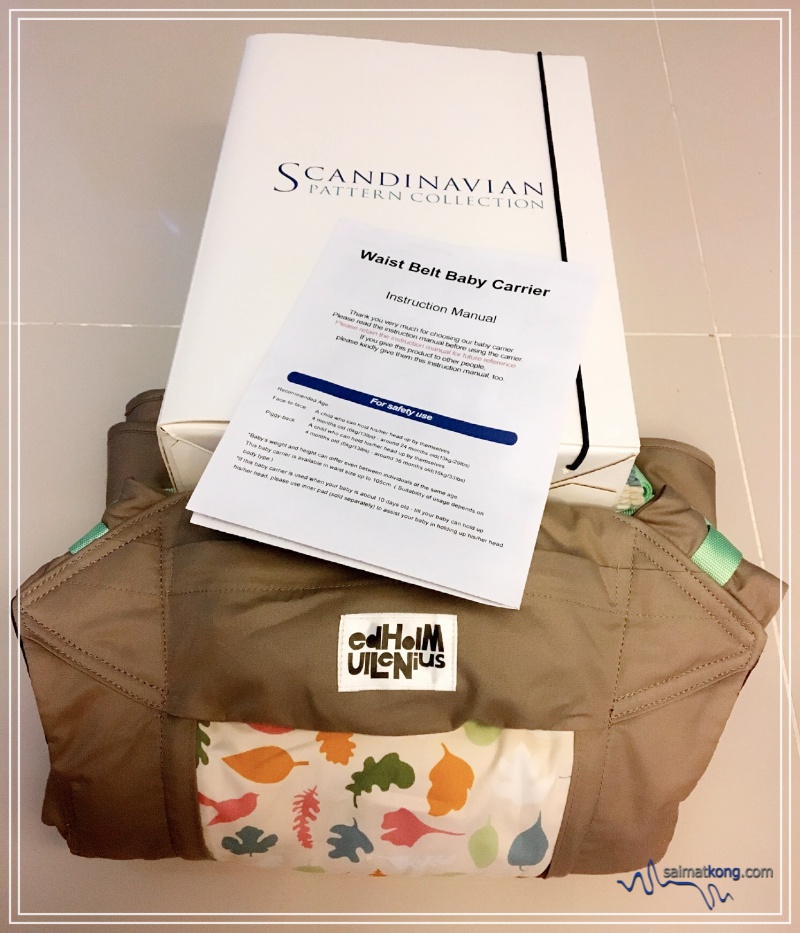 It comes with an Instruction Manual which I thought is pretty helpful especially when you're new to babywearing.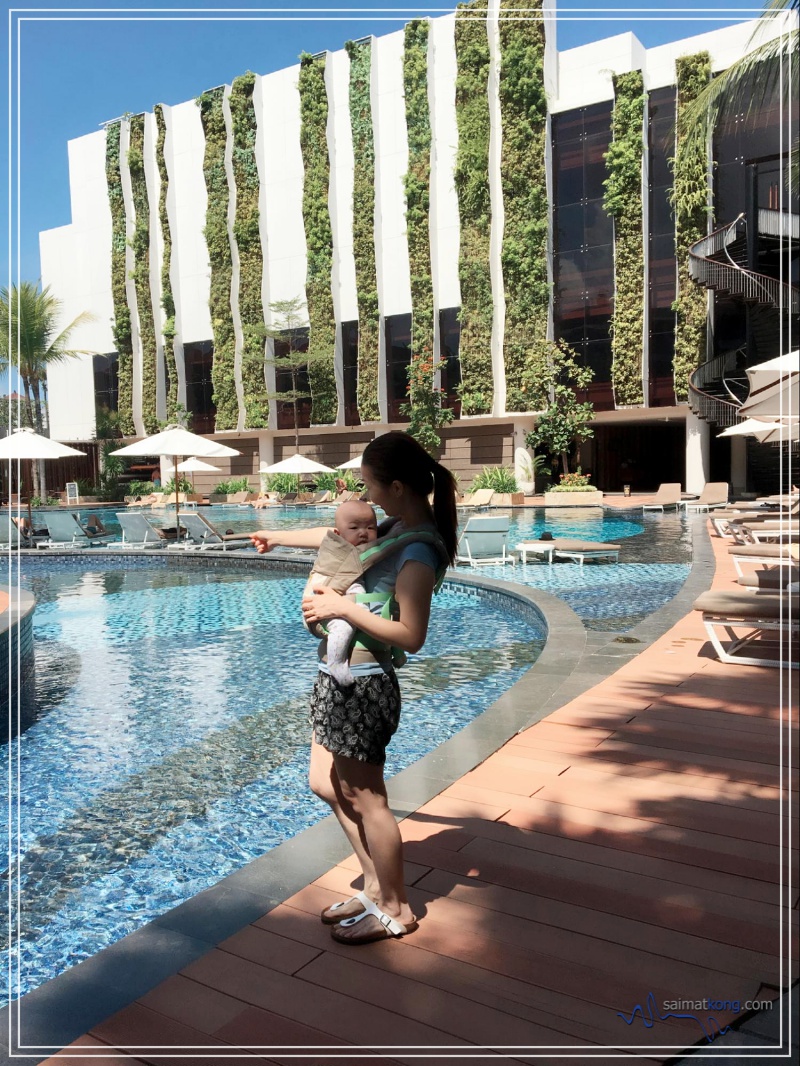 After months of using my EU SPC carrier for traveling, shopping and accomplishing daily household chores, I must say that the EU SPC carrier was a clear winner!
Here's why I love the Scandinavian Pattern Collection Carrier:
BEAUTIFUL DESIGN & MADE WITH PREMIUM MATERIAL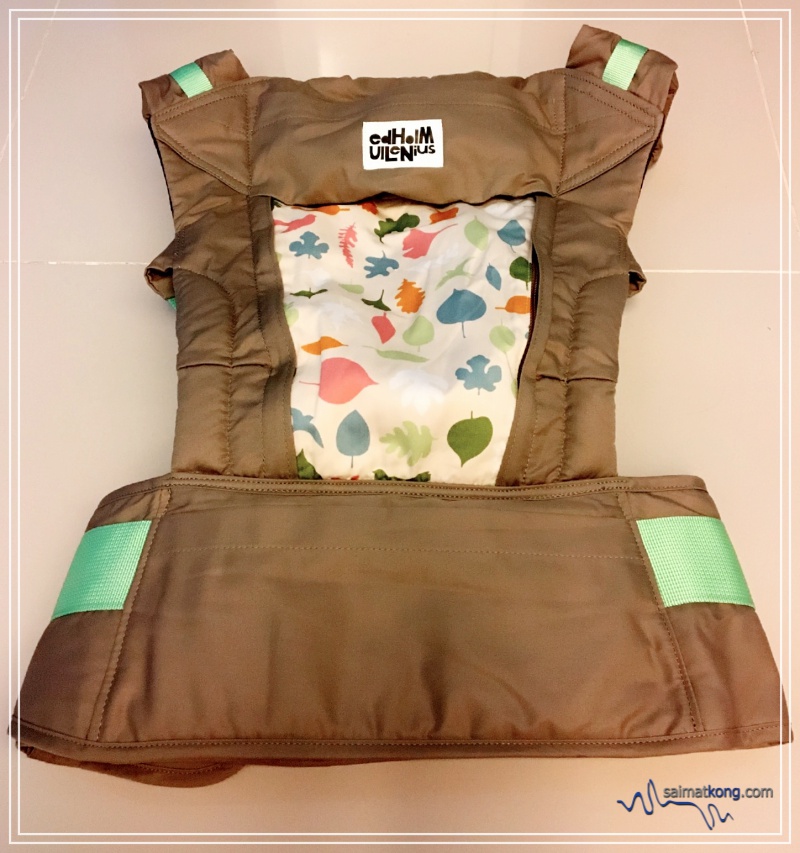 My first impression of this EU SPC carrier was that it's really quite beautiful. The carrier comes in a stylish design and is available in 4 colours. Great thing is, it's made with 100% cotton from Japan, keeping both baby and mommy comfortable 😀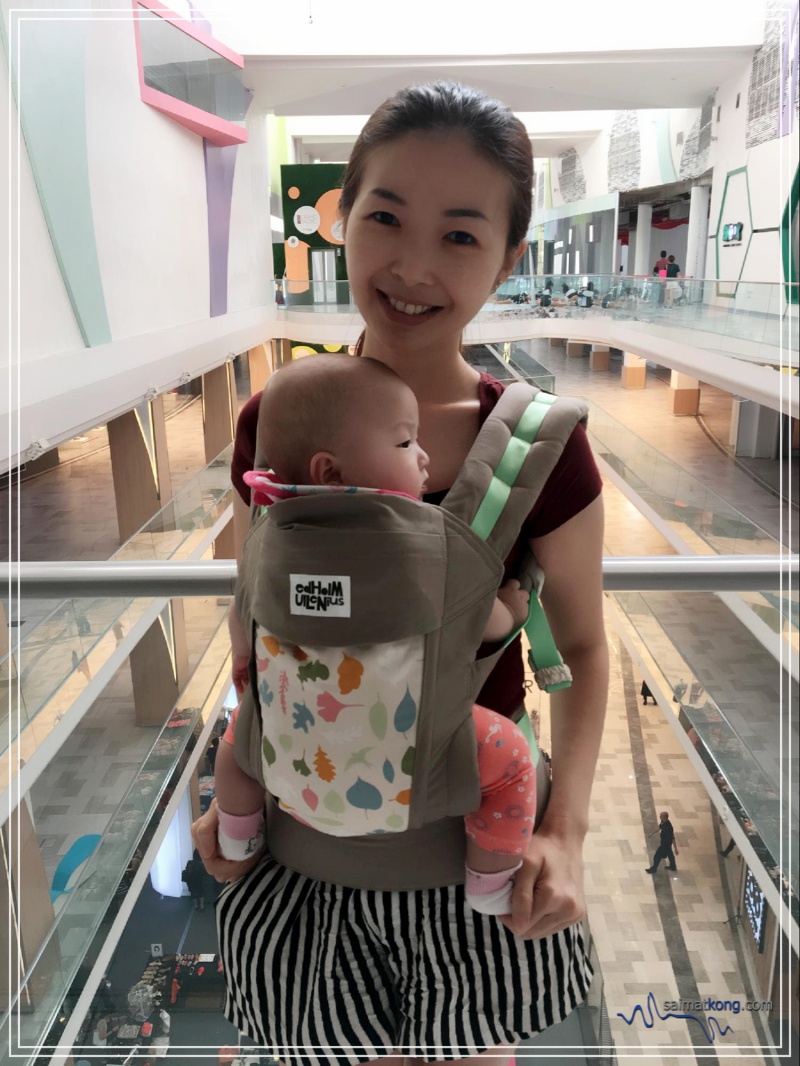 I love the neutral colour of this carrier as it matches most of my daily outfits.
EASY TO USE
After a couple of tries, I find that the EU SPC carrier is relatively easy to use. I like how fast and easy it is for me to put it on and off without assistance.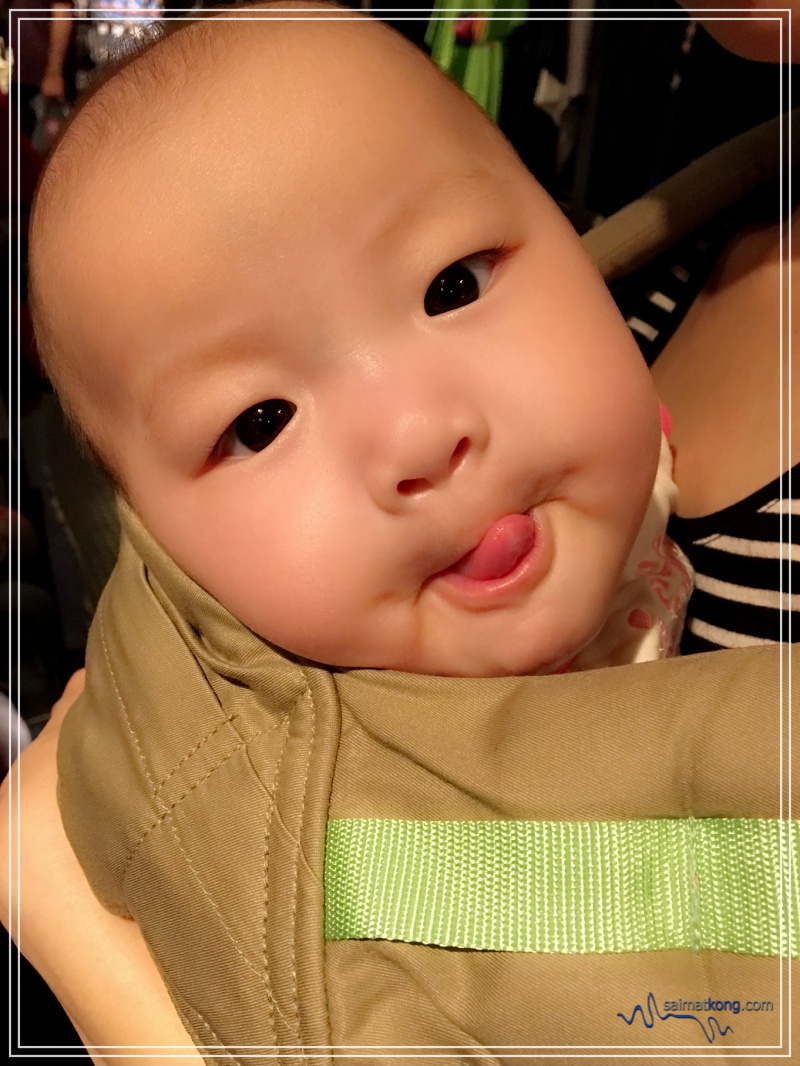 Our outing in EU SPC carrier. I just have to fasten the waistband, position my baby on my chest, pull the panel up, slide my arms in, clip the back buckle, make a little adjustment to the shoulder straps and I'm good to go 😀 However, I noticed Anna tend to suck on the straps that it'll be soaking wet and so I figure I probably need teething pads to protect the straps.
COMFORTABLE
Thick Shoulder Pads: The EU SPC features thick shoulder pads which distribute my baby's weight evenly across my back and shoulders. It took all the weight off me and I feel comfortable wearing despite Anna for long periods of time.
Wide Belted Waistband: The EU SPC carrier that comes with thick shoulder pads and wide waistband makes a lot of difference as it supports majority of the baby's weight, giving me a comfortable babywearing experience.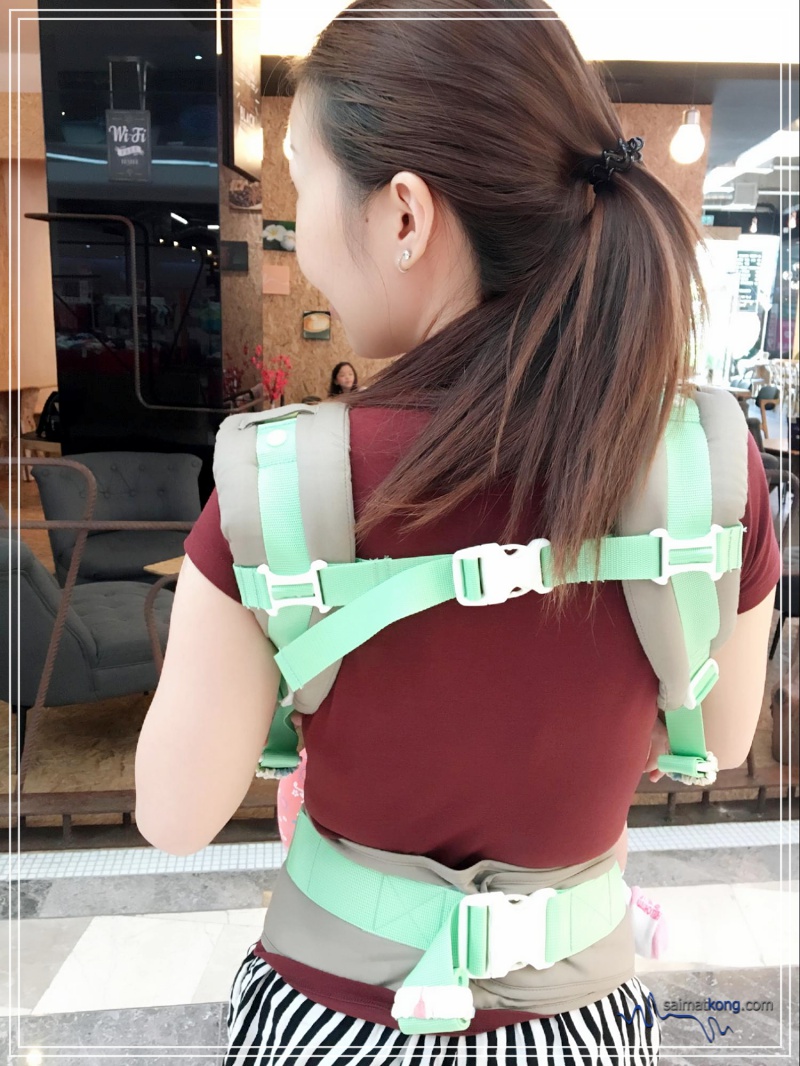 Notice the thickness of the shoulder pads and waistband? It provides great support and makes me feel comfortable wearing it for long hours. I was on the EU SPC carrier for hours and surprisingly I felt no strains on my shoulders, neck and back 😀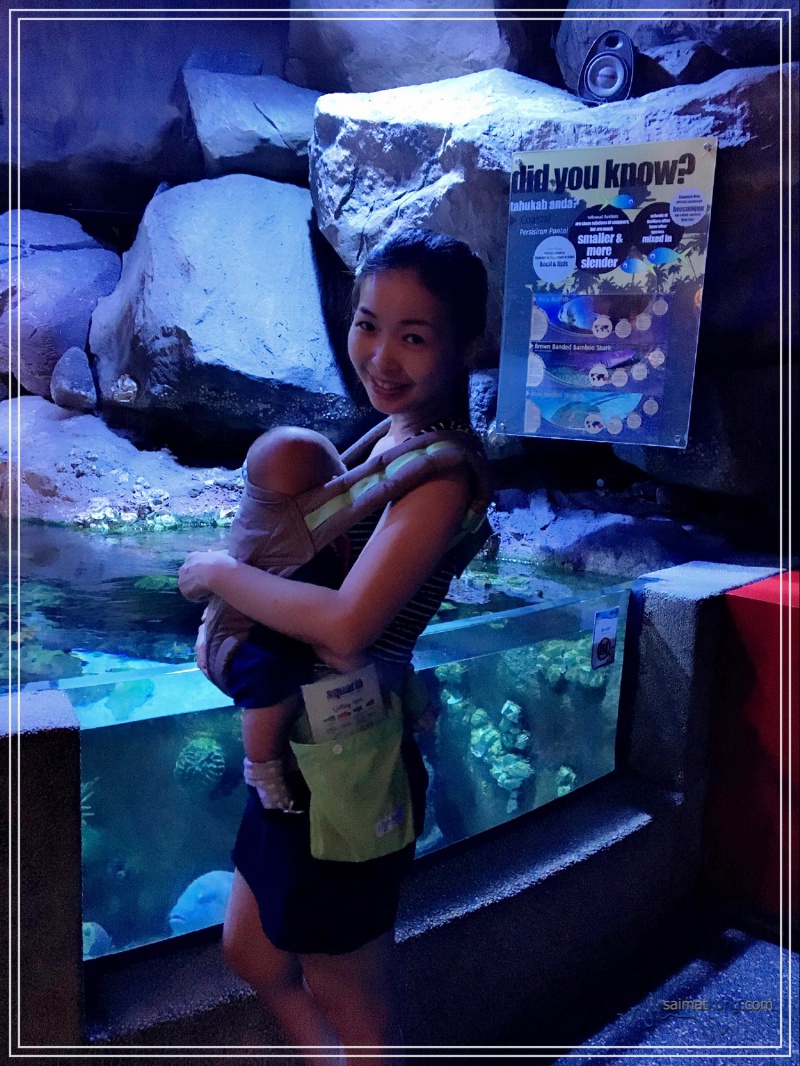 I went on a field trip with my family to Aquaria KLCC spending a whole day at KLCC sightseeing, shopping and eating. We had so much fun and I'm so glad that my baby enjoyed her outing feeling safe, comfortable and close to me.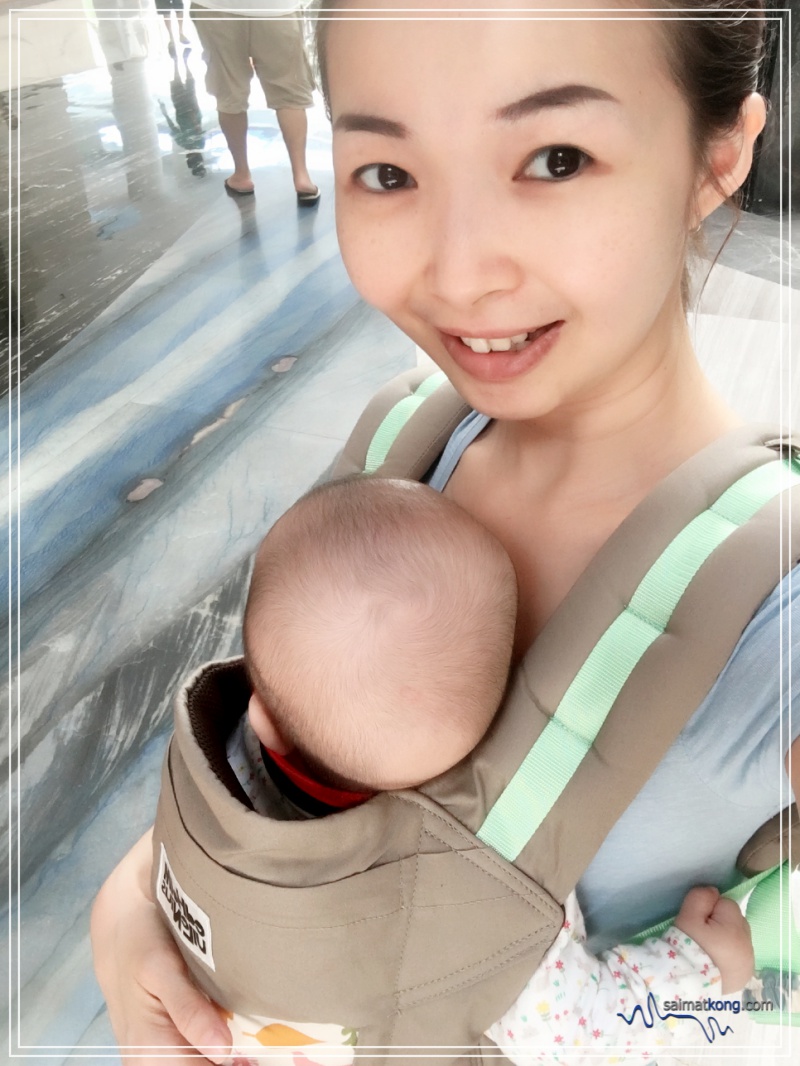 With the EU SPC carrier, I can enjoy my family outings and at the same time keep my baby safe and comfy – that's like killing two birds with a stone. When Anna is tired and cranky, I just have to pat her awhile and she will fall asleep almost instantly.
Head Support: One of the things that I like about this EU SPC carrier is that the head support hood provides great head support for my baby when she's napping.
As soon as Anna falls asleep, I'll use the head support hood. The length of the head-support hood's strap is adjustable and when not in use, the sleeping hood easily folds into the front pocket.
Anna loves being worn and she definitely feels very comfortable. How do I know? She has the tendency to fall asleep in it after only a short period of time.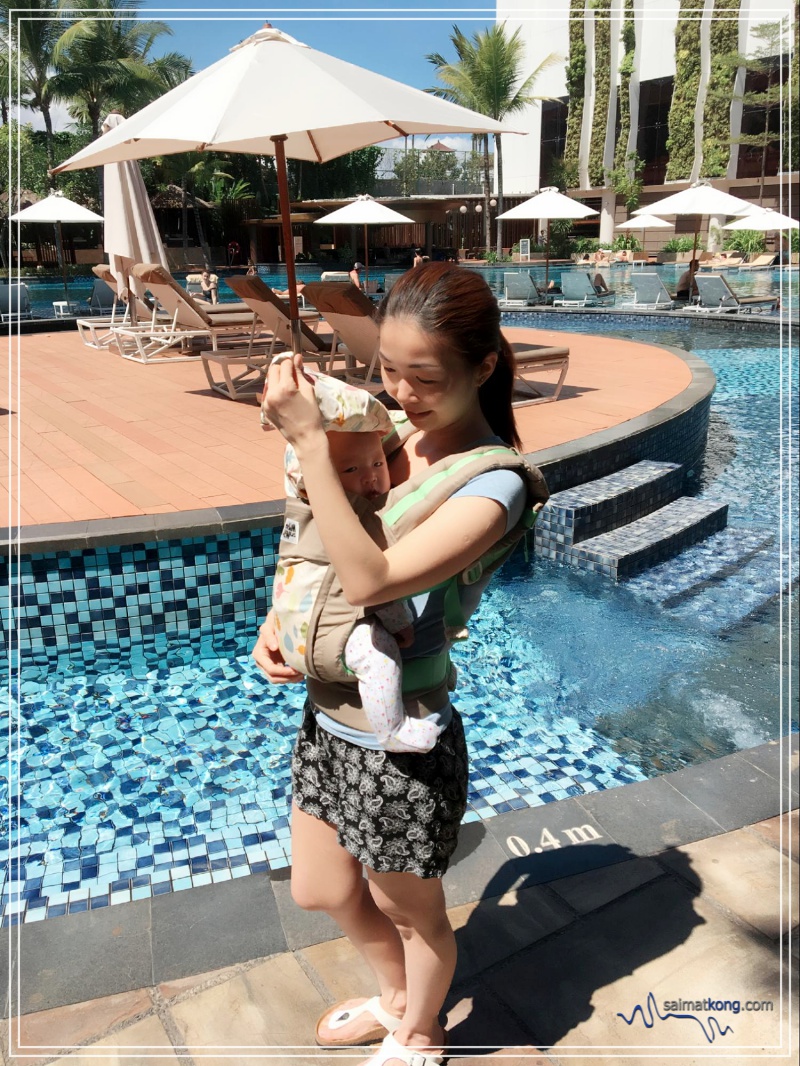 The head support hood is also useful when we are out in the sun to provide shade for my baby's head.
Mesh System: The EU SPC features a mesh system that allows for airflow and provides a more comfortable babywearing experience.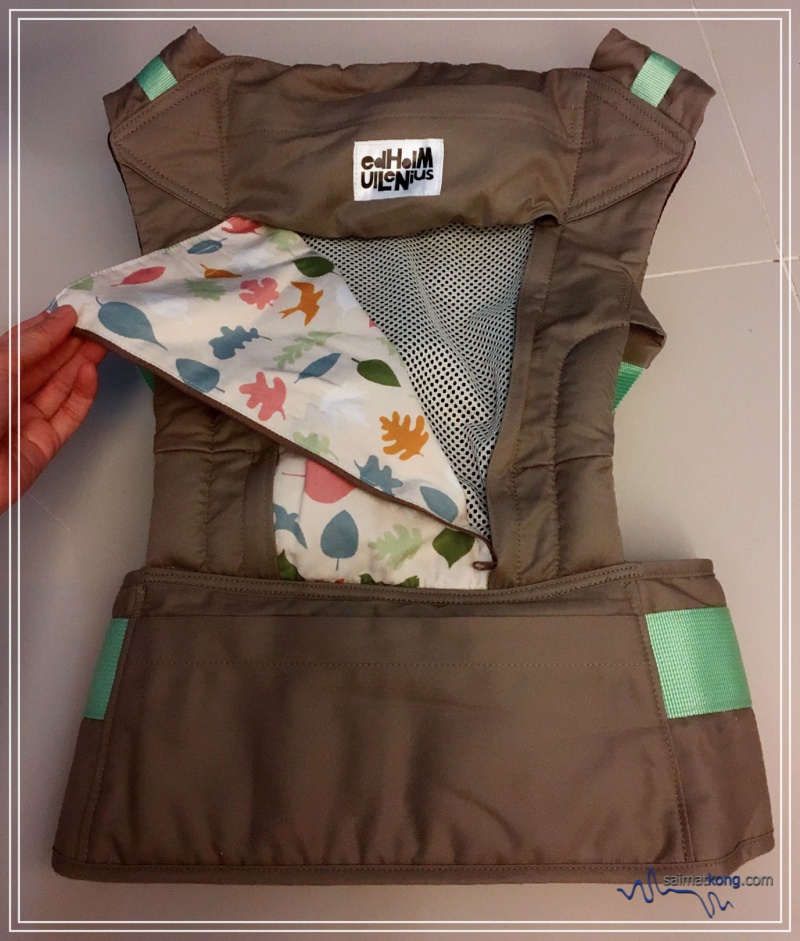 When the weather gets hot, I can easily zip off to reveal the mesh lining designed to keep babies cool and comfortable 🙂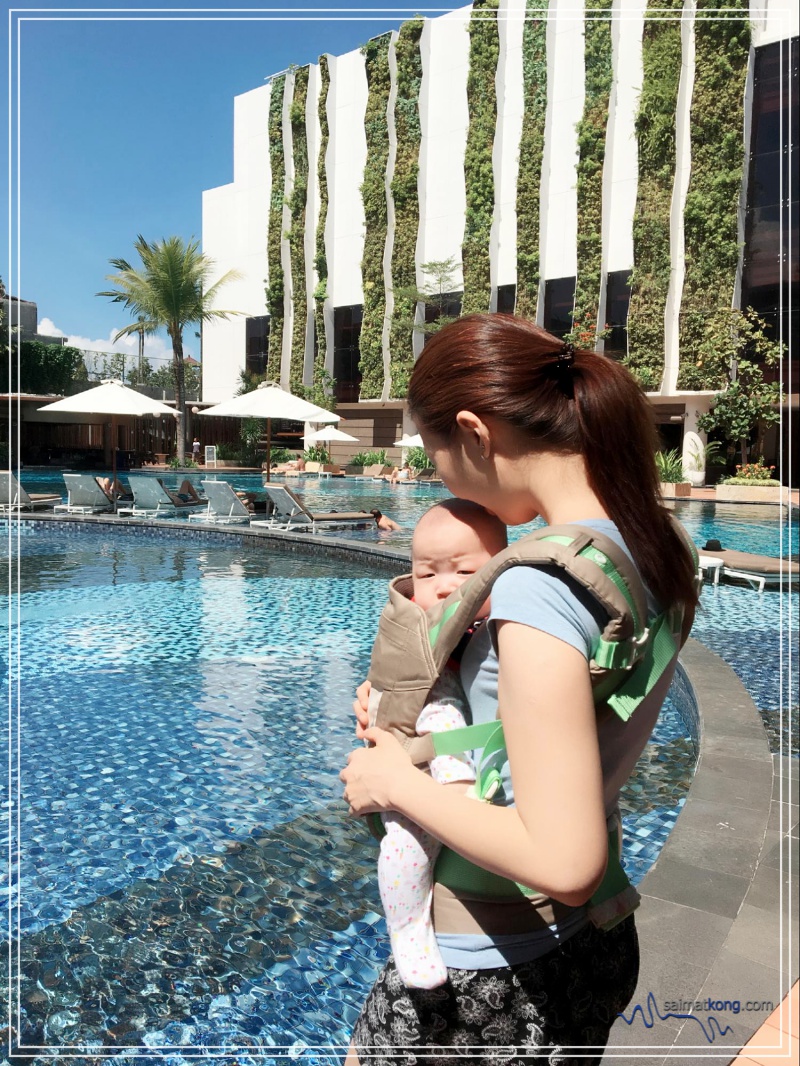 I absolutely love babywearing as it doesn't just keep my baby close and safe with me but also give me lots of opportunity to kiss her too 😀
SAFETY
Safety Belt: One of the distinctive feature of the EU SPC carrier is that it comes attached with a safety belt on the inside of the carrier that keeps baby extra secure.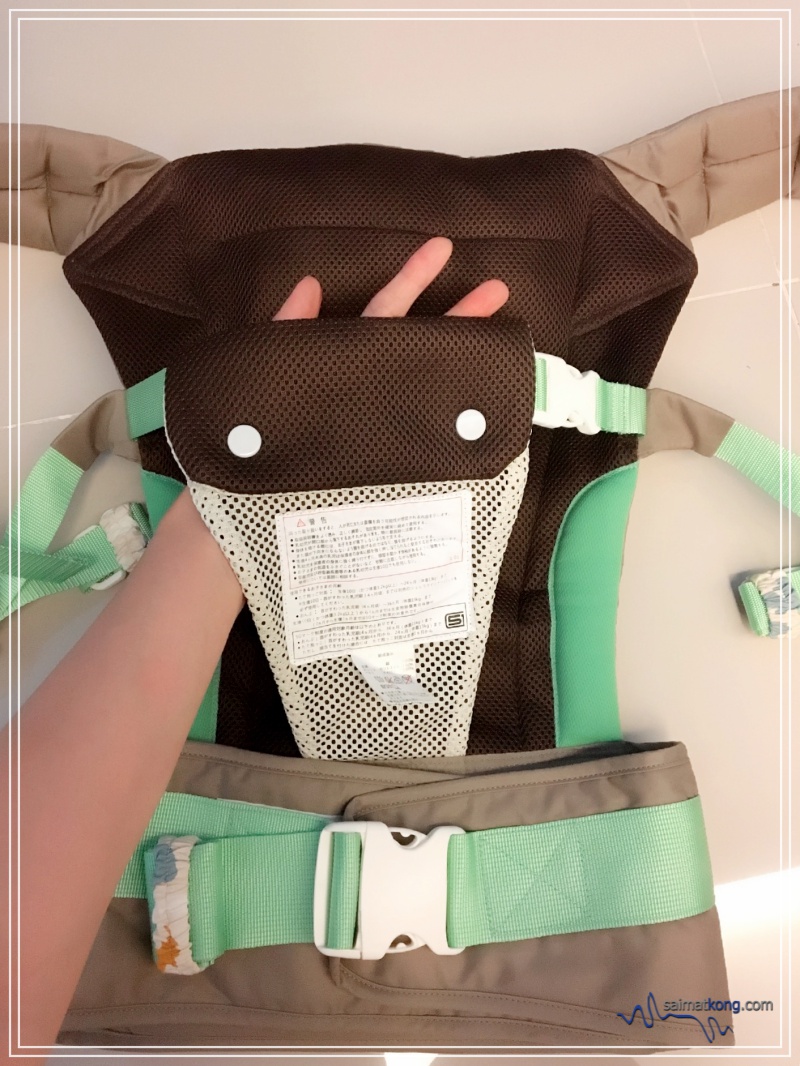 The additional safety belt will prevent baby from falling from the side of the baby carrier. While it's a great feature, I've never used it as I felt my baby is secure enough without the additional 'safety belt'.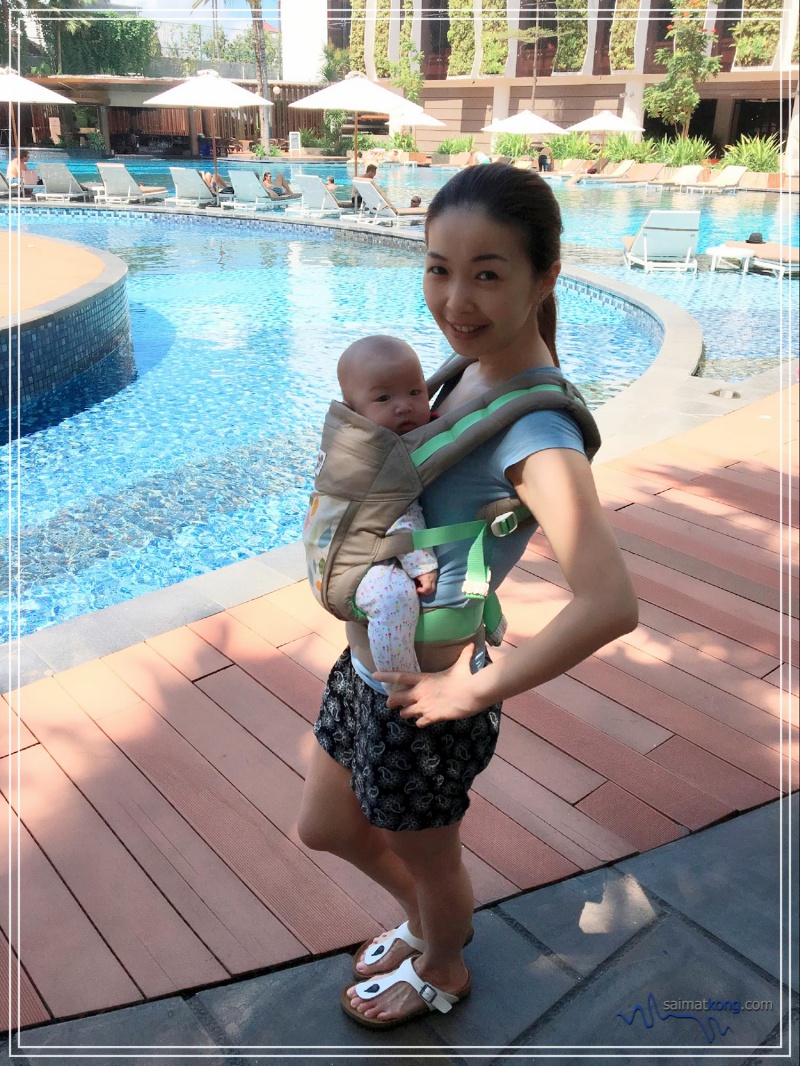 Ergonomic Position: The EU SPC offers ergonomic positions to wear your baby whereby the baby's knees are higher than their bum in a M-posture.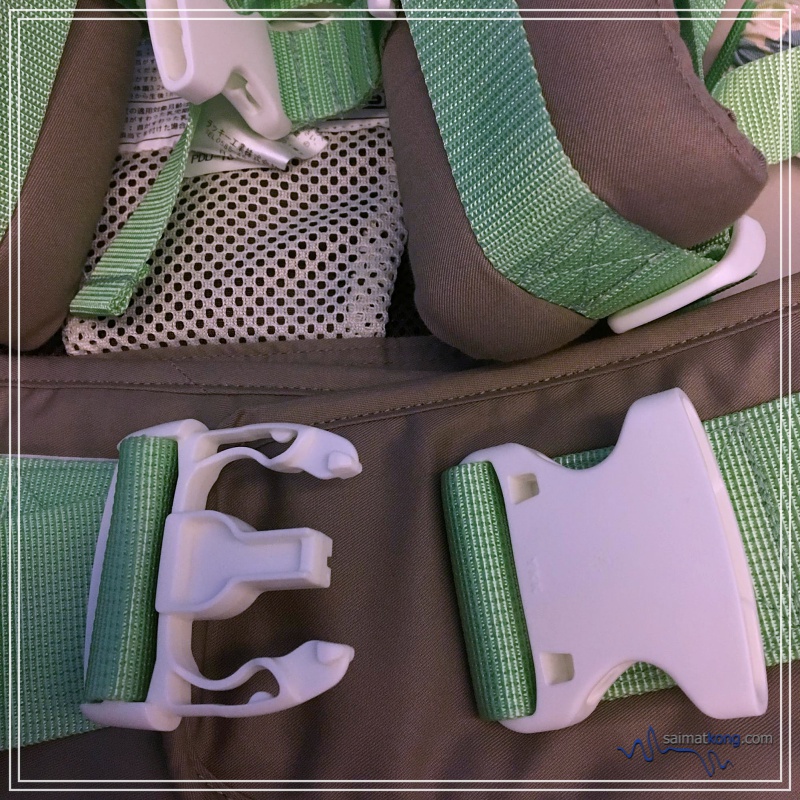 YKK Buckle: The EU SPC carrier uses high quality YKK buckles which are the strictest in environmental testing. Knowing this gives me an assurance that my baby is safe in the carrier as the baby's weight is mainly concentrated on the buckle.
ACCESSORIES
Rain Cape: Whether it's rain or shine, the EU SPC carrier got your baby protected. The carrier comes with a rain cape which can be easily attached to the carrier when the weather turns windy or rainy.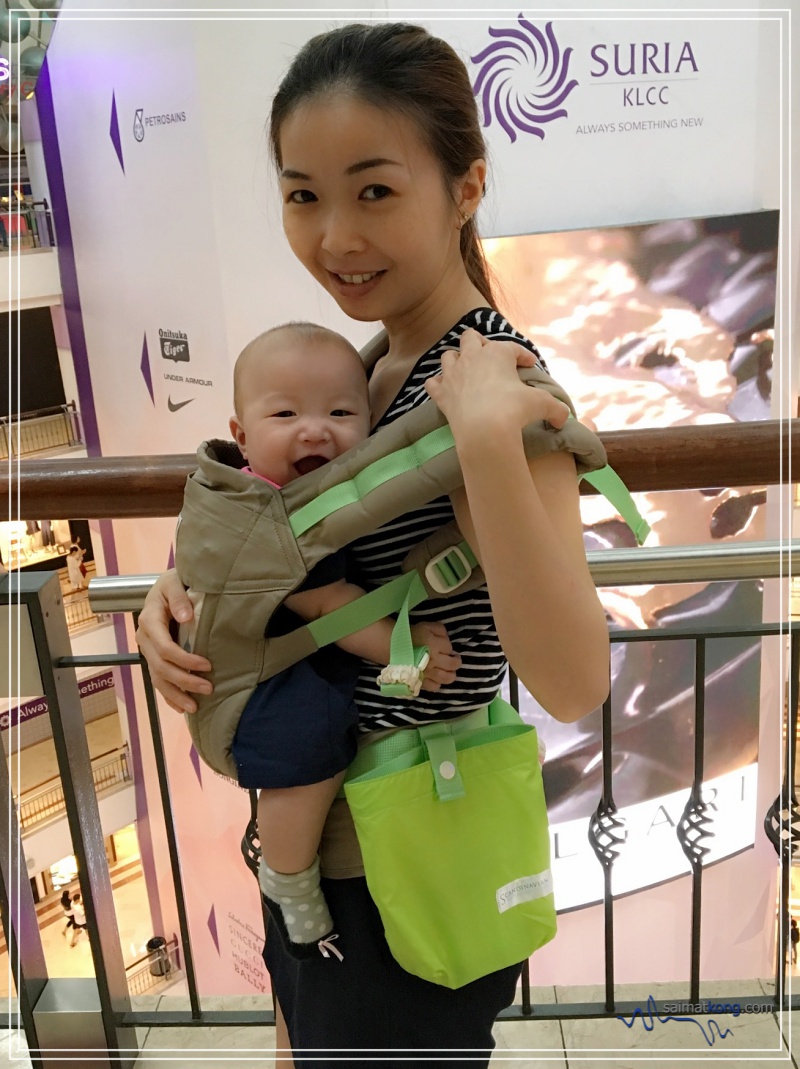 Pouch: The EU SPC carrier also comes with a pouch which is very useful for you to keep your essentials such as keys, mobile phone, baby clothing, snacks or even baby shoes. You can attach the pouch to your carrier but I keep it in my diaper bag instead as I'm not quite use to have a pouch dangling around my waist area.
CONVENIENT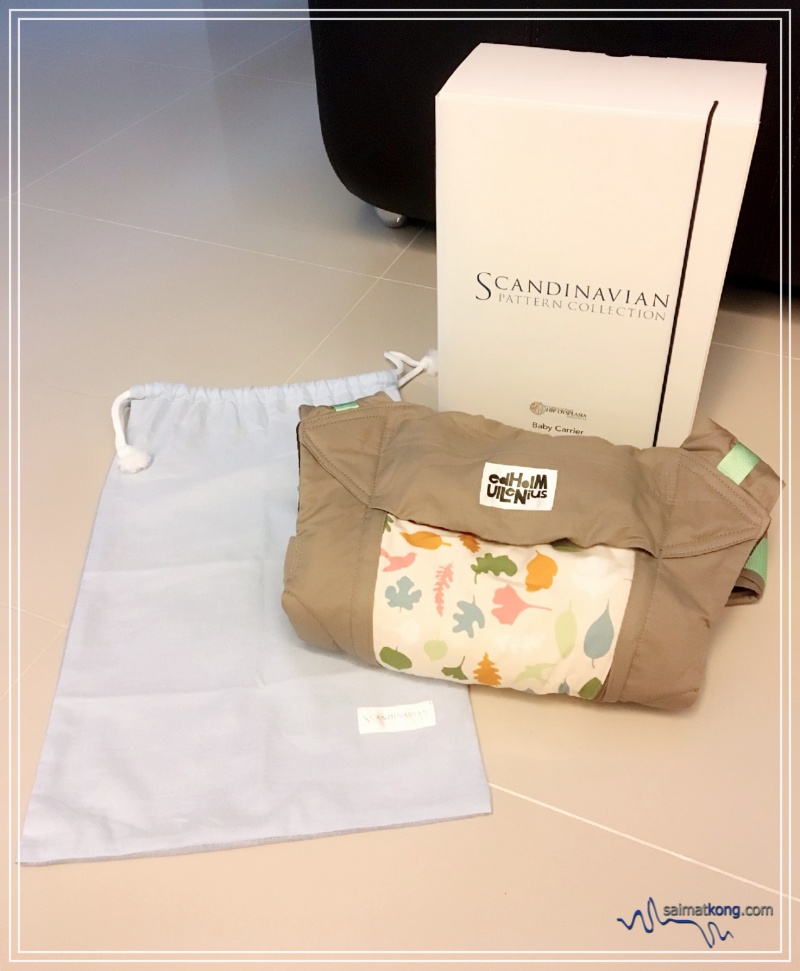 The EU SPC comes with a pouch for storage. The carrier can be easily rolled up into a compact shape and it's easy to stash it in your suitcase when traveling or shove it in your diaper bag.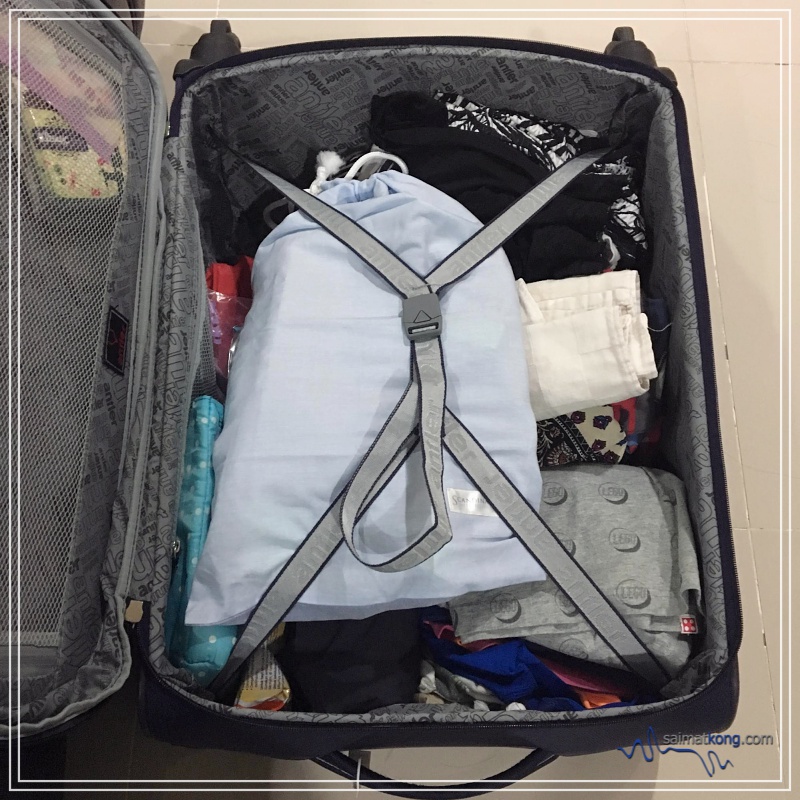 One of the must-have when I go for vacations or short trips is the baby carrier.
USAGE
The EU SPC carrier can be used for newborns / 10 days old (infant insert is required) up to a weight of 15kg.
There are two ways to use the EU SPC carrier:-
Face to face: A child who can hold his/her head up unsupported. Approximately 4 months old (6kg) – 36months old (15kg)
Piggy back: A child who can hold his/her head up unsupported. Approximately 4 months old (6kg) – 36months old (15kg)
In conclusion, these are many reasons why I adore this EU SPC carrier. Some of the great features include comfortable for both baby and parent, it's pretty easy to put it on and off, comes in pretty design and available in neutral colours that can match most outfits and most importantly both mummy and daddy can use it interchangeably 😀
HOW TO PURCHASE
You can purchase this EU SPC Soft Structure Carrier directly from their website at UNISON CA. Besides baby carriers, they also carry a wide range of baby feeding products and accessories. For my readers and followers, Unison CA is giving 15% off for all orders until 31st July 2017 with discount code EdholmUilenius
For more information on their products, do visit their Website, Facebook Page or you can also follow them on Instagram @mysuppori_unisonca
—
You can subscribe to
my blog, follow me on Facebook, follow Instagram, follow Twitter and Youtube for more updates!
—
Comments
comments