Red Box Dot Red Privileges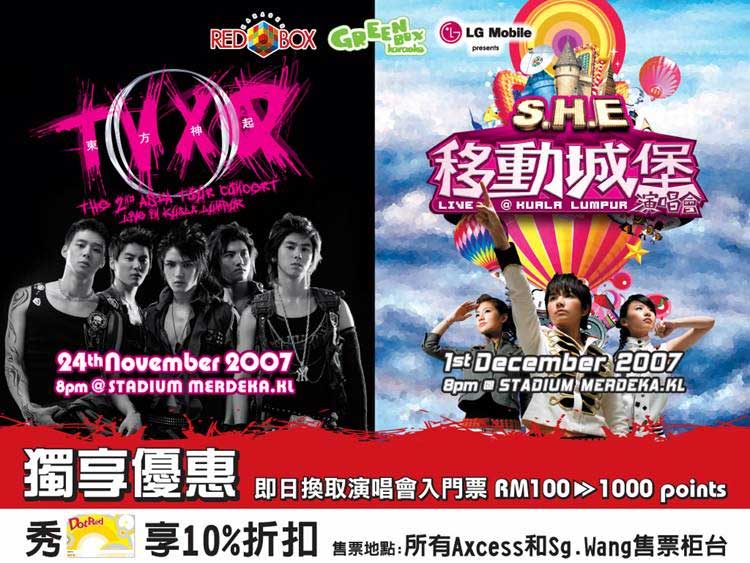 ???? TVXQ (Tong Fang shen Qi)
24th November 2007
8pm @ Stadium Merdeka, Kuala Lumpur .
TVXQ is the acronym for Tong Vfang Xien Qi, the 5-member Korean boy band formed by SM Entertainment. Its five member specialize in the areas of dance, a cappella, acting, and pop with an R&B vibe. The group has gained popularity in South Korea, Japan, China, Taiwan and other East Asian countries. In Korea, they are better known as Dong Bang Shin Ki, which when translated into English means "Gods Rising from the East".
Ticket Price:
RM503, RM423, RM323, RM283, RM183 & RM103
S.H.E ??????? (Yi Dong Cheng Bao)
1st December 2007
8pm @ Stadium Merdeka, Kuala Lumpur.
With their great success in the past concerts in Malaysia [Fantasy Land World Tour] in year 2004 & [S.H.E Live In Genting] in year 2006, once again "The Number One Taiwan Girl Group". S.H.E will rock the world for their Malaysian fans in the upcoming [S.H.E Live @ Kuala Lumpur Concert]. For this tour they've performed a fabulous show in region like Shanghai, Hong Kong , Shen Yang, Wu Han, Taipei, and Singapore . Finally 1st of December they will perform another fabulous show at Stadium Merdeka for all Malaysian fans. Ticket will be on sale from the 6th October 2007.
Ticket Price:
RM353, RM263, RM163 & RM103
Children aged 3 and above require ticket for admission
FREE entrance for children AGED BELOW 3.
If you are a dot red member you can exchange the concert tickets RM100.00 >> 1000 points
On the other hand, you could get 10% off for the tickets purchased.
Ticket Counter: All Axcess Outlets and Sg. Wang Counter
Comments
comments