Din Tai Fung (鼎泰豐) is celebrating its tenth year in Malaysia. To mark its 10th Anniversary milestone, we were invited to sample some of Din Tai Fung's classic and new items on their menu @ The Gardens Mall, Mid Valley.
Originating from Taiwan, Din Tai Fung opened its first outlet at The Gardens Mall, Mid Valley in 2007. To date, the restaurant has 4 outlets across Klang Valley (The Gardens Mall, Pavilion KL, Empire Subang and One Utama) and 1 outlet each in Sky Avenue Resorts World Genting, Gurney Plaza Penang and City Square Johor Bahru.
Din Tai Fung has always been our favorite restaurant to eat because the choice of dishes is extensive ranging from delectable appetizers, signature xiao long bao, steamed dumpling, buns to noodles, fried rice, dishes and dessert. Basically, there's something for everyone to eat. And though their dishes are simple, it's delicious and flavorful.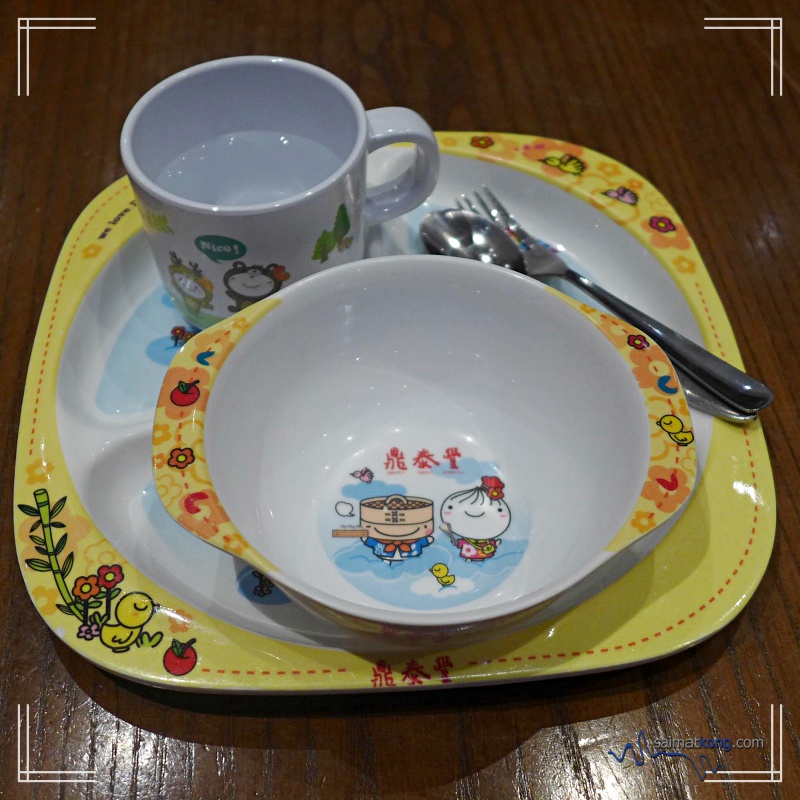 We like that Din Tai Fung provides such nice plates and utensils set for the kids which make dining so enjoyable for the kids.
Without further ado, here are the delectable dishes we had:-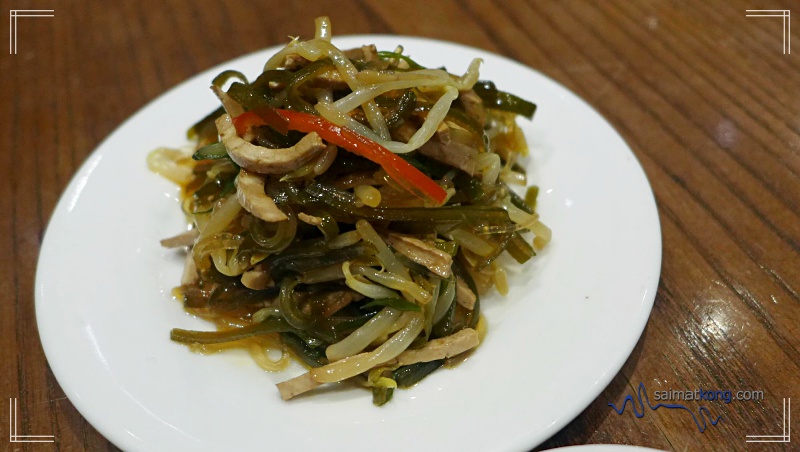 Din Tai Fung House Special
This appetizer consists of seaweed, bean sprout and beancurd strips tossed in a spicy and tangy dressing. It's real appetizing.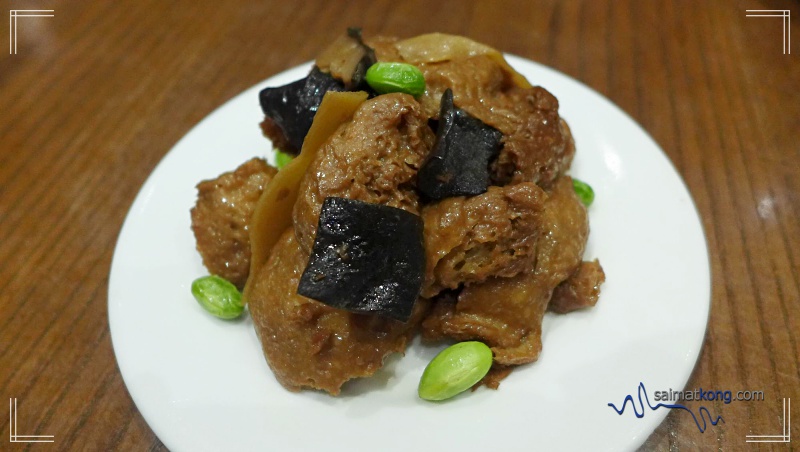 Shanghai Kao Fu
This Kao Fu or braised wheat gluten is a well known Shanghainese cold appetizer. Made with gluten, wood ear fungus, Chinese mushroom and edamame, it taste both sweet and savory. It's a perfectly healthy dish and is suitable for vegetarians too.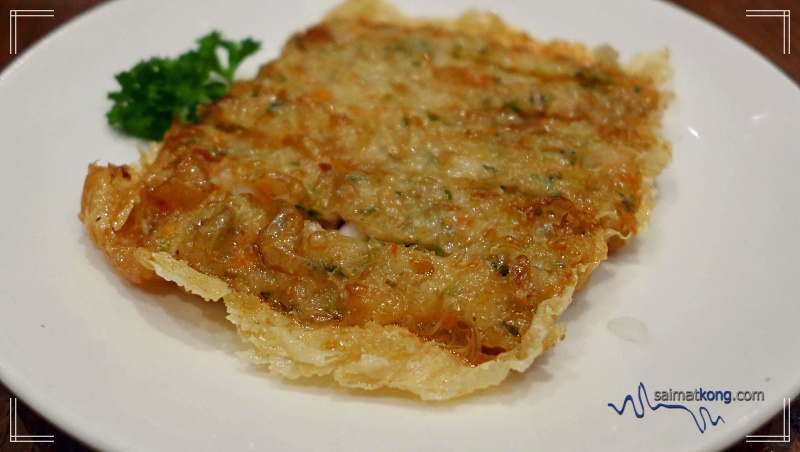 Crispy Prawn Cake
The exterior of this prawn cake is crispy but the meat which is made with flavorful minced prawn has a springy texture.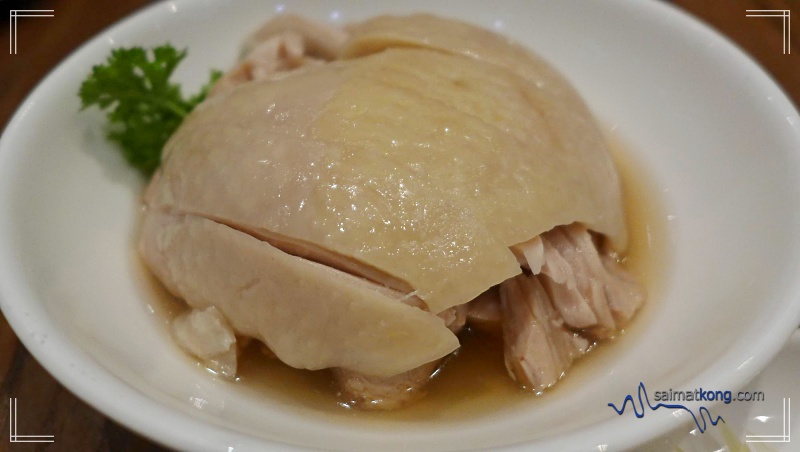 Shaoshing Wine Marinated Chicken
This Shaoshing Wine Chicken is also a Shanghainese cold dish made using chicken thigh and steeped in special Chinese rice wine. The chicken is cold, tender, juicy and has amazing flavor.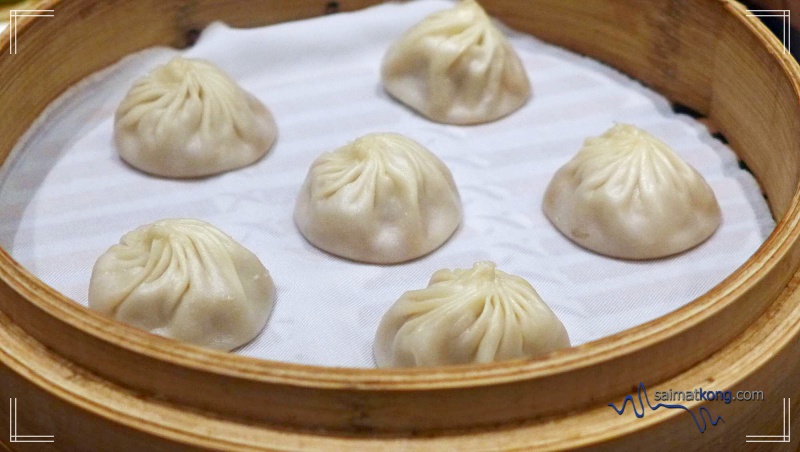 Pork Xiao Long Bao (小笼包)
The pork xiao long bao is Din Tai Fung's signature soup dumplings made with flavorful meat stuffing and broth wrapped in delicate dumpling skin. Each of the almost translucent dumpling skin is crafted into 18 exquisite folds. It's a must order whenever we dine at Din Tai Fung.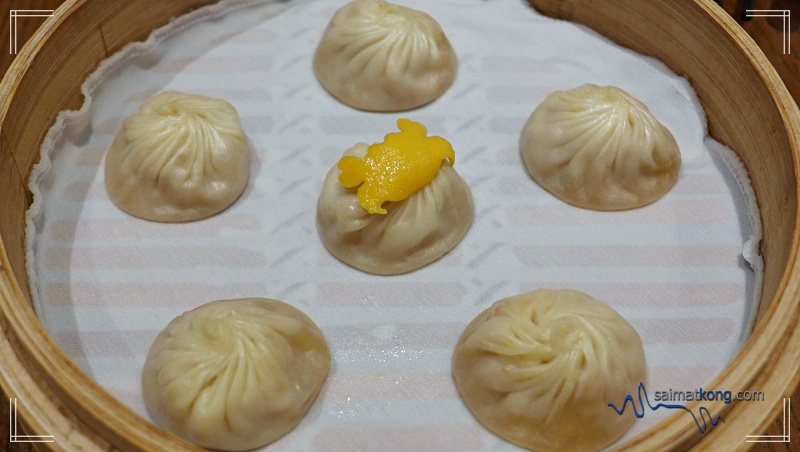 Crab Roe & Pork Xiao Long Bao
Seafood lovers will love this pork Xiao Long Bao with the addition of crab roe.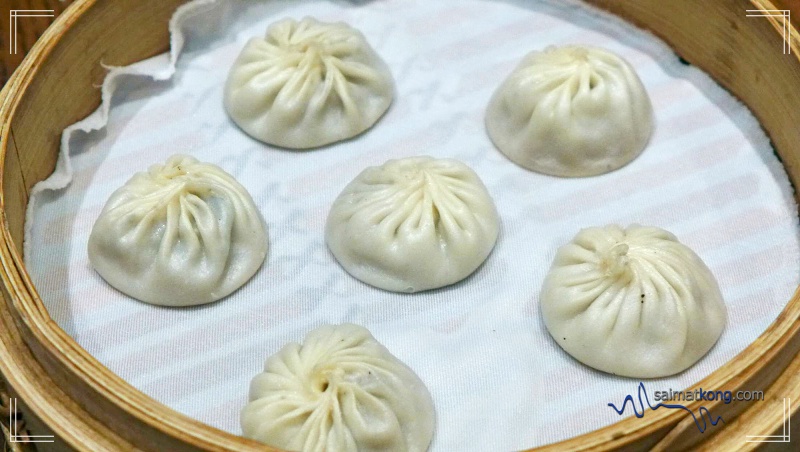 Truffle & Pork Xiao Long Bao
If you're a fan of truffle, you're gonna love this truffle & pork xiao long bao which is filled with intense and flavorful truffle. The Wifey find the truffle taste a little too strong but I personally think the truffle dumplings are packed with flavor with a nice truffle scent.
If it's your first time eating Xiao Long Bao, let me show you how to enjoy your Xiao Long Bao:-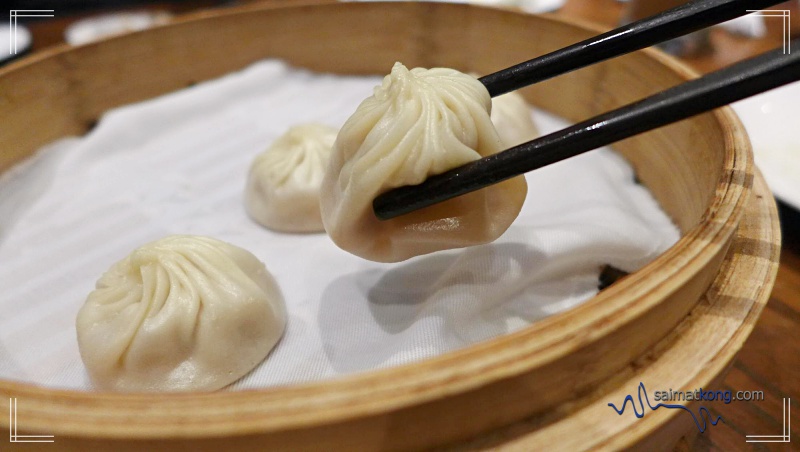 Gently lift a Xiao Long Bao with your chopsticks (try your best not to burst it)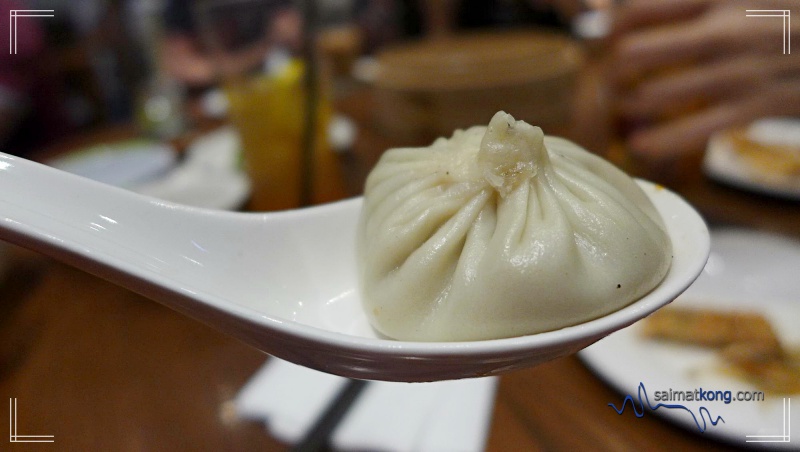 Place the Xiao Long Bao into your spoon.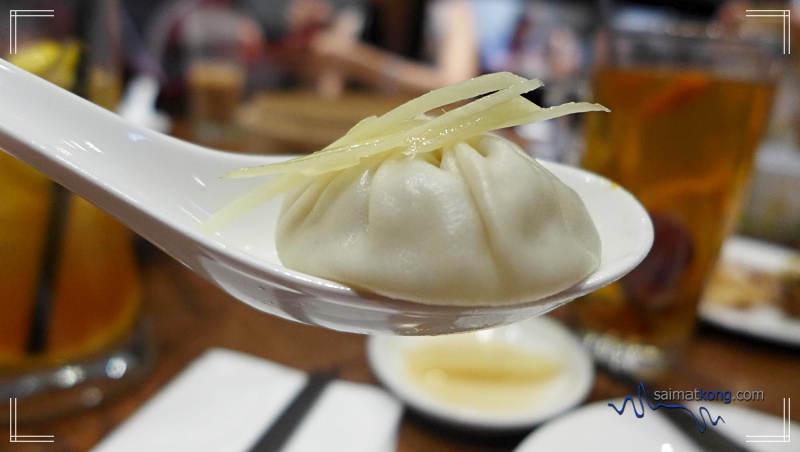 Now you can savor your Xiao Long Bao and do enjoy it while it's hot. You can place some ginger strips and vinegar on it. I love to bite a small hole and slowly sip the savory broth first before putting the whole dumpling into my mouth. While The Wifey love the Xiao Long Bao as it is without any condiments, I love adding some ginger strips and vinegar. What about u? How do you enjoy your Xiao Long Bao?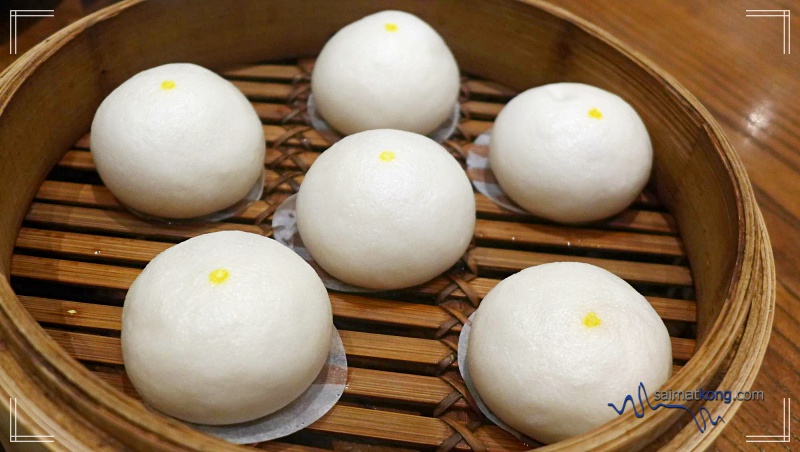 Mini Golden Custard Egg Bun
Made using premium salted duck egg yolks, these mini golden custard egg bun or 'Nai Wong Bao' is one of the new items in the menu.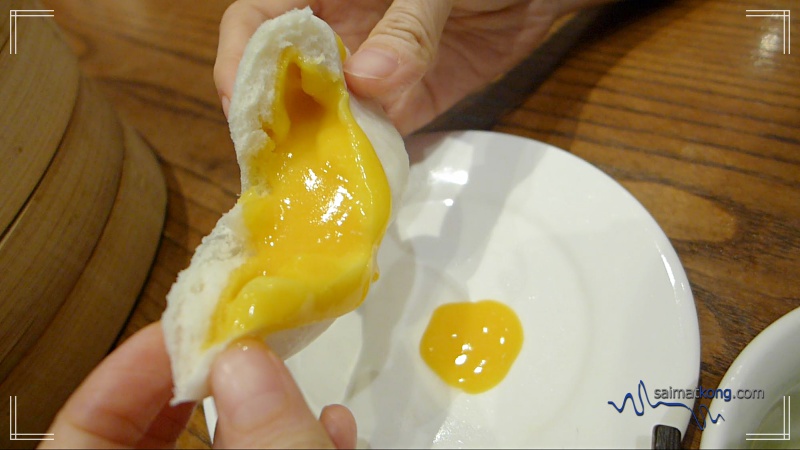 Thick, rich and creamy egg yolk custard filling oozing out.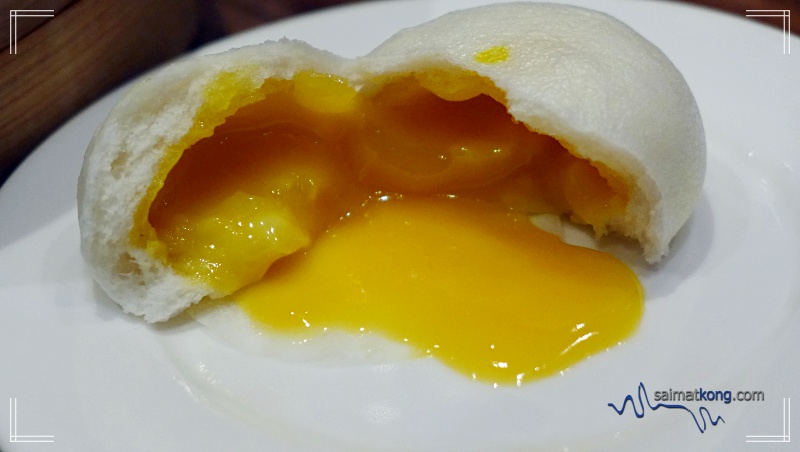 So yums! To be honest, this super delicious egg yolk custard bao is not exactly cholesterol friendly but it's absolutely divine. To indulge in this once in awhile ok la, but make sure you do lots of exercise after.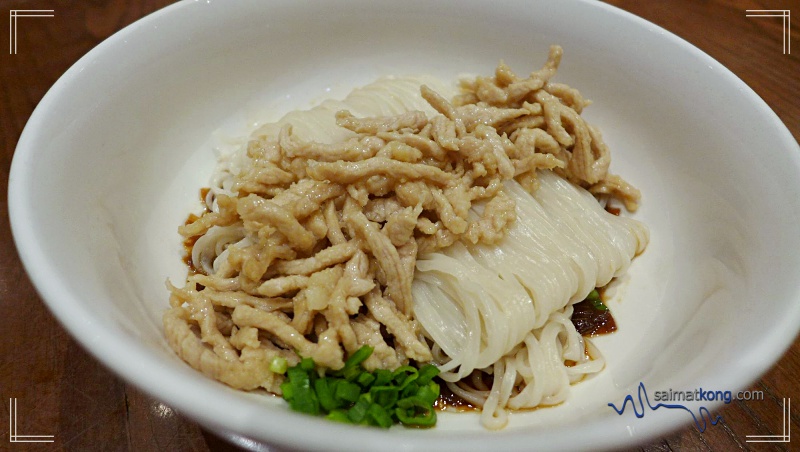 Fragrant Spring Onion & Shredded Pork Noodle
This dry noodle dish which is originated from Din Tai Fung China is not a new dish but it's our first time trying it. It's made with their hand pulled la mian, tossed with fragrant sauce, topped with shredded pork and chopped spring onion.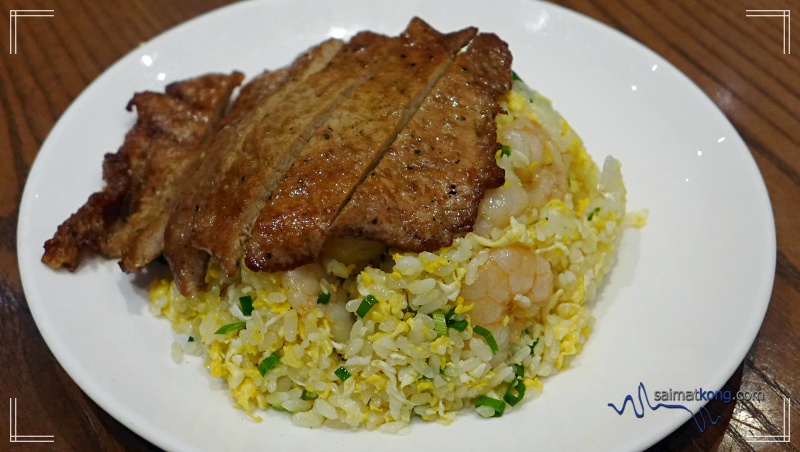 Pork Chop & Shrimp Fried Rice
I've always loved Din Tai Fung's fried rice coz its full of wok hei and very flavorful. It may a simple dish with ingredients like juicy big shrimp, egg and spring onion but it's very delicious. Also, the pork chop which is marinated with spices is tender and juicy. Yums!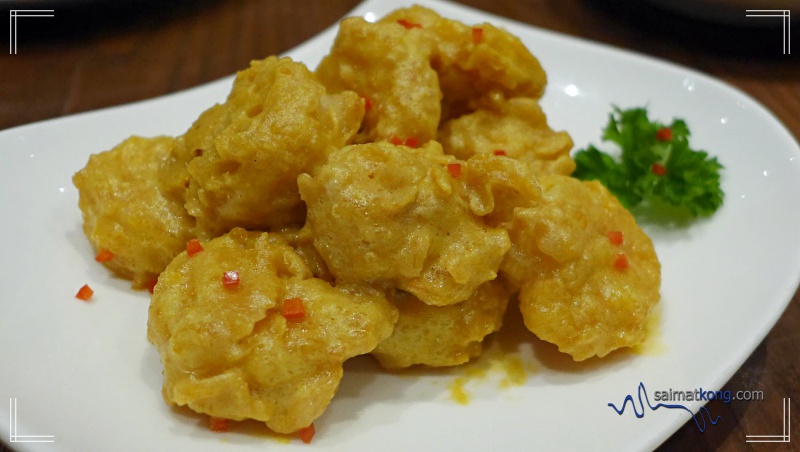 Prawn with Salted Egg
This is one carb-laden dish but it's real delicious. The prawns are real juicy, succulent and coated generously with divine salted egg and deep fried to perfection.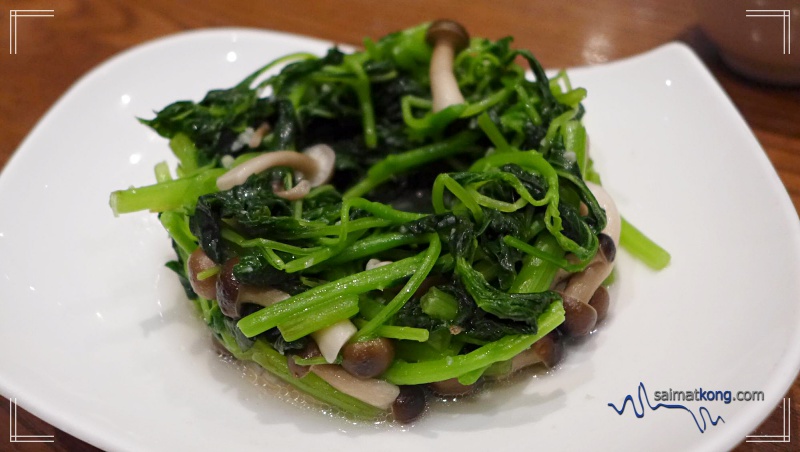 Stir-Fried Amaranth with Shimeiji Mushroom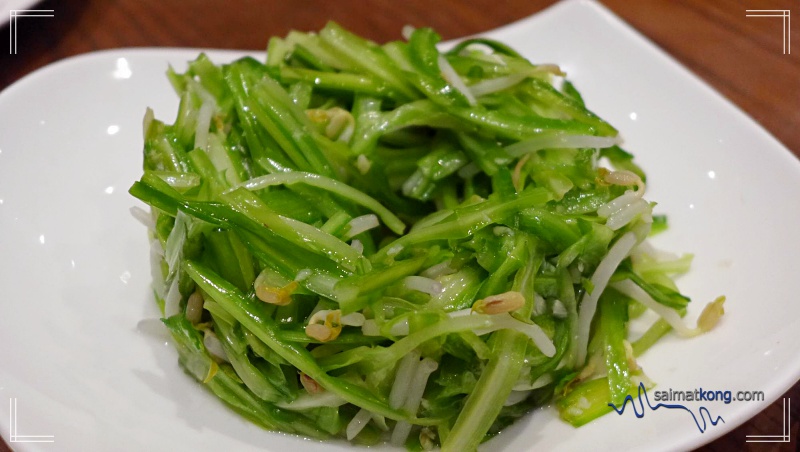 Stir-Fried Royale Chive & Bean Sprout with Garlic
Another new dish in their menu is this Royale Chive or also known as Qing Long Cai. It's rich in fiber, highly nutritious and best is it's low in calories.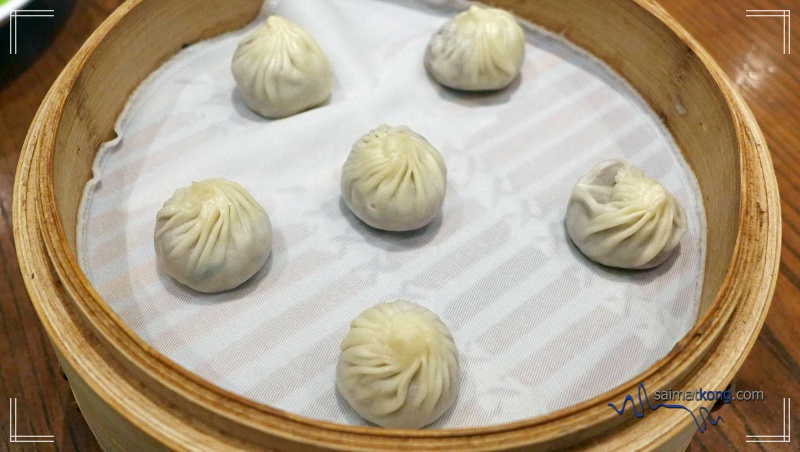 Chocolate Xiao Long Bao
This delectable Xiao Long Bao filled with chocolate filling is great as dessert and is perfect to satisfy your sweet tooth. The rich chocolate is wrapped with a thin layer of mochi and delicate dumpling skin.
Thick and rich chocolate filling oozing out from the thin dumpling skin.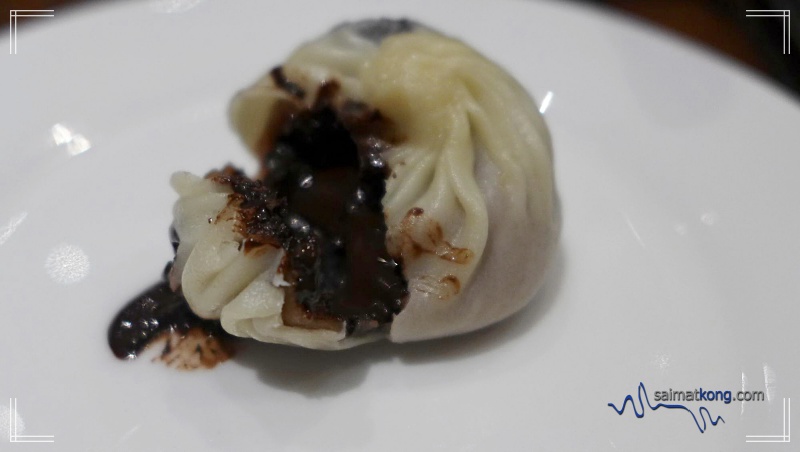 In conjunction with its tenth anniversary celebration, Din Tai Fung is giving out Limited Edition Din Tai Fung Environmental Bag with purchase of any Xiao Long Bao (6pcs and above). It's 1 redemption per receipt and there are only limited quantities are available.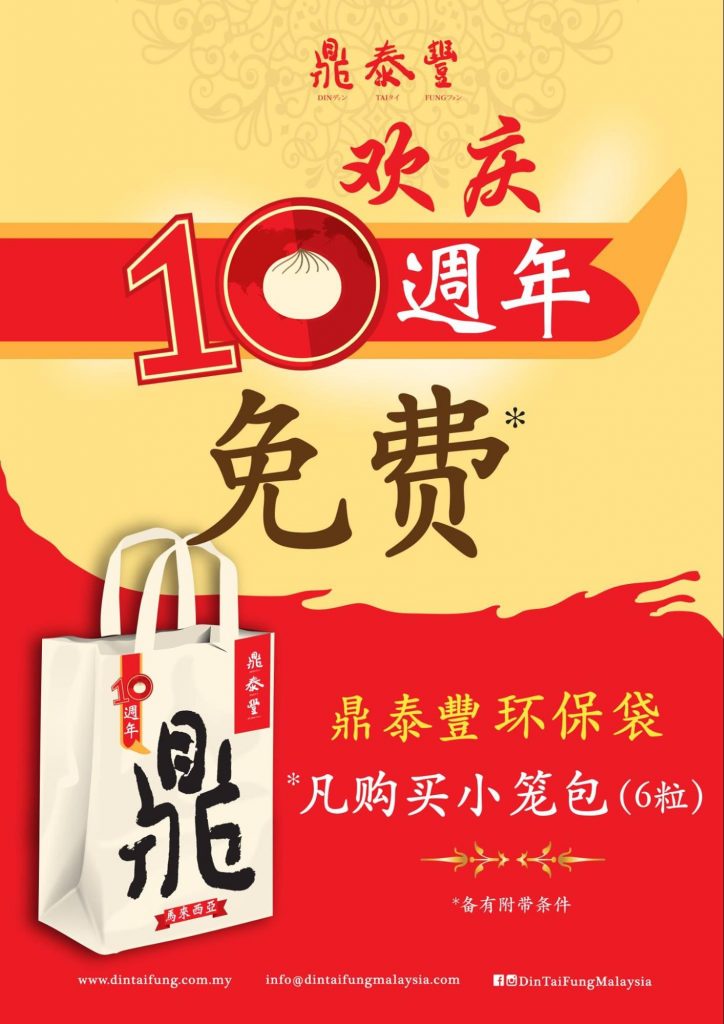 Last but not least, Happy 10th Anniversary Din Tai Fung Malaysia! Here's to many more 10! It was such a great evening sampling all the delectable dishes at Din Tai Fung with other foodies like Taufulou, MissBlurryKit, BabySumo and MalaysianFoodie. Thanks Din Tai Fung for having us!
Comments
comments