I discovered babywearing with Aiden after he was born two years ago. Babywearing allows me to accomplish my daily chores while knowing that my baby is safe and happy 🙂 Recently, I had the opportunity to try and review LÍLLÉbaby® Complete 6-in-1 AirFlow Baby Carrier. I'll be sharing on the features of the LILLEbaby baby carrier and my babywearing experience with LILLEbaby 🙂
About LILLEbaby:-
LILLEbaby was founded by Lisbeth Lehan, a designer who is passionate about how products should have a purpose of – in our way or another – improving quality life. Her mission is to make the best baby carrier that was complete in every way : complete in comfort, functionality, safety and style.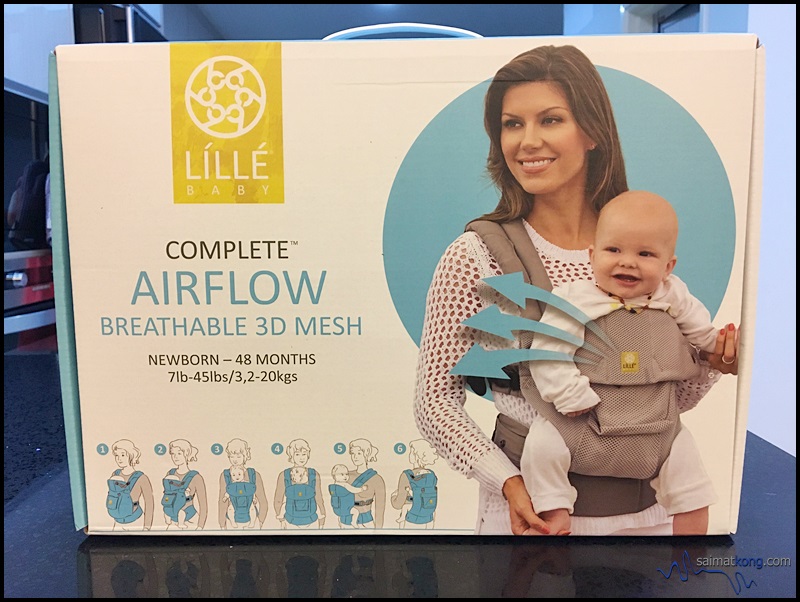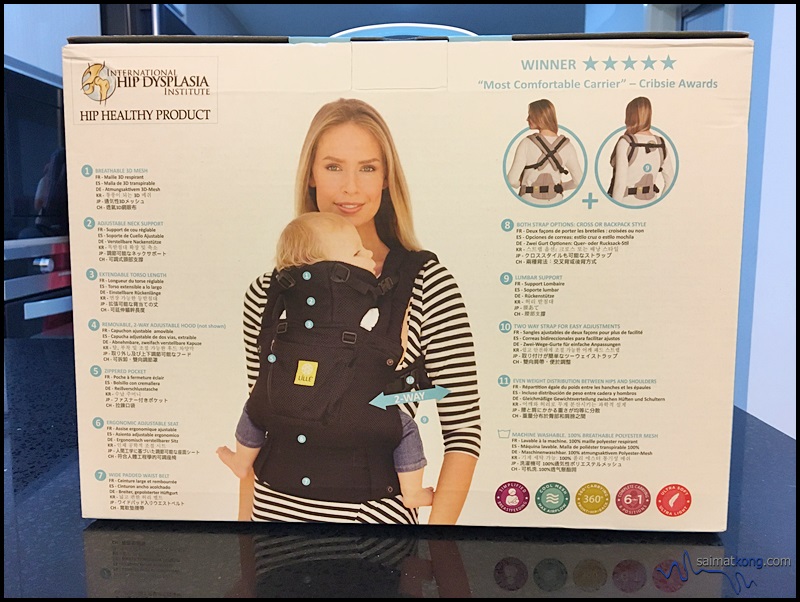 This is how the LILLEbaby Complete AirFlow Baby Carrier box looks like with the brand LILLEbaby clearly displayed. Besides Complete 6-in-1 AirFlow, LÍLLÉbaby® has other range of baby carriers such as the Complete 6-in-1 All Seasons, Organic, Original, Embossed (Luxe) and Limited Edition Tokidoki Prints. LILLEbaby also has a Carry-On range which is suitable for toddlers from 9-27kgs. There are extensive choice of colors, designs and prints across the entire range.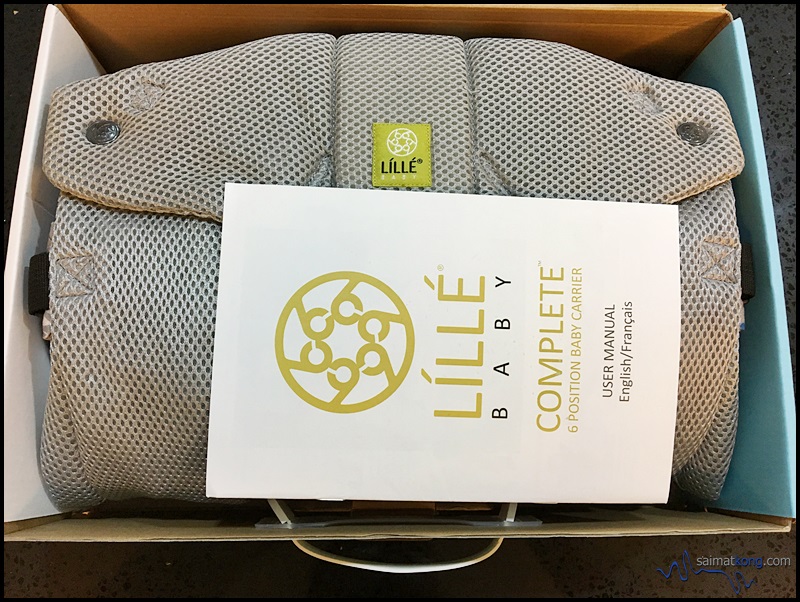 The baby carrier comes with a detailed instruction manual/ brochure on how to carry your baby in 6 ergonomic carrying positions.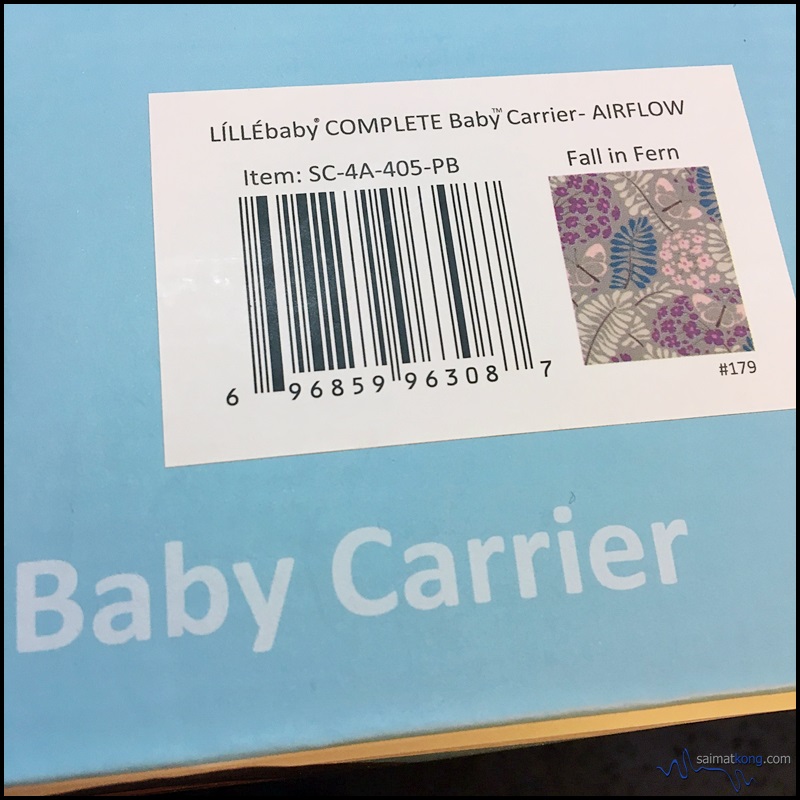 I received LILLEbaby Complete AirFlow Baby Carrier in a lovely Fall in Fern print. The baby carrier is made of breathable and cool 3D mesh which I thought is perfect for our hot weather.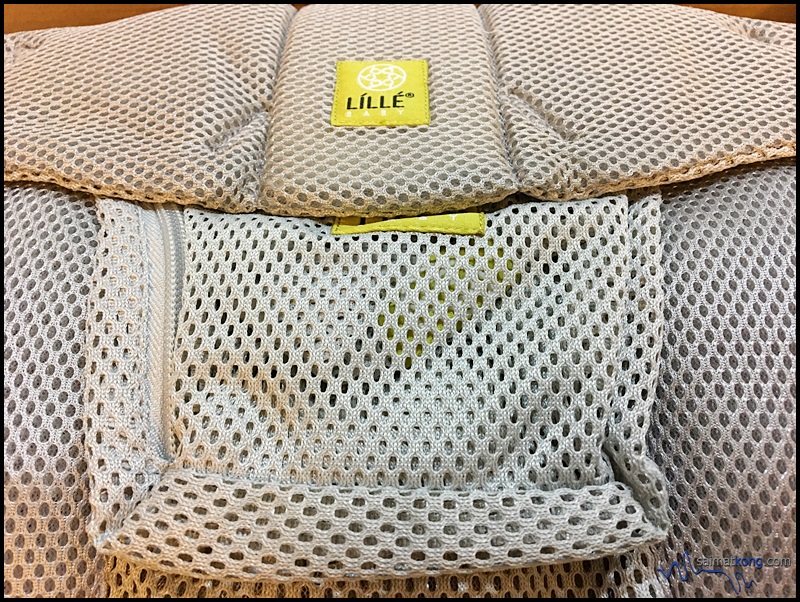 Below are some cool features of LILLEbaby Complete AirFlow Baby Carrier:-
1) Six Ergonomic Carrying Positions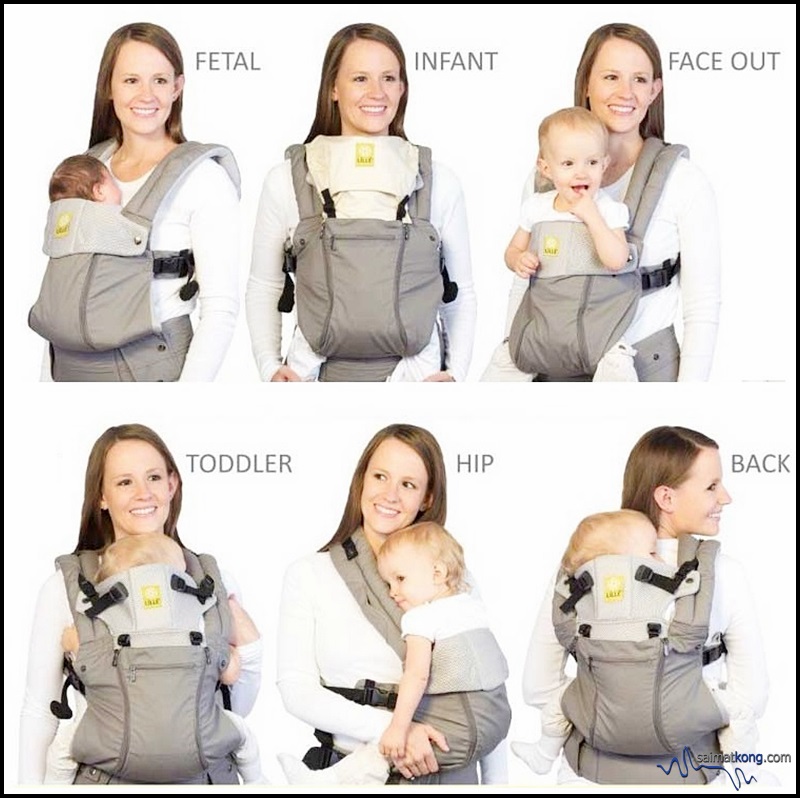 The LILLEbaby can be worn in the following positions:-
• Front-Fetal
• Front-Infant
• Front-Outward
• Front-Toddler
• Hip Carry
• Back Carry
The LILLEbaby Complete Baby Carrier grows with your child through all the baby wearing years, carrying babies and toddlers from 3-20kg. What I truly like about LILLEbaby Complete carrier is that it does not require an infant insert.
2) Lumbar Support
The LILLEbaby carrier comes with lumbar support which easily attaches to the carrier waist belt to promote proper posture during babywearing while providing support and comfort for your lower back. I personally love this feature as it gives me a good back support to balance and maintain a healthy posture while carrying my baby. Also, the piece of cloth can be removed when you don't need it, so flexible right?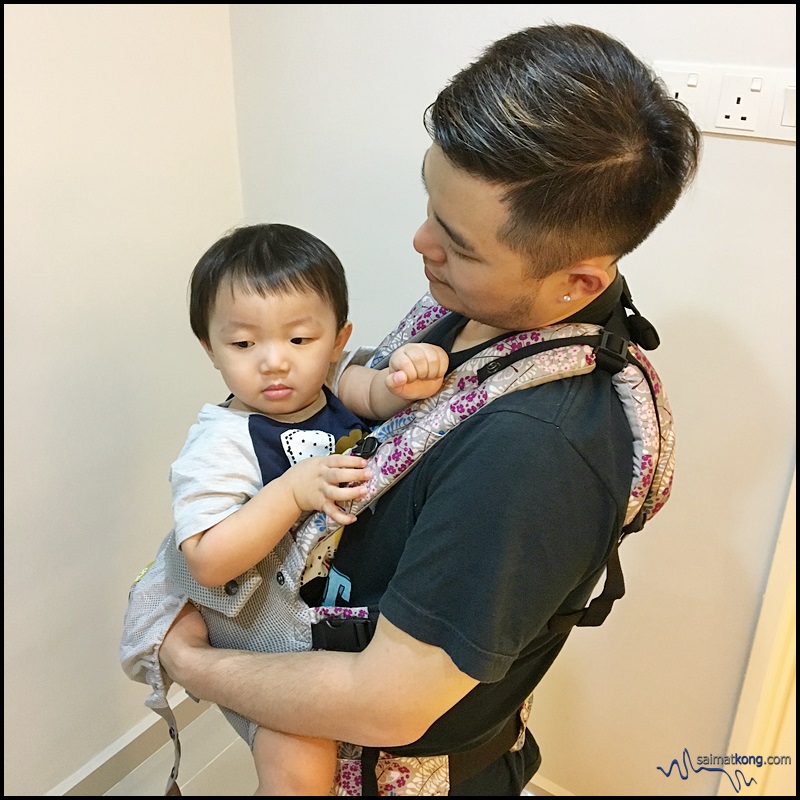 The Husband also tried and testified that it feels comfortable and his back doesn't ache after hours of usage. He now seems to enjoy babywearing Aiden 😄 – the baby wearing experience is indeed wonderful.
3) Two-way Strap
LILLEbaby carrier comes with a two-way strap which enable wearer to babywear the 'backpack' style or with straps crossed in the back.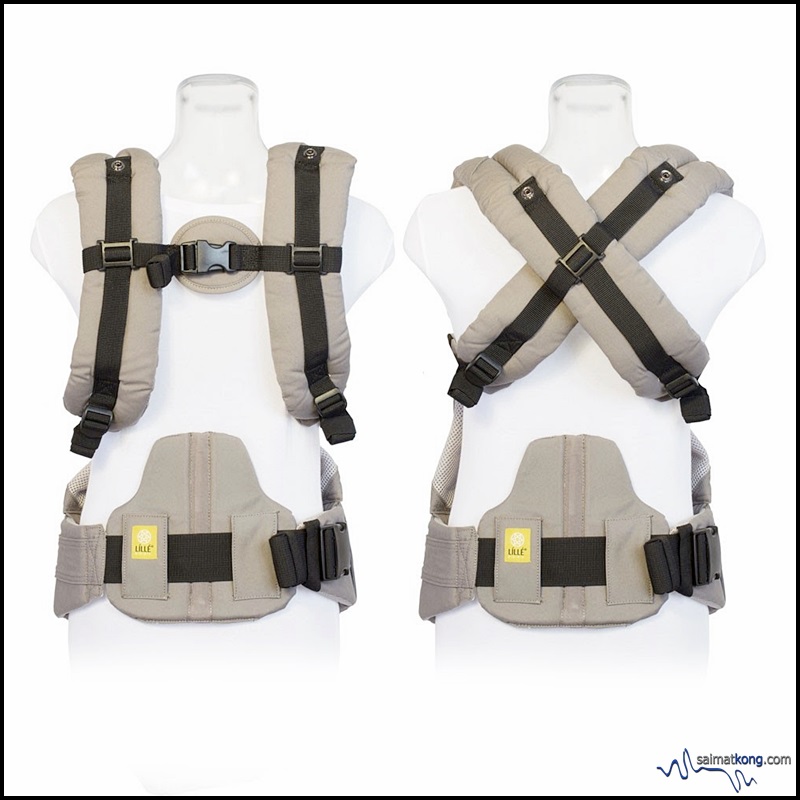 You can either babywear the 'backpack' style or criss-cross style.
I love the dual adjustment buckles which makes it easier for me to pull and adjust the straps from the front without having to reach my back to adjust the straps.
4) Sleeping Hood
LILLEbaby carrier features a dual adjustment points to provide tailored support for baby's head while sleeping, sun protection while exploring, and privacy while nursing. The hood is removable.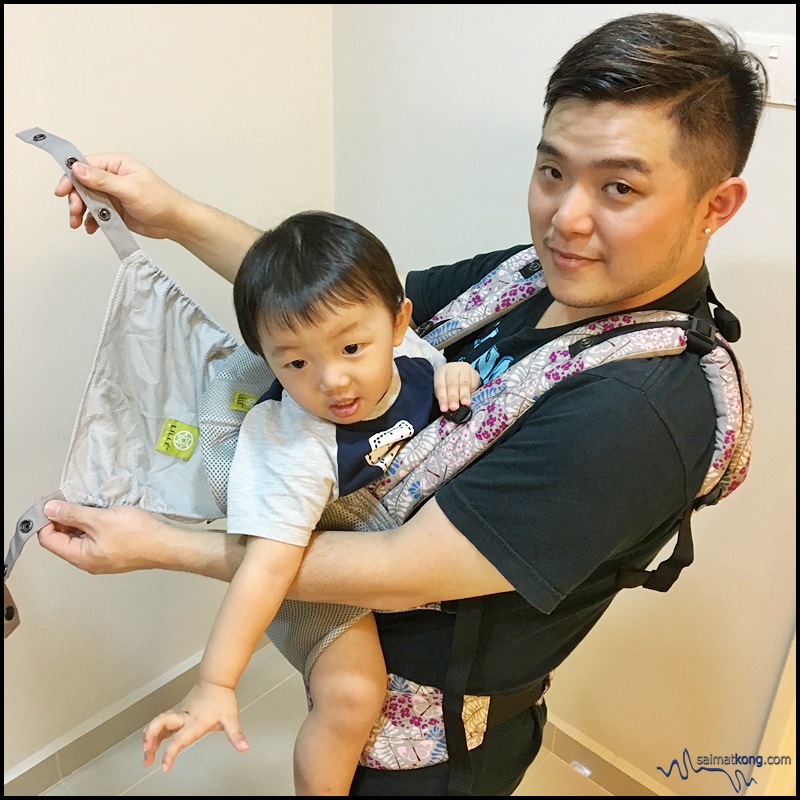 The sleeping hood is great for sleeping baby or toddler. It also comes handy when I want to nurse Annabelle as it offers me the privacy while I need to breastfeed on the go.
5) Spacious Cargo Pocket
The spacious cargo pocket of LILLEbaby carrier is one of my favorite feature. It has a large and spacious zippered pocket for me to store all my essentials when I'm out with Annabelle and Aiden without needing to bring another diaper bag.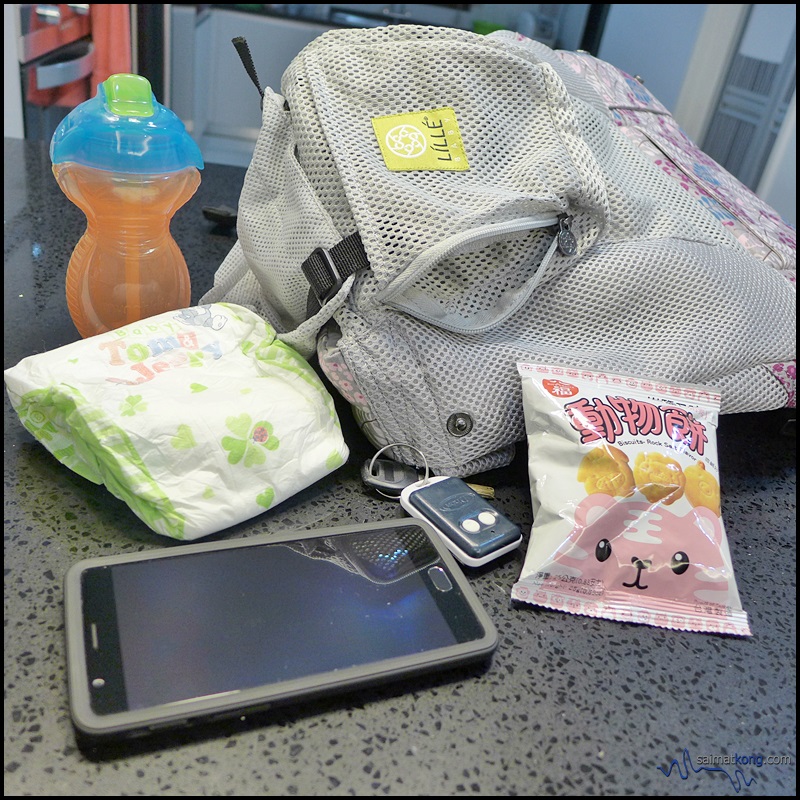 The spacious pocket can easily accommodate my essentials like diapers, wet wipes, snacks, water bottle, keys and phone. It's so good have my hands free while outside shopping with both my children 🙂
6) No Infant Insert Required
While many baby carriers require infant insert, LILLEbaby carrier is suitable for newborn of 3.2kg and above and it doesn't require an insert when using for newborn.
7) Extended Usage
The carrier is suitable for newborn if 3.2kg up to toddler of 20kg which is worth the investment as it can last for many years.
8) Wide, Thick & Padded Shoulder Straps
The LILLEbaby carrier comes with a wide, thick and well-padded shoulder padding which provides comfort when I'm babywearing my kids.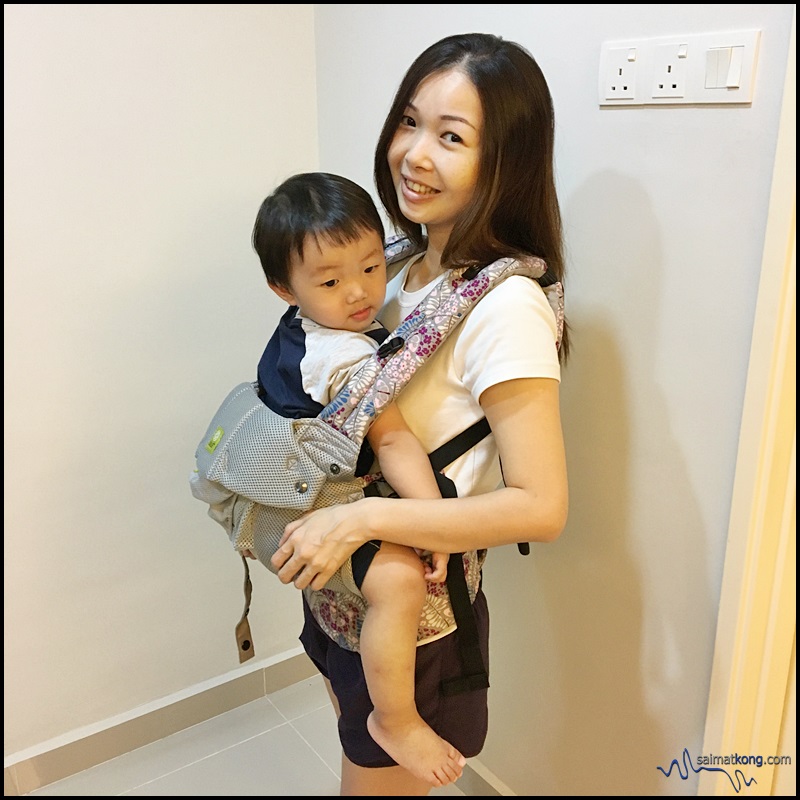 I really love the thick and padded shoulder straps as I tend to babywear my children for long hours and the well-padded keeps me comfortable 🙂
9) Extra Tall, Extendable Torso
Another feature that I find nice is the Extra Tall, Extendable Torso which provides extra neck and back support and keeps taller babies secure in the carrier.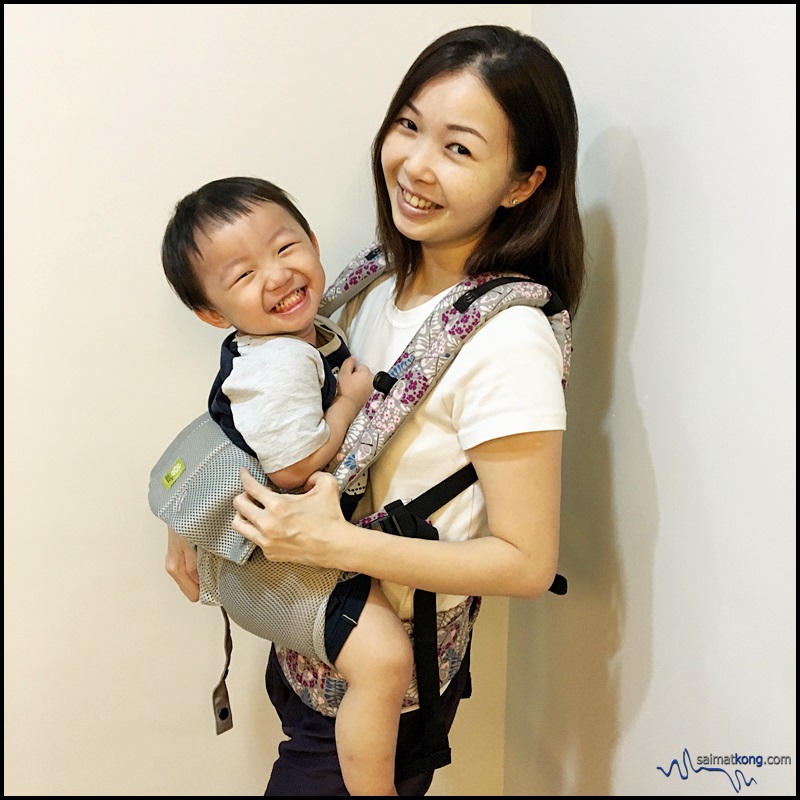 Overall, I had very good experience babywearing my kids with LILLEbaby Complete AirFlow baby carrier. I absolutely love babywearing as I can have my hands free to do house chores and at the same, keeping my baby close to me at all times. After trying the LILLEbaby Carrier for some time now, I personally think it's very well-made; offering six ergonomic positions of babywearing with a variety of features and most importantly it keeps me comfortable and my baby happy 🙂 When my baby is happy, I'm a happy mommy 🙂
TO PURCHASE
You can visit their Facebook page / purchase from Lazada or you may also Whatsapps their Sales Team at 014-6993992 if you have any product enquiry or need any further advice.
—
You can subscribe to
my blog, follow me on Facebook, follow Instagram, follow Twitter and Youtube for more updates!
—
Comments
comments