Badminton – Proton Malaysia Open Super Series 2008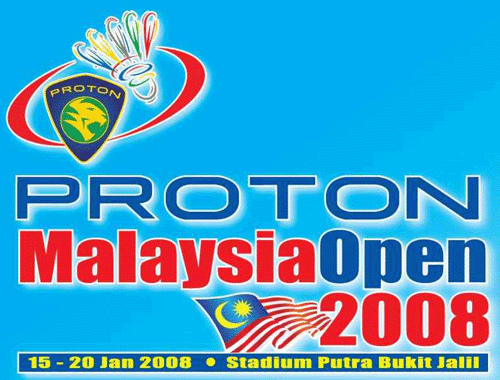 Malaysia Open is here again. Previous Visit to Proton BWF Championships 2007 was so disappointed as all Malaysian Balik Kampung.
So hopefully this time I can see a better match and Malaysia Boleh Spirit. Want to watch it live @ Bukit Jalil? Seriously watch there the environment and all will be very different as we all shouted and very excited but one cons is, there's no slow motion replay as you watch Live Telecast =)

Chew Choon Eng (left) and Chan Chong Ming with their 2002 Asian Games bronze medal. The same year they also won the Commonwealth Games doubles gold medal.
The duo, who split up in 2004, are back together for this month's Malaysia Open. Hope they can regain their glamor and very eager to see them in action, not forgetting our top seed, Koo Kian Keat/Tan Boon Heong, Lee Wan Wah/Choong Tan Fook, Lee Chong Wei, Wong Mew Choo…
Date: 15-20 January 2008
Location: Stadium Putra Bukit Jalil
Tickets for the Malaysian Open badminton championships are now available for sale. Yesterday, the Badminton Association of Malaysia (BAM) announced the ticket prices for the season-opening Super Series tournament at the 10,000-capacity stadium.
Tickets for the early round have been prices between RM5 and RM25. They will cost between RM10 and RM35 for the quarter-finals and semifinals. For the action on the finals day, tickets have been priced at RM13 and RM45.
For more information, contact Axcess agents in the Klang Valley, Penang and Johor or go to their website at www.axcess.com.my. Axcess can also be reached at 03- 77115000.
The tickets is a lot cheaper compared to last year World Championship 2007 =) So grab your tickets now!
Comments
comments