Asian Game Badminton Final – Datuk Lee Chong Wei lost to Lin Dan "Super Dan 超级丹"
Too disappointed… Datuk Lee Chong Wei 李宗伟 again fail to bring down Lin Dan 林丹. Lee Chong Wei lost to Lin Dan again! 13-21, 21-15, 10-21 no gold for Malaysia in Badminton.

[Full] Badminton Lin Dan vs Lee Chong Wei 2010 Asian Games MS Final
Super Dan 超级丹 won again this time! Lin Dan beat Datuk Lee Chong Wei in style and yet Datuk Lee tried his best becoming the first Malaysian men's singles champion in 40 years at the Asian Games but not avail.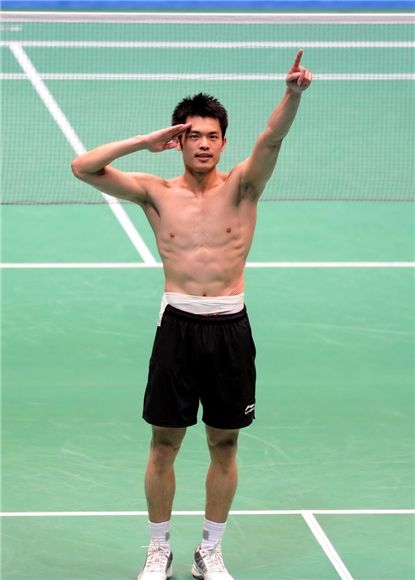 Lin Dan salute to his fans in Guangzhou.
Lin Dan just love punching in the air and taking off his shirt to the deafening roars of the home crowd. He just love to show his sexy naked body with six-packs!
I did a live tweet for the Asian Game badminton final yesterday of Lin Dan vs Datuk Lee Chong Wei, you can see how excited the game and most importantly Lee Chong Wei tried his best and I think Lin Dan still the best badminton player in the world even Datuk Lee is world number 1 in badminton now.
Super Dan bags it all

THE world's most celebrated men's singles badminton player, Lin Dan of China, finally has it all.

He fitted the final piece of the jigsaw in his immaculate career winnings by nailing the elusive Asian Games title in front of his adoring fans at the Tianhe Gymnasium yesterday.

And "Super Dan" did it in super style, defeating world No. 1 Lee Chong Wei 21-13, 15-21, 21-10 in the final.

And then he celebrated the victory in the only way he knew – letting out a loud cry, punching the air repeatedly and taking off his shirt to the deafening roars of the home crowd.

And he did a little more yesterday after the usual salute. He threw his shoes and sweat-soaked shirt to the delirious crowd.

With the triumph in the Guangzhou Asiad, the 27-year-old Olympic and three-time world champion has won all the major titles on offer in world badminton.

As for Chong Wei, his losing streak against Lin Dan on China soil continued and his hopes of becoming the first Malaysian men's singles champion in 40 years at the Asian Games went up in smoke.

Punch Gunalan won the last Malaysian gold medal in the event at the 1970 Games in Bangkok.

Chong Wei was too disappointed and distraught to turn up for the post-match media conference. Said team manager Datuk Maijol Mahap: "He is sitting at a corner. The defeat was too disappointing for him.

Please let him be, for now."

A thrilled Lin Dan, however, took his time to answer all the questions thrown at him.

"I have reached my target.

"I have won all the major titles that a player can win. This is really a wonderful moment for me," he said.

"Of all the titles that I have won, the 2004 Thomas Cup Finals, however, will hold a special spot for me. It was the beginning of my rise as a player. And the 2008 Beijing Olympic Games was an important one too."

Although buoyed by his exploits, Lin Dan gave due credit to Chong Wei's fighting spirit yesterday.

"This is my best Asian Games final. There was pressure on both of us. We played well even though it was so tough. Honestly, I was the lucky one to win.

"I give my due respect to Chong Wei. He really fought very hard today."

Lin Dan showed he was much superior in the first game with his stronger attack taking him to an 11-6 lead.

Chong Wei came back from the game break with his brilliant deceptive shots to take three consecutive points but Lin Dan replied with a flurry of smashes to extend his lead to 15-9.

The Malaysian tried to break Lin Dan's momentum but, in his haste, made too many mistakes to hand the game to his pumped up rival.

Chong Wei upped the tempo in the second game as Lin Dan appeared to take his foot off the pedal to allow the Malaysian to force a decider.

Lin Dan was devastating in the rubber game, leading 11-4 at the game break before romping home for the gold medal.

Source : TheStar
Comments
comments