Tucked in the quiet industrial area in Bukit Beruntung, Restaurant Triple Round (大三元海鲜饭店) is one hidden gem. This restaurant has been around for many years and is very popular with residents staying nearby and golfers as it's just a short distance from Bukit Beruntung Golf & Country Resort. If you're during lunch time, you'll see many golfers gather, sit and eat after their golf game.
The journey to this restaurant from KL / PJ takes about half an hour, depending on the traffic. If you are using the North South Highway, turn right after the Bukit Beruntung toll booth. The restaurant is just another few turns of right after the highway. With helpful social GPS apps like Waze, it's really not hard to locate this place.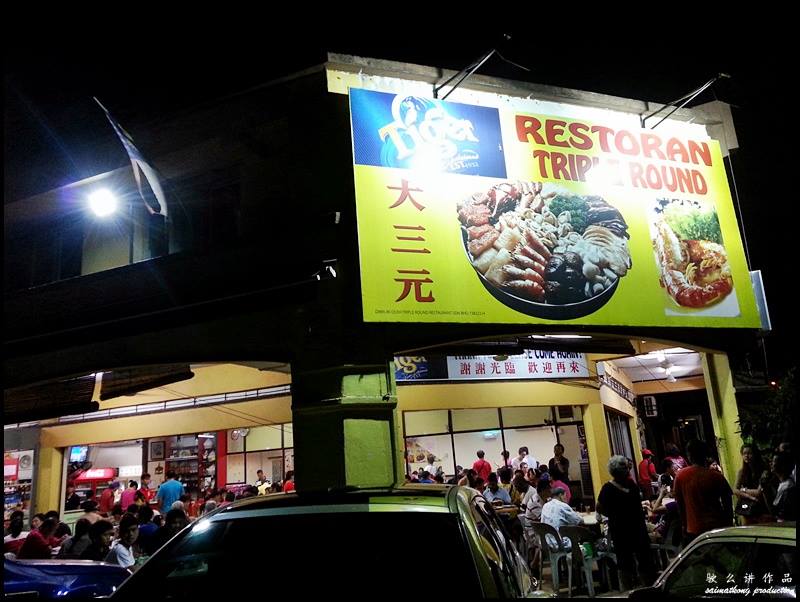 Triple Round Restaurant occupies a corner shop lot with lots of parking space. This place is always crowded during lunch and dinner hours, so call to make reservations to avoid disappointments driving all the way here.
This kopitiam-style restaurant has both air-conditioned room and normal fan dining area. If you want to sit at the air-conditioned area, be sure to call and make table reservation or else you'll have to sit at the open space outside.
Triple Round Restaurant offers a great selection of wonderful and delicious Chinese dishes. If you are undecided on what dishes to order, you can always refer to photos on the wall inside the air-conditioned room.
Hot Plate Sizzling Tofu (RM10)
The sizzling Japanese tofu which comes with minced meat, shiitake mushroom slices and egg at the bottom is served on a hot plate. A decent tofu dish.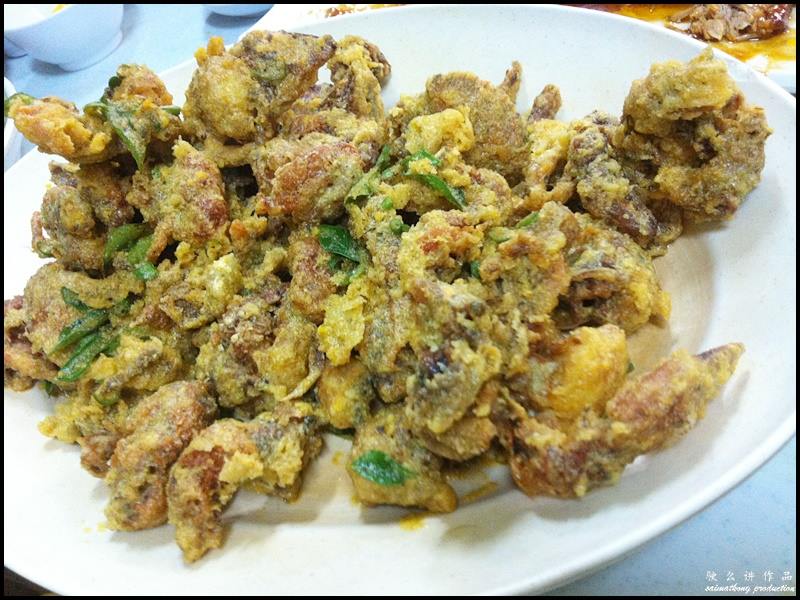 Salted Egg Soft Shell Crab (RM72)
The fried Soft-Shell Crab with Salted Egg is sinfully delicious. The soft shell crab is very crispy and perfectly battered with egg yolk paste. One heck of a cholesterol-laden dish.
Spinach in Superior Soup (RM7)
A popular chinese dish which is also my favorite order whenever I have tai chow coz it's a simply and healthy dish.
Mixed Vegetables Curry (RM14)
The mixed vegetables curry is loaded with several colorful vegetables like brinjals, long beans, cabbage and okra. The gravy is mildly spiced, creamy and very flavorful.
BBQ Pork Ribs (RM33)
The 'siu pai kuat' is served with mantao buns. The ribs were tender and well seasoned. The meat was falling of the ribs with a perfect balance of meat, fat and bone. This is highly recommended dish.
Verdict: The food is good and portions are generous at very reasonable price. If you don't mind traveling, I would recommend you to drive over to Bukit Beruntung and check this place out! Further, it only take about 30mins drive from the North-South Expressway.
Restaurant Triple Round (大三元海鲜饭店) @ Bukit Beruntung
Address: No.1, Jalan Melati 2B, Bandar Bukit Beruntung, 48300 Rawang, Selangor.
Tel: 03-60281394
Comments
comments