Naughty Babe Dirty Duck (NBDD) specializes in grilled pork ribs which is pretty similar to Naughty Nuri's. But, besides piggies, they also serve ducks here. You can pretty must conclude that Naughty Babe Dirty Duck specializes in both pork and duck. And recently we went Naughty Babe Dirty Duck @ Desa Sri Hartamas for lunch gathering with my group of friends for both Rachel and my birthday celebration 🙂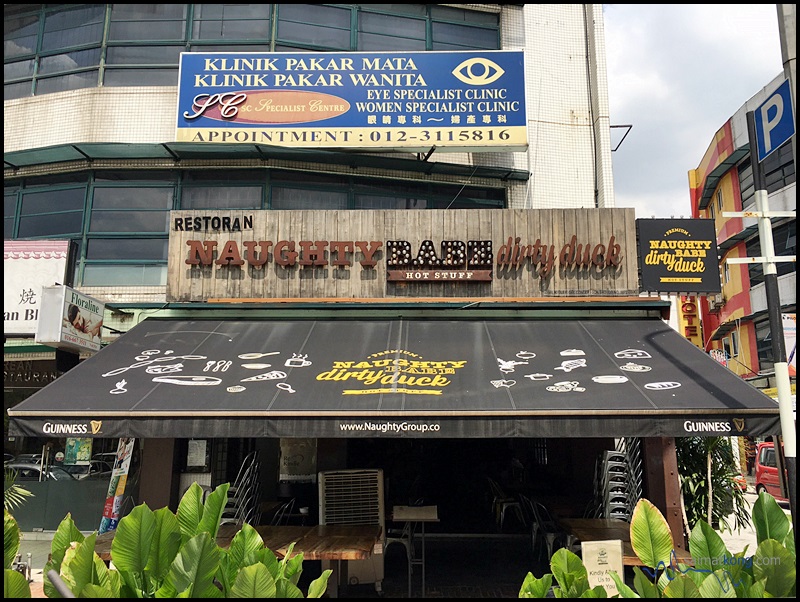 Located in Desa Sri Hartamas, this casual eatery can be easily spotted. It's the kind of restaurant to hang out with friends on a Friday evening or even for group gatherings.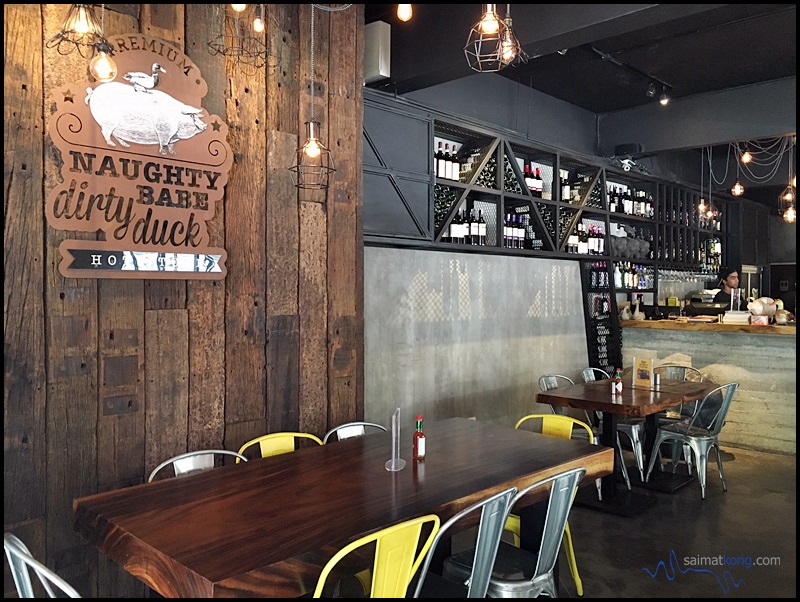 Interior.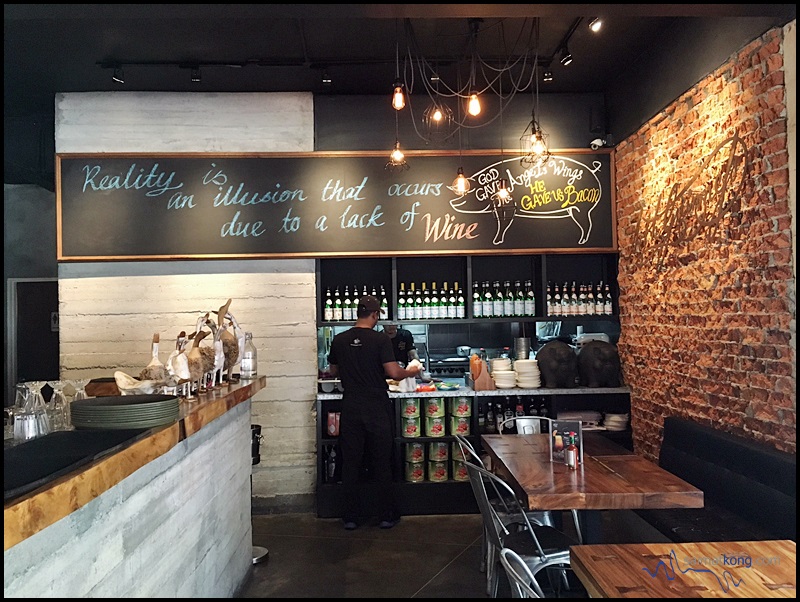 How true is this statement? "Reality is an illusion that occurs due to a lack of Wine"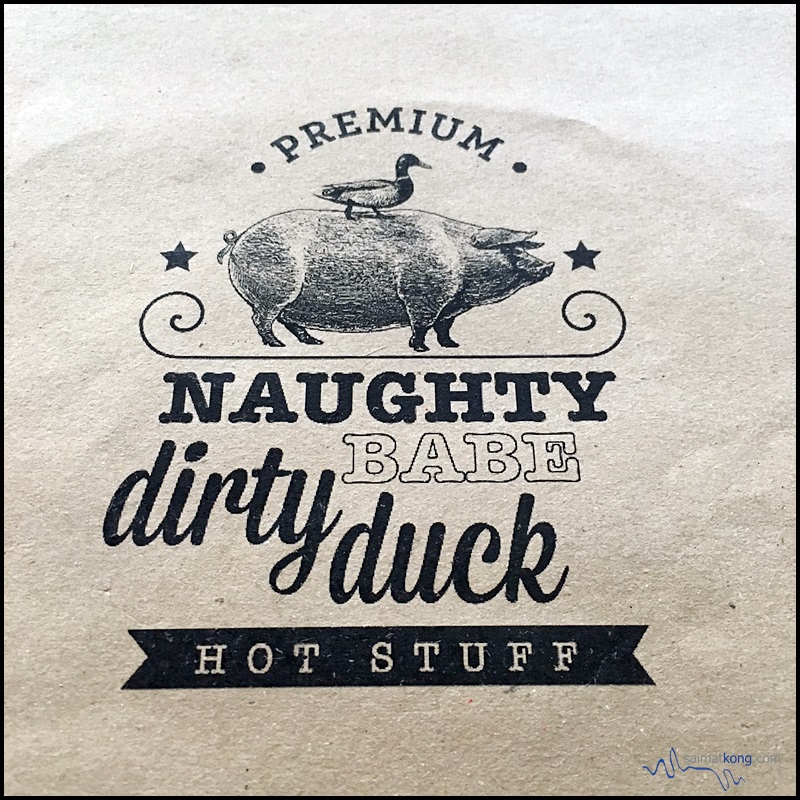 There are surely plenty of pork and duck dishes to choose from the menu. If you come in a group, you can order their sharing platter to share with friends.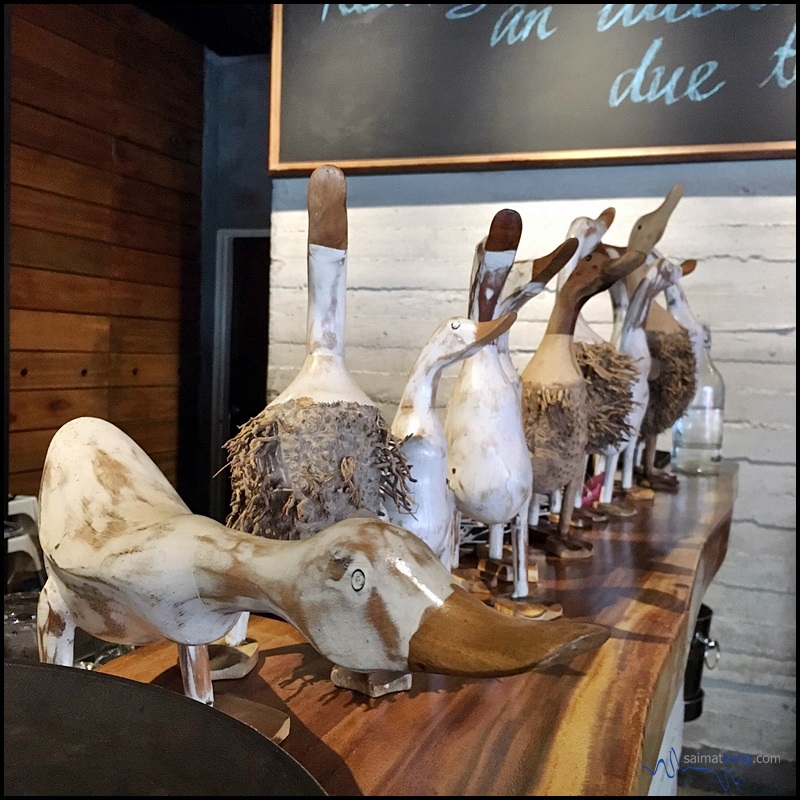 Quack Quack. Unlike Naughty Nuri which is full with piggy decorations, you tend to see more duck decors at Naughty Babe Dirty Duck.
Let's get to the main highlights- the FOOD!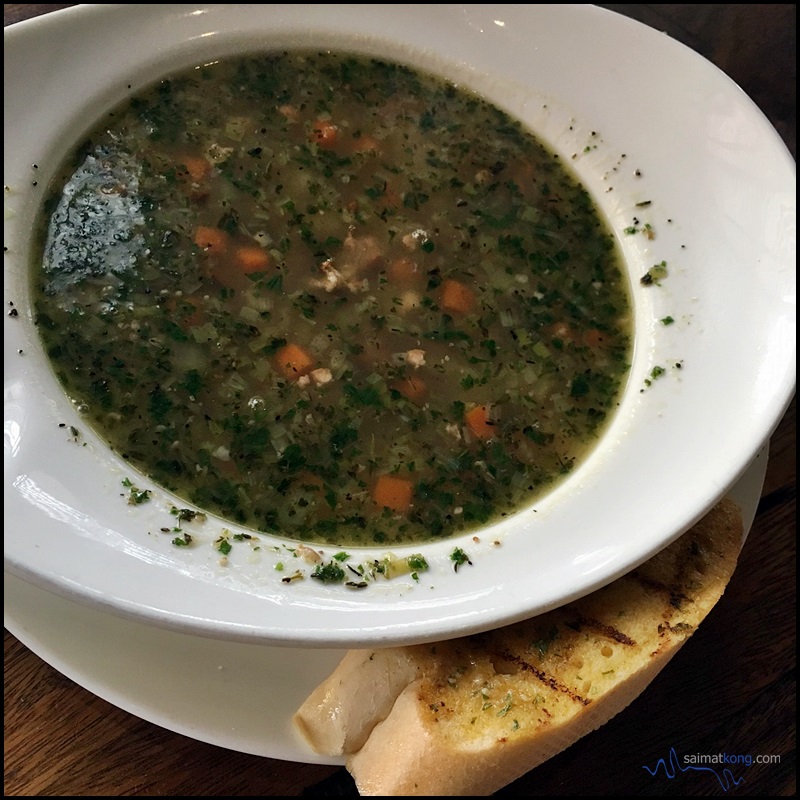 Started off with Naughty Babe Dirty Duck Soup with porky bits with cubes of smoked duck and pork bacon bits.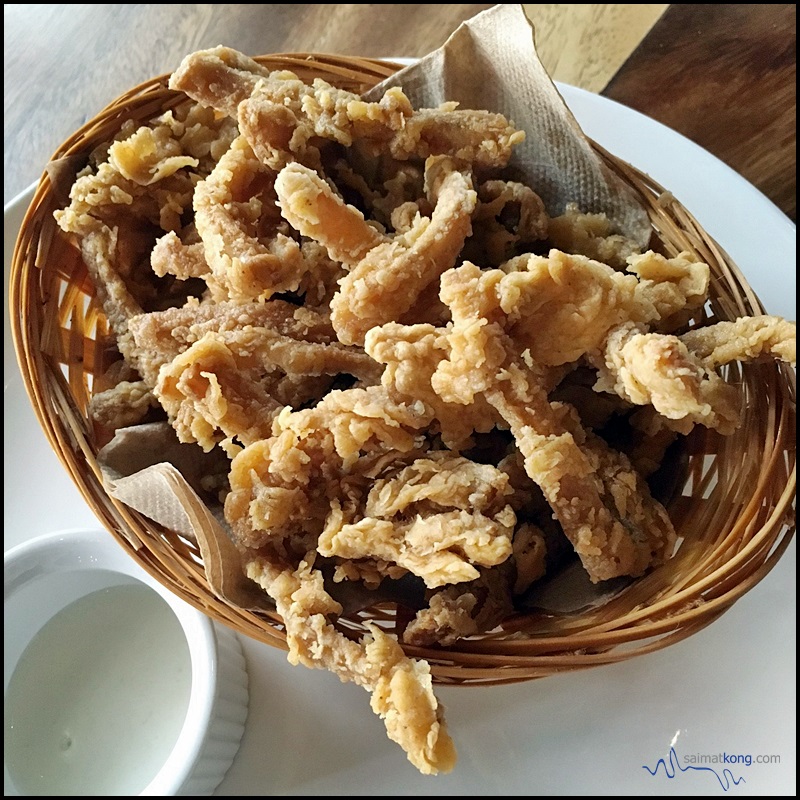 Naughty Strip is basically strips of calamari served with garlic aioli. Quite an appetizing starter.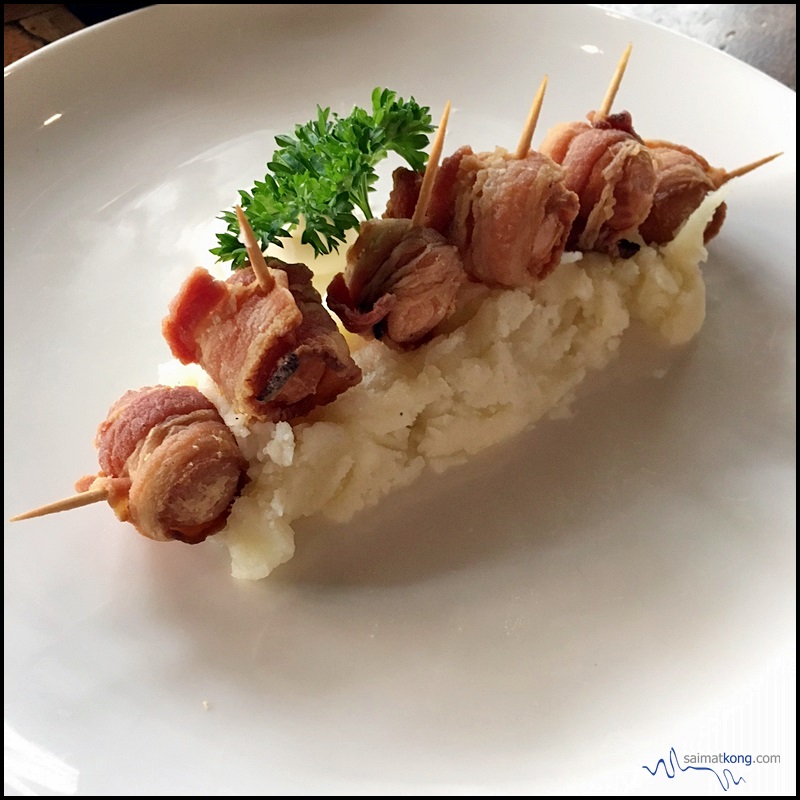 The pigs in the blanket which is served on top of mashed potato is quite dry and small.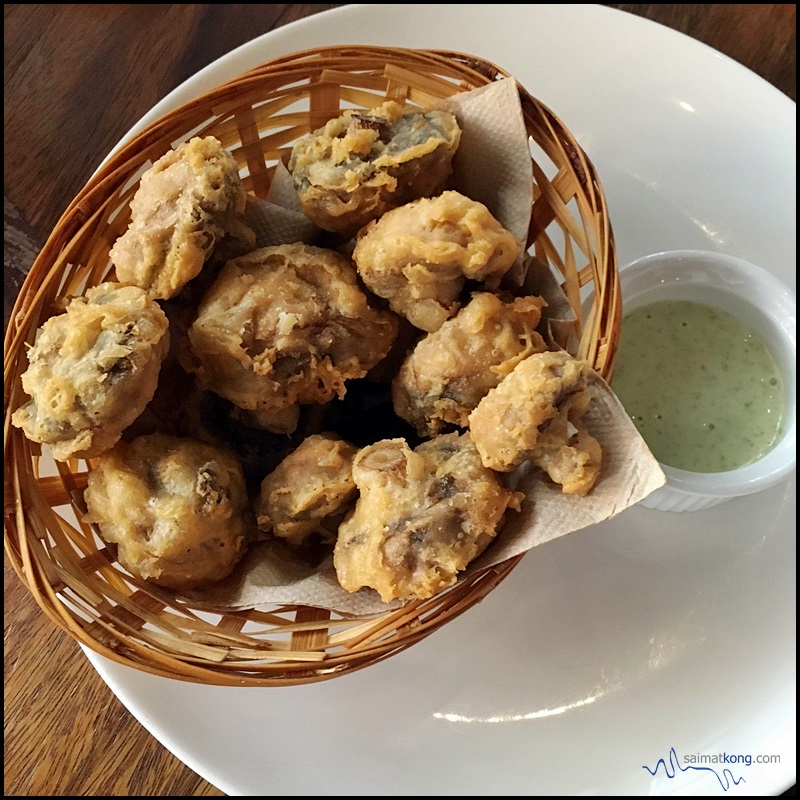 Fried Button Mushroom served with remoulade sauce.
Always a classic favorite – spaghetti carbonara with pork bacon. Yums!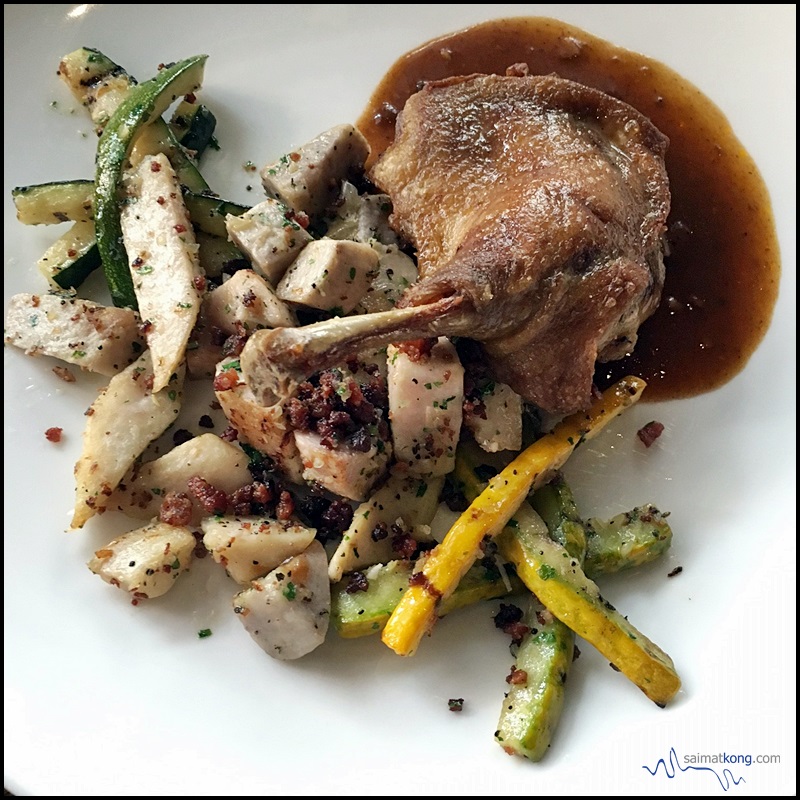 Dirty Duck is served with sautéed yam pork bacon, grilled zucchini and mushroom sauce.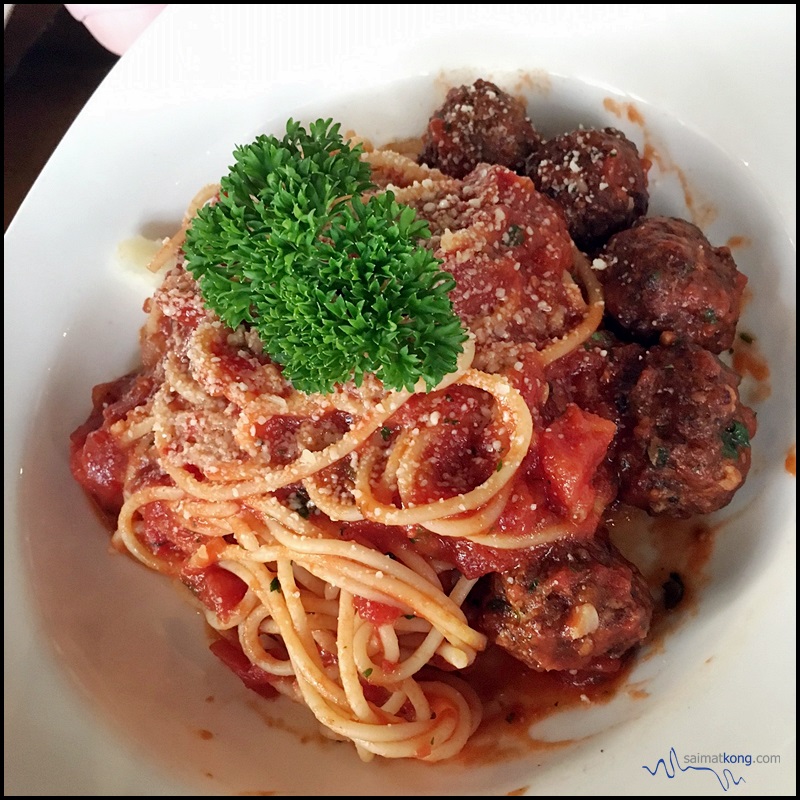 Spaghetti with pork balls and tossed with tomato sauce and herbs.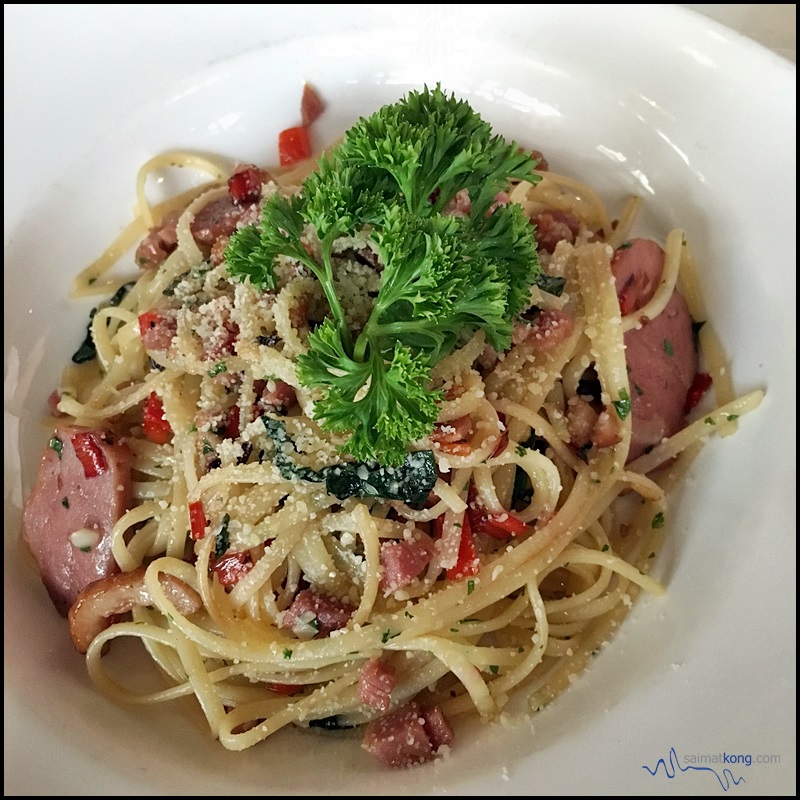 Spaghetti Aglio Olio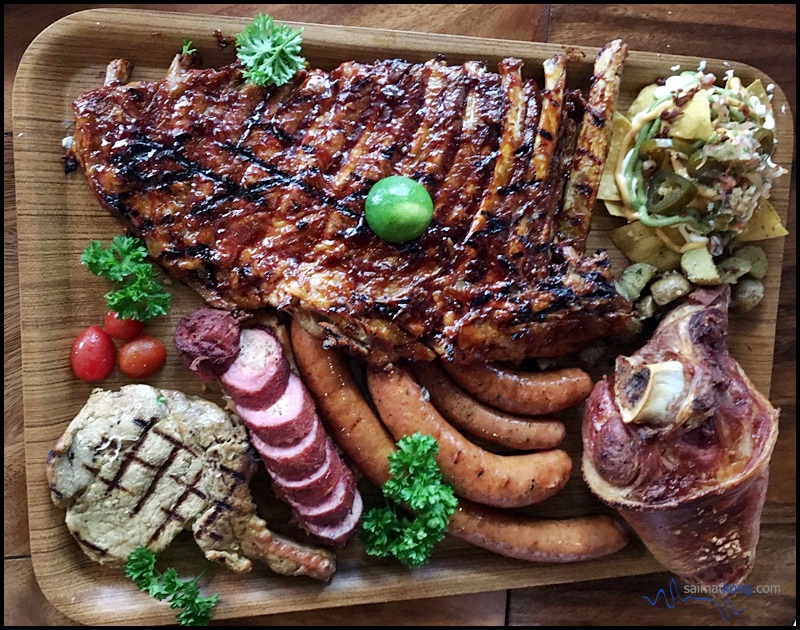 The huge Naughty Platter with everything naughty- nachos, sausages, pork knuckle, slab of ribs and pork chop. It's quite a large platter so if you're coming in a group, it's good to order this for sharing or else better just stick to their ala carte.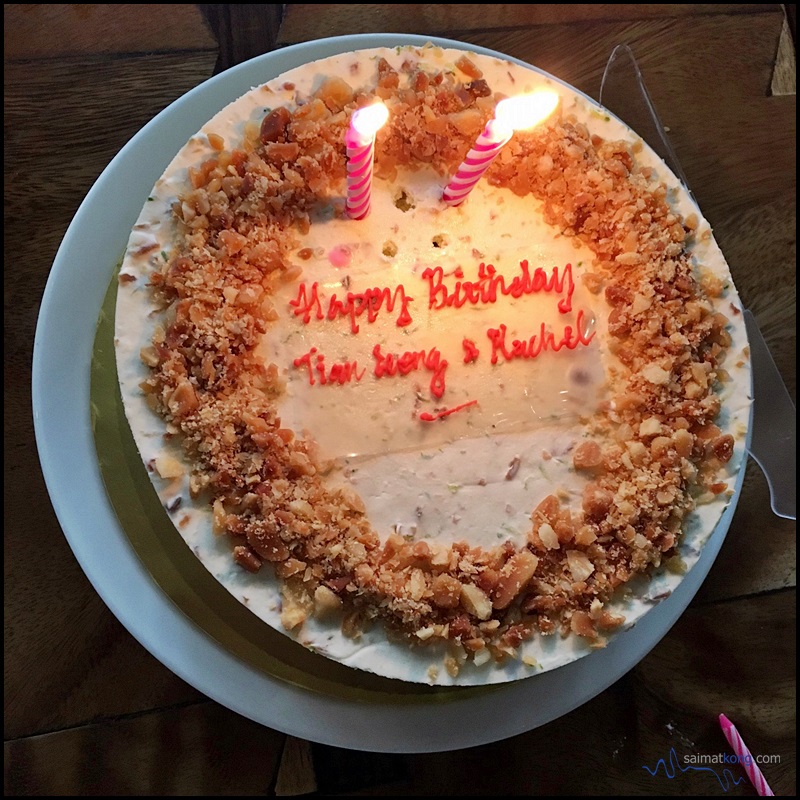 Maroochi Cake from Bakeology Cafe in Taman Sea.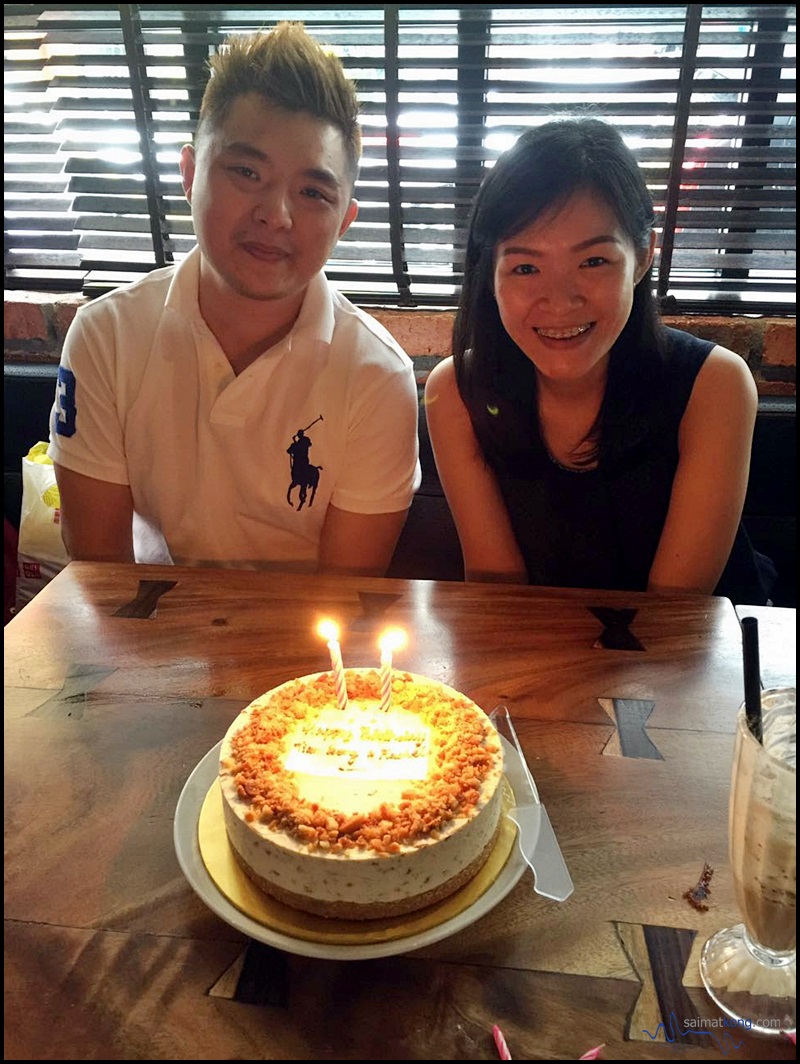 July babies : Rachel & Yours Truly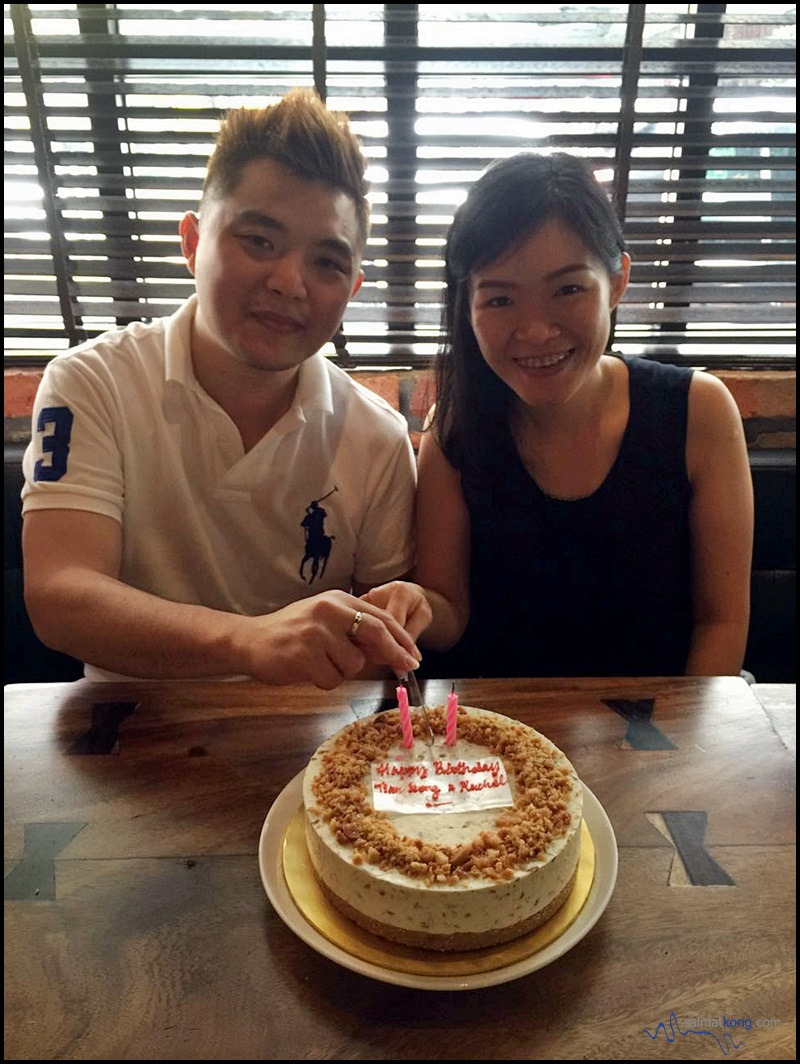 Make a wish and cut the birthday cake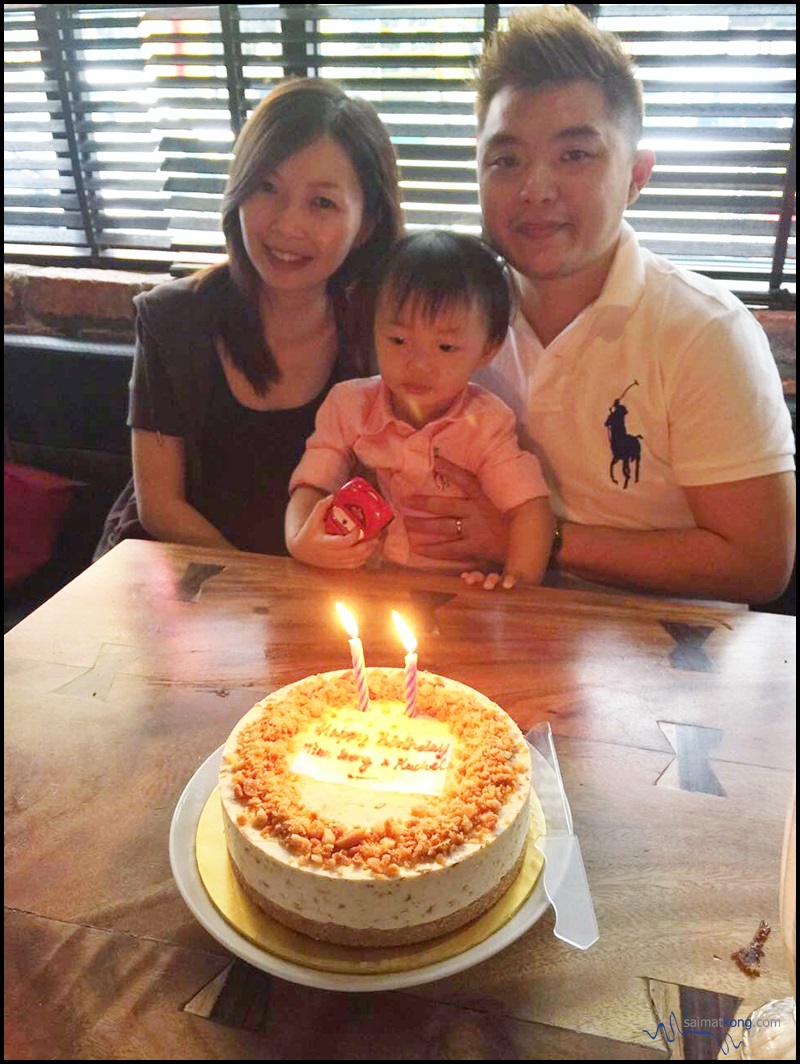 My blessed family.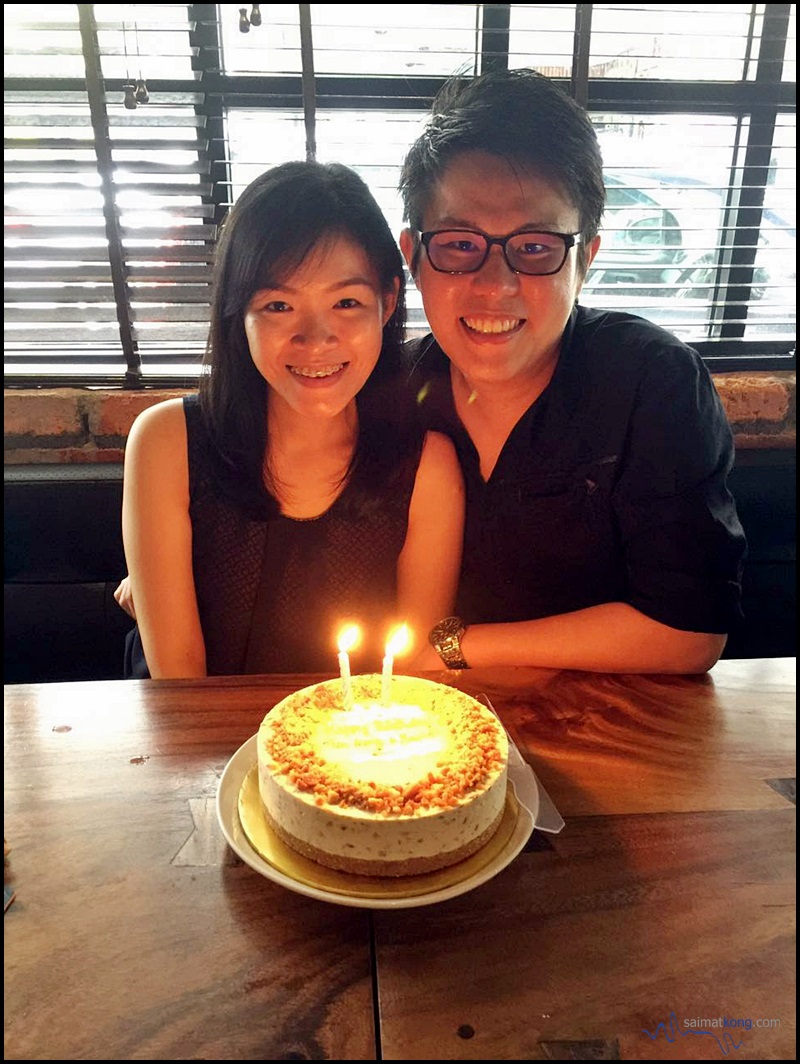 The lovely couple. Oh btw, Congratulations you two on your engagement! We are truly happy for the both of you 🙂
Verdict: Naughty Babe Dirty Duck at Desa Sri Hartamas is a great place for family and friends gathering to celebrate birthdays or even casual outing. Naughty Babe Dirty Duck specializes in both pork and duck dishes so you tend to see a variety of pork and dirty dishes in their menu.
Naughty Babe Dirty Duck @ Desa Sri Hartamas
Address: 42, Jalan 25/70A, Desa Sri Hartamas, Kuala Lumpur
Tel: 03-6211 9966 (reservations not accepted on weekends)
—
You can subscribe to
my blog, follow me on Facebook, follow Instagram, follow Twitter and Youtube for more updates!
—
Comments
comments