It's weekend and we decided to bring Aiden out for a stroll at the shopping mall. We chose Publika coz The Wifey wanted to try the desserts at Mad About Coco. There are many eateries in Publika and we're absolutely spoilt for choice but unfortunately it was raining cats and dogs leaving us with not much choices 🙁 We finally decided to dine at Ben's which is located opposite Salon Du Chocolat in Publika.
I guess many would have known that Ben's is a restaurant under the BIG group, which also owns Ben's General Food Store, Plan B, Barn BBQ, Hit & Mrs, Beast, S.Wine and more.
Ben's environment is very relaxing and comfortable.
The display counter offers a selection of mouth watering cakes which makes the perfect end to a great meal.
Menu features a good selection of western/ asian fusion food ranging from soup, pasta, burgers, rice, sandwiches and more.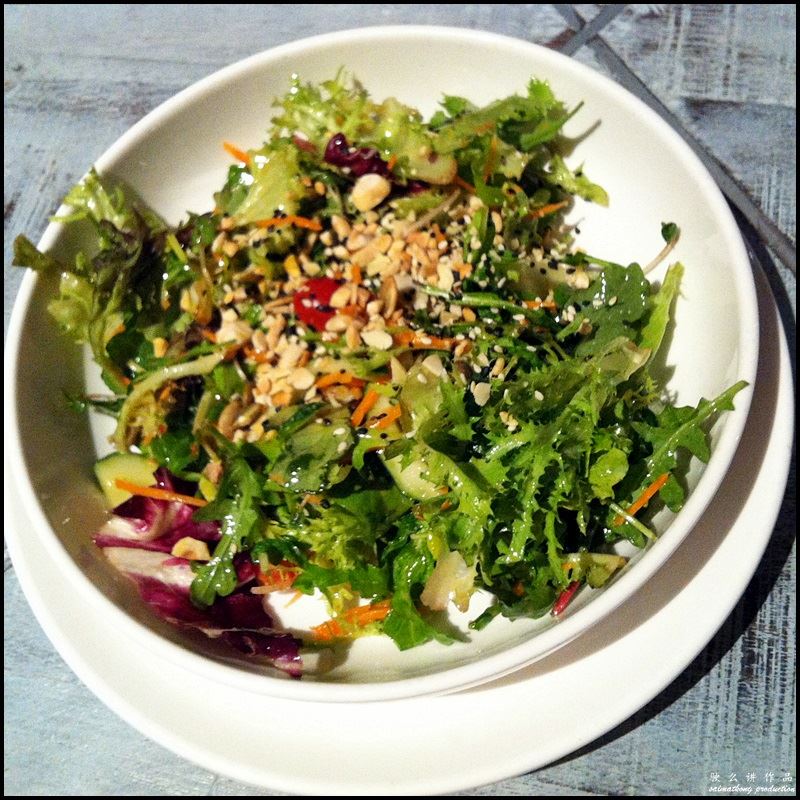 Ben's House Salad (RM18)
Ben's House Salad is perfect if you want to have something light. The super yummy Ben's House Salad is filled with delicious ingredients like mesclun, arugula, avocado, carrots, cherry tomatoes, edamame and 7 seeds. The salad dressing is really tasty and I wish I know the recipe for this flavorful salad dressing.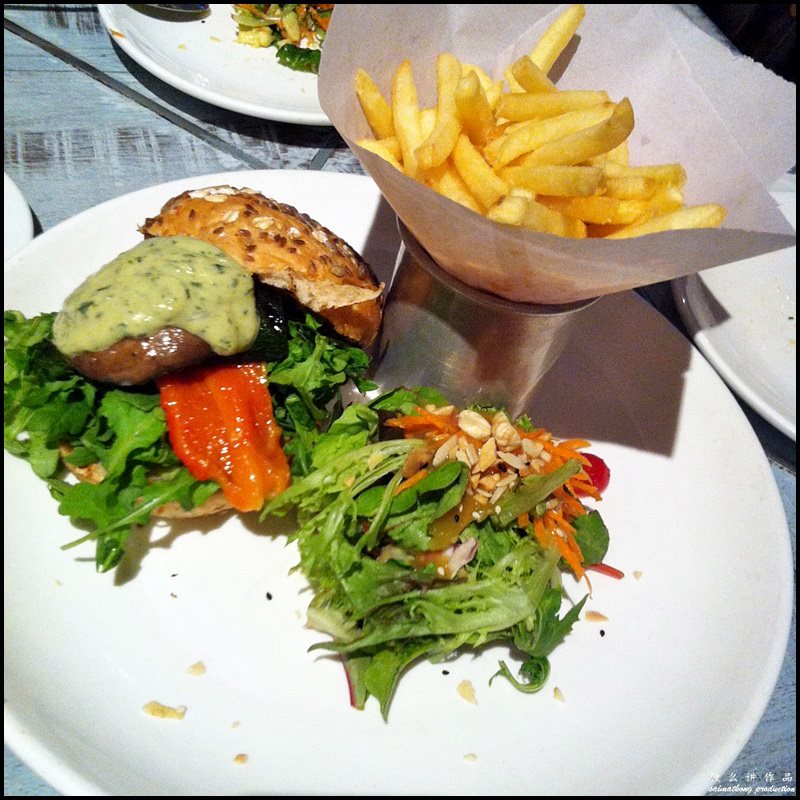 Portobello Mushroom Burger (RM24)
The Portobello Mushroom Burger is a vegetarian burger made with grilled portobello mushroom and topped with wheat bun which I reckon is perfectly healthy. The burger is accompanied with fries and house salad. It would be better if the burger is served with mashed potato or baked potato instead of fries which is not so healthy.
Soft Shell Crab Spaghettini (RM28)
The Wifey opted for Soft Shell Crab Spaghetti which is tossed with creamy butter sauce, sprinkled with chili flakes, garnished with curry leaves and topped with crispy soft shell crab. Both The Wifey and me love this pasta dish and it's one of our frequent order whenever we dine at Ben's. But during this visit, we actually find the soft shell crab rather oily.
Verdict: Ben's is the perfect choice for casual dining with friends and family. Service is friendly and fast. Food wise, Ben's offers a good selection of delicious fusion Asian food and also mouthwatering desserts to end your meal. Ben's has several branches in Klang Valley, most of which are located in shopping malls.
Ben's @ Publika, Solaris Dutamas
Location: Lot 37A & 37B, Level G2, Publika 1, Jalan Dutamas 1, Solaris Dutamas, 50480 Kuala Lumpur
Tel: 03-6205 2768
Opening Hours: 11am-10pm daily
Comments
comments