S.Wine @ Publika
We dined at S.Wine @ Publika on one faithful evening as I just can't get enough of porky goodness. S.Wine is owned by the BIG Group who also owns the popular Ben's Place, Plan B and Ben's General Food Store.
This cosy deli is nestled at a far corner inside the B.I.G in Publika, at the non-halal section. The logo itself is a strong hint of what they specialized in- pork!
There's a poster at the entrance of the Grocer. Just walk straight inside and you will find this cosy deli.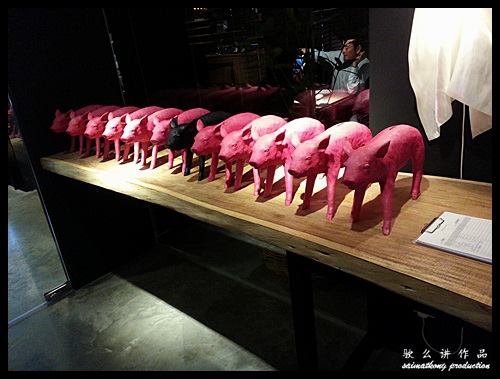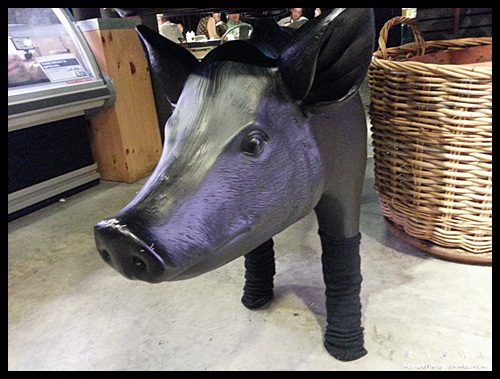 As you enter the deli, you will come across these cute lil' piggies decor. Spot the black pig among the pink piggies!
The varieties of ham, sausages and pork meat for sale in the grocer's deli counter.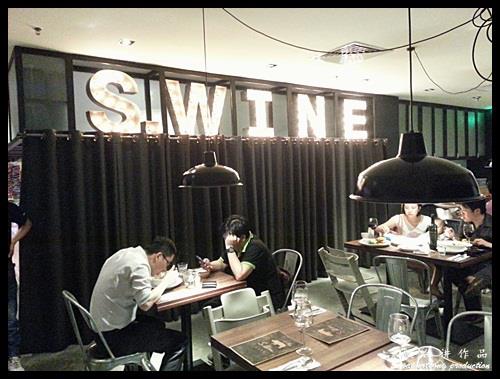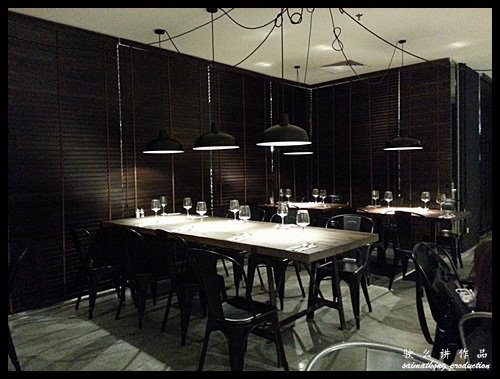 The interior of this deli is quite artsy with dim lightings. Actually, the interior of this deli is similar to the eateries like Plan B, Ben's Place and Ben's General Food Store; all of which are under the the BIG Group.
Really love the BIG Group's concept and you know what? The WIFI password for S.Wine is "thinkbig"!
Their menu consists of just one piece of large recycled paper which is printed on both sides with variety pork dishes cooked in different ways.
Pea & Ham Soup RM16.00
This simple soup is really satisfying. It has the right consistency with chunks of ham and topped with fresh cream.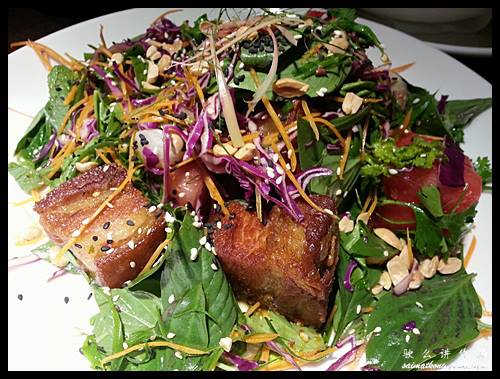 Warm Pork Confit, Watermelon & Lychee Salad RM28.00
This sinfully delicious salad consists of crispy pork belly confit with watermelon chunks & juicy lychee, tossed with asian greens in lychee dressing, then topped off with peanuts.
This salad is quite unique as there's a combination of sweet, bitter and spicy taste. The watermelon and lychees bring sweetness to this salad which balance out the bitterness from the greens and salty flavour from the fat and juicy pork belly confit.
A very appetizing salad to start off with!
Spicy Bacon & Mushrooms RM28.00
This pasta dish consists of spaghetti tossed with chorizo, button mushrooms and pancetta in arugula olio style with chilli flakes to finish it off.
Garlic & Arugula Pork Sausages with Sauerkraut Rosti RM32.00
This dish comes with two big grilled garlic & arugula pork sausages served with sauerkraut rosti and sour cream. The rosti is not greasy, crisp on the outside yet soft and velvety on the inside. This simple rosti is simply delicious.
Verdict: It was a good dining experience for us. Delicious food, reasonably priced, good service and coupled with nice ambience. Pork lovers should give this deli a try. This deli is another great place for pork lovers to satisfy their urge for porky delights and pair it with a good wine 😉
S.Wine @ Publika
Address : Ben's Independent Grocers, Lot 1A 83 – 95 Level UG 1, Publika Solaris Dutamas, Jalan Dutamas 1, 50480 Kuala Lumpur Malaysia
Tel : +6 03 6209 1700
Business Hours : Open daily from 11am – 10pm (weekdays) & 9am – 10pm (weekends)
Website: http://www.thebiggroup.co/
—
Follow me on Facebook, Twitter, Instagram for more live updates!
Facebook : https://www.facebook.com/smartkong
Twitter : https://twitter.com/saimatkong
Instagram : http://instagram.com/saimatkong
Comments
comments