星光帮,星光传奇云顶演唱会 – Xing Guang Bang, Million Stars Concert Live In Genting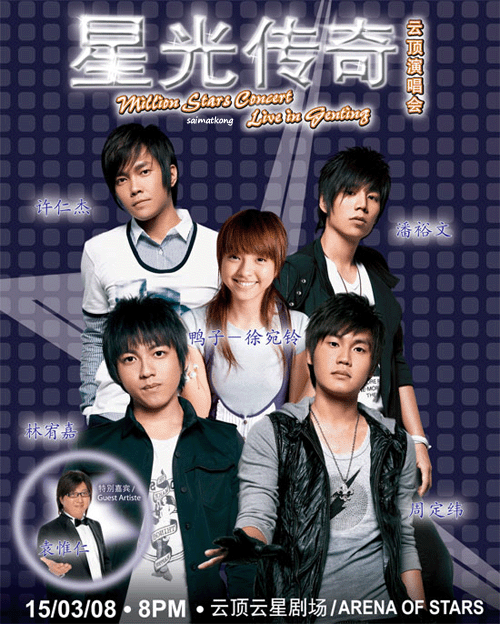 This group was born after they emerged the top 10 finalists among one million contestants in 'One Million Star', the most challenging singing contest in Taiwan. In eight months, the group released their second album and each of them has also produced their own solo hits with MTV. Their songs are frequently heard on MyFM, 988 and AiFM, and MTVs broadcasted across Astro's Chinese channels.
Last year, Xin Guang Bang had been ranked first in the Top 10 of the MyFM popularity chart. In terms of album sales, they sold 180,000 albums released in end June, and with that received a Number 5 ranking in 2007 Top 10 Best Selling Chinese Albums. In December, they came to Malaysia to promote their album in The Summit, Subang Jaya and were interviewed in all three Chinese radio stations – MyFM, 988 and AiFM before they continued their promotion in other cities in the South.
Now, don't miss the chance to catch Xin Guang Bang perform live in Genting. Take advantage of the attractive discounts offered to you and book fast to avoid disappointment!
Million Stars Concert Live In Genting
Date: 15 March 2008 (Saturday)
Time: 8.00pm
Venue: Arena of Stars


Click here for floor plan
Notes:
a. EARLY BIRD PROMOTION: (25% discount)
Limited to first 1,000 PS1 to PS3 tickets.
b. eGENTING MEMBERS' RATE : (5% discount)
c. Special Genting Points (GP) REDEMPTION: (35% discount)
*Redemption applicable only at Casino WorldCard Centre, Genting Highlands.
*Applicable for ALL price scale tickets, while stocks last.
*Gold card and above are entitled to redeem 04 tickets per member, while Silver card and below are entitled to redeem 02 tickets per member ONCE only throughout the redemption period.
Special WorldCard Points (WP) REDEMPTION: (25% discount)
*Limited to the first 1,000 tickets (ALL price scales) based on a first-come-first-served basis.
*Redemption is applicable at Casino WorldCard Centre only.
*Each member is entitled to redeem 02 tickets ONCE throughout the redemption period.
d. GENTING WORLDCARD MEMBER'S RATE: (15% discount)
Genting WorldCard members are entitled to a 15% discount on all price scales, after the Early Bird promotion period.
e. GP refers to Genting Points. WP refers to WorldCard Points. (15% discount)
James Yoga
English Name James Yoga
Chinese Name Lin You Jia 林宥嘉
Place of Birth Taiwan
Date of Birth 1 July 1987
Horoscope Cancer
Blood Type AB
Height 171 cm
Weight 65 kg
Favourite Singer Eason Chan
Favourite Genres of Music Various genres
What he enjoys doing most Enjoying good food
What he would want to do most Earning plenty of money
How he describes himself "The best!"
Judy Zhou
English Name Judy
Chinese Name Zhou Ding Wei 周定纬
Place of Birth Taiwan
Date of Birth 11 August 1987
Horoscope Leo
Blood Type O
Height 181 cm
Weight 72 kg
Favourite Singer Rain
What he enjoys doing most Singing, watching movies, surfing the net, playing video games
What he would want to do most Travelling
Favourite genres of movies Action, science fiction
Personality Traits Outgoing, optimistic yet serious
Peter Pan
English Name Peter
Chinese Name Pan Yu Wen 潘裕文
Place of Birth Taiwan
Date of Birth 20 June 1984
Horoscope Gemini
Blood Type A
Height 175 cm
Weight 64 kg
Favourite Singer Jacky Cheung, Alexander Wang Lee Hom
Favourite genres of music Soothing music, ballads
What he enjoys doing most Singing, exercising
What he wanted to do most Be a singer
Favourite genres of movies Horror movies
Personal Traits Cool
Stanly Xu
English Name Stanly
Chinese Name Xu Ren Jie 许仁杰
Place of Birth Taiwan
Date of Birth 30 August 1985
Horoscope Virgo
Blood Type 0
Height 171 cm
Weight 57 kg
Favourite genres of music Soul, jazz, R & B
What he enjoys doing most Eating, singing, playing the piano
Favourite genres of movies Action, horror, comedy
What he wants to do most To own a recording studio and to stage a huge concert
Ring Xu
English Name Ring
Chinese Name Xu Wan Ling 徐宛铃
Nick Name Duck
Place of Birth Taiwan
Date of Birth 28 April 1988
Horoscope Taurus
Height 152 cm
Weight 38 kg
Occupation Singer, actor, student
Year joined entertainment industry 2005
Comments
comments