OooOoo Yes!! I'm being featured as Nuffnang's Featured Blogger Of The Month! Thank you for your support!
October is a great month for me and everything great and awesome seems to fall on this month. 1st I have changed my day job to a better challenging environment, 2nd I'm gonna start the process of making over my dream house, yes my dream house and if you would like to sponsor me say any electrical appliances like LED TV or furnitures like Kitchen Cabinet or Walkin Wardrobe, please contact me! Haha.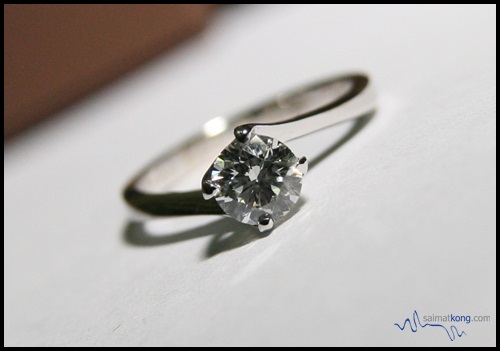 Moreover I'm signing a piece of paper that will make me live happily ever after at Putrajaya at the same month! Gonna scout for wedding stuff as well. Headache and pening but at the same time it's very excited and I'm looking forward to! Also now, I'm finding for bridal house for my wedding photo shoot. Any recommendation that have good deal or any suggestion?! Last but not least I'm gonna be Featured Blogger of The Month (FBOTM) of October 2012! Woohoo! I blogged for so many years and I didn't even think that I will be featured and I thought I'm just any millions of other bloggers out there that have the passion of writing blog.
Hmmm do you actually know what's the real meaning of blogging? What's a blog? Who's the real blogger? Ahhh… I have no idea at all but everyone calling me a blogger because I own a blog? Duh!! Lolz. So, is that simply mean a person that writes or own a blog is a blogger? Are you one of a million blogger out there?
Many many years back during my secondary school days, yah it's really long long time ago I think, people would have a personal site where we referred to as "homepage", I think that's the time I started to active in online stuff and find it interesting to own a website.
That time there's no platform like blogger.com or wordpress but you need to write plain html code to host your page and it's not that easy to publish a page because a lot of coding involved compared to now there's such a nice editor and available for free everywhere. After you editing the code, you need to upload (FTP) it as to the server. It's really leceh!

How saimatkong came about? I figure that, to get yourself easily recognized by people you must have a catchy name so that people would remember you better compared to those hard to remember and lengthy name. My name is "Simon Kong" and when you read repeatedly for few times it would read as "sai-mat-kong" and it's significantly recognized in the Chinese because "sai-mat-kong" 驶么讲 in Cantonese means very proud of yourself! 🙂
Saimatkong's blog is a platform for me to share what I know with my readers & social circles. Blogging is a great way to meet tribe who love my topic as much as i do. Blogging for me has been a path of self fulfillment that has become a journey of self discovery. Aside from that, i get to connect with other bloggers in the blogosphere community. There is nothing more rewarding than connecting with other bloggers who share the same passion.
When I first started blogging, i will just tell a few jokes and write down a few amusing anecdotes from my life. To me, if the stuff and content is good, then it should be shared and that's what I'm still doing right now.
Content and quality are the things that matter in blogging. The content mustn't be only good, but great! That's when people come back for more.
I put efforts into creating the fascinating material others will love to read / catch attention such as
It's actually steps on how to make a love shape origami but that title alone attracted ten thousands of viewers! 🙂
It's actually telling my readers how to get the almost FREE and Original Apple Case! 🙂
I don't only collect facts or information for my readers, but are constantly making an effort to present it in a most entertaining and accessible manner. When I decide to write about a particular topic, I do so because it genuinely interests me, and I hope to spark the reader's interest. A lot people start to blog because they think that blogging can make good money but when the mindset is wrong and they blog for few months and still don't see any monetary income then they will just stop there, that's why you could see there's a blooming of so called bloggers? :p
Because of my blog, I have a place to share things that I don't want to be forgotten. My blog is a home for my ideas and thoughts; a place to connect and share ideas with my readers alike. When I started blogging, I had no idea what I was in for. I didn't imagine it would lead me to a date with artistes and famous bloggers out there!
Hong Kong TVB Actors like Moses Chan 陳豪 (陈豪)
Hong Kong Singer like Eason Chan (陳奕迅)!
Local artist Namewee (黃明志)
I have to say that blogging never been such rewarding. I dream that I will be on newspaper, tv and radio, but it's never a dream anymore as I have been featured in live TV interview by Astro Awani, MyFM recordings and also newspaper covering the my events.
I was called and ask to be a guest for Astro Awani to talk about cashless society (masyrakat tanpa tunai). My first experience on a Live TV Show. It was a good experience and not bad but need to talk in Malay is a bit difficult for me. So got stuck in between, haha.
I went to Astro for My FM 骑呢份子 recording. 骑呢份子 is one of the program in the morning segment 阳光灿烂. 林德荣 Jack Lim、颜薇恩 Gan Mei Yan和Jeff陈浩然 are the morning DJs. I must say it's a good experience for me! Always wanted to on air and now finally I did it! =)
Many blogs provide commentary on a particular subject, some blogs function as more personal online diaries, some function more as online brand advertising of a particular individual or company. What about my blog (saimatkong) then? Mine is something simple and it's just anything above the sea and blow the sky that I could reach literally.
I don't specify on certain, specified topic or niche topic simply because I'm just a typical blogger who can't keep writing on the same topic, because sometimes will not have anything to write on and would get bored easily and I think my readers would get bored too if I just talk about food or tech stuff all the way. I just don't constraint myself to write on something but instead focus on what I feel the readers would like that read or google about.
What I really love is write something my readers would really appreciate of and useful to them as I have gone thru the hell of experience and just simplified the process and guide them, wouldn't that be helpful rather than just plain boring updates? :p
A typical blog combines text, images, and links to other blogs, Web pages, and other media related to its topic. I personally don't like those lengthy blog post that consist of only text and text but those images and video would really add spice to the post and keep readers reading instead of just click on the cross button or skip to next blog. Besides that, the ability of readers to leave comments in an interactive format is an important contribution to the popularity of many blogs. So I always try really really hard to get my readers attentions and that's really a difficult task!
I will just do some crazy things to post online just to grab people's attention like doing planking in MBK Mall @ Thailand.
Maximizing my influence as a blogger, I have organized a Charity Car Wash as part of my contribution back to the society to help the needy (Individual Social Responsibility). I feel really proud as I could do something and reward back to the society by not just go to work daily, eat and sleep, but do something meaningful in our life and also help those in need.
Throughout my years as a blogger, I've participated in numerous events, movie screenings, launches and parties organized by Nuffnang. Some of the unforgettable awesome events that I've attended like below.
With Kenny Sia excellent blogger and Joanne Peh 白薇秀, Singapore Actress @ Nuffnang Asia Pacific Blogger Awards, Singapore 2009
Nuffnang DiGi Pimp My Day Challenge
DiGi Pimp My Day Challenge, an on ground challenge where the winners will win 4 personalized laptops, external hard drives, routers, modems, headphones, thumb drives and many more! Yes we are the 1st prize winners!
Astro B.yond – The new HD Experience
I went for a shooting @ Desa Park Cityfor Astro B.yond tvc with some of the other bloggers.
The Largest Blogger's Gathering with GATSBY Deodorant Street Fair into the Malaysia Book of Records. I'm in Malaysia Book of Records too!
Driving BMW3 series and BMW5 series and enjoying the ride plus full sponsored trip.
Get to test drive in Sepang F1 circuit! Those are really once-in-a-life-time experience that I can't get if not of Nuffnang.
I've been with Nuffnang since the launching on early 2007 and it's been a fruitful 5 years now! Really a lot of memories be it the good and the bad experiences. What I like most is to join all the events events which I able to meet bloggers and mingle around while can get some of the goodies and make some bucks out of it.
Without Nuffnang, saimatkong will be a different person and imagine that there's no free movie screening, no free food, no free trips and event to attend, of coz that's not FREE but just that I'm fortunate to be engaged.
I must thanks Nuffnang for what and who I'm today! If not because of Nuffnang I will not enjoy blogging or I might stop blogging and might not meet so many awesome blogger or people out there and some become my good friends.
Follow me for more updates!
Facebook http://fb.com/smartkong
Twitter http://twitter.com/saimatkong
Comments
comments