Microsoft Surface RT launch @ Publika, Solaris Dutamas!
The much anticipating Microsoft Surface RT launched last Thursday at Publika Shopping Gallery, Solaris Dutamas. The stand-alone Microsoft Surface RT tablet with 32GB internal storage is priced at RM1549, while the 64GB variant is priced at RM1849.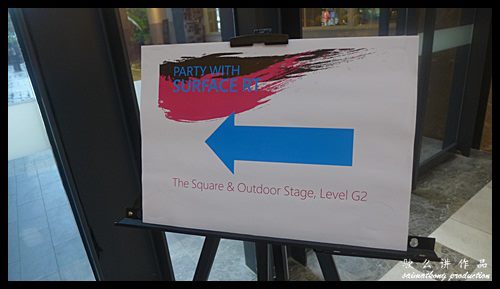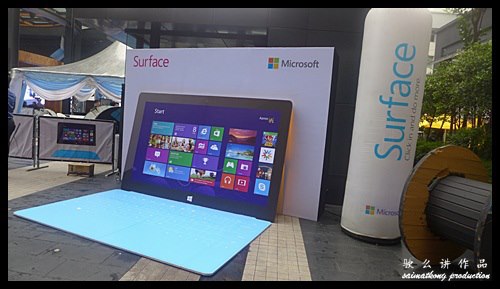 Microsoft Surface RT launch @ Publika, Solaris Dutamas
Surface RT is an extension of the Microsoft Windows experience, enabling customers to play, work and connect with the people who matter to them. It is best described as having the portability of a tablet with many of the functionalities of a laptop. It weaves productivity and mobility into one beautiful product – allowing users to transition between entertainment and content creation.
From the Touch Cover that provides a super-thin, spill-resistant keyboard in a variety of colors, to its ultralight durable casing and the integrated kickstand for hands-free entertainment, Surface stands out while delivering great value and performance.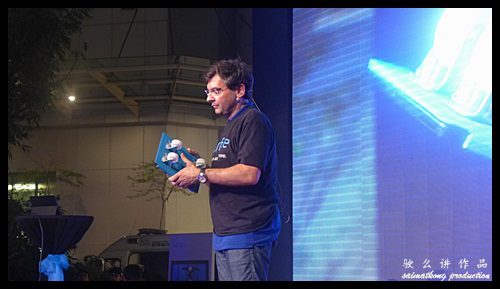 Arriving on a skateboard custom-built from a Microsoft Surface device to deliver his speech, Carlos Lacerda, Managing Director of Microsoft Malaysia spoke about the excitement that has been building over the Microsoft Surface device.

Carlos Lacerda speech during Microsoft Surface RT launch @ Publika, Solaris Dutamas!
Lacerda said, "Surface RT heralds the exciting beginning of the Surface brand of devices for Malaysians! Our consumers, clients and partners have been waiting for this amazing device that deliver a no-compromise computing experience – giving you incredible entertainment value, while also letting you get real work done. We strongly believe that Surface will transform the way Malaysians live – bringing to life a seamless Windows experience for the on-the-go lifestyle!"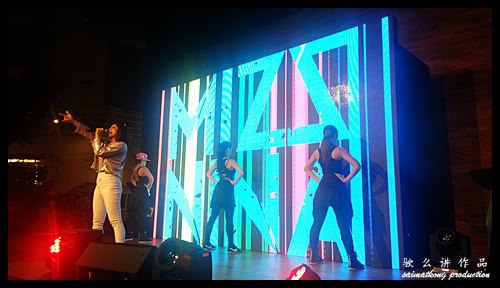 Mizz Nina Performance during Microsoft Surface RT launch @ Publika, Solaris Dutamas!
Early adopters of the Microsoft Surface agree. Popular Malaysian singer-songwriter with an international following, Shazrina binti Azman, professionally known as Mizz Nina, enthused about her Microsoft Surface, "I love my Surface! It's the perfect companion for me on the road. I can play games and keep in touch with my fans on social media as well as do work like design fashion, write songs and review proposals and contracts."

Elecoldxhot Performance during Microsoft Surface RT launch @ Publika, Solaris Dutamas
Ben Jern Loh, Malaysian radio announcer on FlyFM and self-confessed technology enthusiast, said, "I am so excited that it's finally here! I've been waiting to get my hands on a Surface because it's a really cool device – lightweight yet super durable, which is perfect for me because I'm always out and about. I really like the fact that the Surface cover is a built-in keyboard so that I can tap away at work, while the kickstand lets me kick back and relax to watch my favorite movies."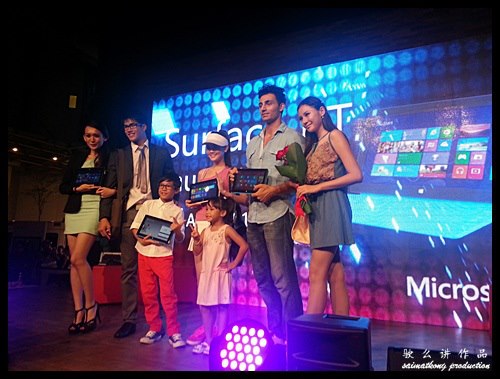 Surface will be made available through selected stores nationwide from three participating retail partners, namely: Challenger Malaysia, Harvey Norman, and Thunder Match Technology.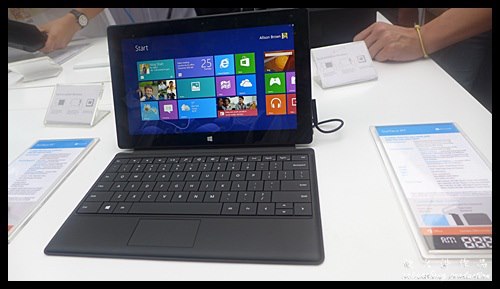 Surface RT 32GB standalone: RM1,549.00
Surface RT 64GB standalone: RM1,849.00
Surface RT 32GB bundled with Black Touch Cover: RM1,849.00
Surface RT 64GB bundled with Black Touch Cover: RM2,149.00
Microsoft Surface RT Specs
Operating System
Windows RT; Microsoft Office Home and Student 2013 RT (Word, PowerPoint, Excel and OneNote). Works exclusively with apps available in the Windows Store.
Exterior
10.81 x 6.77 x 0.37"
1.5 lbs.
VaporMg casing
Dark Titanium color
Volume and power buttons
Storage
32 GB;3 64 GB
Display
10.6″ ClearType HD Display
1366×768 pixels
16:9 (widescreen)
Five-point multitouch
CPU
Quad-core NVIDIA Tegra 3
2 GB of RAM
Wireless
Wi-Fi (802.11a/b/g/n)
Bluetooth 4.0 technology
Battery
31.5 W-h
Cameras and A/V
Two 720p HD LifeCams, front- and rear-facing
Two microphones
Stereo speakers
Ports
Full-size USB 2.0
microSDXC card slot
Headset jack
HD video out port
Cover port
Sensors
Ambient light sensor
Accelerometer
Gyroscope
Compass
Power Supply
24W power supply
Warranty
One-year limited hardware warranty
Apps (included)
Microsoft Office Home and Student 2013 RT (Word, PowerPoint, Excel, OneNote); Windows Mail and Messaging; SkyDrive; Internet Explorer 10; Bing; Xbox Music, Video and Games.
Surface RT comes pre-installed with Office Home & Student 2013 RT productivity suite and boasts a full-size USB port, a microSDXC card slot for adding additional storage, the ability to run Flash, apps from the Windows Store, SkyDrive cloud connectivity, games, as well as a 16:9 widescreen high-definition display for optimal viewing and sharing content easily.
It is great for those people looking for all-day battery life (up to 8 hours) and an entertainment-first experience with the ability to still get work done.
Are you gonna get one Microsoft Surface RT? How's this Microsoft Surface RT compared to other table like Apple iPad or Android Tablet?
Comments
comments