Malaysia vs China @ Semi Final – Thomas Cup 2008 Indonesia
Lee Chong Wei won against Lin Dan. Well done Lee Chong Wei. Lee Chong Wei just beat Lin Dan in straight game. Chong Wei performance today was superb. Now it will go to double …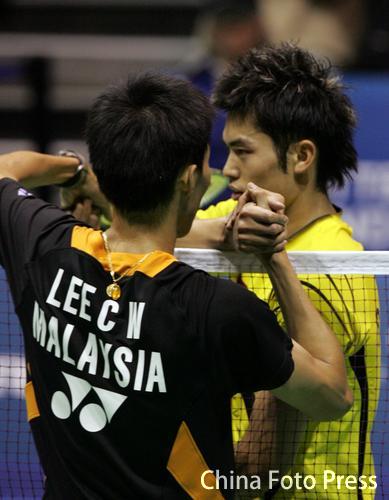 Thomas Cup Semi Final Result – Malaysia vs China 3 – 2
Malaysia Lost!
Lee Chong Wei and our second double Zakry Abdul Latif Mohd and Fairuzizuan Mohd Tazari Mohddid a great job! They both beat Zhongbo Xie and Zhendong Guo in straight set. 17-21, 15-21. I was disappointed with Koo Kian Keat / Tan Boon Heong double pair and Hafiz Hashim too. They should score a point for Malaysia. Once again after 16years Malaysai still cannot get back the Thomas Cup =(
I purposely took leave to watch this 4years once Thomas Cup and support Malaysia but it really disappoint me. Hafiz Hashim should have perform much better, he was leading in both games but in the end he lost concentration and focus. He should run more and play seriously. I feel like he was slacking and just play for fun! That's bad!
Malaysia loses 3-2 to China in Thomas Cup semis (Update)

JAKARTA: Malaysia lost 3-2 to defending champions China in the the semi-finals of the Thomas Cup with third singles player Mohd Hafiz Hashim losing 12-21, 16-21 in the deciding game against China's Chen Jin.

Malaysia's Lee Chong Wei had earlier shocked Lin Dan in the opening singles by beating him 21-12, 21-14.

However, Koo Kien Keat Koo and Tan Boon Heong lost to Chinese pair Cai Yun-Fu Haifeng, 16-21, 17-21 in the second match.

Then Wong Choong Hann lost to Bao Chunlai, 18-21, 7-21 in the second singles.

In the second doubles, Mohd Fairuzizuan Tazari and Mohd Zakry Abdul Latiff beat Guo Zhengdong/Xie Zhongbo 21-17, 21-15 to revive Malaysia's hopes briefly.

China will face either Indonesia or South Korea in Sunday's final.
source
Comments
comments