AirAsia : Say NO to AIRPORT TAX INCREASE!
Malaysia Airports Holdings Berhad (MAHB) has increased the airport tax for all international outgoing flights starting 1st December 2011 which is this month. AirAsia views that this increase is not justified as the current airport facilities are not up to par.
Ohhh I think it's a good move from AirAsia to launch the "Say NO to AIRPORT TAX INCREASE!" campaign or ads but it's really bad that this campaign was banned by Malaysia Airports Holding Berhad (MAHB). Why Why Why??? From now on, our low cost flight ticket also will not be truly low cost anymore!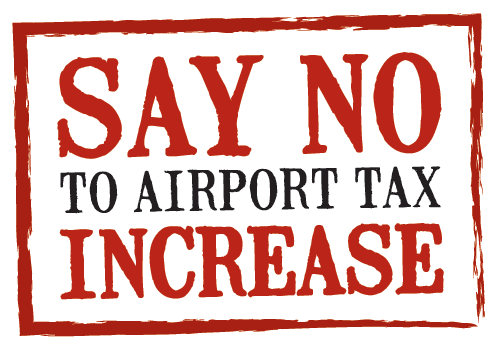 AirAsia : Say NO to AIRPORT TAX INCREASE!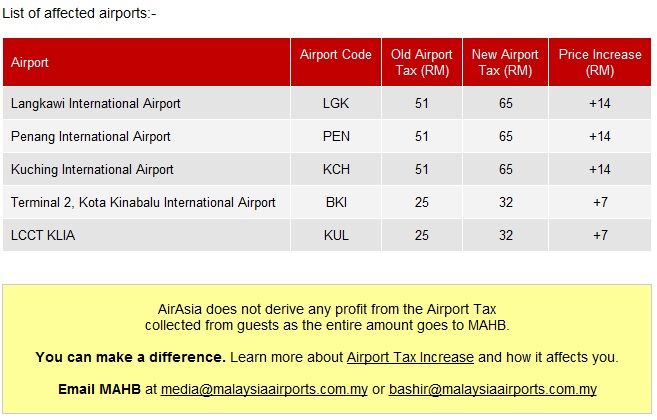 Support us in supporting you!

AirAsia AllStars unite today against the raise of Malaysia Airports Berhad's airport taxes, with tell-tale support stickers "Say NO To Airport Tax Increase" and voicing their thoughts out on the Graffiti Wall in AirAsia office.

We will continue to raise our voice for our valued guests against the raise of the airport tax in Malaysian airports.

Do show your support here as we continue to lobby for our guests!
AirAsia does not derive any profit from the Airport Tax collected from guests as the entire amount goes to MAHB.
Come let us all "Say NO to AIRPORT TAX INCREASE!"
You can make a difference, have your say today. Let MAHB know what you think about this Airport Tax Increase.
Malaysia Airports Holdings Berhad (MAHB)
General Tel : +603 8777 7000/8888
General Fax : +603 8777 7778
Public relations division : +603 877 68043 / 68186 / 68289
Email : [email protected]
[email protected]
Website : www.malaysiaairports.com.my
Online feedback form : http://www.malaysiaairports.com.my/index.php/feedback.html

Yah Tony told us to say no to AirportTax increase? We should say to Tony : "No to AA CreditCard Fee, Luggage, Check In, Seat, Convenience Fee, etc…!"
Come let us all "Say NO to AirAsia Credit Card fee, luggage fee, check in fee, seat fee, convenience fee!"
AirAsia Twitter Handler : @AirAsia
AirAsia: Stop harassing our staff

PETALING JAYA: AirAsia has issued an official warning letter to Malaysia Airports Holding Berhad (MAHB) for allegedly harassing its staff.

The company's commercial director Jasmine Lee claimed MAHB had told airline staff to remove the "Say No to Airport Tax Increase" stickers on their uniform. She claimed that the airport operator also removed posters at their sales counters at LCCT.

"They even went to the check-in counters and told our staff not to wear the stickers and to stop sticking them on passengers' boarding passes.

"We have sent an official warning letter to request that MAHB's officers stop unlawfully obstructing our staff from doing their jobs," she said, adding that the incident occurred from around 10am until lunchtime yesterday.

AirAsia is protesting against the decision by MAHB to increase the airport tax by RM7 and RM14 at five airports nationwide which took effect yesterday.

The airports are Langkawi International Airport, Penang International Airport, Kuching International Airport, Terminal 2, Kota Kinabalu International Air­port and the low-cost carrier terminal (LCCT) at KLIA.

Lee also alleged that MAHB confiscated security tags from some staff working in restricted areas.

"This incident will not deter us. We will continue to wear the stickers tomorrow and will put back the posters," she said.

AirAsia CEO Tan Sri Tony Fernandes later tweeted: "Malay­sian airport staff tearing down our posters and taking away airport passes of our staff. And using intimidation. Can someone tell them this is Malaysia and not a police state."

MAHB senior general manager for operations Datuk Azmi Murad, who was present during the incident, denied any harassment or intimidation took place but admitted they removed the posters.

"They were putting the posters in public areas and we took them down. Imagine if anyone could just walk in and start putting posters everywhere," he said.

AirAsia has taken a full-page advertisement in The Star, urging the public to call MAHB and give their opinion on the increase in airport tax.

"AirAsia views this increase as not justified as the current airport facilities are not up to par," said the advertisement.

Source : TheStar
—
AirAsia in a huff over airport tax

PETALING JAYA: Low-cost carrier <strong>AirAsia has embarked on a campaign to protest against the rise in airport tax or passenger service charge for international departing flights.

The decision by Malaysia Air­ports Holdings Berhad (MAHB) to increase the airport tax by RM7 and RM14 at five airports nationwide took effect yesterday.

The airports are Langkawi International Airport, Penang International Airport, Kuching International Airport, Terminal 2, Kota Kinabalu International Airport and the low-cost carrier terminal (LCCT) at KLIA.

AirAsia has taken a full-page advertisement in The Star, urging the public to call MAHB and give their opinion on the increase in airport tax.

"AirAsia views that this increase is not justified as the current airport facilities are not up to par," said the advertisement, scheduled to appear tomorrow.

It also urged the public to have their say and make a difference.

"Let MAHB know what you think about this airport tax increase," said the advertisement, which will also carry MAHB's contact details and a link to its website.

AirAsia also clarified that it did not benefit in any way from the increase as the entire amount would go to MAHB.

Source : TheStar
Comments
comments