78 sen more for fuel, Malaysia Petrol Price increased to RM2.70 effective 5 June 2008! Freaking 40 Percent Increased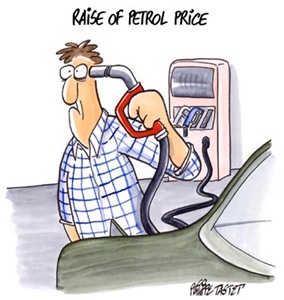 The fuel price will see an increase of 78 sen by August – a massive jump from RM1.92 per litre currently to RM2.70, Prime Minister Abdullah Ahmad Badawi is expected to announce today.

– Effective August
– RM625 rebate for vehicles
wow 78sen per liter??
I pump RM 50 petrol = 26.04167 Liter
after petrol price increase
pump RM 50 petrol = 18.5185 Liter
this is crazy… why? tell me why? just cut on the Singaporean and Thai subsidy will be good enough but not cut on our Malaysian subsidy!
I even got sms from my friend tell me that the price is gonna effective today midnight 5th June? Can you believe that? Past few days some ppl also sms and spread the rumor that petrol price will be increased effective on 1st of June but it's all rumor and who's benefiting from it? I would say is the Petrol Station and Telco. Think about it and do not forward until it's confirmed.
—————————-
Updates! IT'S CONFIRM THAT PETROL PRICE WILL INCREASE TO RM2.70 EFFECTIVE 5/6/2008 5TH JUNE!
It's confirm and do inform your friends, relatives, family, enemies…
It's freaking 40% increased this time. How many percent is your last increment? It's crazy…
What's our government doing? Aren't they said August? Suddenly now become tomorrow? Liar? We pay tax and all… now they treat us in this way? What's happening man? I think I will not go pump petrol instead go get myself a bike and cycle to work and anywhere without worrying of when the government decide to increase the petrol price again!
Everybody, let's cycle.
——–
Live update from Petrol Station.
It's jam packed. If you want to go to pump petrol now, make sure you bring along cash$$ do not depend on your credit card. I guess it's line down for Visa or Master. I was lucky that I have Amex and I can still use my Credit Card if not I do not have enough cash for me to go full tank! Take note, bring enough cash. The credit line will be jam and line down…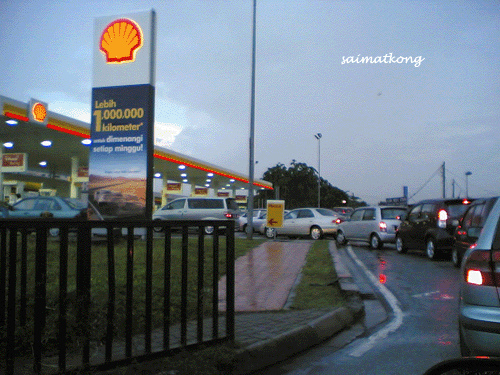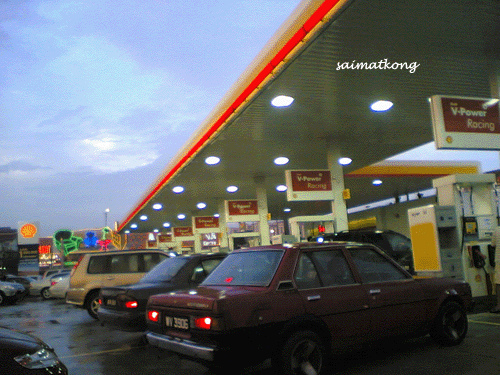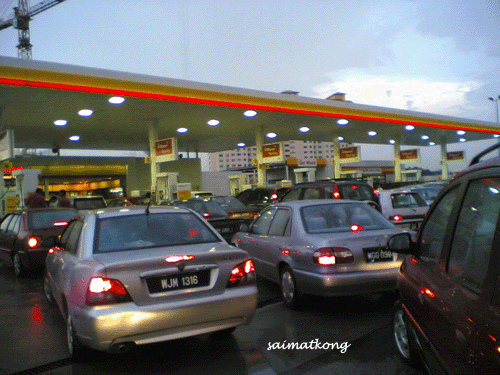 Updates again
Tactic to pump petrol in last 4 hours from 8.00pm
1) Find a place where there's few petrol station in the area to avoid jam pack and reduce waiting time.
2) Bring enough cash$$, do not depend on Credit Card as the line is jam and I heard I was down for Visa and Master Card but luckily I have Amex Card.
3) After pump petrol, go back using those road without petrol station.
Fuel hike: 78 sen more to RM2.70 per litre
Jun 4, 08 4:55pm

The government has just announced that petrol price to go up by 78 sen at midnight – a 40.6 percent jump from RM1.92 per litre to RM2.70.
– Effective midnight
– RM625 rebate for vehicles
Harga petrol naik 78 sen
Jun 4, 08 5:04pm

Harga petrol naik sebanyak 78 sen – satu pertambahan besar dari RM1.92 sekarang kepada RM2.70.

Manakala harga minyak diesel pula naik kepada RM2.50 – naik 92 sen berbanding harga sekarang sebanyak RM1.58 seliter.

Kenaikan sebanyak 41 peratus bagi petrol dan 58.2 peratus bagi diesel akan berkuatkuasa mulai tengah malam ini.

Kenaikan harga itu adalah sebahagian daripada langkah kerajaan untuk mengawal subsidi bagi menampung kenaikan petrol, diesel dan gas, yang dijangka berjumlah RM56 bilion tahun ini.

Kerajaan juga mengumumkan pemberian rebet kepada pengguna kenderaan.

Mengikut skim tersebut tersebut, kenderaan di bawah 2000cc akan menerima RM625 setahun – rebat bagi 800 liter di bawah harga baru.

Pemilik motosikal pula akan diberi rebet RM120. Bayaran akan dibuat melalui wang pos.

Difahamkan rebet teresbut akan dibayar apabila pemilik kenderaan memperbaharui cukai jalan kenderaan mereka.

Kerajaan dijangka menjimatkan RM4 bilion di bawah penstrukturan semula skim subsidi tersebut.

Jika harga petrol dijual mengikut harga penuh pasaran, ia boleh mencecah setinggi hampir RM4 seliter – naik 100 peratus.

Bagaimanapun, kerajaan dijangka menuju ke arah memansuhkan terus pemberian subsidi pada masa depan.
BREAKING NEWS: Petrol will be RM2.70 a litre at midnight tonight
By : Newsdesk

PUTRAJAYA, Wed:
The new price of petrol is RM2.70 per litre beginning midnight tonight, it was announced a moment ago by Domestic Trade and Consumer Affairs Minister Datuk Shahrir Samad. Diesel will go up by RM1 per litre while the price for ULG 92 per litre went up by 74 sen. The 78 sen hike or 40 per cent increase for the ULG 97 petrol is still below the antiticpated RM4 per litre price projected earlier and among the cheapest in Asia.
Petrol to cost RM2.70 from midnight

KUALA LUMPUR: Prime Minister Datuk Seri Abdullah Ahmad Badawi on Wednesday announced the new price for petrol is RM2.70 a litre, effective midnight tonight.

He announced that the price of petrol would be increased by 78sen and diesel by RM1.

The 40% increase in petrol price is part of the new fuel subsidy plan the Prime Minister announced at 5pm Wednesday.

The price of diesel goes up to RM2.58 from RM1.58.
Tuesday June 3, 2008

New oil subsidy from Wednesday
By IZATUN SHARI

KUALA LUMPUR: A new fuel subsidy scheme to be announced tomorrow will take immediate effect to prevent further speculation.

Prime Minister Datuk Seri Abdullah Ahmad Badawi said the anti-inflation committee would decide today on the various proposals put forward by the Cabinet.

He was speaking to reporters after chairing the national small-and-medium enterprise development council at Bank Negara here yesterday.

Abdullah was asked to confirm an announcement made by Domestic Trade and Consumer Affairs Minister Datuk Shahrir Abdul Samad that a new fuel subsidy scheme would most probably be implemented in August.

Abdullah said: "He said 'might be'. As far as the subsidy management scheme is concerned, the final decision will be made on Wednesday.

"It was to be decided last Friday but it so happened that many of the ministers (involved) were attending conferences overseas. We wanted all to be present to make the decision."

Asked whether the announcement would take effect immediately, he said: "We want it to be effective immediately. If not, there will be a lot of speculation."

He, however, did not disclose what the new subsidy scheme would involve.

Earlier at Parliament, Shahrir said any change in the subsidy scheme might result in a rise in petrol and diesel prices.

He said the scheme might be changed in August as stated earlier by Second Finance Minister Tan Sri Nor Mohamed Yakcop.

"It will happen. Petrol price will increase," he said at the lobby of Dewan Negara yesterday.

However, he said Malaysians would still enjoy subsidies, but it would be given based on need.

On another matter, Abdullah said the Government would set up a special committee to recommend measures to reduce the impact of rising costs and oil prices on small-and-medium enterprises (SMEs).

He said measures to be considered included tax incentives to encourage SMEs to upgrade their machinery and equipment as well as adopt new technology.

Abdullah said the measures were vital to ensure that SMEs were not forced to shut down due to rising oil prices.

He said that more than 286,000 SMEs received assistance through the implementation of 189 key development programmes involving RM4.9bil.

Asked whether the RM1bil special allocation for rural development in Sabah was due to pressure by Sabah Barisan Nasional leaders, he said: "It's for infrastructure development in rural areas in Sabah. It's from the Federal Government. It's part of the consideration we are making at the moment."
Comments
comments