Are you the next Lee Hom 王力宏? Homaniac fever!
It's awesome to see so many people unleashing their inner Lee Hom! But can you do better? Can you rise above the rest and be the real deal (or as close to it as possible)?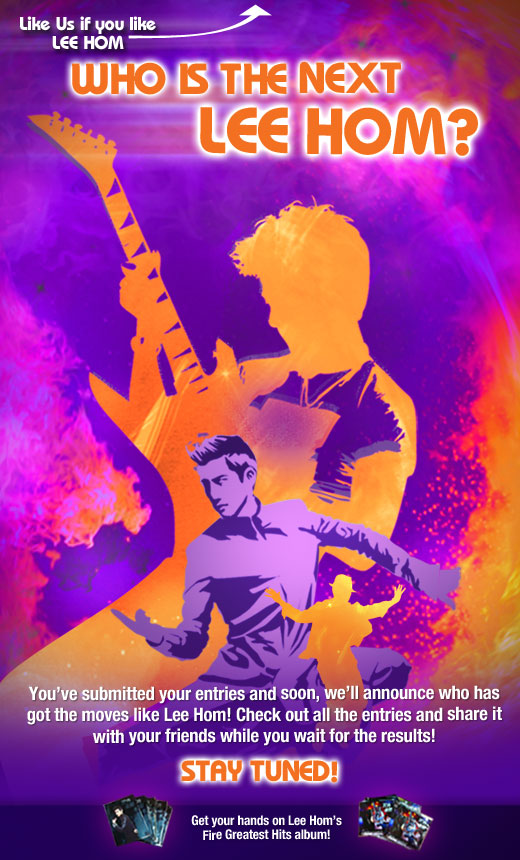 Be Like Lee Hom and Win!
If you're going to swagger-jack Lee Hom, you might as well win some prizes! Got the best Lee Hom act in town? Just get on The Cube and show it to the world! It's easy. Just send in a video, sound recording or MMS of your best Lee Hom impersonation. You can be as creative as you want and make your entries funny, charming, serious or you can blow us away with your talents.
Check out on how I impersonating Lee Hom! Lolz. Something crazy that I did but not as good. I believe you could do much better than this right?
There are a few ways you can participate. Whichever way you choose to join, just make sure you put your best Lee Hom act on.
Here's how you can join.
Send Us A Video:
Submit video(s) of you singing/impersonating/lip-syncing/dancing/playing instruments to any Lee Hom song. You can basically do anything, even a parody or do a cover version of Lee Hom's songs.
The more creative you are with your videos, the more chances you'll have at winning! We will judge the entries and select the best video as the winner! The videos should be 30sec-10mins video recording uploaded to our Facebook app at www.facebook.com/xpaxfb. You can also check out other entries, and see what you competition have to serve. Remember, you have to do your hardest to impress our judges because competition is going to be tough!
Send Us Your Voice Recording:
Got the voice like Lee Hom? Let us hear you sing! Just dial *22009 and karaoke or sing along to a Lee Hom song! Tap into your popstar instincts and serenade your way into a win.
Or
Send Us an MMS:
Simply snap a picture of your most awesome Lee Hom-like pose. Then, send it to 23131 to be in the running as well as receive FREE MMS content every week!
So whatever your Lee Hom talent is, you can join our contest and be the one to win these fantastic prizes:
1 x Imported Lee Hom Bahamut Dragon Air Guitar
5 x Autographed Open Fire Greatest Hits Album
Come on, prove that you can be the next Lee Hom!
Also, you can get exclusive Lee Hom downloads by getting on The Cube and dialing *888#. Then, select Hot Deals and choose Lee Hom or go to http://m.thecube.my.
Who wouldn't want to be? He's talented, good-looking and has all the right moves – so it's only natural people want to be the next Lee Hom!
So will you be the next Lee Hom?
More details on the contest : The Next Lee Hom!
Comments
comments