Rebates for regular LDP users – Good or Bad?
It's seems to be good news for me but I only use RM1.60 + RM1.60 * 2 everyday to Cyberjaya so it will be RM3.20*2*5*4 = RM128 so no rebate for me. =(
Is it a good news for you or none of your business? haha. They should have just reduce the toll rate to RM1.50 at least I also can save some peanut.
The rebate is also very tedious just look at the T&C, you need to go register your Touch n' go card and then register with litrak. Then rebate need to do it at Touch n' go hub. Wah so many procedure and need to waste more time and petrol so is it feasible? So what if I'm using my Smart Tag with Zing Touch n' go which is auto reload?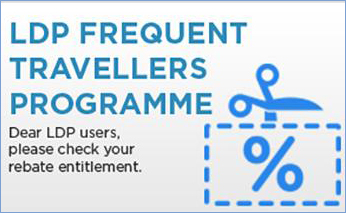 PETALING JAYA: Those who frequently ply the Damansara-Puchong Highway (LDP) can look forward to special rebates under the newly-launched Frequent Travellers Programme.

Cash users will be given a free Touch 'n Go card worth RM15, including a RM10 load value, if they provide RM50 worth of LDP receipts collected within a month.

Existing Touch 'n Go or SmartTAG users who spend at least RM200 a month will be eligible for a free 20% reload bonus when they top up.

Works Minister Datuk Shaziman Abu Mansor said the programme was timely given the current economic slowdown.

"This example should be followed by all highway operators in an effort to make highway users a priority," he said in his speech at the launch of the programme read out by the ministry's secretary-general Datuk Thomas George.

Shaziman called on all highway operators to rejuvenate the quality of service given to highway users.

Toll rates, he said, should not be burdensome and priority should be given to what users want and need.

"This will ensure that the quality of service is on par with the toll rates being charged."

He urged operators to play a more active role in carrying out their corporate social responsibility to help reduce the burden on motorists.

LDP concessionaire Lingkaran Trans Kota Holdings Bhd (Litrak) chairman Tan Sri Dr Wan Abdul Rahman Wan Yaacob said they wanted to reduce the burden of highway users who frequently used the highway.

"As part of our corporate social responsibility, we will also be spending RM300mil for congestion mitigation work, which will begin in the third quarter of this year," he said in his speech read out by Litrak executive director Yusoff Daud.

For more information, visit www.litrak.com.my.

Source : TheStar
Comments
comments