Lee Chong Wei, Koo Kien Keat-Tan Boon Heong fall in Singapore Open 2009
My brother who is working in Singapore went to watch the badminton match live but he called me telling me that Lee Chong Wei lost to a Vietnam's guy named Nguyen Tien Minh whom I do not even know who is that.
What a shame indeed but I thought this Singapore Open should be kacang putih for him because this biggest rival Lin Dan from China is not competing. Hope trashed. What more our double pair Koo Kien Keat & Tan Boon Heong also lost in the game. So this weekend I will not stick to the Singapore Open as both my favorite also lost.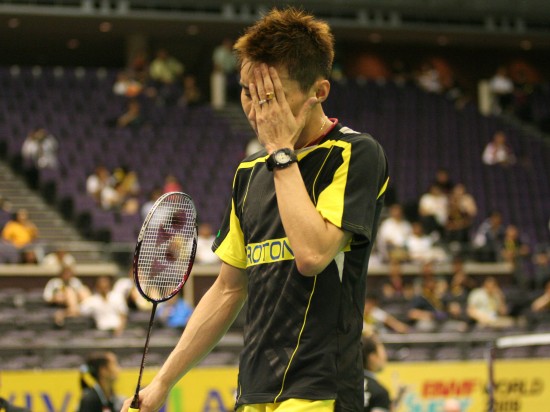 KUALA LUMPUR: World No. 1 Lee Chong Wei's hopes of retaining his first badminton title outside Malaysia ended when he fell to a shock second round loss to Vietnam's Nguyen Tien Minh in the Singapore Open last night.

The tournament also lost its second seed after top Dane and former All-England champion Peter-Gade Christensen was bundled out 19-21, 21-16, 13-21 by India's Anup Sridhar.


Stunner: Vietnam's Nguyen Tien Minh packed off Malaysia's Lee Chong Wei in the Singapore Open.

There was more bad news from the Malaysian doubles camp when top hopes and Swiss Open champions Koo Kien Keat-Tan Boon Heong fell to a surprise 13-21, 21-19, 21-14 defeat by England's Nathan Robertson-Anthony Clark.

But it was the unheralded Vietnamese who produced the biggest upset of the tournament when he sent Chong Wei packing 24-22, 20-22, 21-19 in one hour.

The top seeded Malaysian failed to contain the onslaught from Tien Minh, who reached game point first to win the first game 24-22.

He then had Chong Wei hanging by the scruff of his neck before the Malaysian saved four game points to force a decider.

Chong Wei must have thought his problems were over when he led 18-16 in the decider but the Vietnamese caught up before eventually prevailing to secure his biggest career win so far.

It was the second successive early round setback for the Olympic silver medallist, after an upset stomach caused him to concede a first round defeat to China's Chen Long in the Indian Open in March.

Malaysia will have no representative in the men's singles after veteran Wong Choong Hann failed to get the better of Bao Chunlai of China.

The unseeded Chinese won 21-16, 21-17 in 36 minutes to set up a quarter-final clash with Tien Minh.

Kien Keat-Boon Heong's defeat left former national pair Gan Teik Chai-Tan Bin Shen as the unlikely survivors in the men's doubles.

Teik Chai-Bin Shen beat Fang Chieh-min-Lee Mu-shen 21-16, 21-15 and will play fourth seeds Lars Paaske-Jonas Rasmussen of Denmark for a place in the semi-finals.

In the women's doubles, top seeds Chin Eei Hui-Wong Pei Tty made it to the last eight after beating Dutch pair Rachel Van Cutsen-Paulien Van Dooremalen 21-16, 21-15.

Source : TheStar
Official Singapore Open Website : http://www.singaporebadmintonopen.sg/
Comments
comments