Unbeatable 激戰 – 林超贤,張家輝,彭于晏,李馨巧
Have you watched the latest hit movie – Unbeatable 激戰? 張家輝 Nick Cheung & Taiwanese heartthrob Eddie Peng 彭于晏 are the main leads in this boxing movie together with the 10 years old Malaysian born child actress Crystal Lee 李馨巧!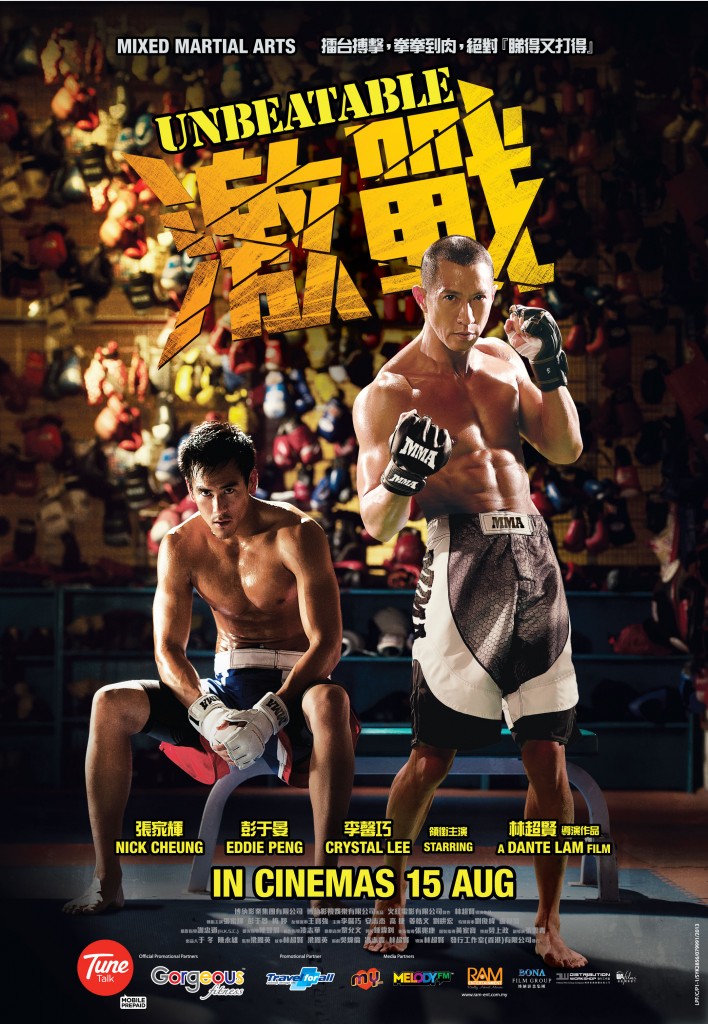 Unbeatable – Movie Synopsis:
Chin Fai <贱輝>, or better known as "Scumbag Fai" (張家輝 Nick Cheung), once a boxing champion, flees to Macau from the loan sharks and ended taking up a job in a boxing school run by his old friend, Tai-sui (Philip Keung).
At the boxing school, Fai encountered Lin Si-Qi(彭于晏 Eddie Peng), a young chap who decided to enter the world-famous MMA Championship, the Golden Rumble just to prove himself to his dad who went into a slump after his business failure. Fai eventually become Si-Qi's personal coach and rediscovers his passion to fight not only in the ring but for his life and ones he cares.
激戰故事大綱:
《激戰》講述了過氣香港拳手程輝,在拳壇沒落後,成為賭債累累的落魄中年,富二代思齊,因父親生意失敗而一無所有。兩個風光一時的失意人,一個為了逼債,一個為尋父,在澳門相遇成為拳擊師徒。輝為了挽回人生尊嚴:齊為了鼓勵失踪的父親別放棄,師徒二人踏上MMA的擂台,無懼的挑戰強大對手。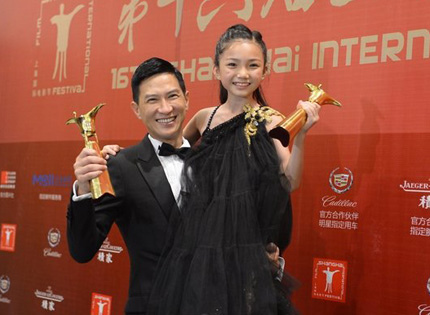 The film had it's premiere at the Shanghai Film Festival on 18th June 2013 where Nick Cheung 張家輝 bagged the Best Actor award while Malaysian Child Super Star Crystal Lee 李馨巧 won the Best Actress award.
本片入圍第16届上海國際電影節的競賽部分,並拿下「最佳男演員獎」、「最佳女演員獎」兩個大獎,成為金爵獎史上首部獨攬電影帝后兩個獎項的電影,也是首部在金爵獎上大豐收的香港電影,片中小女孩扮演者、十歲的李馨巧則成為金爵獎歷史上年齡最小的影后。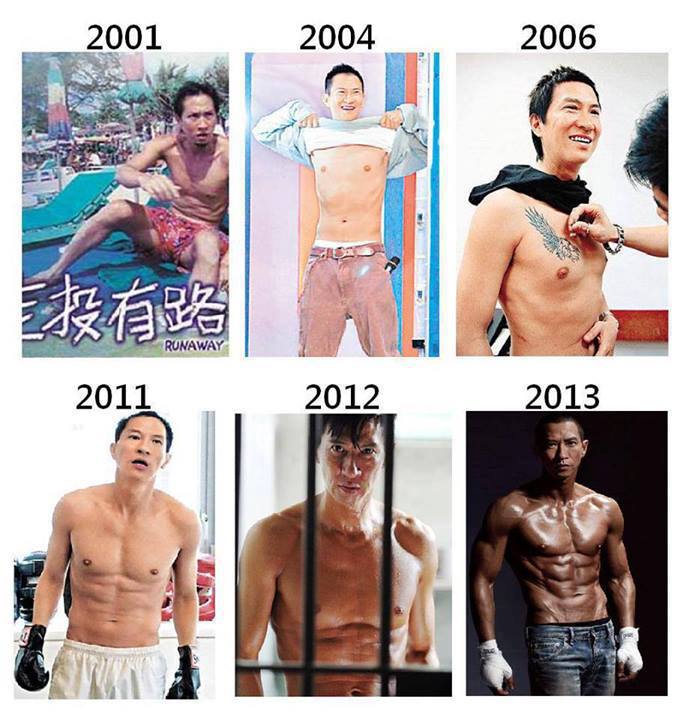 The transformation of Nick Cheung 張家輝 6-pack abs sexy and muscular body!
In preparation for the movie MMA (Mixed Martial Arts) – Unbeatable <激戰>, Nick Cheung (張家輝) trained hard everyday to transform his body to 6-pack sexy abs to make himself look more convincing for his boxer role. Look how his body transformed over the years!
Nick Cheung (張家輝) said, "No salt, oil, sugar and starch are requisites. Towards the middle of the training, I must eat 20 to 30 egg whites every day for the protein. When it was almost time to start filming, I can only eat white rice for 3 days so that the starch can beef up the muscles. And lastly, I must eliminate water from the body so I can only wet the mouth in order for the body to be dry and make the muscle lines more prominent."
Nick Cheung (張家輝) coped with the effects of dehydration. "Eating too much protein caused the urine to have thick inches of bubbles foam; it required a few flushings to get rid of it. During dehydration, the whole body is so dry that I didn't need to go to the toilet at all. Even if I did, it's only a few droplets, and it will be coffee in color. A few pimples will occasionally pop up as well; it's horrible but there is no reason not to continue."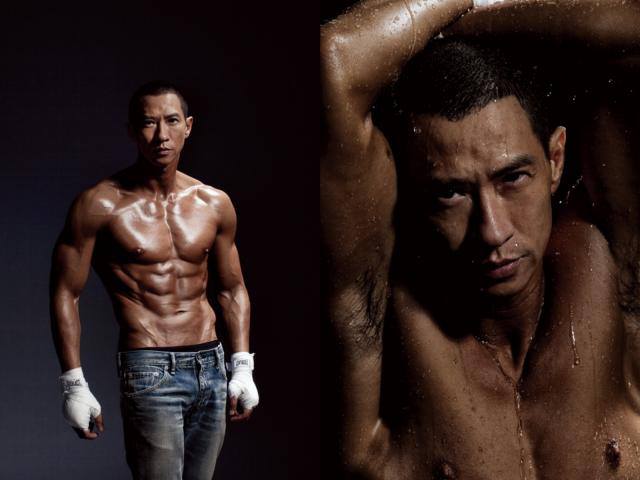 I must say this is the most painful thing for an actor to do and he has to suffer all the pain, fighting with opponents or getting beaten by others.
Unbeatable 激戰
類型 Genre: Action/Drama
導演 Director: Dante Lam 林超贤
演員 Cast: Nick Cheung 張家輝, Eddie Peng 彭于晏, Mei Ting 梅婷, Andy On 安志杰, Jack Kao 高捷, Crystal Lee 李馨巧
时间 Runnig Time: 117 minutes
Rating: PG13 (Violence)
上映日期 Release date: 15th August (Hong Kong, Singapore, Malaysia), 16th August (mainland China), 22nd August (Australia), 18th September (Taiwan)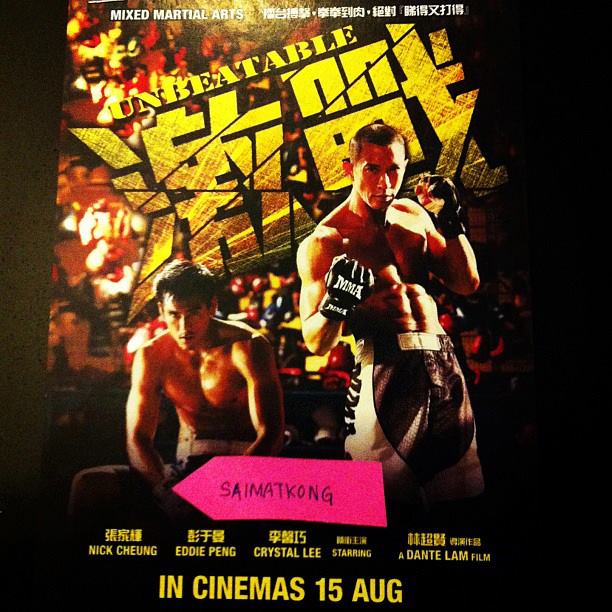 Thank you Nuffnang for the invitation to this awesome Unbeatable 激戰 Premier Screening! Love the 激戰 Unbeatable's movie sound track "Sound Of Silence"!
Comments
comments