I recently travelled to Kaohsiung (高雄) & Tainan (台南) with my family and in-laws. My last visit to Taiwan 台湾 (Taipei 台北) was about 4 years ago. This trip, we visited Kaohsiung and Tainan and spent a wonderful week there eating various Taiwanese delicacies and exploring Tainan & Kaohsiung.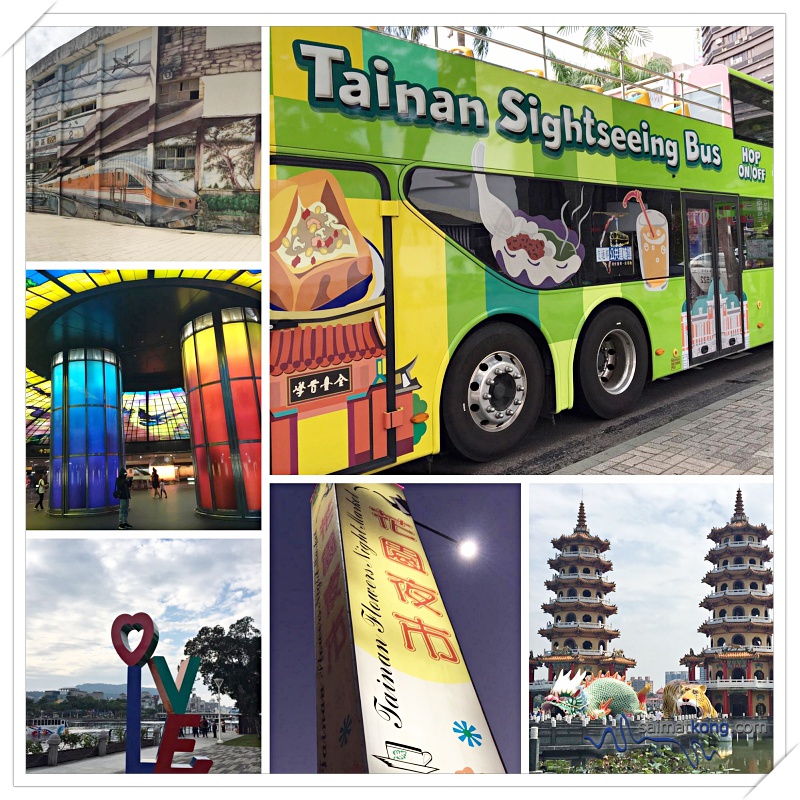 While Taipei is a shopping paradise where you can shop till you drop, both Kaohsiung and Tainan is more for sightseeing with many beautiful cultural and historic attractions.
Here are my Kaohsiung & Tainan Trip Itinerary that you can refer to plan for your upcoming Taiwan trip 🙂
—
Day 1 : Arrived at Kaohsiung International Airport via Air Asia, Tainan Flowers Night Market 花園夜市
Day 2 : Tainan Tour with Double Decker Sightseeing Tour Bus (Fort Provintia, Confucian Temple, Tainan City Hall, Shennong Street, Eternal Golden Castle), Rabbit Rabbit Tea
Day 3 : 花楼 Follow Coffee, Dome of Light @ Kaohsiung MRT Formosa Boulevard Station, San Dai Spring Roll 三代春捲 @ Xinxing District, Lao Chiang 老江紅茶牛奶 @ Nantai Road, No.1 exit of Formosa Boulevard Station, Dan Dan Burger
Day 4 : Lotus Pond 蓮池潭 @ Zuoying District, Dragon and Tiger Pagodas 龍虎塔 @ Zuoying District, Xin Jue Jiang Shopping District 新崛江商场, Angel Fried Chicken 天使鸡排 @ XinJueJiang Shopping Area, Xing Fu Tang 幸福堂 @ XinJueJiang Shopping District
Day 5 : Pier-2 Art Center 駁二藝術特區 @ Yancheng District, Pasadena 帕莎蒂娜 @ Pier-2 Art Center, Love River 愛河 @ Renwu District
Day 6 : Dream Mall 夢時代購物中心 @ Qianzhen District, Cianjhen Night Market @ Qianzhen District
Day 7 : Cafe AL @ Xinxing District, Liuhe Night Market 六合夜市
Day 8 : End of our Taiwan trip. Back to Malaysia (KLIA 2 via Air Asia)
—
The highlights of my amazing Kaohsiung & Tainan Trip :-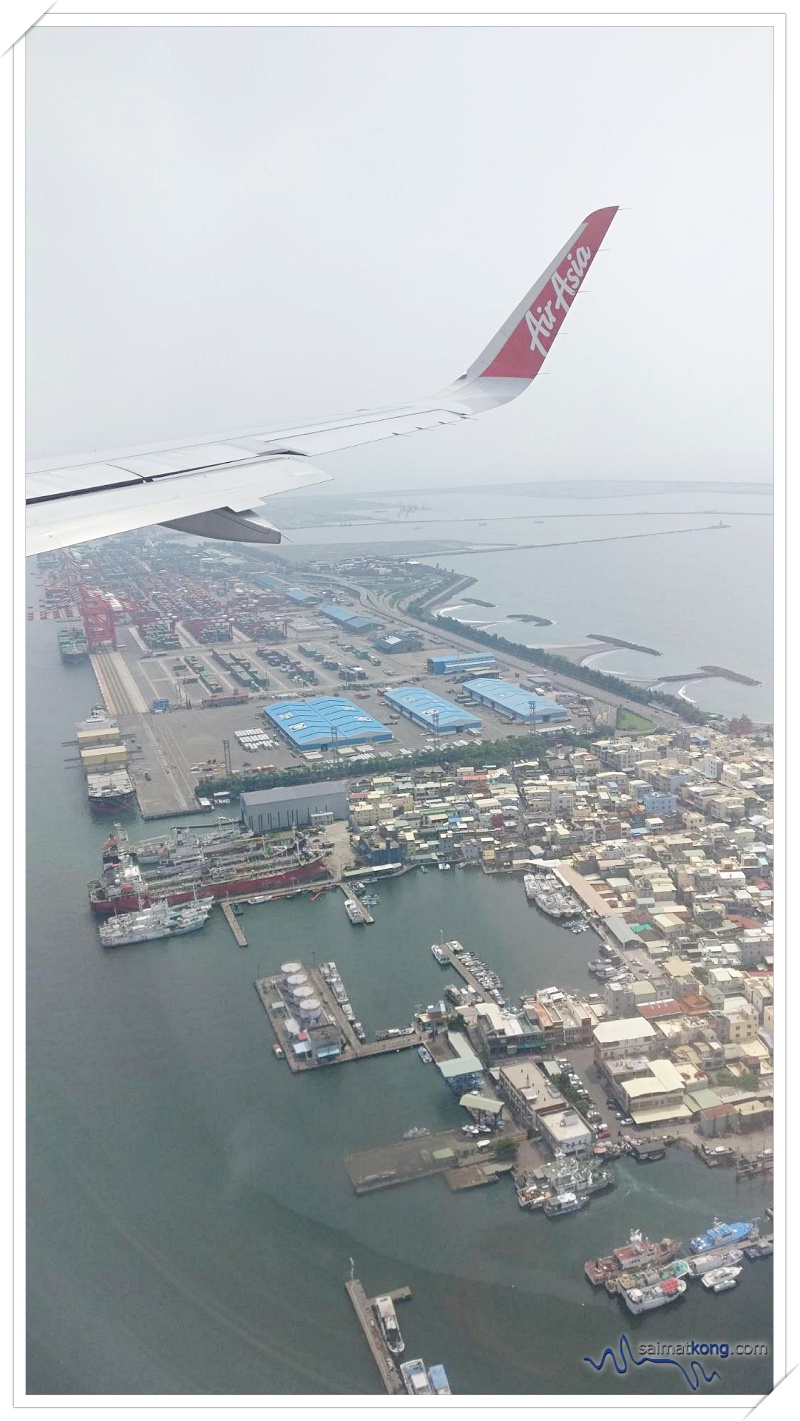 Let the vacation begin! Taiwan here we come!!! For this Taiwan trip, I flown with Air Asia. We managed to score some cheap flights during the Air Asia flights promo. You can always refer to Air Asia website for the Free Seats promotion.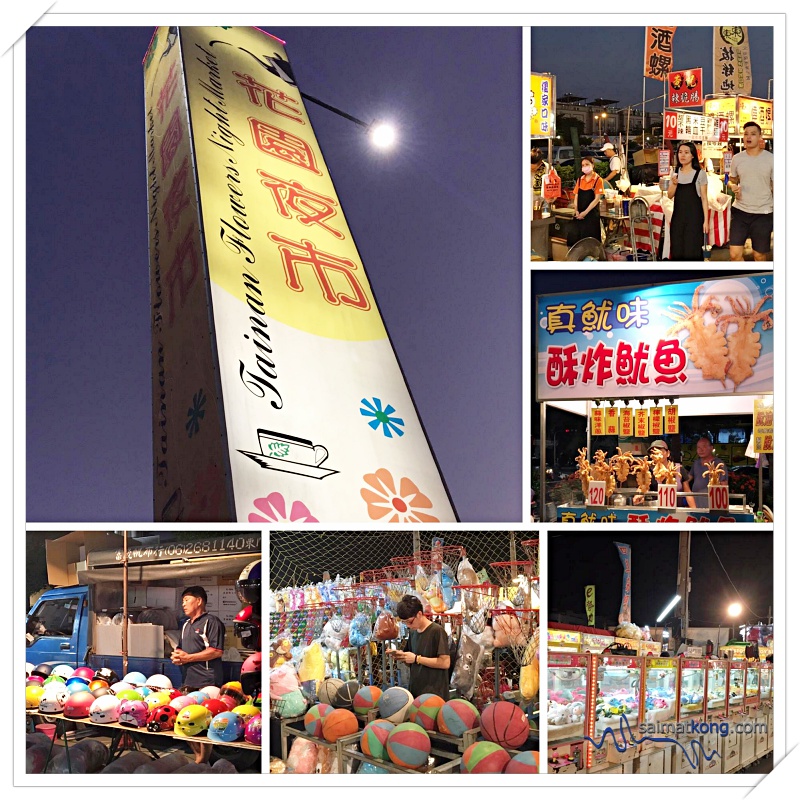 Tainan Flower Night Market (花园夜市) is the largest and most famous night market in Tainan city. There are many stalls offering wide array of Taiwanese snacks such as takoyaki, stinky tofu, oyster omelette, fried chicken, big sausage wrap small sausage, gua bao, yakitori and many more. For entertainment, there are many game stalls such as basketball, darts, balloon shooting, mahjong and others. For shopping in Tainan, there are also stalls selling clothings and accessories at this night market.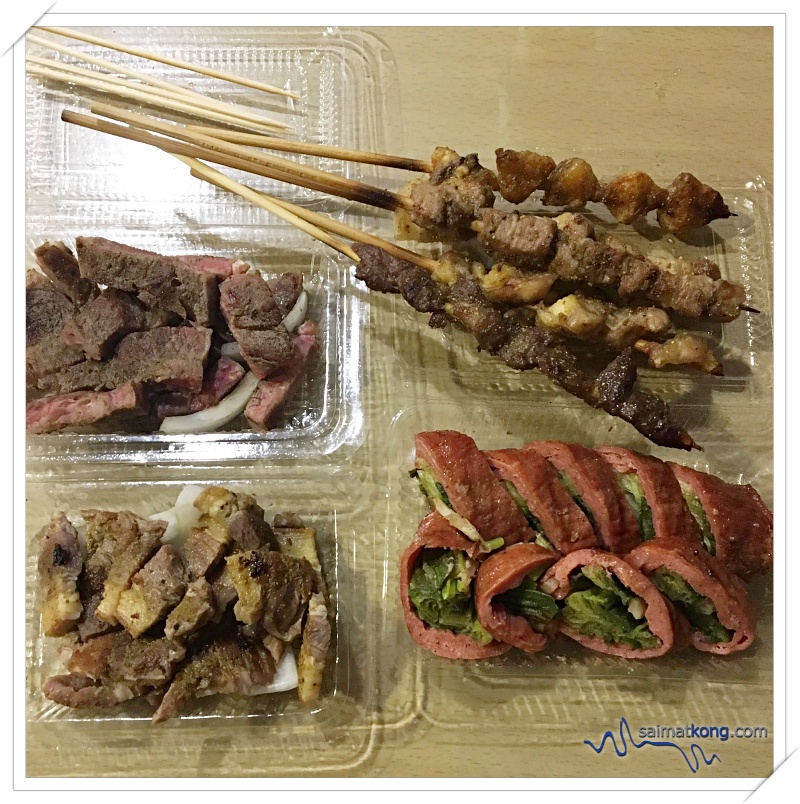 Our supper from Tainan Flower Night Market : steak, lamb chop, yakitori and bacon wrap.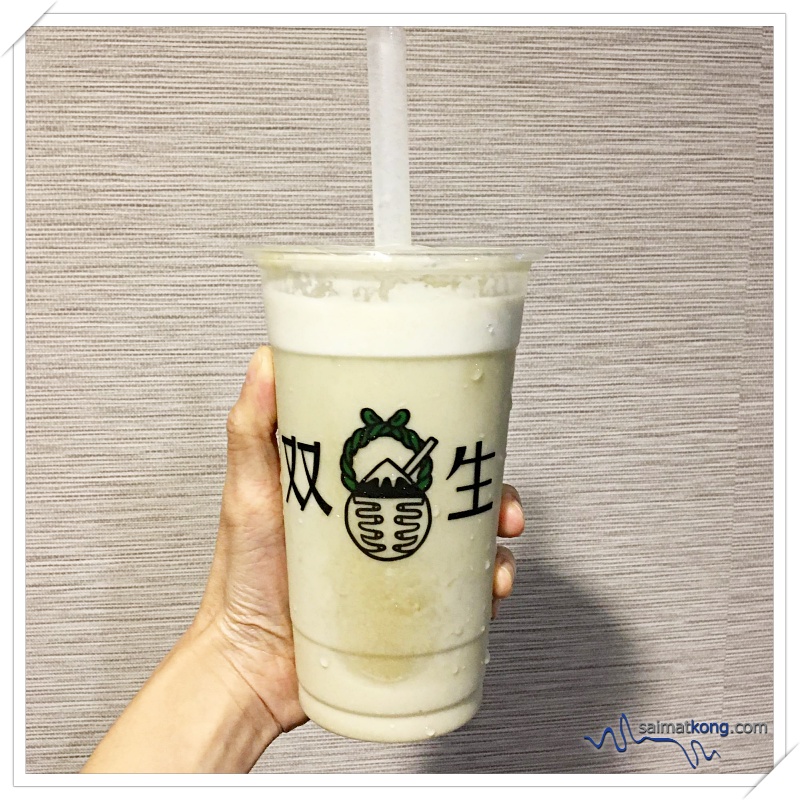 When in Tainan, one of the must try is the Green Bean Milkshake from 双生.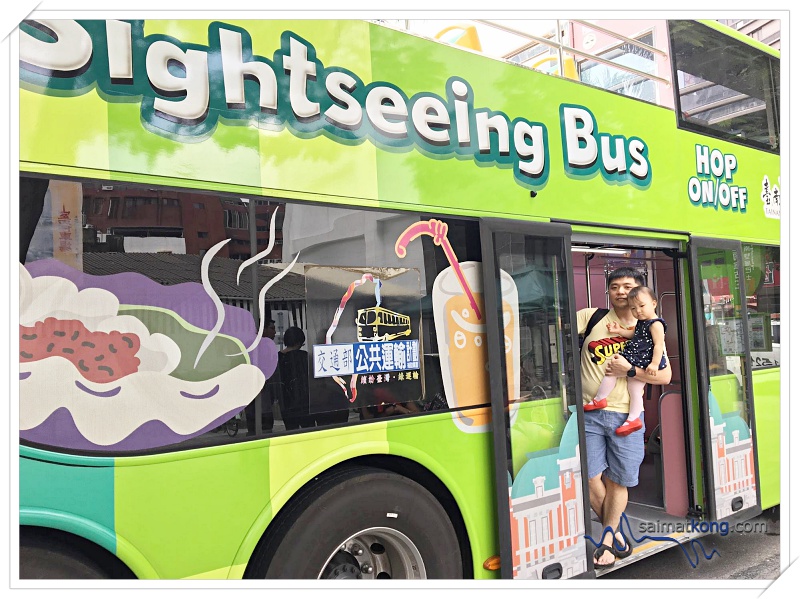 To explore the attractions in Tainan, we took the Double-Decker Sightseeing Tour Bus which allow u to hop on and off at any attractions in Tainan for 6 hours. I purchased my tickets earlier from Klook website at a discount and I just need to redeem my physical ticket at the Tainan TRA train station.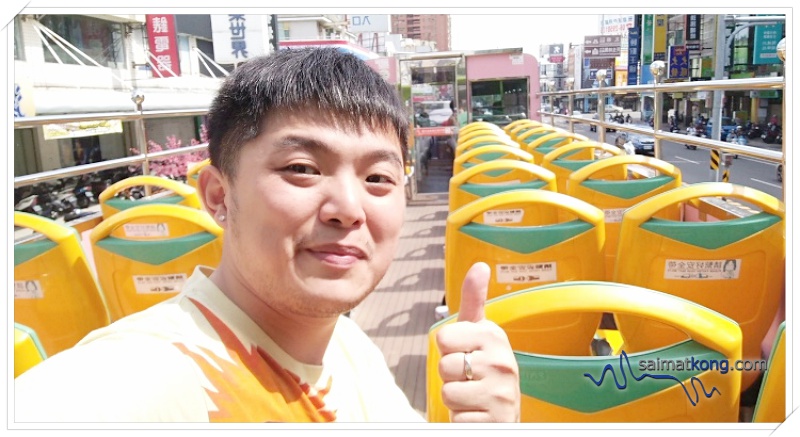 They have a open deck area which is perfect to enjoy the views of Tainan city. It's so fun and convenient to explore the sightseeing spots in Tainan with this Tainan Double-Decker tour bus.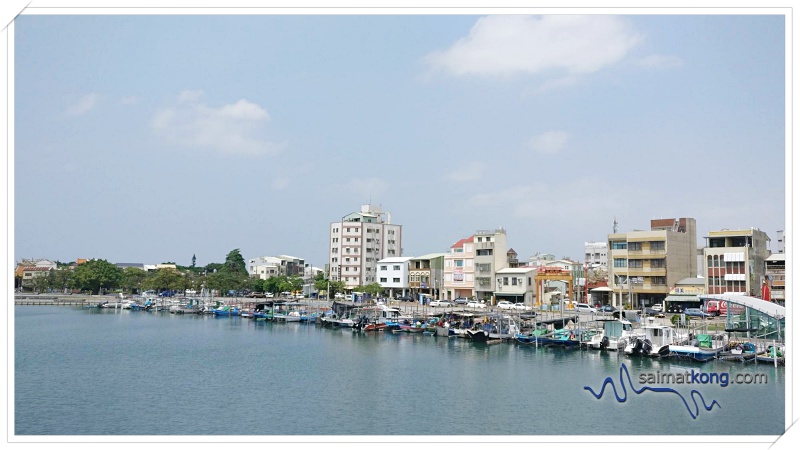 Among the attractions that we covered are Fort Provintia, Anping Fisherman Wharf, Tainan City Hall, Confucian Temple and Shennong Street.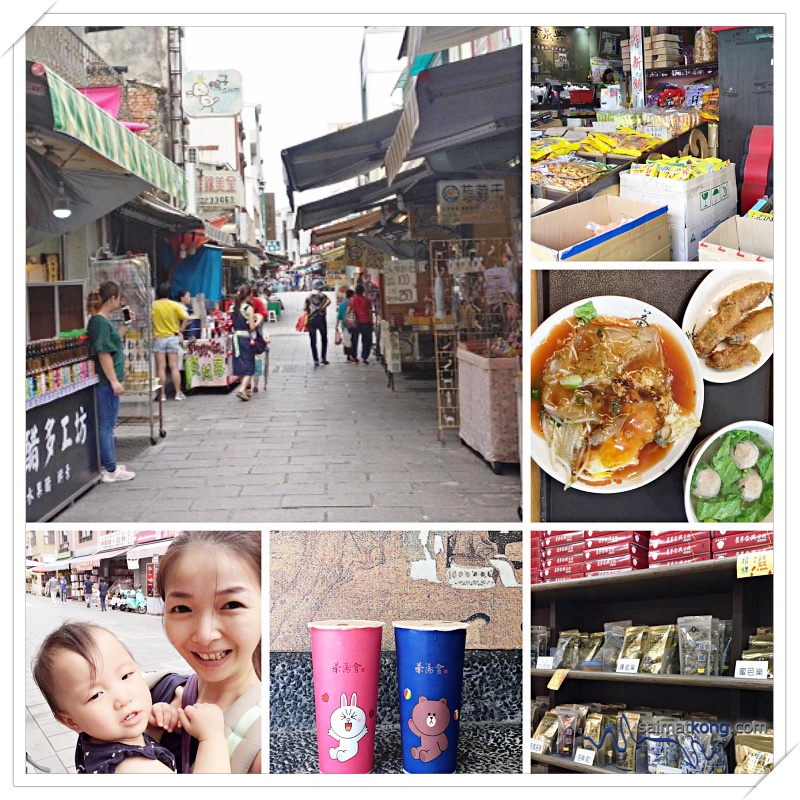 Had a wonderful day walking along Anping Old Street 安平老街 trying various Taiwan local snacks. There are many shops selling shrimp crackers and you can sample the shrimp crackers before you buy. As Tainan is famous for seafood, the must try food in Tainan includes shrimp rolls, oyster omelette, fried oyster, pork ball soup. The shrimp rolls are real yummy!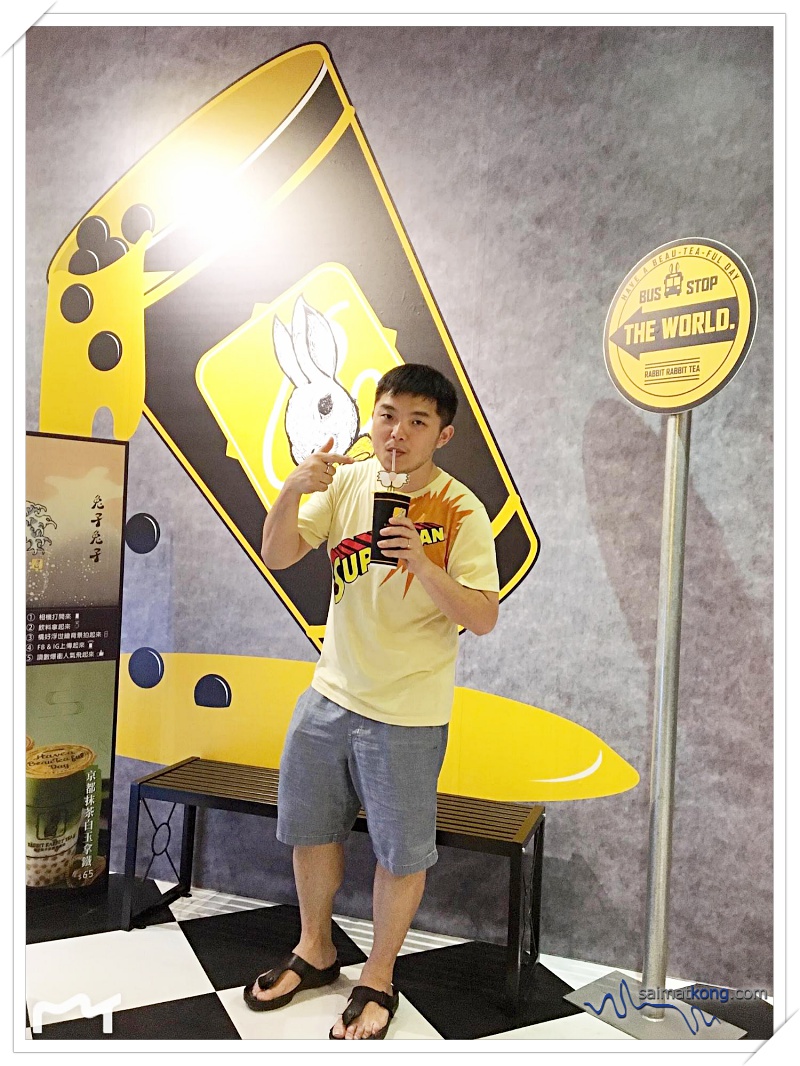 When in Taiwan, one of the must-do is trying various tea brands and so I'm trying tea from Rabbit Rabbit Tea 🙂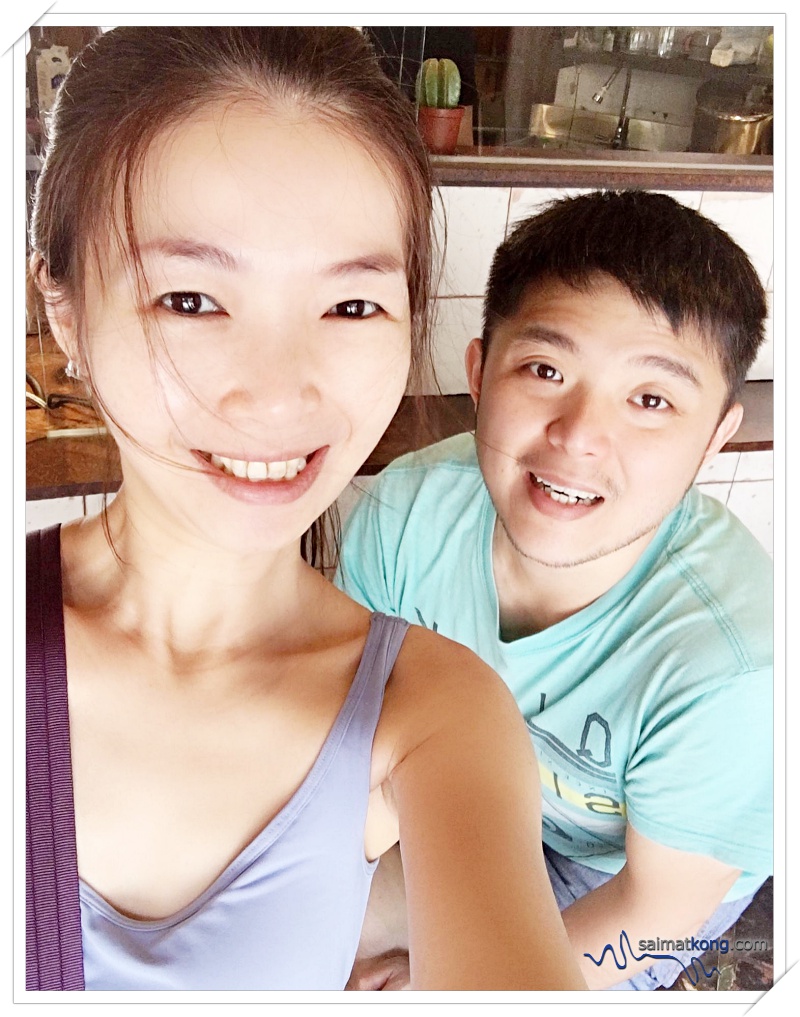 Coffee date with Wifey @ Follow Coffee in Tainan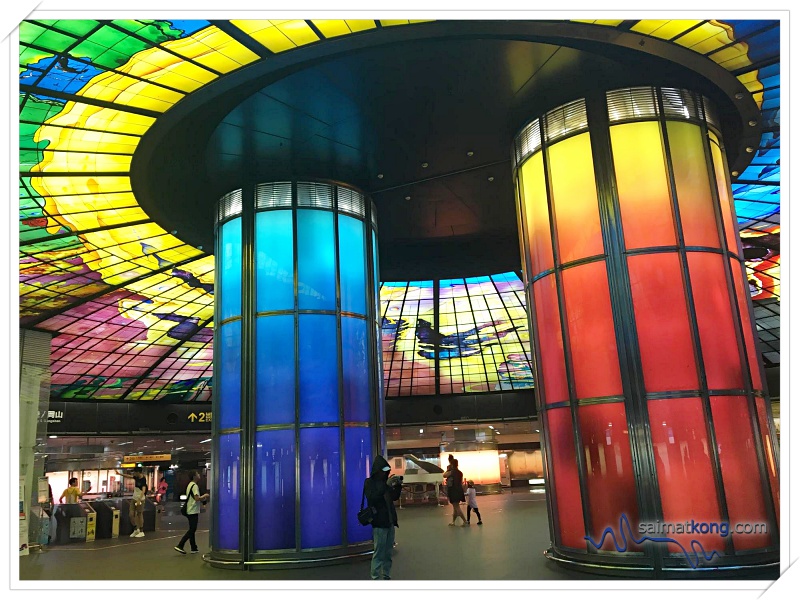 Possibly one of the most beautiful MRT stations I've ever seen.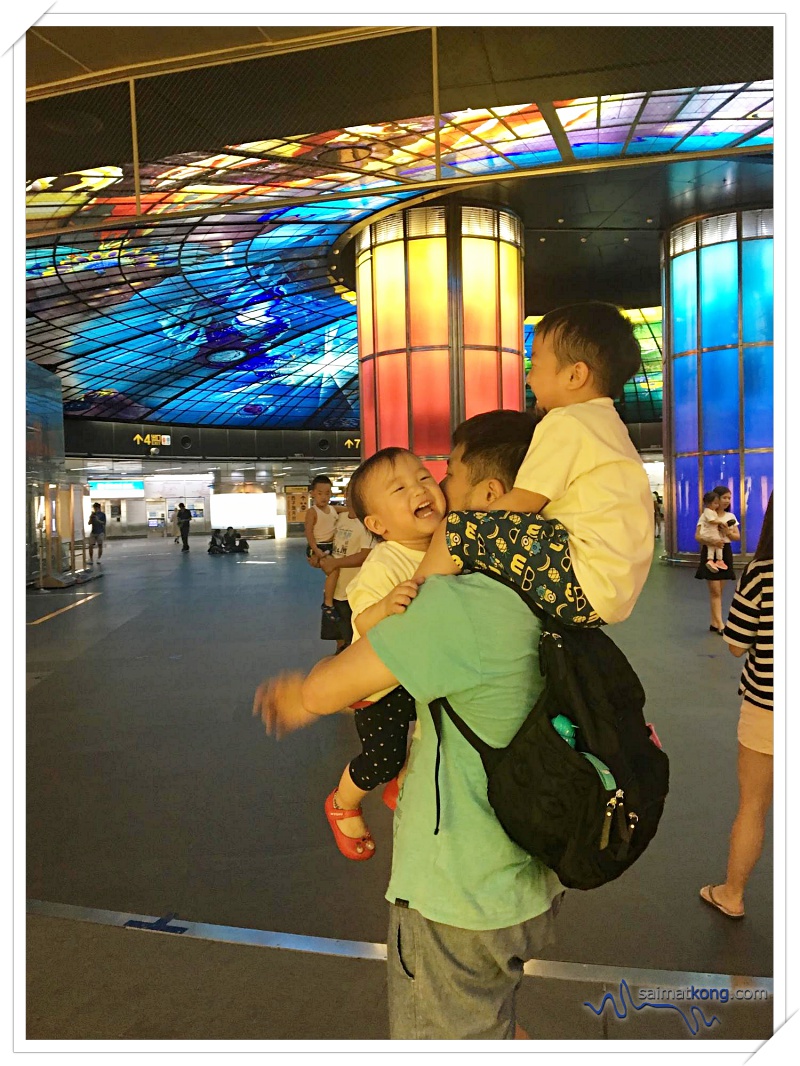 Creating memories with my kids with "Dome of Light" as background @ Kaohsiung Formosa Boulevard Station (美麗島).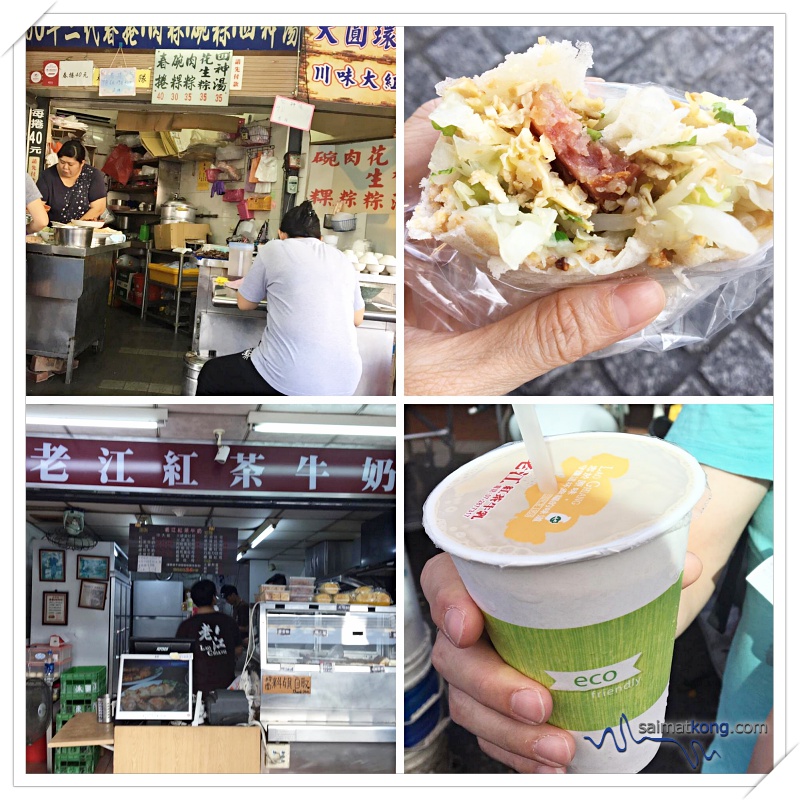 Located right above Exit 1 of MRT Farmosa Boulevard station in Kaohsiung, San Dai Spring Roll 三代春捲 is a 60 years old shop famous for its handmade spring roll. The spring roll is loaded generously with Chinese sausage, cabbage, bean sprouts, parsley, crushed peanuts and sprinkled with sugar. We also got to try milk tea from the famous Lao Chiang Milk Tea 老江紅茶牛奶.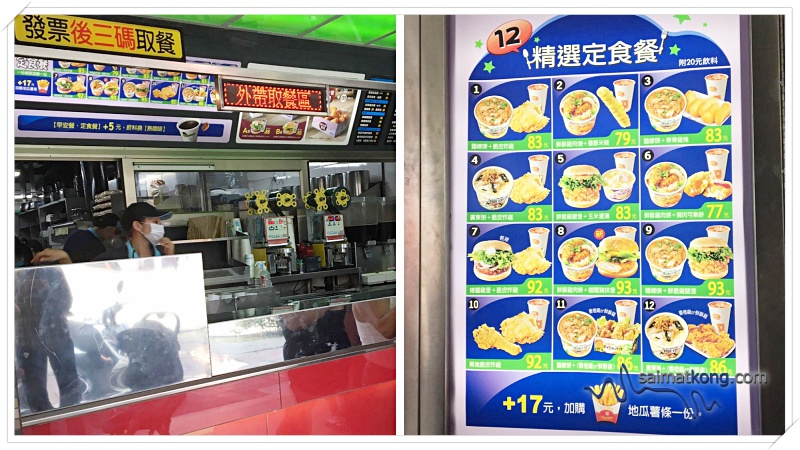 Forget about KFC or McDonalds and try Dan Dan Burger (丹丹漢堡) instead. Originated from Kaohsiung, Dan Dan Burger is a famous fast food chain offering fusion fast food such as hamburger, nuggets, fried chicken and local Taiwanese food such as porridge and mee sua.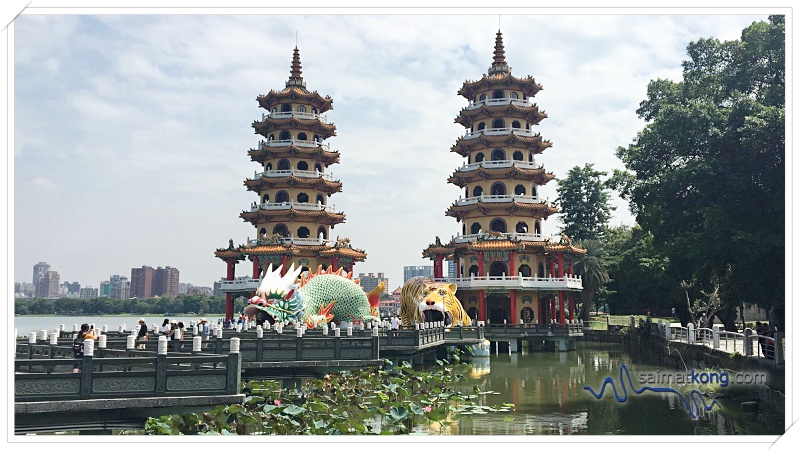 Lotus Pond (蓮池潭) is one of Kaohsiung's famous tourist spots. You can reverse your bad fortune at the Dragon and Tiger Pagodas (龍虎塔) by entering through the dragon's mouth and exiting through tiger's mouth. Bad luck be gone & welcome good luck!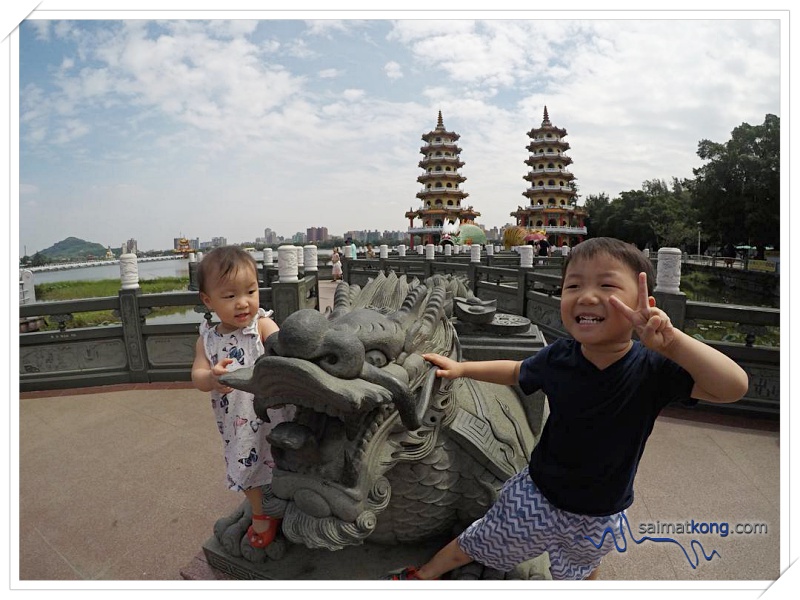 My favorite duo – Aiden & Annabelle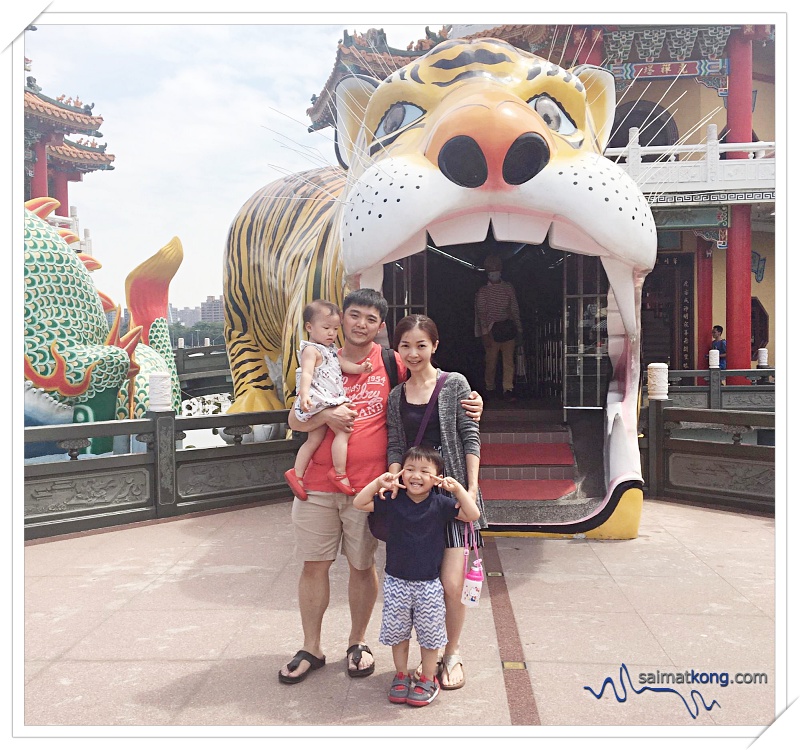 My family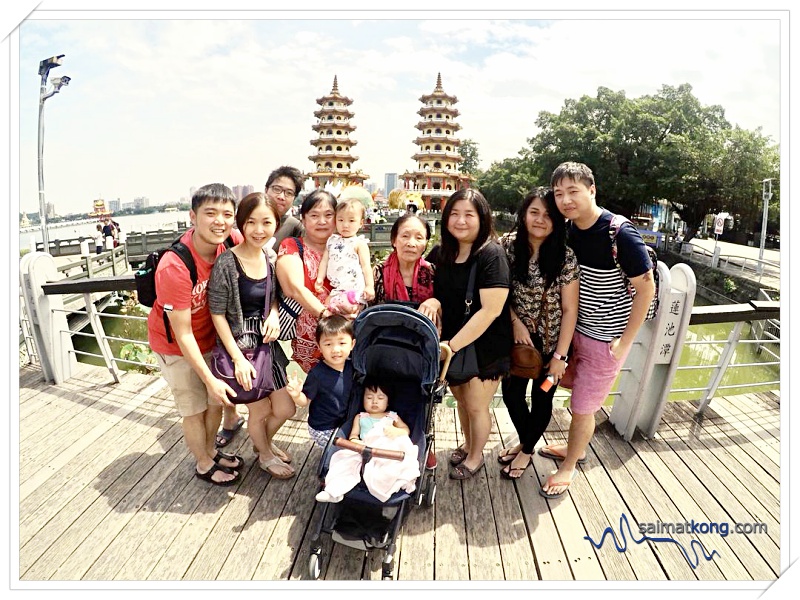 All of us @ Lotus Pond (蓮池潭) in Kaohsiung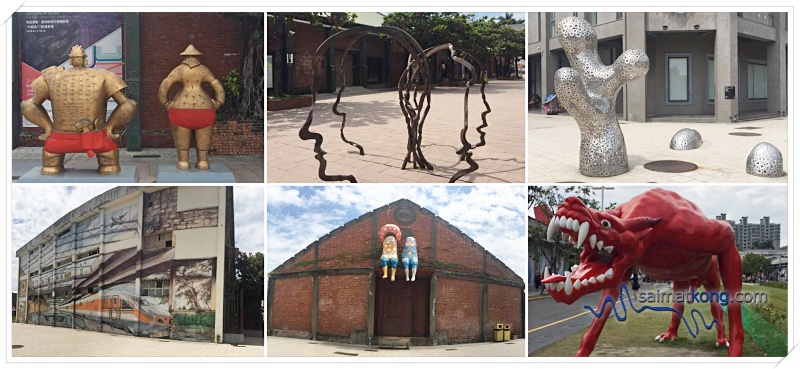 Don't miss out on Pier-2 Art Center (駁二藝術特區) in Kaohsiung as it's a wonderful place filled with artistic works of art. It's a great place for art fans and also a nice place to take beautiful photos.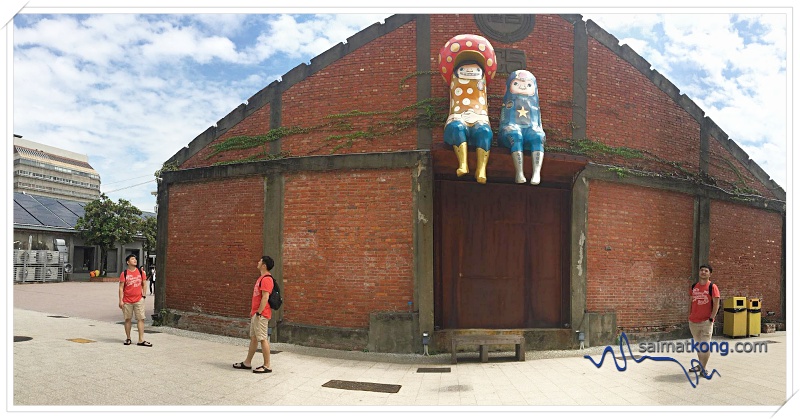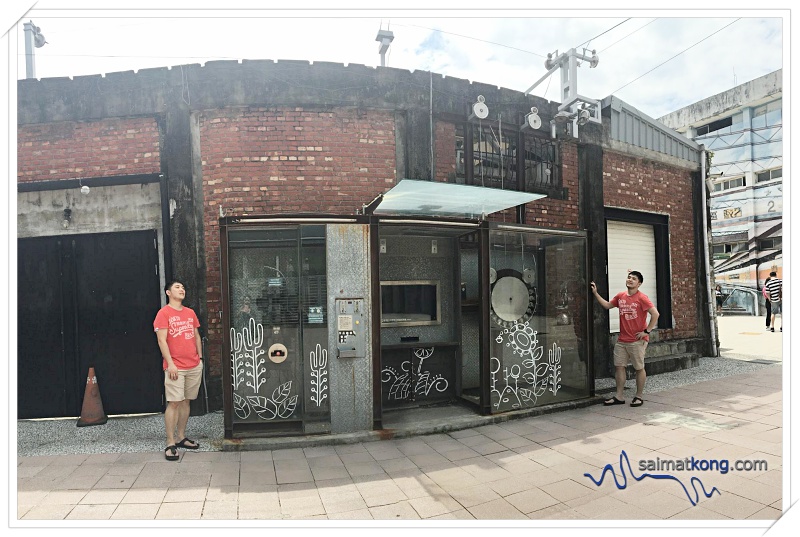 Happily snapping away @ Pier-2 Art Center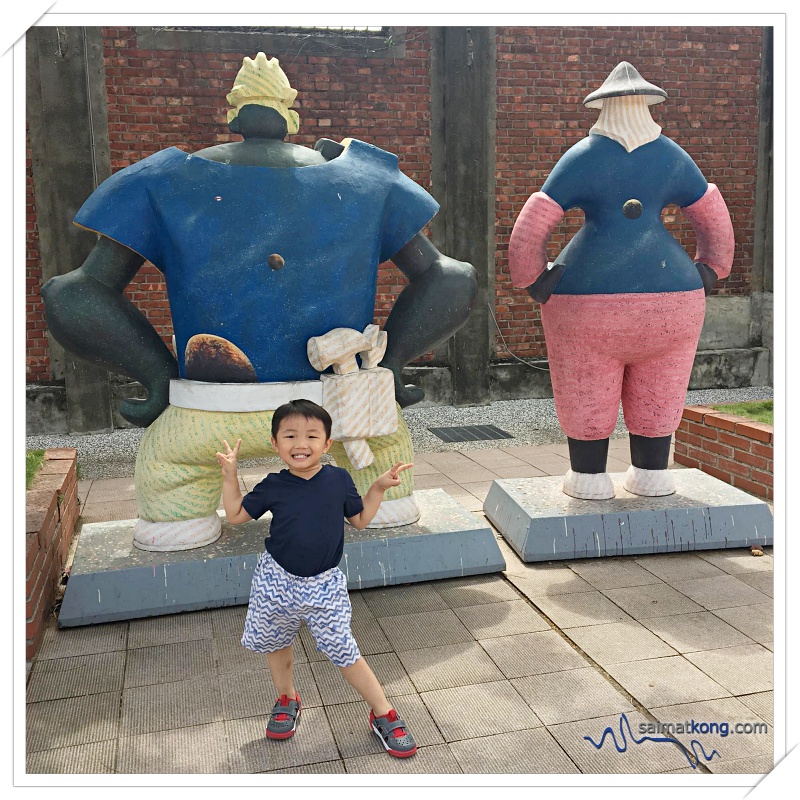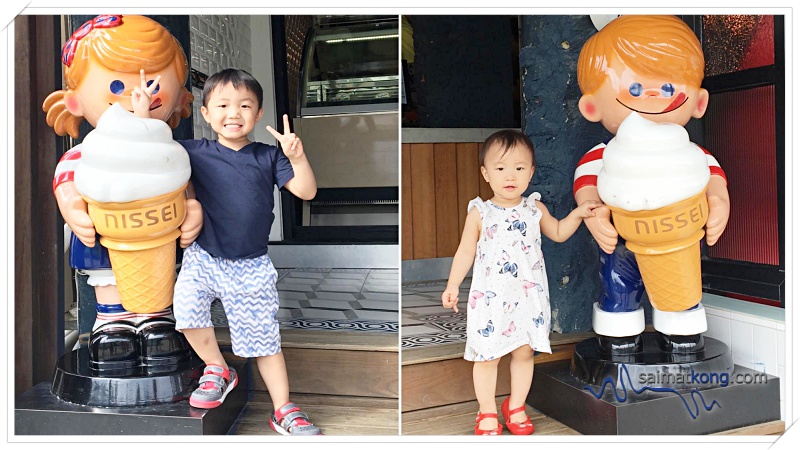 My pride and joy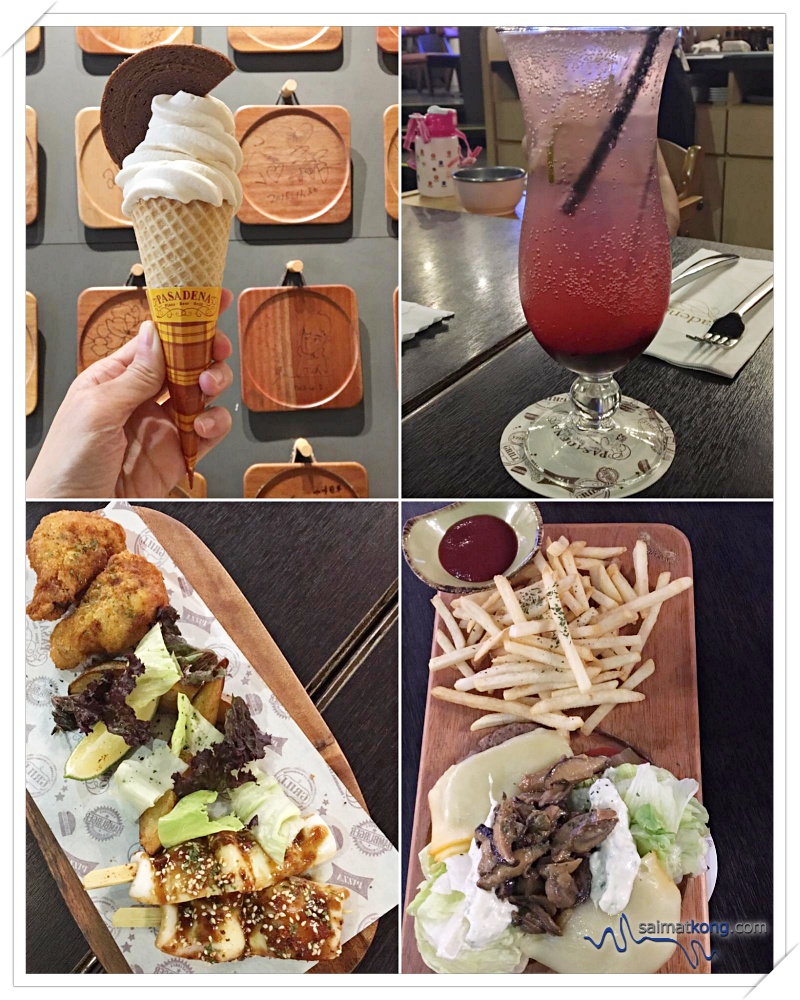 Had a scrumptious meal @ Pasadena in Pier-2 Art Center. Pasadena is a famous bakery in Kaohsiung for its longan bread.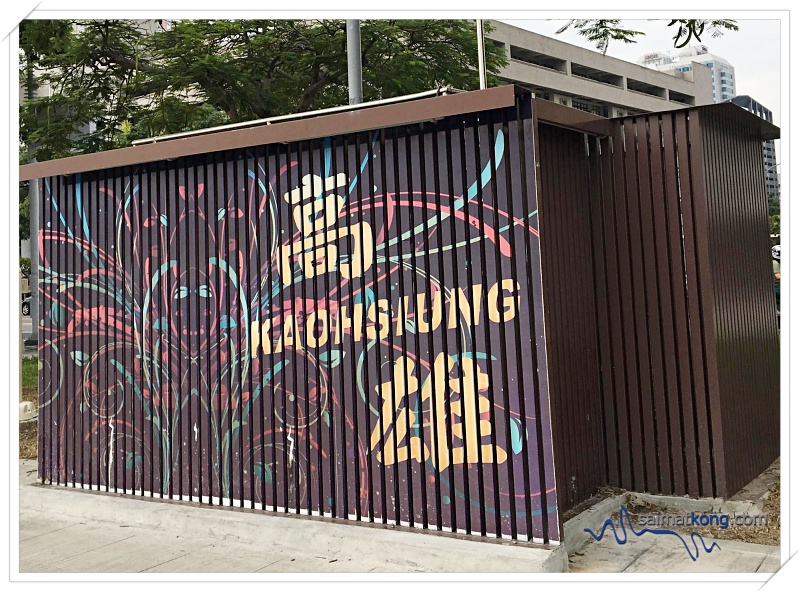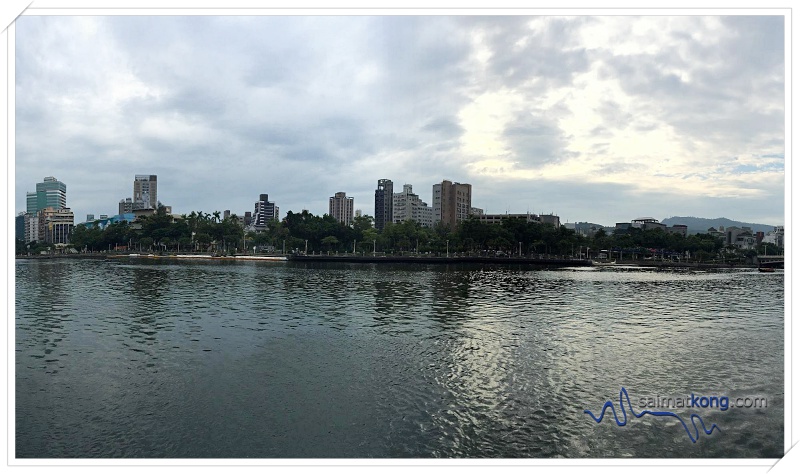 Evening stroll along Love River in Kaohsiung.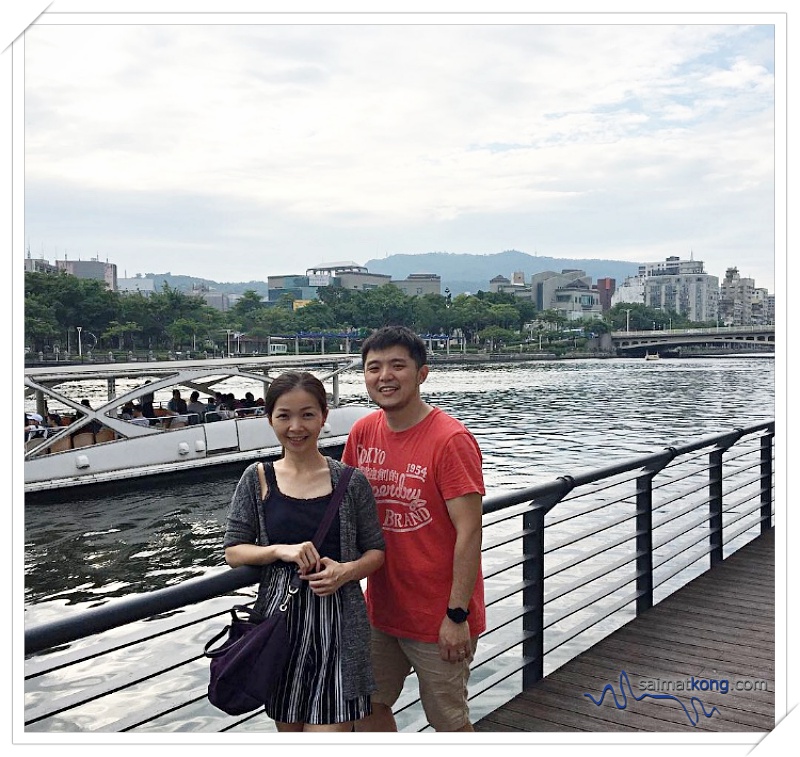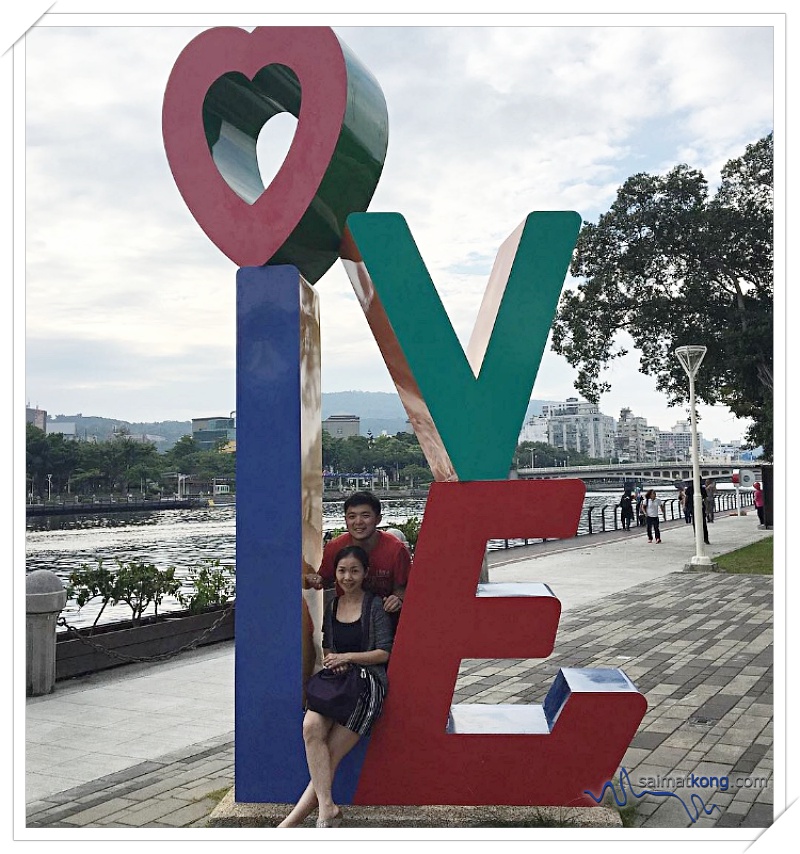 With my Mrs.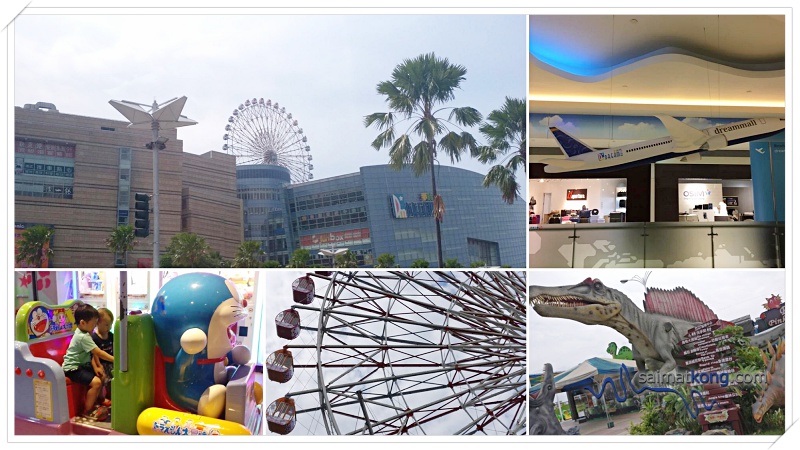 Dream Mall (夢時代購物中心) @ Kaohsiung is the largest shopping mall in Taiwan. You can easily spend a whole day here shopping, watch movies or even bring the kids to the roof top theme park for rides.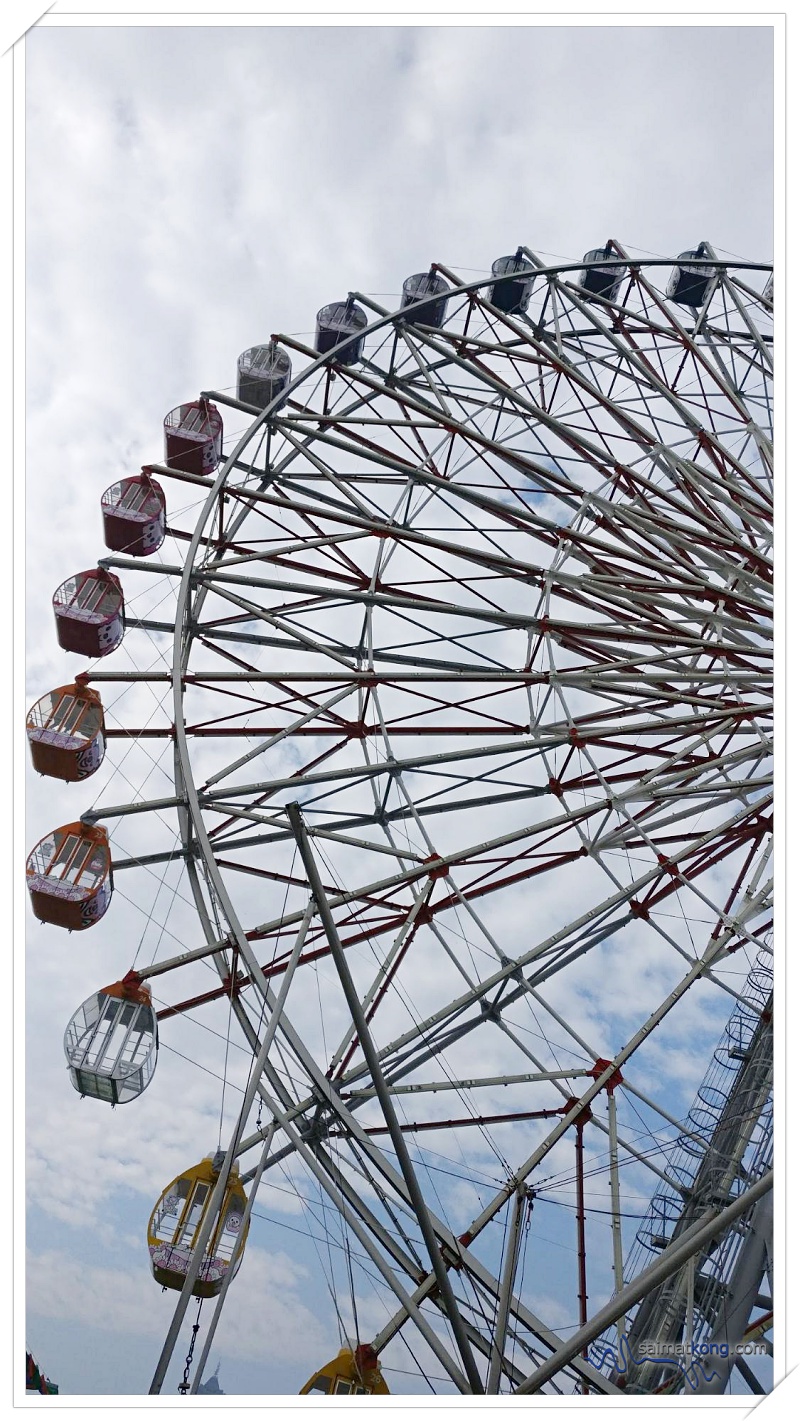 Kaohsiung Eye Ferris Wheel 高雄之眼 for a spectacular view of Kaohsiung City.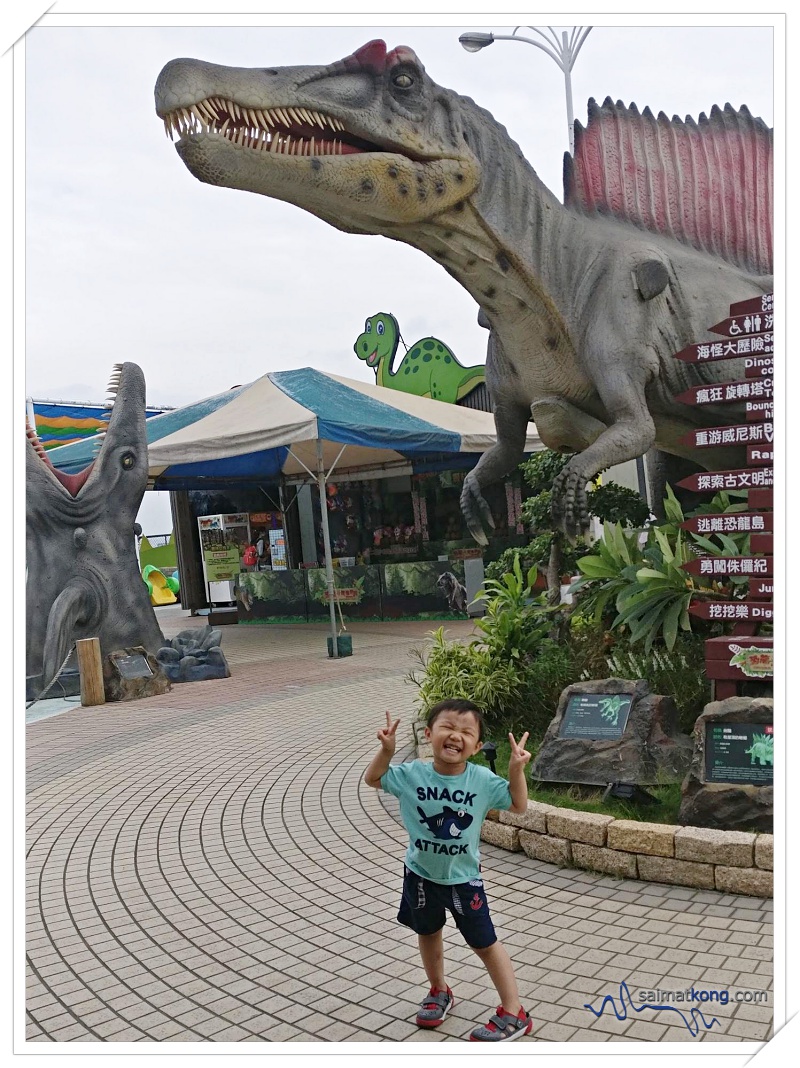 There's a rooftop theme park in Dream Mall with many rides for the kids, Dinosaur exhibits, Ferris Wheel, merry go round and more. You can enjoy an amazing view of Kaohsiung city from the top.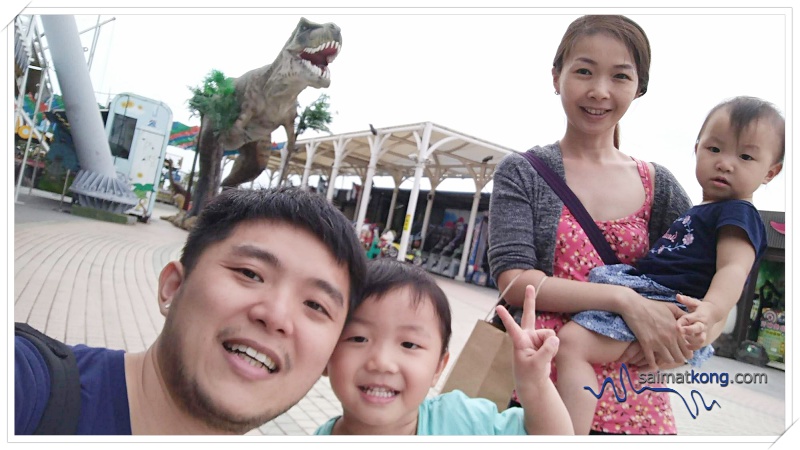 Us @ Dream Mall in Kaohsiung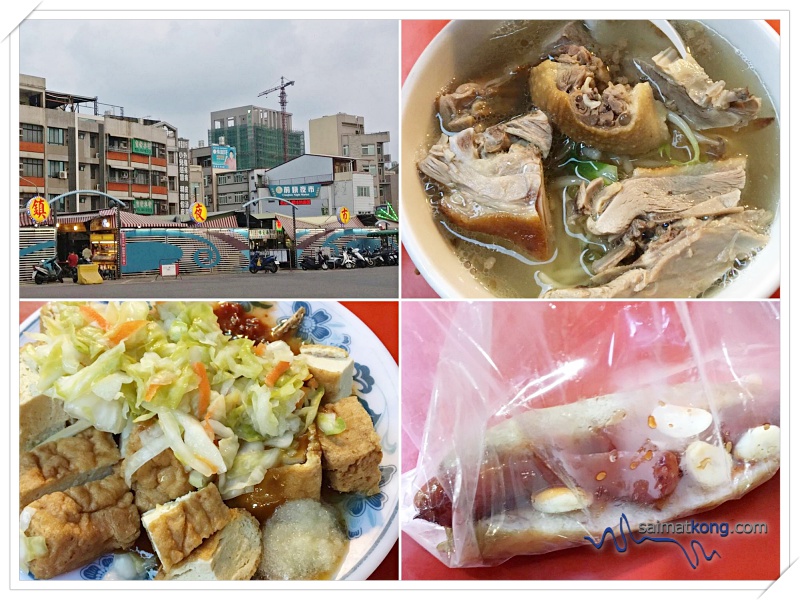 I love visiting Night Markets in Taiwan (台灣夜市) coz there are plenty of street food to try. Walked over to Cianjhen Night Market from Dream Mall to get food for dinner. Had stinky tofu, duck noodle soup and Big Sausage wrap Small Sausage (glutinous rice wrap taiwan sausage).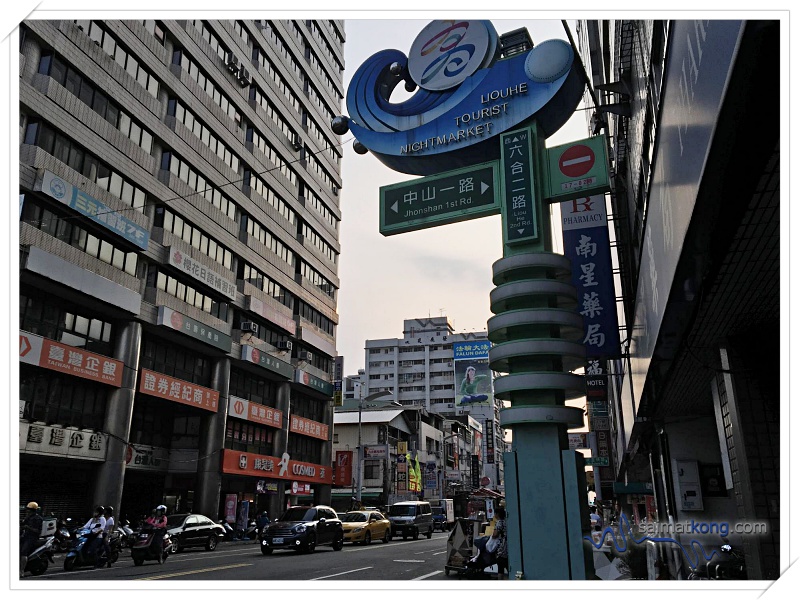 Liuhe Night Market (六合夜市) is a popular tourist night market in Kaohsiung. We visit this night market almost every night coz it's very near our hotel 🙂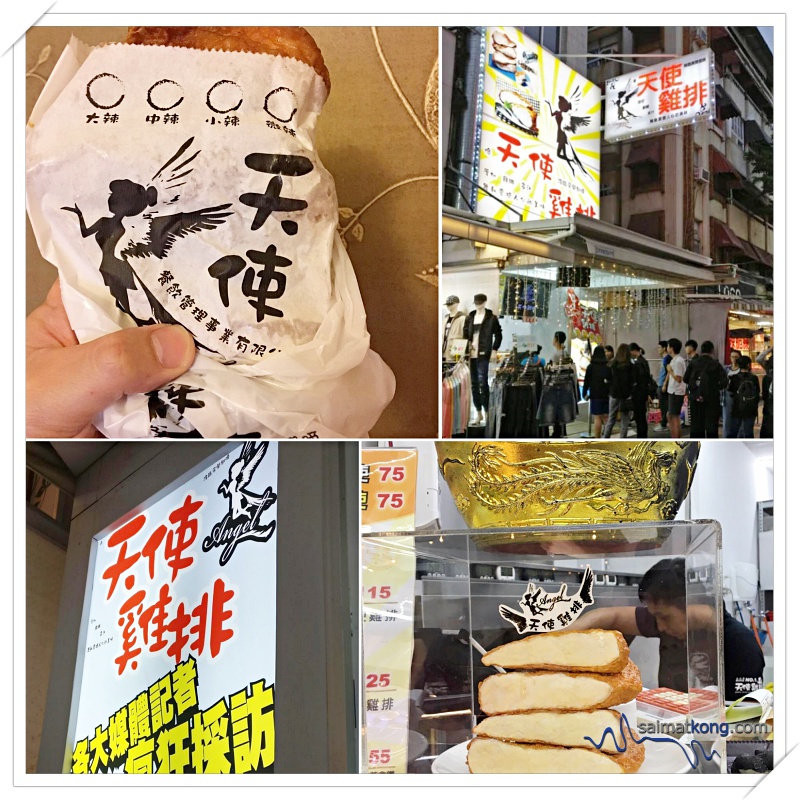 One of the must try at XinJueJiang Shopping District (新崛江商场) is this Angel Fried Chicken 天使鸡排. The queue for this delicious fried chicken is always very long. The meat is super thick but the texture is real tender and juicy. Very delicious!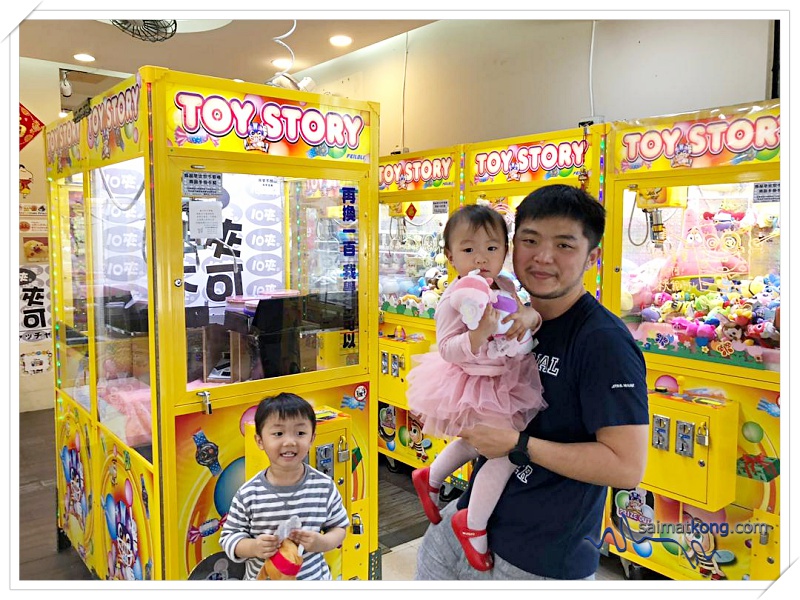 I noticed that claw machines are everywhere in Taiwan and it's like the trend in Taiwan now. We played quite a number of times and score a few plush toys 🙂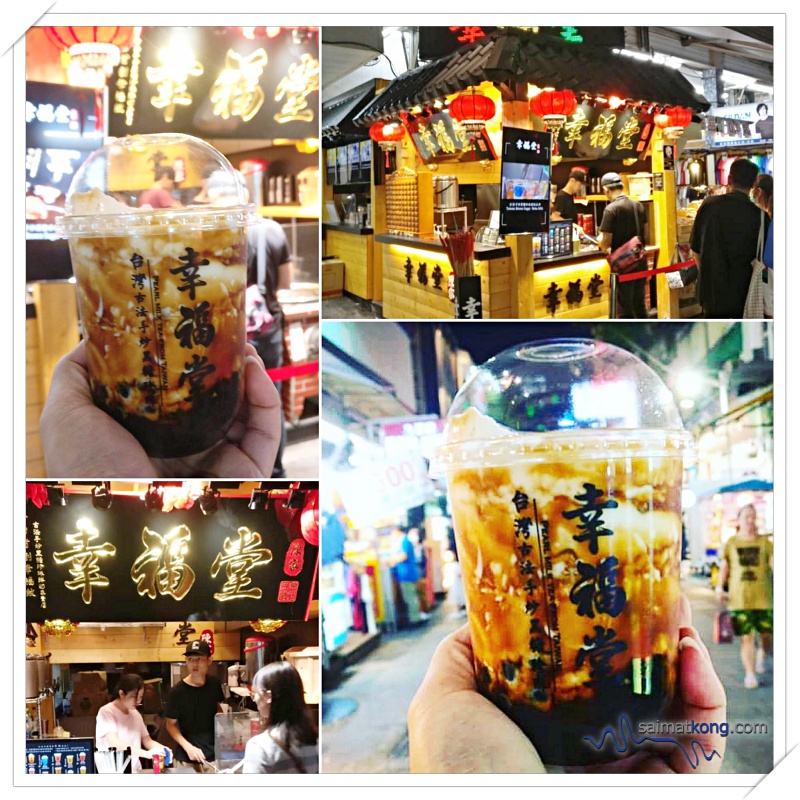 It's not a secret that Taiwan is the land of bubble tea (珍珠奶茶) so you'll see bubble tea stores are almost everywhere in Taiwan. One of the must try bubble tea in Taiwan is this Xing Fu Tang (幸福堂) Signature Brown Sugar Boba Milk. The queue can be quite overwhelming but trust me it's worth it! Their bubble tea is really best!!! Give it a try and you'll know what I mean 🙂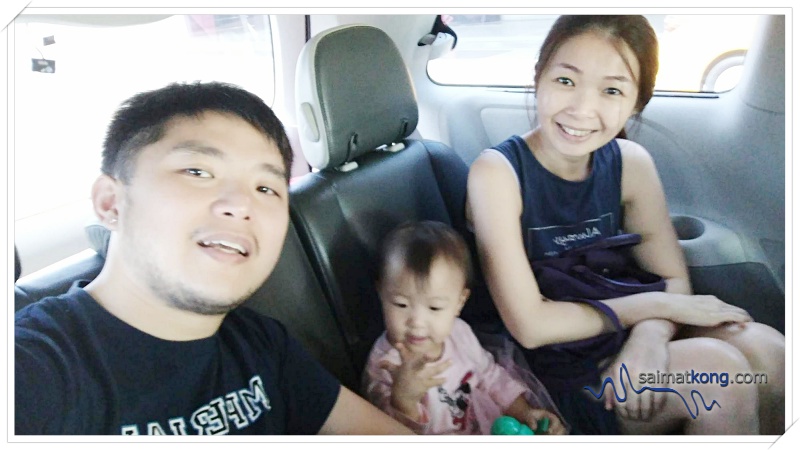 Time flies when you're having fun. Our vacation is coming to an end. We had a relaxing and smooth ride to Kaohsiung International Airport with Airport Transfer booked from Klook. Our friendly driver was so nice to help us with our luggages.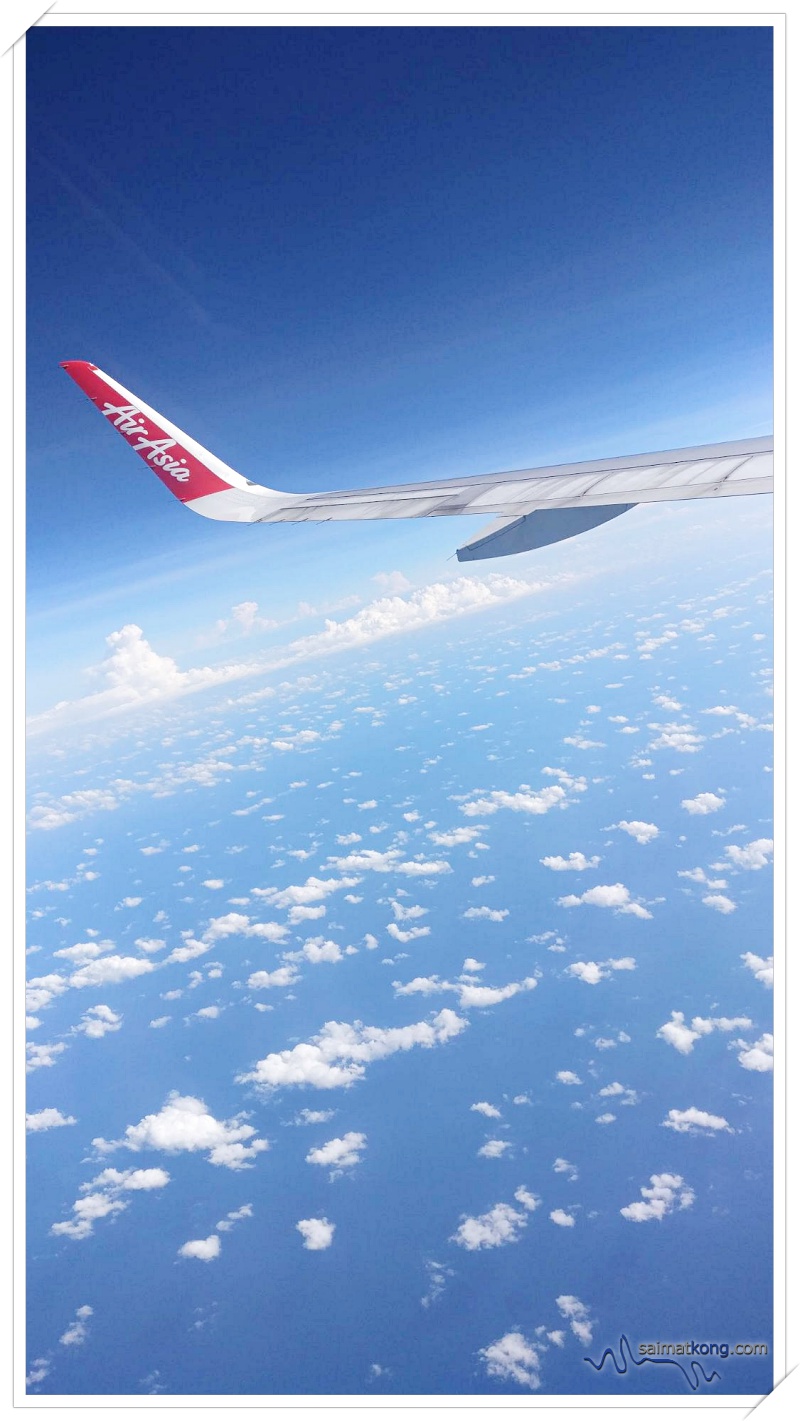 Flew back to Malaysia tanah airku via AirAsia 🙂
Comments
comments