Tai Lei Loi Kei Pork Chop Bun (澳门大利来猪扒包) @ IOI Boulevard, Puchong
By now, I'm sure everyone have heard of the famous Macau Tai Lei Loi Kei pork chop bun 澳门大利来猪扒包 at Largo Gov. Tamagnini Barbosa, Vila de Taipa, Macau.
It's one of the must-have food when you travel to Macau. From what I heard from friends, the queue is super long and their buns are usually sold-out within 2-3 hours.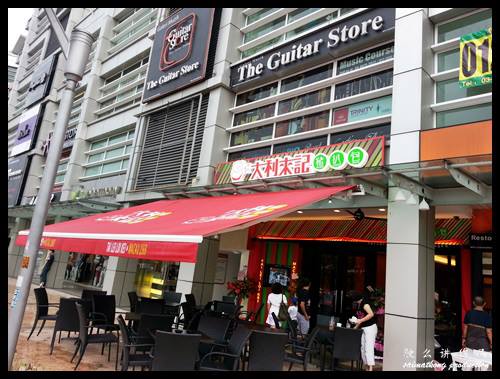 It's no longer necessary to fly to Macau to taste the Pork Chop Bun as you can now have it in Malaysia. With the opening of their first Malaysia outlet in Lot10 few weeks ago, Tai Lei Loi Kei opened its second outlet in IOI Boulevard, Puchong on Tuesday, 4th June 2013.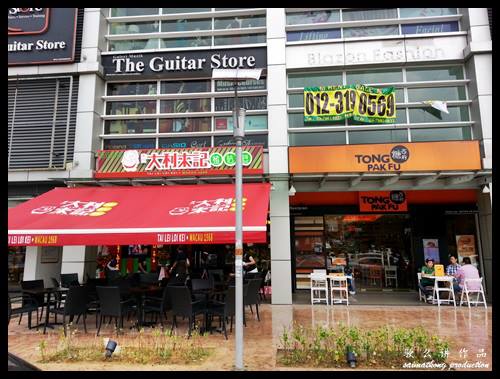 Tong Pak Fu 糖百府 (dessert shop), same row as PappaRich and is located opposite IOI Mall, Puchong." />
This Tai Lei Loi Kei 澳门大利来猪扒包 outlet is just next to Tong Pak Fu (dessert shop) and is located opposite IOI Mall, Puchong.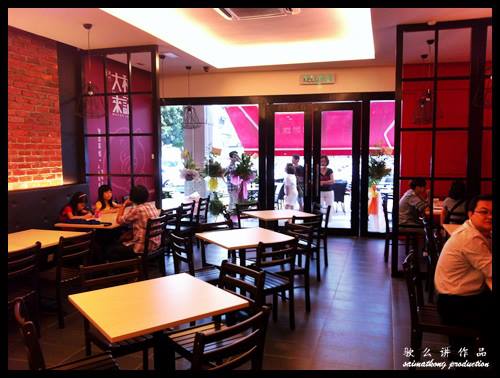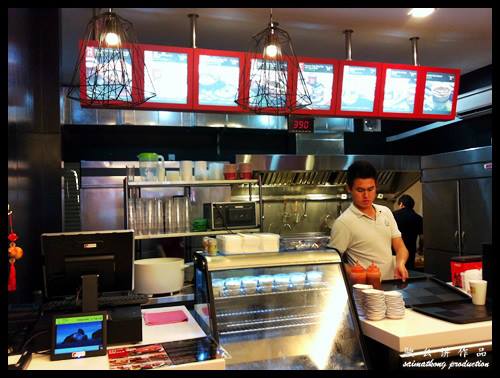 The interior of this outlet is a fine cross between fast food and casual dining outlet. Just like any fast food outlet, it's self-service where you have to place your order at the counter in front. You will then have to wait for your number before collecting your orders at the next counter.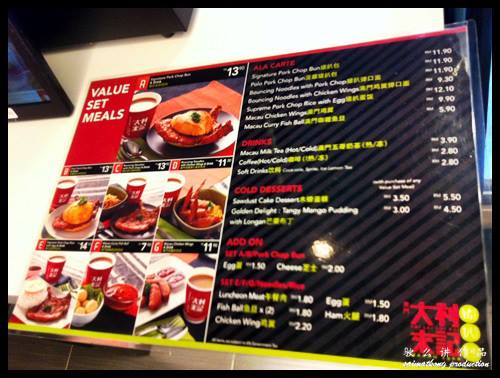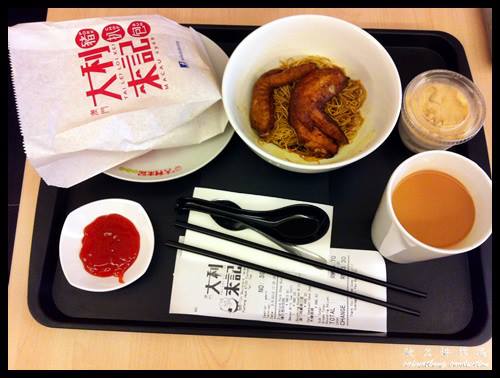 Aside from their famous Signature Pork Chop Bun, there are varieties on the menu like Bouncing Noodles with Pork Chop/Chicken Wings, Macau Curry Fish Balls, Pork Chop Rice, Polo Bun Pork Chop Bun and etc.
Signature Pork Chop Bun (豬扒包) & Macau Milk Tea RM13.90
This is a set meal which comes with a drink (soft drink, coffee or milk tea). I ordered a hot Milk Tea but the tea served wasn't hot, barely room temperature. I have yet to try the original Macau Pork Chop Bun so I can't judge which one is better.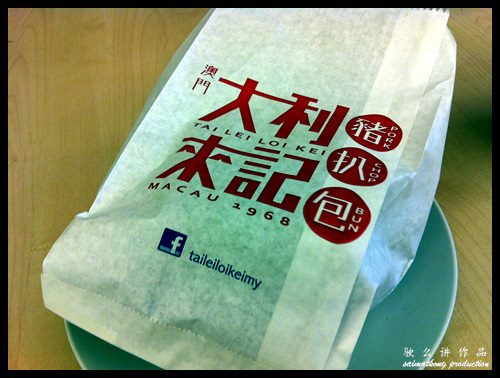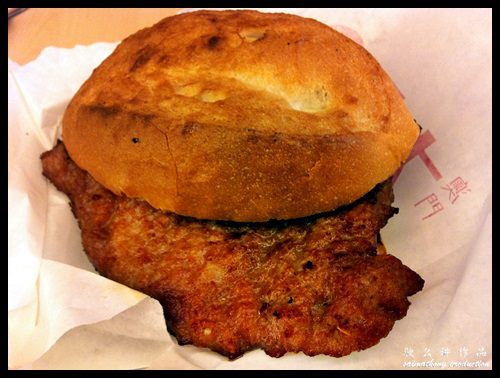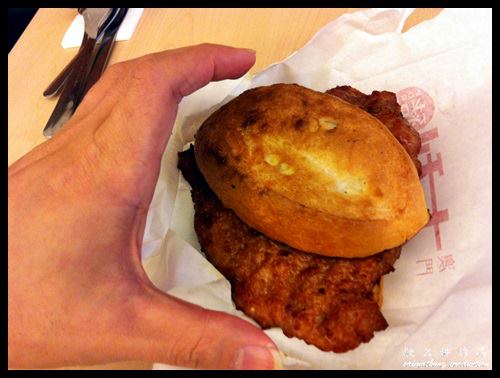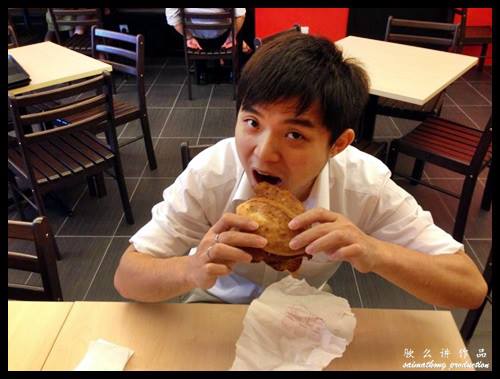 The pork chop is well marinated – very flavorful, has a tender-chewy texture and juicy. However, the bun was a little let down- it's hard and dry. Overall, I would say it taste good and wouldn't mind having it again.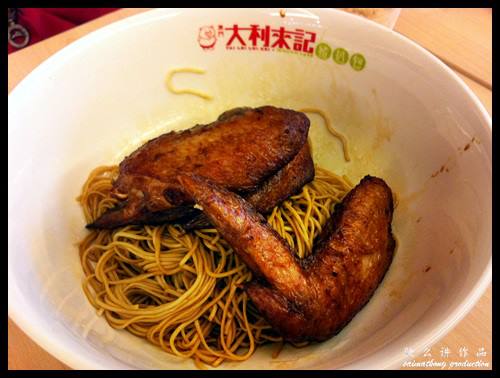 Bouncing Noodles with Chicken Wings RM9.30
The noodles were excellent; it was pleasantly springy and bouncy! The chicken wings are marinated in sweet and flavorful sauce. Such a delicious meal!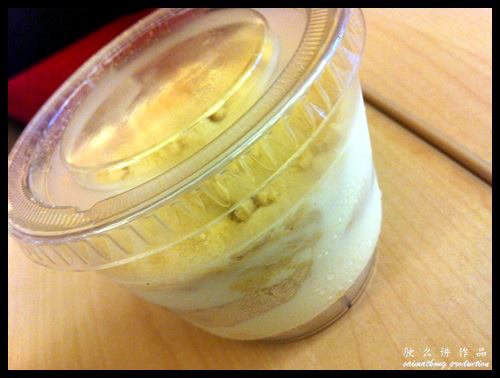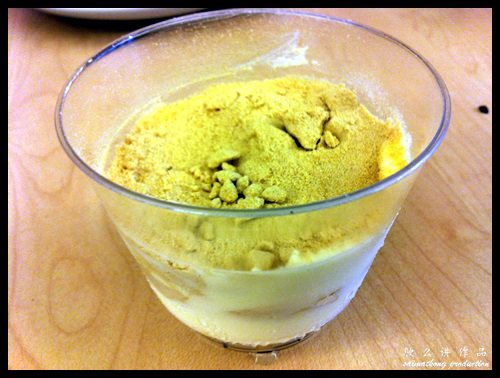 Sawdust Cake Dessert (澳门木槺蛋糕)
(RM3.50 if you add on with set meal) (RM5.50 for ala-carte)
This dessert, which originates from Macau, is also known as "Serradura". This is actually a layered chilled dessert made up of a sweetened, vanilla flavored whipped cream and crushed Marie biscuits.
The creamy layer at the bottom is a perfect match with the slightly rough biscuits on top. This dessert is creamy with an airy and soft texture. Don't know why, it somehow reminds me of Tiramisu – both uses different ingredients but the same "layered" concept.

Tai Lei Loi Kei Pork Chop Bun (澳门大利来猪扒包) @ IOI Boulevard, Puchong
Do you feel like having a pork chop bun for lunch or dinner already? Do drop by and try the delicious Pork Chop Bun yourself! As I'm writing this, I feel like having another pork chop bun myself! "Salivating" lolz
Tai Lei Loi Kei Pork Chop Bun (澳门大利来咖啡室) @ IOI Boulevard, Puchong
Address: G25, IOI Boulevard, Jalan Kenari 5, Puchong Jaya, 47100 Puchong, Selangor (next to Tong Pak Fu and opposite IOI Mall)
Website: http://www.facebook.com/taileiloikeimy
Comments
comments