Paradise Dynasty (乐天皇朝) @ Paradigm Mall
Paradise Dynasty (乐天皇朝) is a popular Chinese restaurant under the Paradise Group. This restaurant serves both northern and southern Chinese cuisine, with an innovative touch.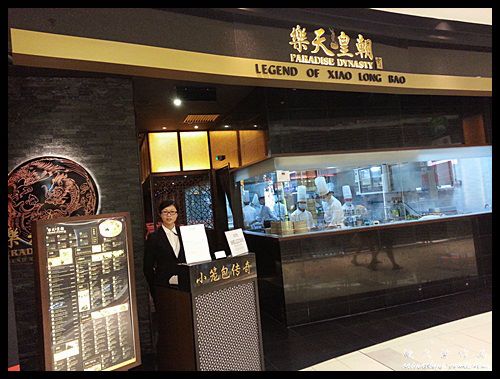 The calm and elegant interior gives a posh feel. The dim lighting allows you to take your time to enjoy your food.
There's a big Buddha statue that will give you a peaceful mind when you dine in Paradise Dynasty (乐天皇朝) @ Paradigm Mall.
They have quite a large seating capacity with both indoor and outdoor dining area. We were seated at the tables outside near the entrance.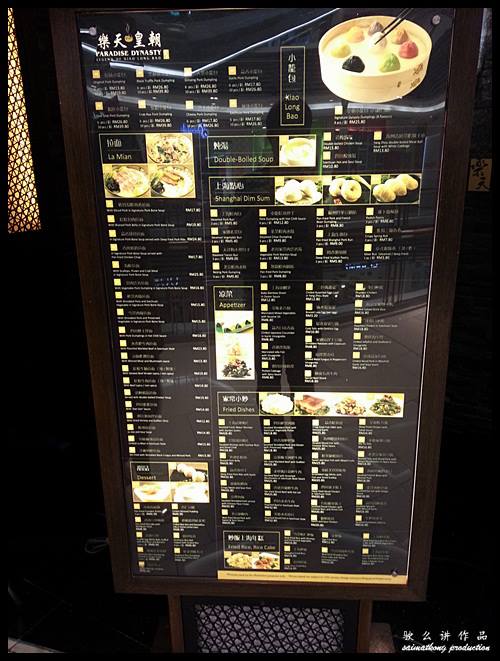 They have a varied menu which includes dim sum, la mian (handmade noodle), fried rice and a range of meat, seafood and vegetable dishes to go with rice.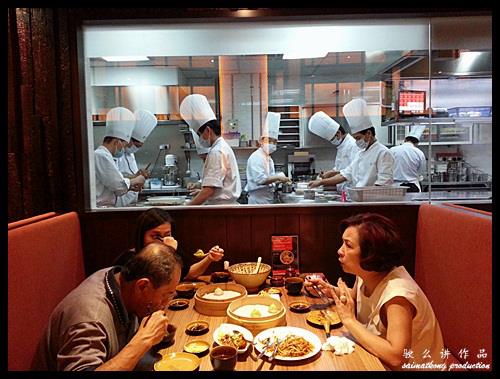 The kitchen area are surrounded by glass so that you can see the chefs at work.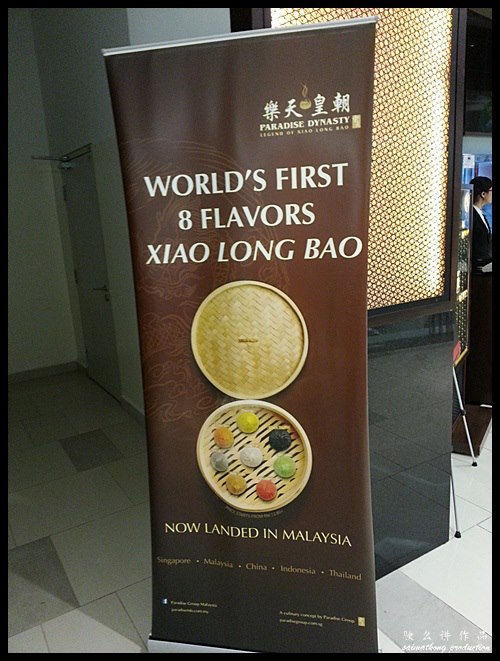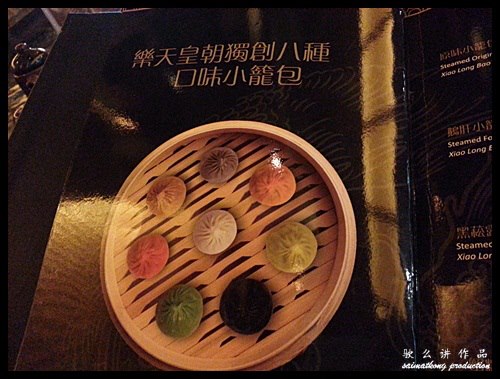 Dynasty Dumpling
These dumplings 小笼包 (xiao long bao) come in pretty rainbow colours and 8 different unique flavors from Original (white), Garlic (grey), Ginseng (green), Foie Gras (beige), Black Truffle (black), Cheese (yellow), Crab Roe (orange), and Szechuan (pink). Each of the XLB are juicy, moist and tasty. I personally like the Foie Gras, Black Truffle and Crab Roe flavor. The rest taste ok too.
Ginseng flavor Xiao Long Bao 小笼包
The skin is very thin but strong enough to hold the soup and not break easily when you hold with your chopsticks. The minced pork filing is very juicy too.
The right way of eating 小笼包 (xiao long bao)! Just follow the sequence and you shouldn't go wrong. Reminder : Eat the Szechuan (pink) 小笼包 (xiao long bao) last so that it will not affect the taste of others. Eat them while it's hot for the best of the 小笼包 (xiao long bao)!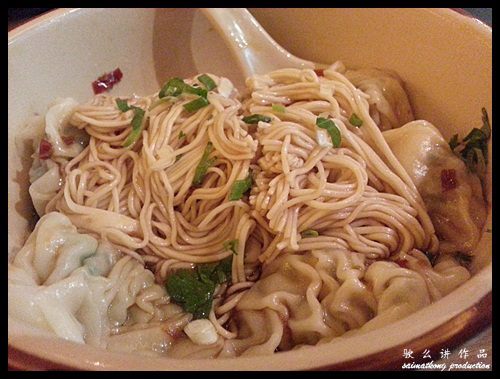 拉面 La Mian with Pork Dumpling RM16.80
The La Mian is really good stuff; the texture is smooth and springy. Really can fight with those Japanese ramen. While the noodles are good, the sauce doesn't taste good for my liking. I think the noodles are tossed with some chili oil. Taste wise, it's both spicy and sour. The pork dumplings are good too as the meat is juicy and flavorful.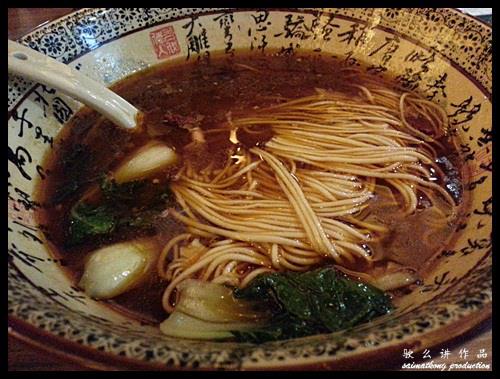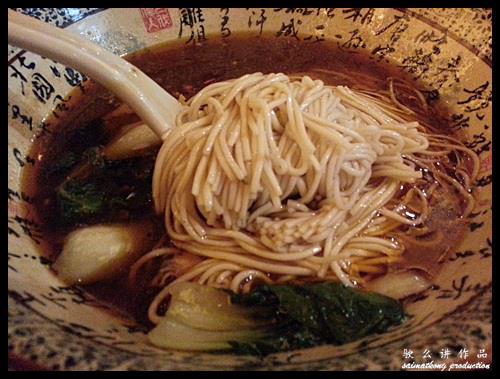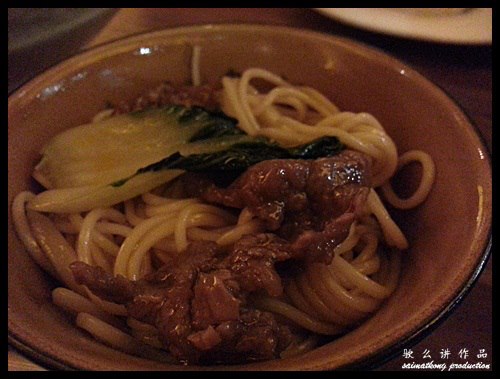 拉面 La Mian with Marble Beef RM23.80
I find the broth tad too spicy but the wife thinks otherwise. She loved this and almost finished the whole bowl by herself. According to her, the broth is very flavorful. The beef on the other hand is soft, tender and juicy.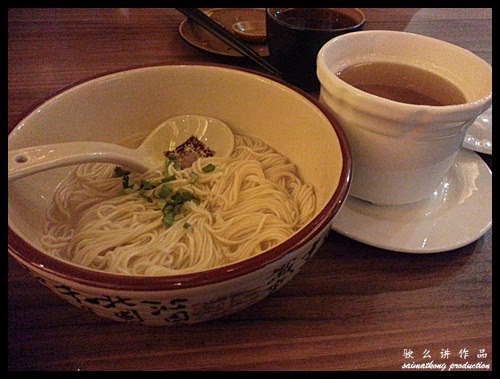 拉面 La Mian with Double Boiled Chicken Soup RM19.80
This bowl of noodles with chicken soup is a healthier choice. The soup is clear but very flavorful. Simplicity at its best!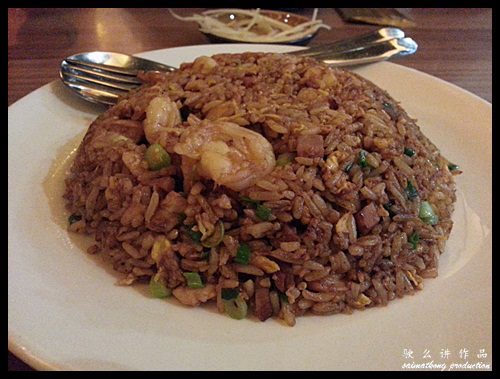 Shanghai Fried Rice RM16.80
This fried rice is both tasty and satisfying. It's not oily, the rice is fluffy and fried till fragrant.
Verdict: The service is efficient even though there are quite many people in the restaurant. Good food and nice ambience. This is another option for the XLB lovers besides Dragon-i and Din Tai Fung. As for myself, I don't see why I am not returning to this restaurant!
Paradise Dynasty (乐天皇朝) @ Paradigm Mall
Address: Lot 1F-15, Level 1, Paradigm Mall, No. 1, Jalan SS7/26A, 47301 Kelana Jaya , Petaling Jaya
Tel: 03-7887 5022
Website: www.paradisefnb.com.my
Business hours: 11am – 10pm daily (last order 9:30)
—
Follow me on Facebook, Twitter, Instagram for more live updates!
Facebook : https://www.facebook.com/smartkong
Twitter : https://twitter.com/saimatkong
Instagram : http://instagram.com/saimatkong
Comments
comments