If you love crabs, you should have heard of the well-known Fei Fei Crab Seafood Restaurant (肥肥蟹海鲜饭店) in Kepong KL. Their second outlet Crab Generation (蟹的传人) in Cheras famous with crab lovers too. Recently I visited their 3rd outlet Crab B Restaurant (螃蟹哥哥海鮮飯店) in Puchong for a crabby feast.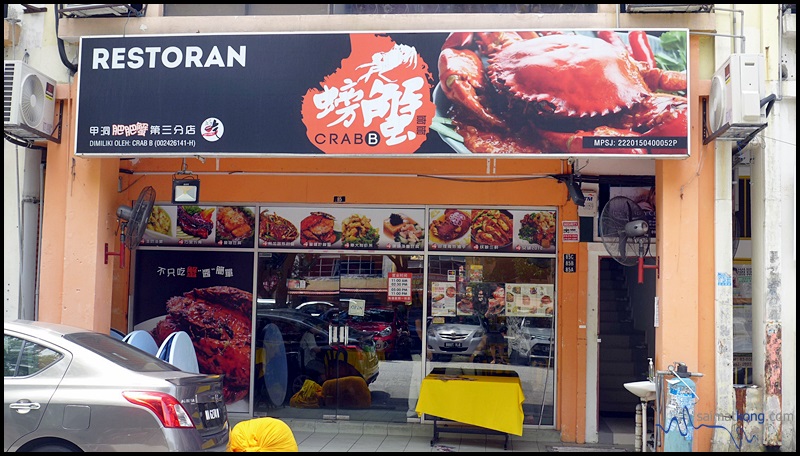 We were there during lunch time on a weekend with a group of blogger friends 🙂 The restaurant is packed with patrons so it's best to arrive early to get a table.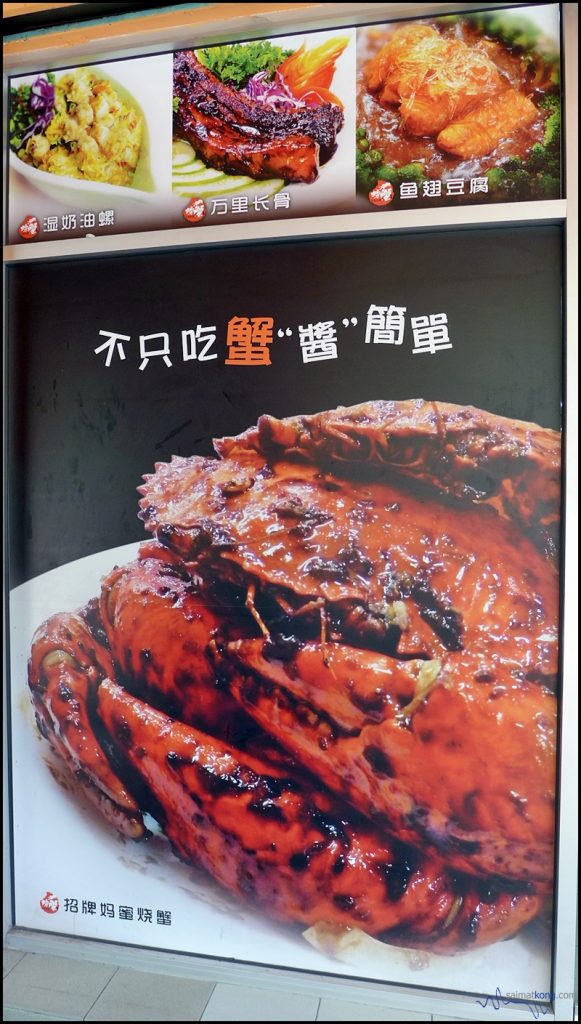 The main highlight is of course CRAB (蟹)!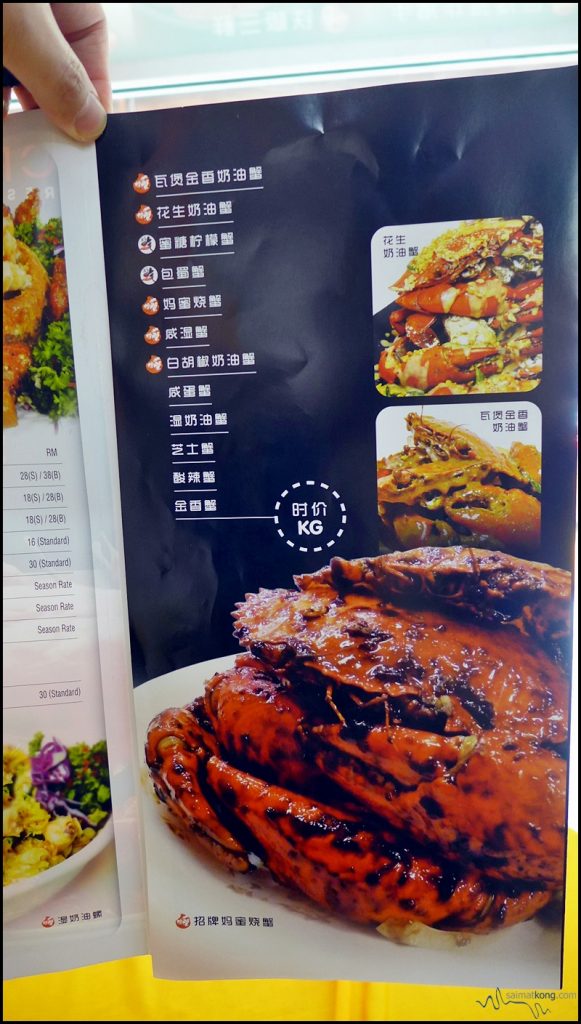 There are many interesting flavors that you can choose from Peanut Butter Crab, Marmite Crab, White Pepper Cream Sauce Crab, Salted Egg Yolk Crab, Cheese Crab, Honey Lemon Crab, Spicy & Sour Crab, Kam Heong Crab and many more.
Basically, the crabs are available in 2 sizes; XL and XXXL. The XL size crabs are priced at RM98 for 2pc while the XXXL size crabs are RM153 for 2pc.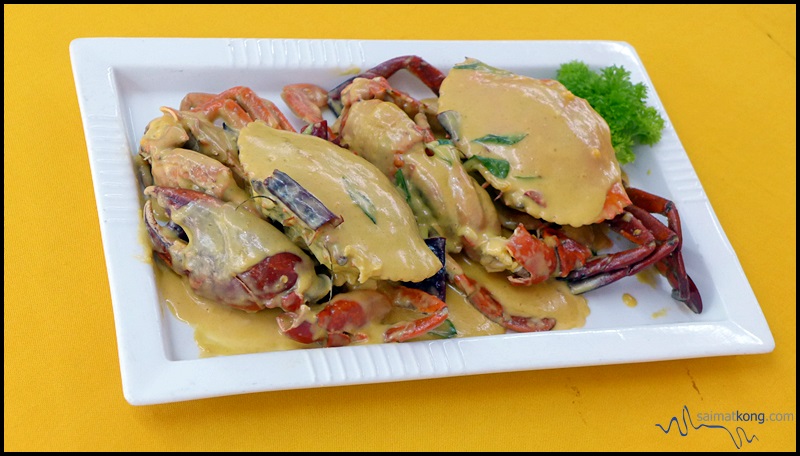 Milky Salted Egg aka Ham Sap Hai (咸湿蟹)
I've always been a huge fan of dishes cook with salted egg and these huge juicy crabs coated with creamy and milky salted egg sauce is absolutely divine.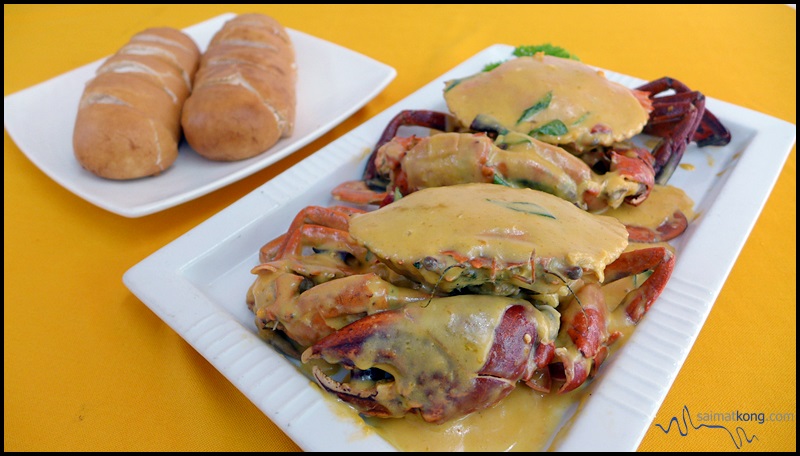 It's best to order fried mantao to pair with the creamy and flavorful butter sauce. Yums!!!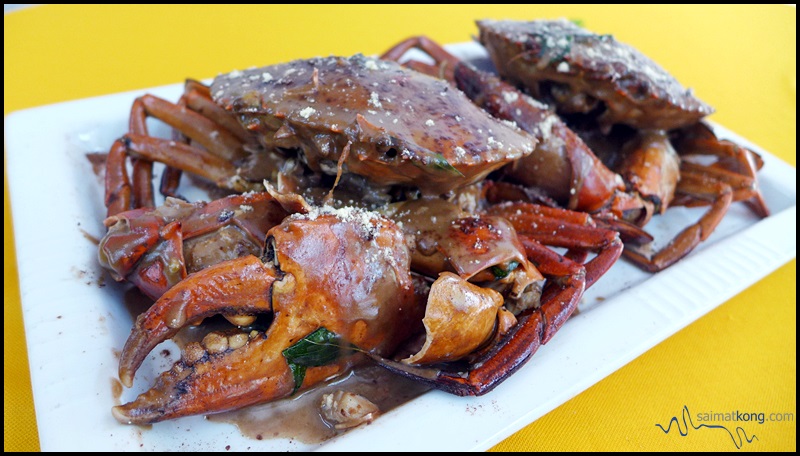 Milo Butter Sauce Crab
It's my very first time trying this Milo Butter Crab and though this flavor is rather unique, I'm not a fan. The crabs are coated with sweet sticky Milo and creamy butter sauce. You can easily smell the aromatic Milo and butter flavor. Quite special in a way but I'm not exactly a fan cox I don't quite fancy the sweet taste.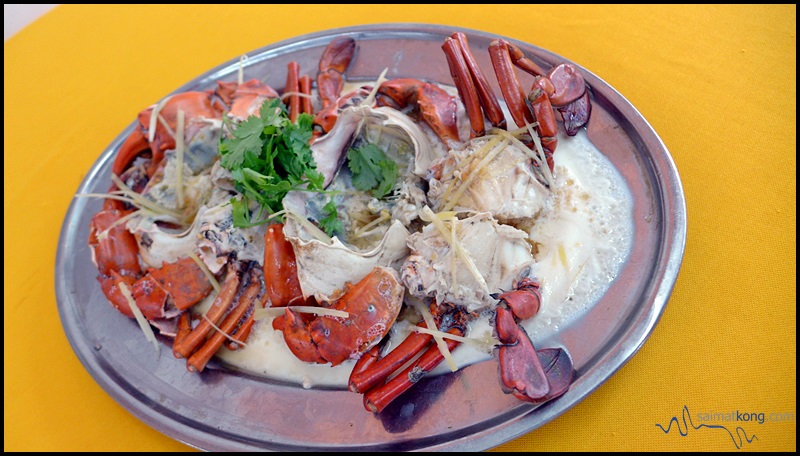 Steamed Egg Crabs (花雕蛋蒸蟹)
The Crabs Steamed with Egg has got to be my favorite dish at Crab B Restaurant. It may be a simple dish with just shredded ginger and egg at the bottom but it's absolutely delicious cox you can taste the freshness of the juicy crabs. The taste is enhanced with Chinese cooking wine. Love it.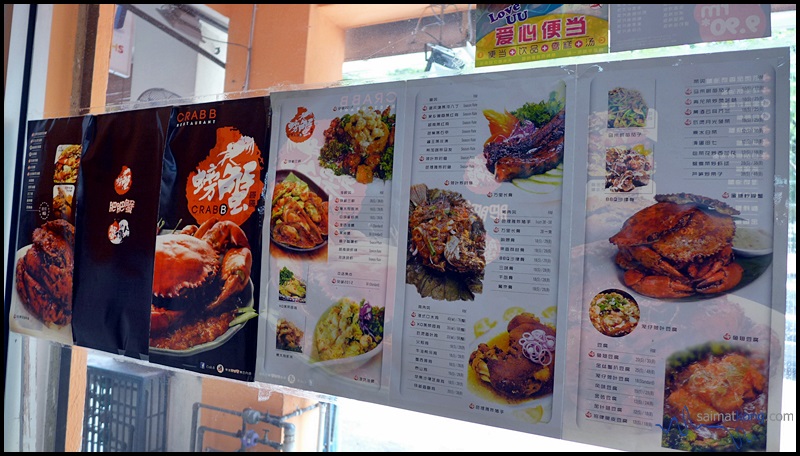 Besides juicy crabs, we were also served other dishes from their menu. In case if you don't know, Crab B also serve a wide selection dishes like fish, clams, prawns, pork, chicken and tofu.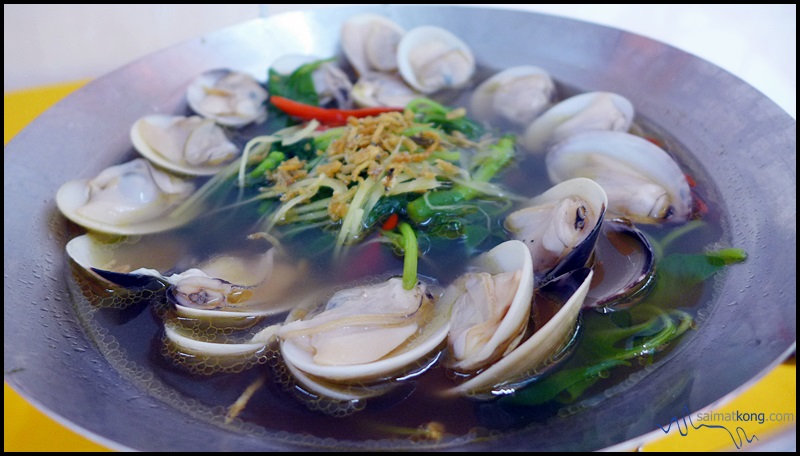 Superior Sa Pak Clams Spinach Soup
Superior Sa Pak Clams Spinach Soup was spotted in almost every table. Besides huge and fresh clams, spinach were added in the dish. It's like 2-in-1 and value for money!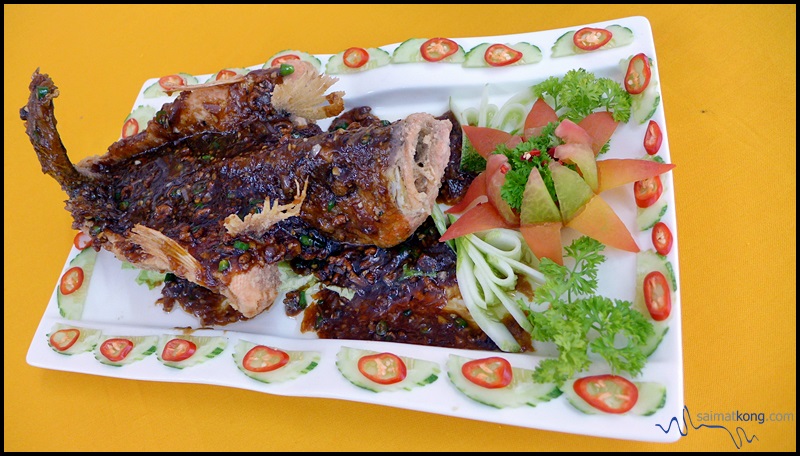 Deep fried Snapper Fish with Special Sauce
The snapper fish is deep fried to perfection resulting in a crispy skin and is generously coated with spicy special sauce.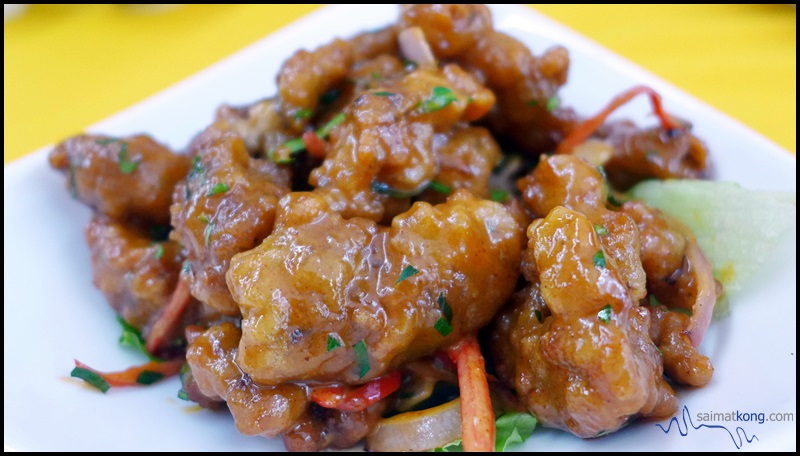 Thai Tomyum Crayfish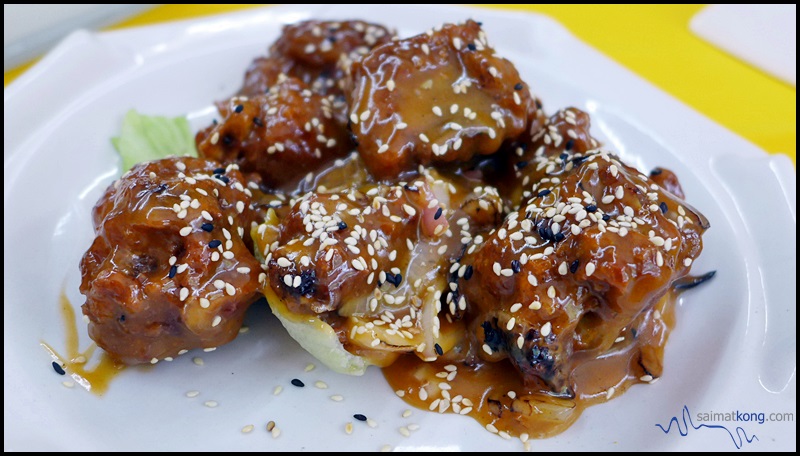 Pork Ribs in Sesame Sauce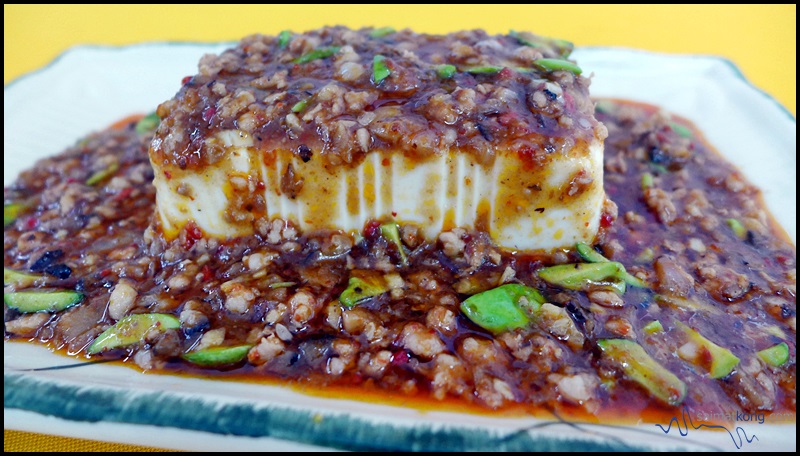 Steamed Tofu with Minced Pork and Sambal Petai Sauce
Petai lovers will love this appetizing Steamed Tofu with Minced Pork and Sambal Petai Sauce dish.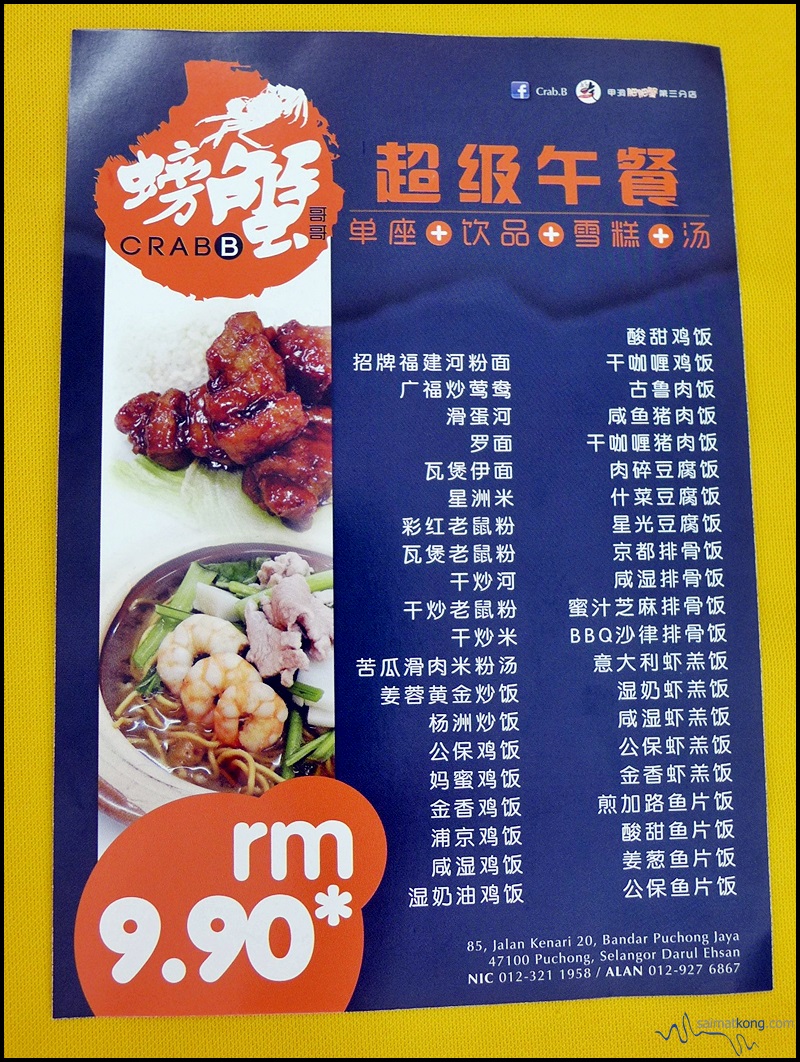 Besides ala carte, Crab B Restaurant also serve value lunch set with rice dishes such as Sweet & Sour Chicken Rice, Dry Curry Chicken Rice, Minced Meat Tofu Rice, Dry Curry Pork Rice, Gong Pou Prawn Rice, Sweet & Sour Fish Rice, Ginger Onion Fish Rice, Kam Heong Chicken Rice, Marmite Chicken Rice and many other variety to choose from.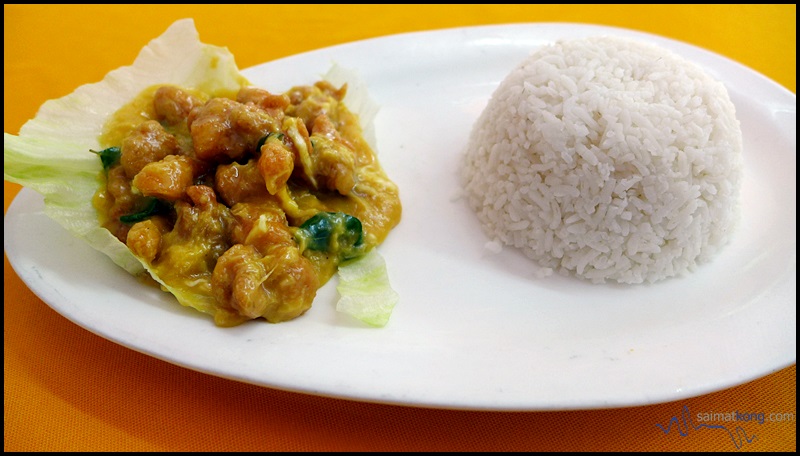 Priced from RM9.90+ onwards for one main course + drink + ice cream + soup. We tried the Butter Chicken Rice set lunch.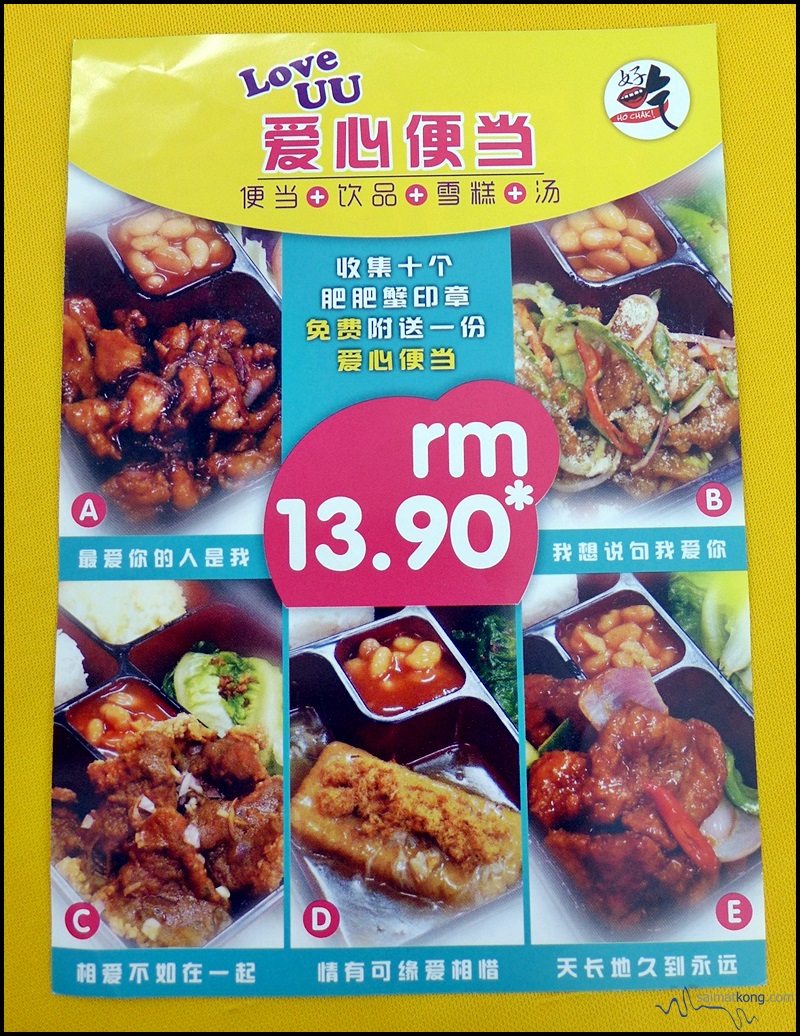 If you would like to have something fancy yet affordable, opt for their Bento Set. Creatively named "Love U Bento", there are five types of Bento Rice Sets to choose from.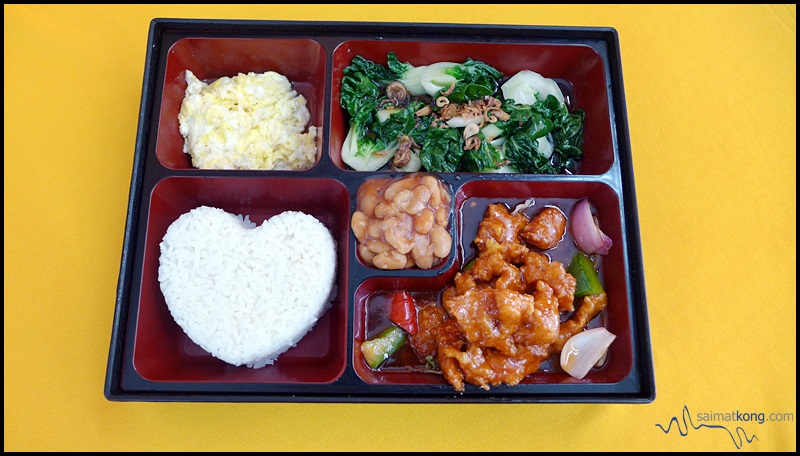 Priced from RM13.90 onwards for the Bento Set, the lovely Bento Rice Set comes with rice, dish of your choice, scrambled egg, vegetable of the day and baked beans.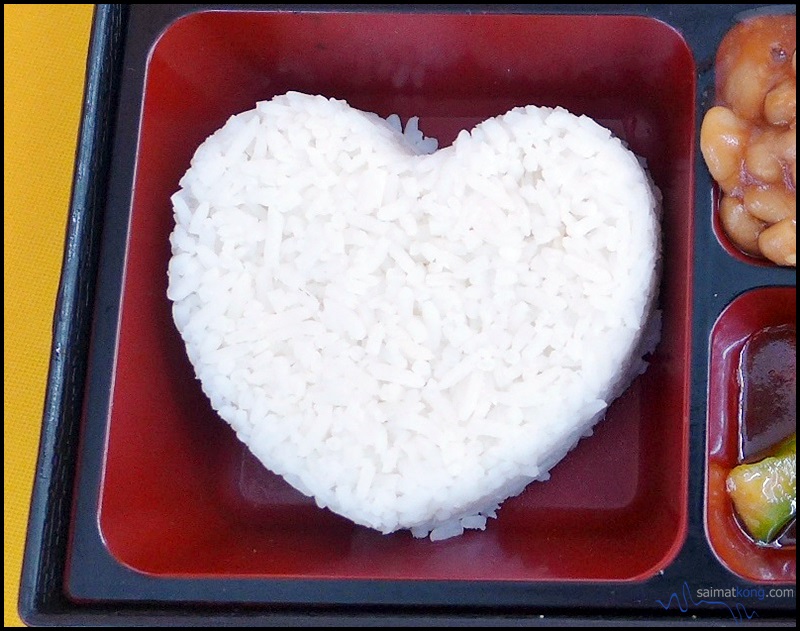 Love the heart shaped rice in the Bento Set. Such nice presentation which will surely put a smile on your face when eating 🙂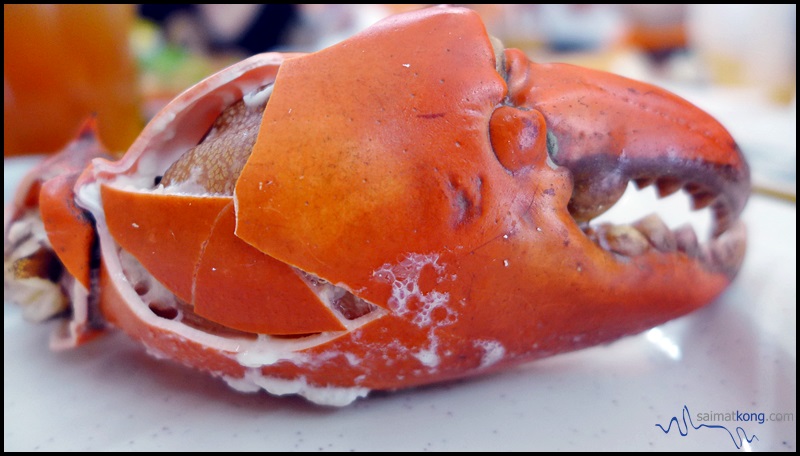 Verdict: If you're looking to have a crab feast in Puchong, you've got to try Crab B Restaurant at Bandar Puchong Jaya. They serve fresh and juicy crabs in a variety of flavors at an affordable price. Besides crab, you can also feast on seafood and other delicious Chinese dishes. They also serve value set lunch at pretty decent price. Be sure to go early cox it can be pretty packed especially during peak lunch and dinner time.
Crab B Seafood Restaurant 螃蟹哥哥海鮮飯店 @ Puchong Jaya
Updated Address
Address: 39-1,41-1,Jalan Kenari 19A, Bandar Puchong Jaya, 47100 Puchong, Selangor
Tel: 03-8070 8659
Business Hours: 11am – 2.30pm; 5pm – 11pm
FaceBook: www.facebook.com/CrabB
Comments
comments