Awesome Breakfast at Imbi Morning Market!
Imbi market is located in KL, somewhere near the Bukit Bintang area. My parents used to bring me here for breakfast when I was a little kid. Today, I'm visiting this morning market again but this time, I'm with the wife.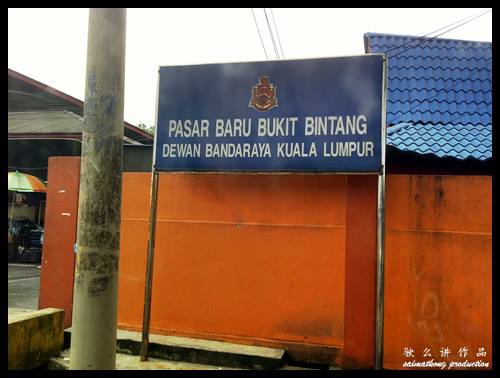 Once inside the market, you will see many stalls selling different products and goods from fruits, meat, fish, vegetables, clothes, dried food, biscuits and etc in different sections. You have to walk further in for the food stalls and you will usually find a large crowd of people enjoying their breakfast. Most of the patrons are regulars who have been patronising the food stalls over the years.
1) Ah Weng Koh Hainan Tea (阿荣哥海南茶档)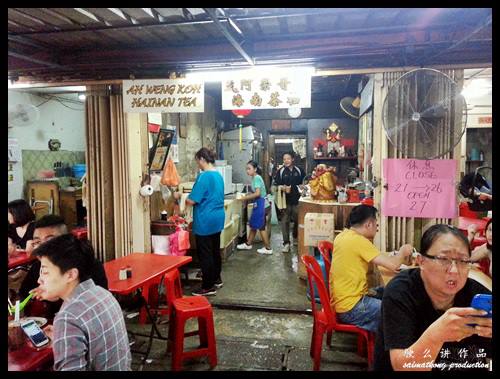 This is a famous stall selling authentic Hainan Tea, Hainan Coffee or 'Cham'.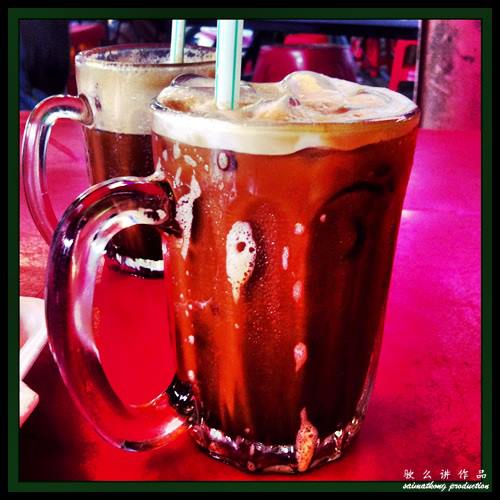 Ah Weng Koh Hainan Tea RM1.60
Undecided whether to have coffee or tea, we settle for 'cham' -a mixture of tea and coffee, topped with frothy foam. A good and refreshing beverage to kickstart my day!
2) Ah Fook Chee Cheong Fun 阿福猪肠粉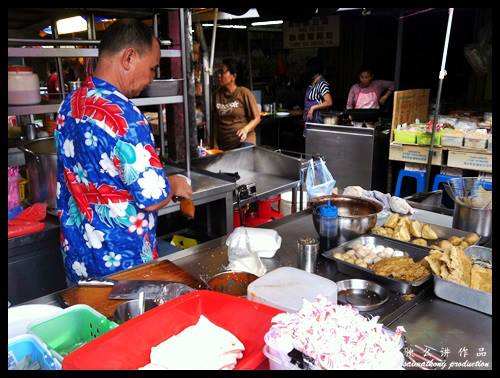 This stall sells one of the best Chee Cheong Fun in KL. Here, you can pick any Yong Tau Fu or Fried Stuff that you like to go with your plate of Chee Cheong Fun. All the ingredients are fried on the spot to ensure the freshness.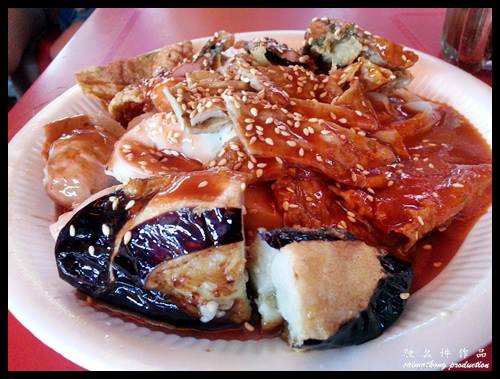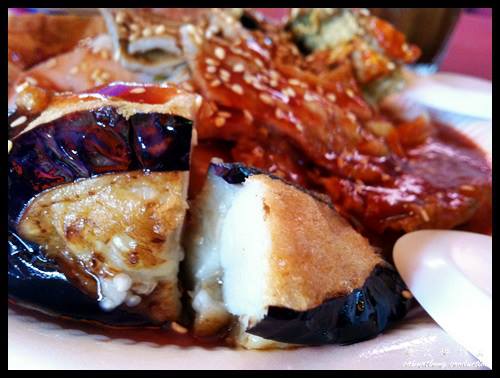 Chee Cheong Fun (rice flour) with pork balls, fish cakes, bean curd sheets, crispy bean curd skin and brinjal stuffed with minced pork drenched in a mixture of sweet and spicy sauce and sesame seeds.
3) Sisters' Crispy Popiah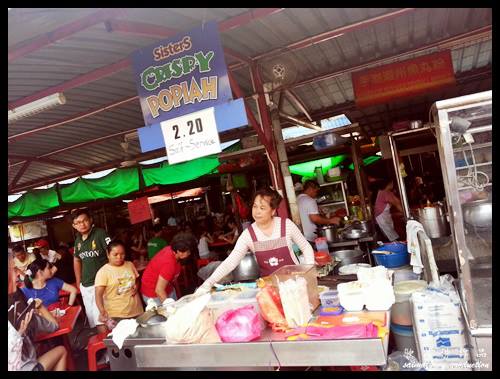 Does the name "Sisters' Crispy Popiah" sound or look familiar? This is because you probably have come across one of this Popiah stalls in shopping malls, like Mid Valley Megamall & Sunway Pyramid.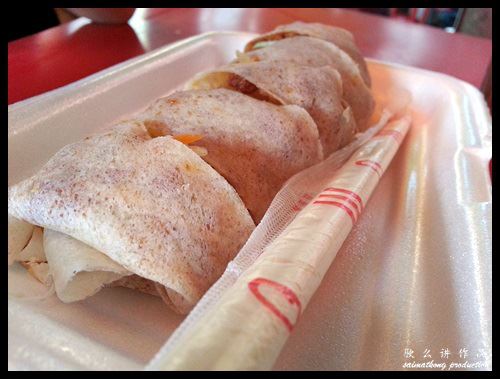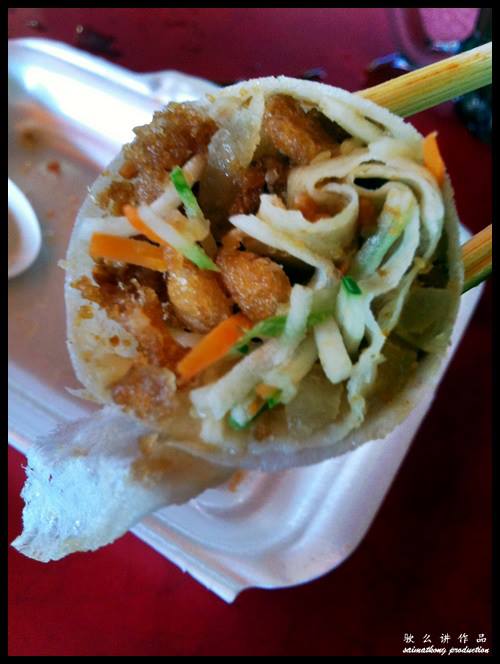 Sisters' Crispy Popiah RM2.20
The Popiah is rolled with fresh ingredients like shredded turnips, carrots, cucumber, egg, ground peanuts and some crispy bits that gives a crunchy and refreshing bite. It's so very delicious!
4) Pork Intestines Porridge 猪什粥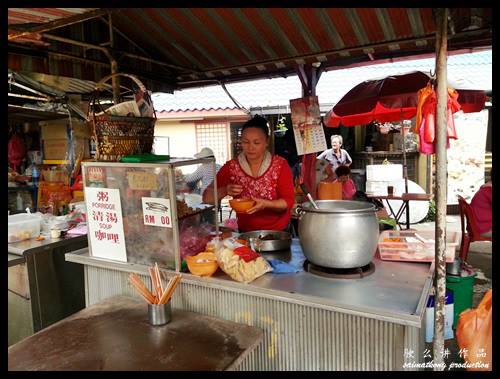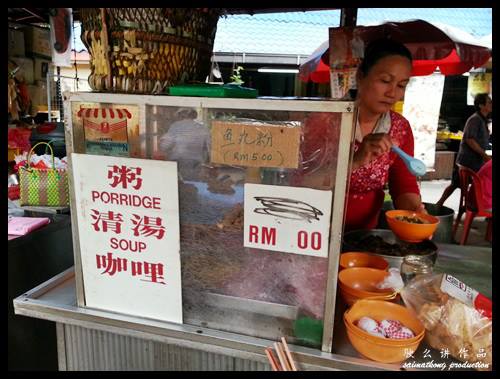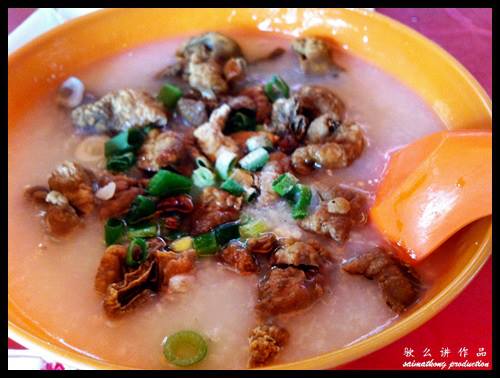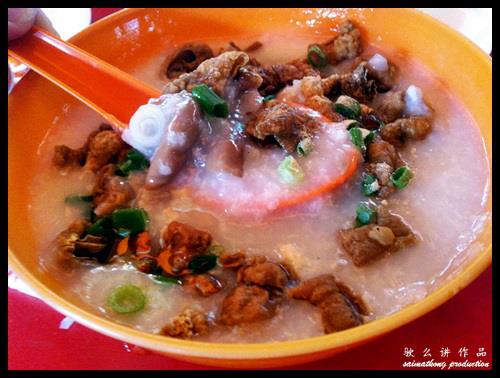 Pork Intestines Porridge RM6.00
The piping hot porridge was velvety smooth with generous loads of fresh chu chap (combination of pork intestines, liver and small mounds of pork meat) and lots of crunchy and sinful deep-fried chu cheong (pork intestines).
5) Ginger and Wine Vermicelli 姜酒米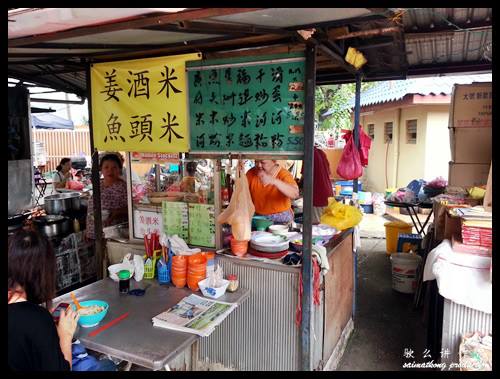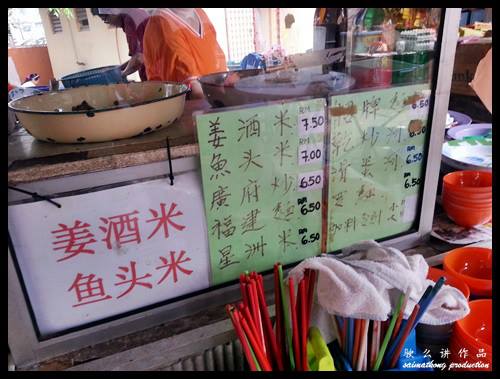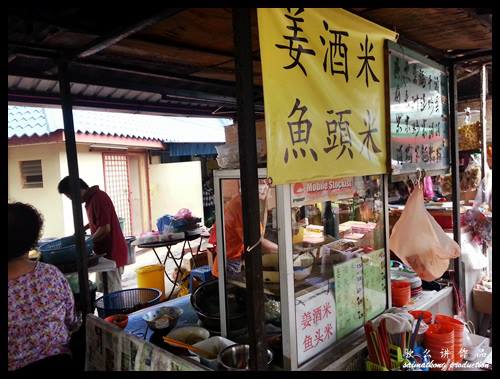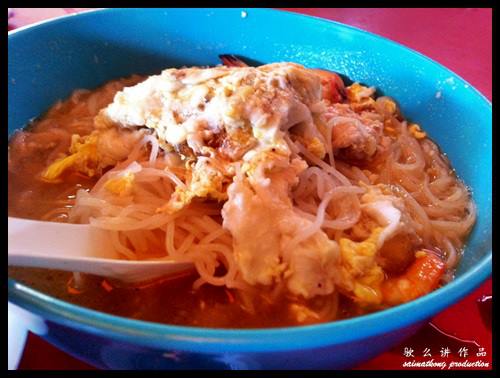 Ginger and Wine Vermicelli RM7.50
This bowl of Ginger and Rice Wine Vermicelli with ingredients like prawns, eggs, shredded ginger and pork slices is super tasty. The rice wine and ginger gives it a fragrant smell. It is said that ginger and rice wine is perfect to get rid of the 'stomach's wind'. We were sweating like mad by the time we finished this.
6) Bunn Choon Confectionery 品泉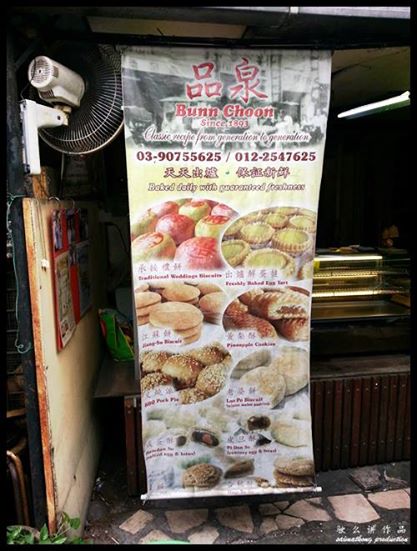 We thought of packing some egg tarts from Bunn Choon 品泉 (next to Ah Weng Koh 阿荣哥海南茶档) before leaving this place but the egg tarts are sold out ;(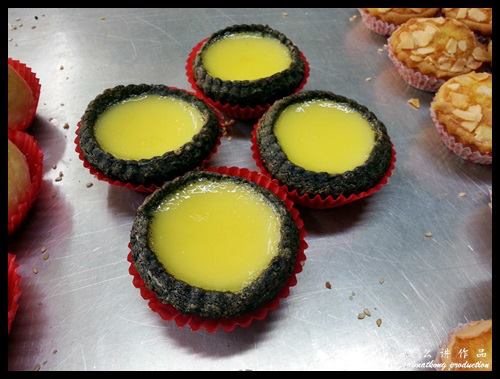 However, we managed to get this Charcoal Egg Tart instead. It's very unique and nice!
Verdict: We will definitely be back as we have yet to try Ah Weng Koh's famous toasted bread (roti bakar) and the Wantan Mee Stall in front of the Ah Weng Koh. If you don't mind the heat and sweat, this is a good place to have your breakfast.
Pasar Baru Bukit Bintang (Bukit Bintang New Market) – better known as Imbi Market
Address: Jalan Melati, Kuala Lumpur.
Opening hours: 6.30am onwards, until lunch hour (Closed on Monday)
—
Follow me on Facebook, Twitter, Instagram for more live updates!
Facebook : https://www.facebook.com/smartkong
Twitter : https://twitter.com/saimatkong
Instagram : http://instagram.com/saimatkong
Comments
comments