For those who don't know, 2018 is the Year of Dog; Earth Dog to be more precise. The Year of Dog starts from the first day of Chinese New Year which falls on 16th February this year.
If you've been following my blog, you surely have noticed that I've been posting exclusive ang pow packets nearing CNY and this year is no exception 🙂 I'll be writing a post featuring exclusive ang pow from various brands and companies. All these beautiful ang pows are printed in various themes; family, flowers, auspicious greetings, cartoon, zodiacs and many more.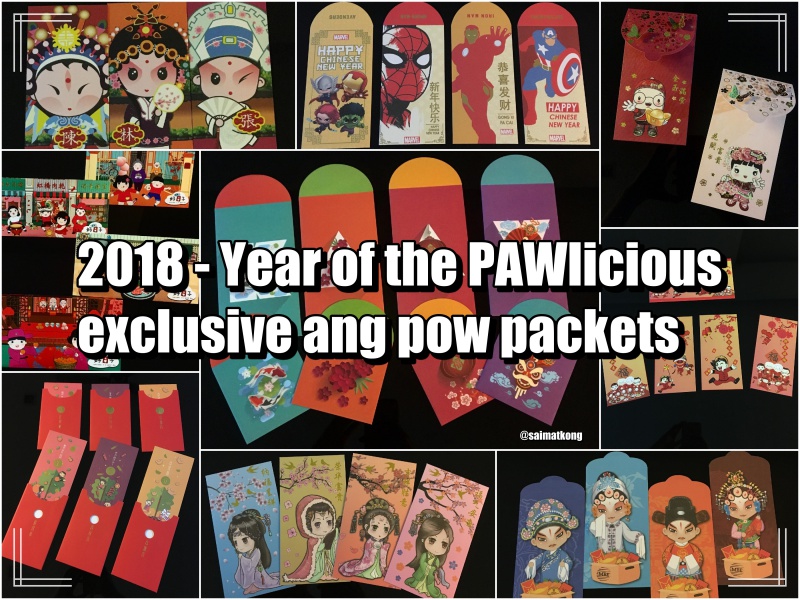 For this Year of Dog, let's take a look at some of the exclusive red packets printed by various brands and companies:-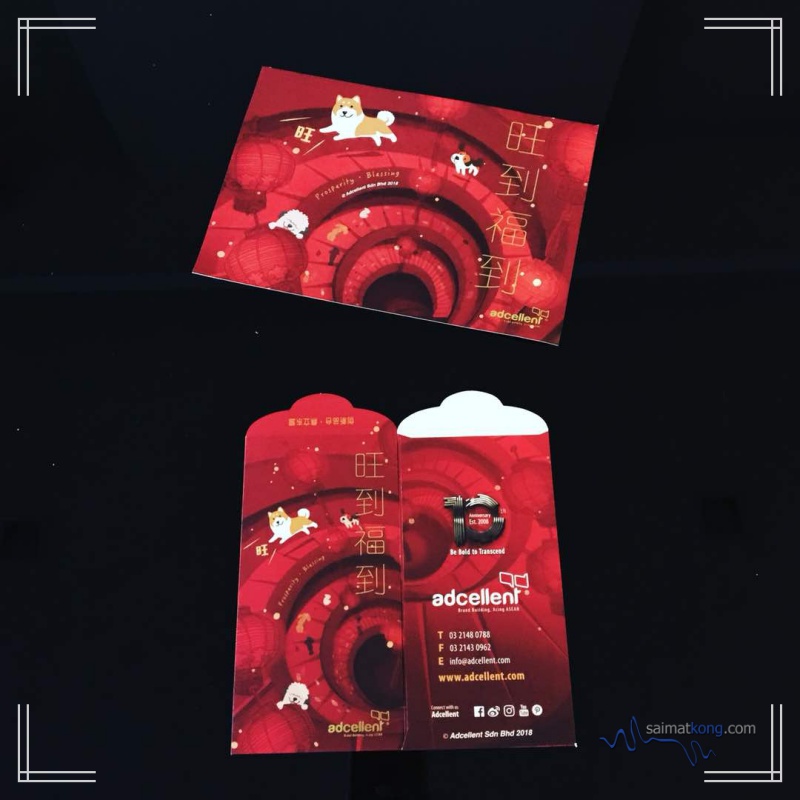 ADCELLENT
Ushering in the Year of Dog, Adcellent; a well-known advertising agency printed a doggy-themed ang pow packets in bright shade of red, which is the auspicious color for Chinese New Year. Also, here's wishing Adcellent an excellent 10 Years Anniversary!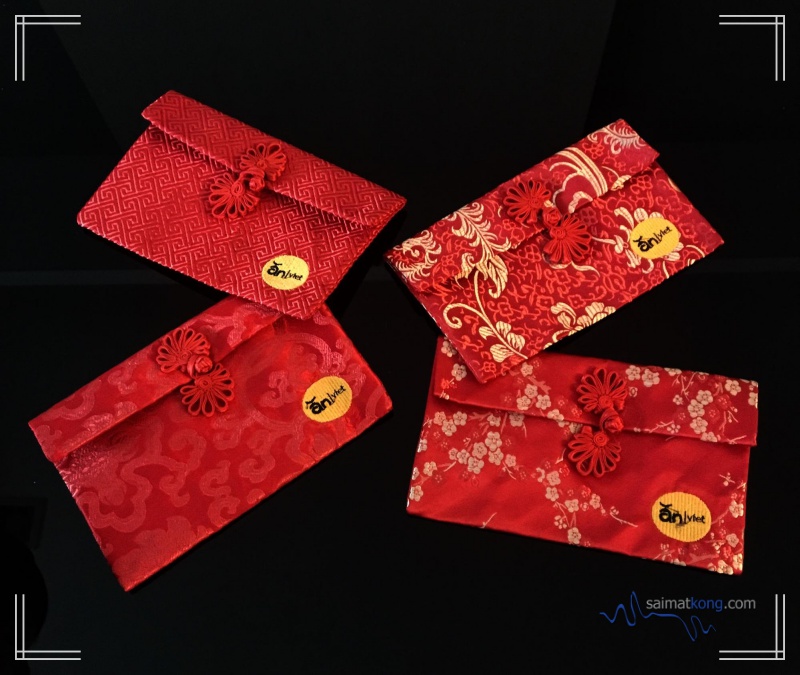 Ăn Viet
Ăn Viet, famous for their mouthwatering Vietnamese cuisine offers their patrons with a nice and elegant fabric ang pow & RM8 voucher with every RM88 spent. The limited edition fabric ang pow that comes in bright shade of red is made of thick fabric cloth with an embossed Ăn Viet logo. Best part is, it's reusable! I personally think it's best to use it as pouch for you to keep all your ang pows.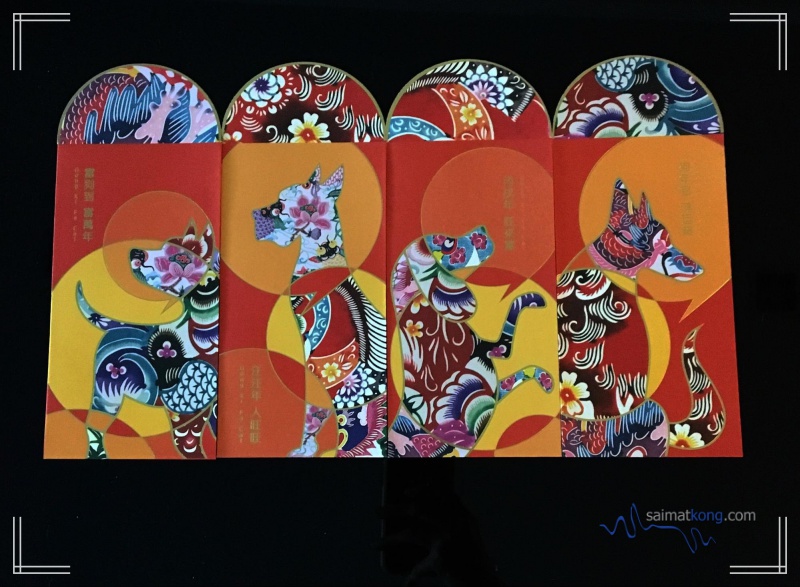 APOSTROPHE MARKETING COMMUNICATIONS
To welcome the Year of Dog, the creative folks from Apostrophe designed a colorful set of doggie themed ang pow with red, orange and yellow colour as background. Each of doggie featured is adorned with floral motifs and every piece of the red packets come with auspicious wordings.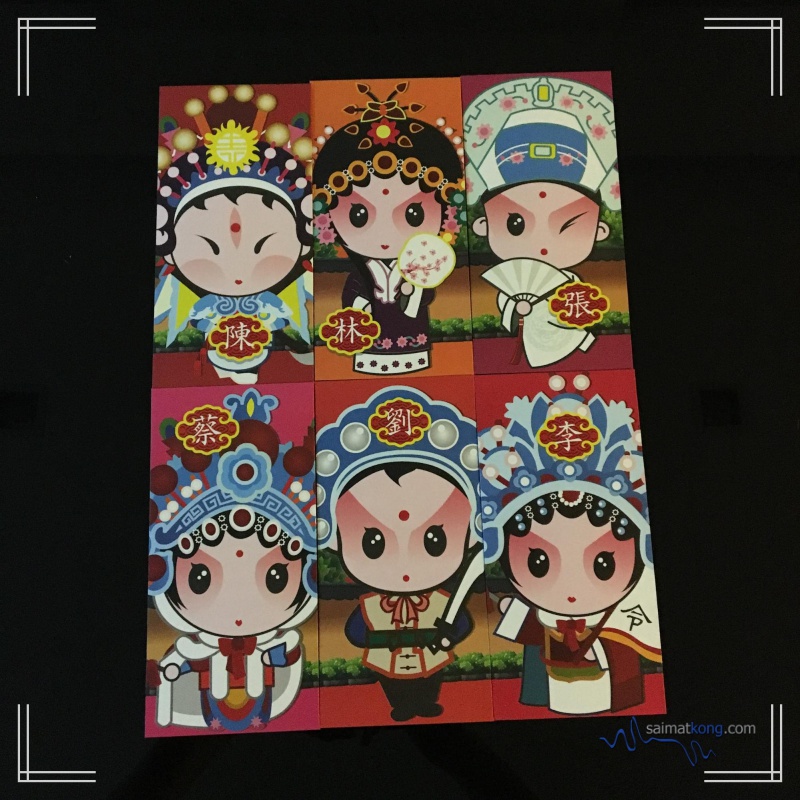 ASIA FOOD & BEVERAGE SDN BHD
For Year of Dog, Asia Food & Beverage Sdn Bhd; the manufacturer of herbs & spices printed a set of opera theme ang pow which is both unique and beautiful. The uniqueness of these red packets is that each of the opera characters has a surname beautifully printed on them. This beautiful set is a must-have for ang pow collectors.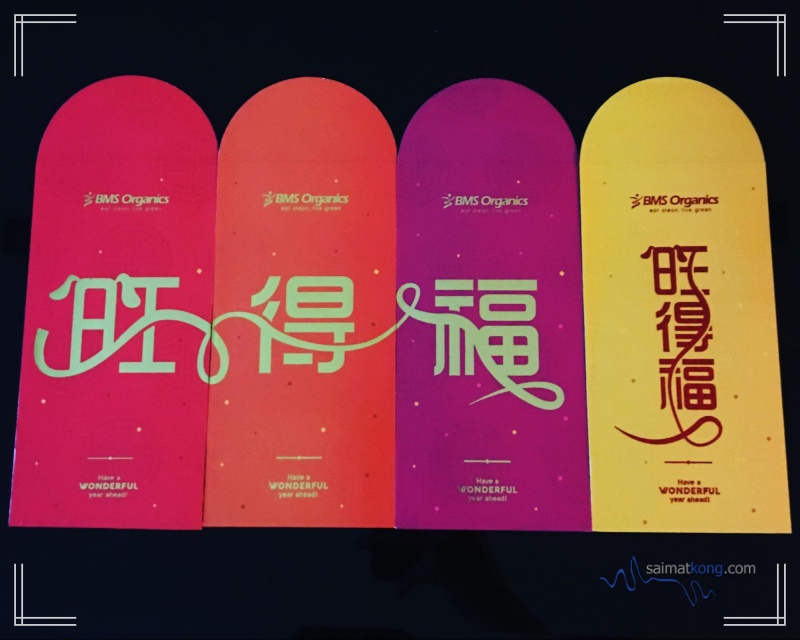 BMS ORGANICS
This year, BMS Organics offers a set of red packets in bright shades of red, orange, purple and yellow with auspicious Chinese wordings printed on each of the red packets.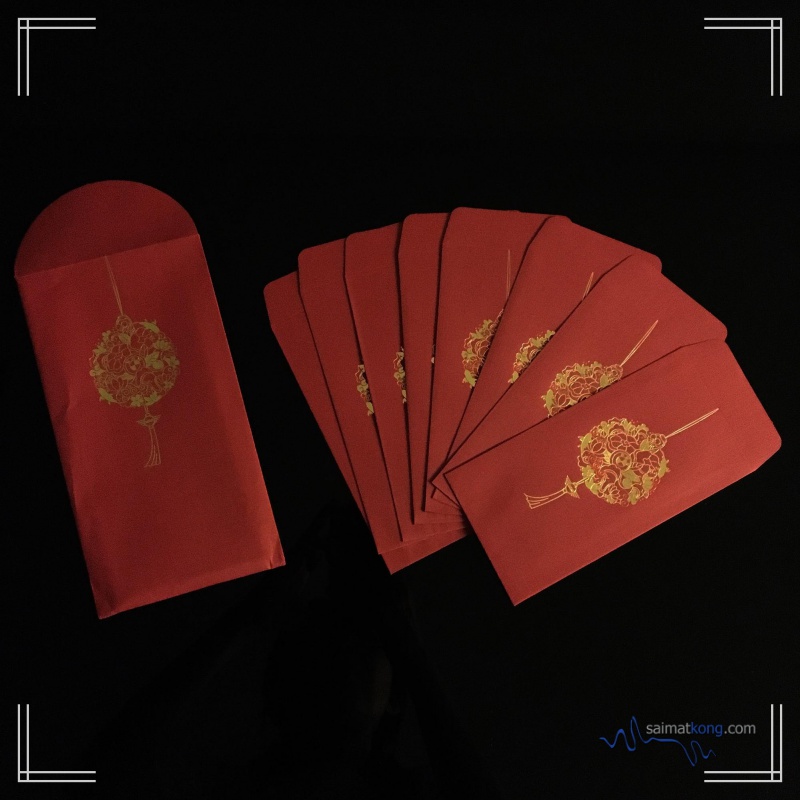 BMW CREDIT MALAYSIA
Ushering in the Year of Dog, BMW Credit Malaysia offers a classy and elegant set of red packets in shade of red.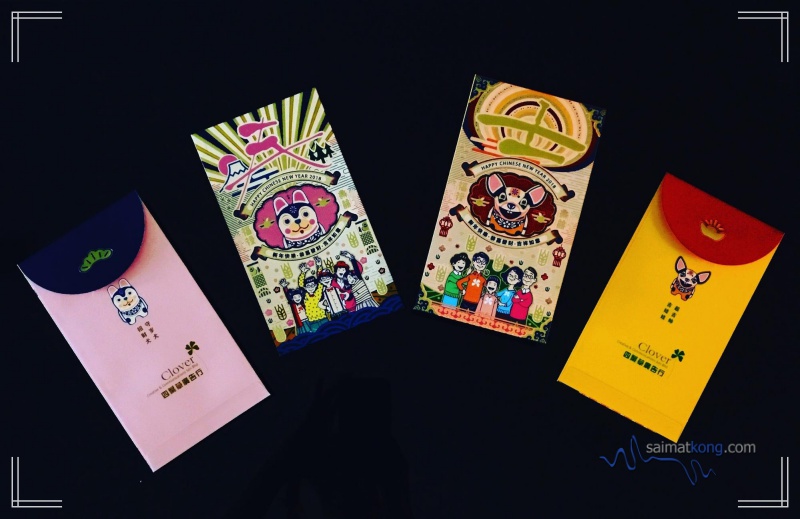 CLOVER CREATIVE & COMMUICATIONS
The red packets from Clover Creative & Communications never fails to impress. This year, Clover prints a pair of red packets doggie themed ang pow with the Chinese word "春" and "吉" printed on the front. The bright red packets is also printed with a lovely auspicious Chinese New Year greetings and each feature different illustration design. The one with "吉" feature an illustration of a happy family while the ang pow with the word "春" feature a bunch of happy youngsters; whom I believe are Cloverians!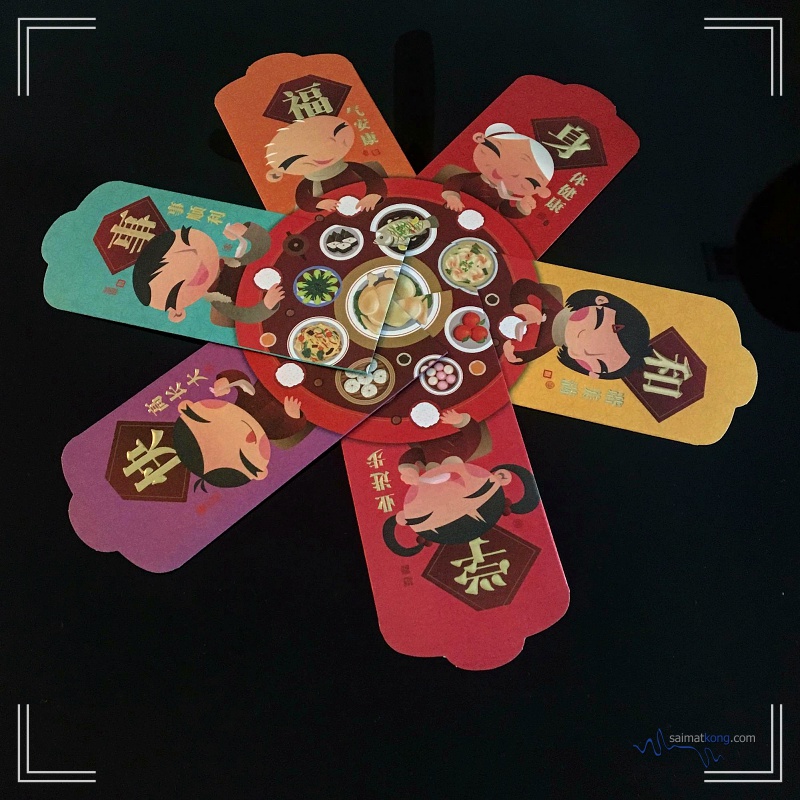 ECOLITE CONCEPT STORE
CNY is always the time where family sit together for a reunion dinner. Ecolite offers a nice set of reunion theme ang pow showing a happy scene of a family enjoying a nice reunion dinner.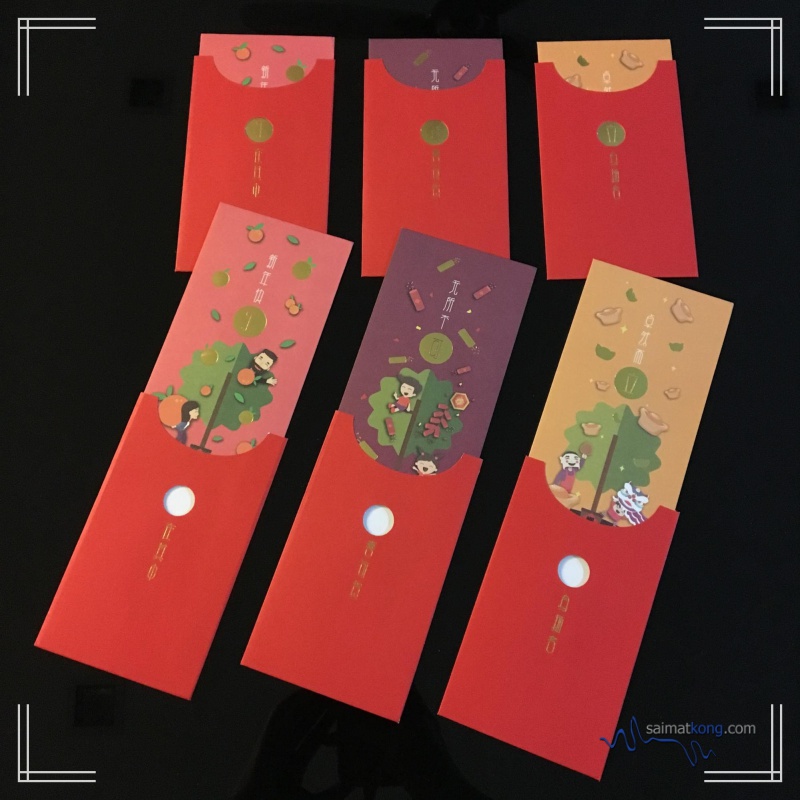 DELICA COFFEE
This year, Delica printed a 3pc set ang pow with inserts in bright colours of pink, yellow and purple.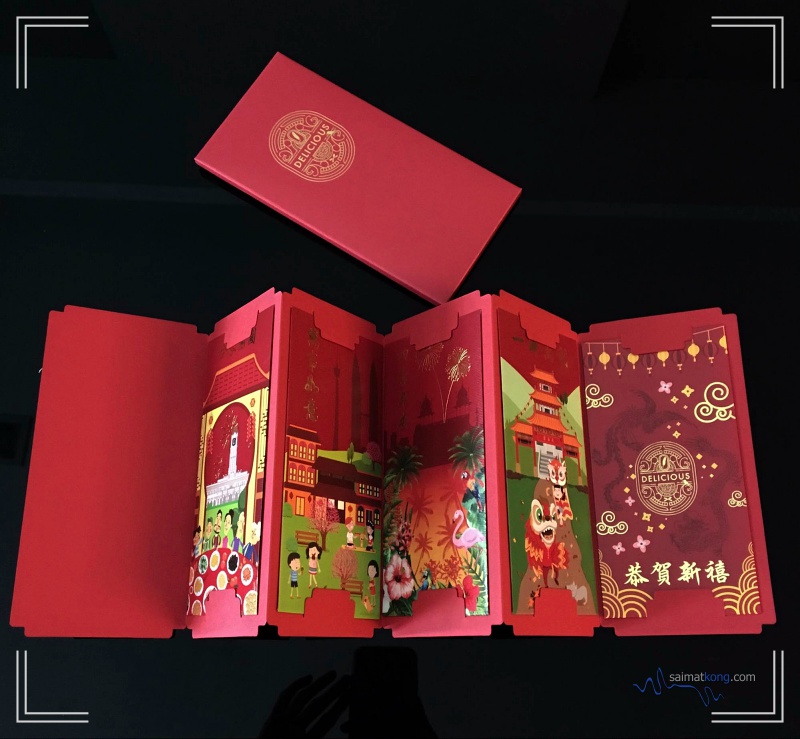 DELICIOUS GROUP
Delicious Group gives a very beautiful 5 piece festival themed ang pow set to its diners. Each of the red packets feature different iconic Malaysian landmark with an auspicious Chinese New Year greeting.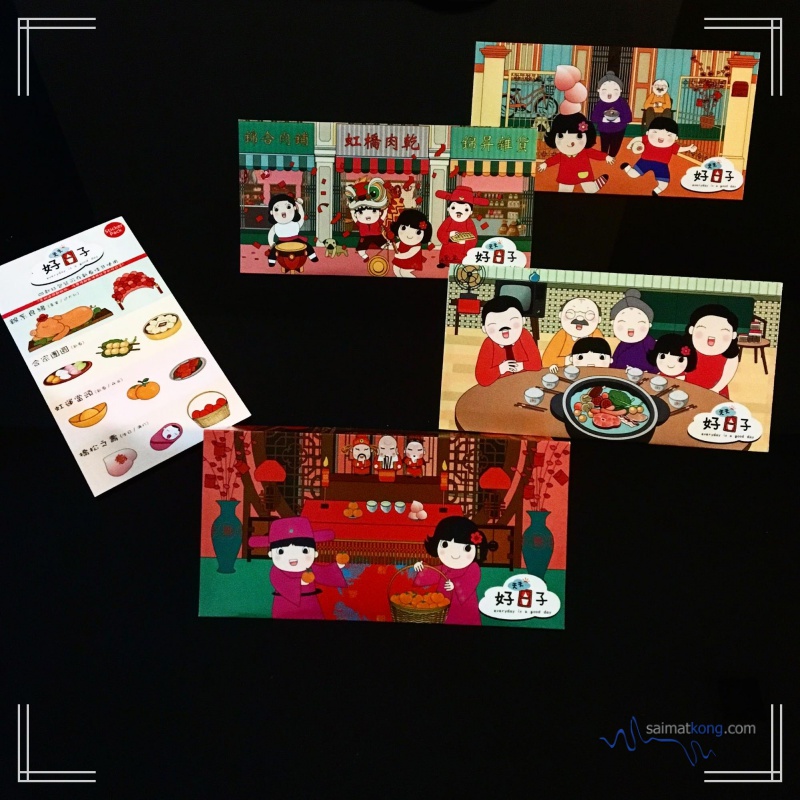 De Luxe Circle
For CNY this year, De Luxe Circle or Hong Qiao printed a set of red packets with the theme 天天好日子 / Everyday Is A Good Day. All the red packets show different happy scenes during Chinese New Year.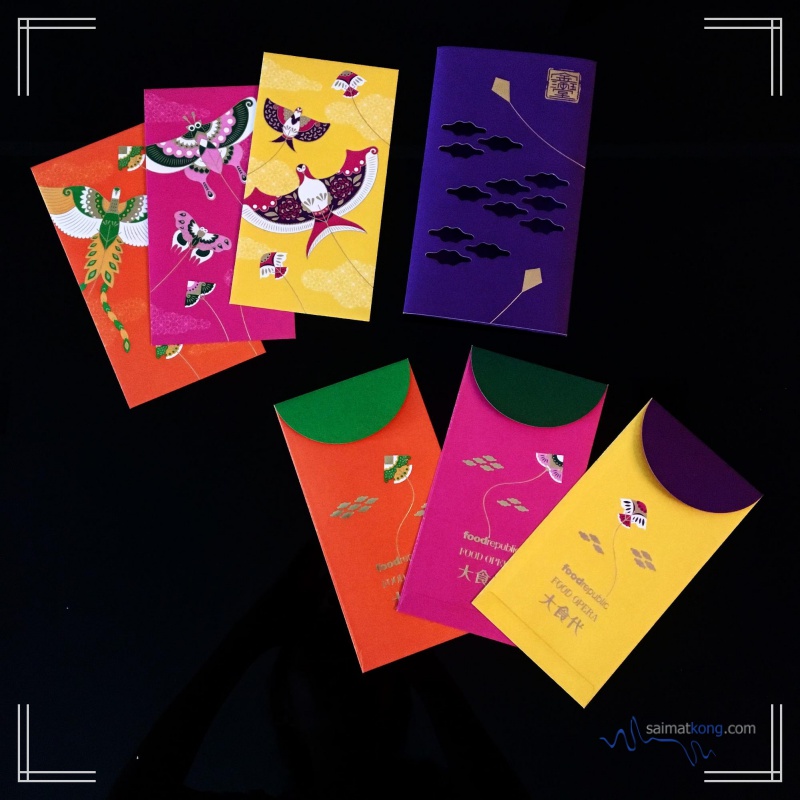 FOOD REPUBLIC MALAYSIA
Food Republic offers an exquisite 3 piece set ang pow in vibrant shades of hot pink, orange and bright yellow. The red packets is exclusively designed by award-winning Hong Kong designer Ken Lo. The red packets are printed using good quality paper and embellished with gold to highlight the design. I love that it comes with a die-cut folder flap.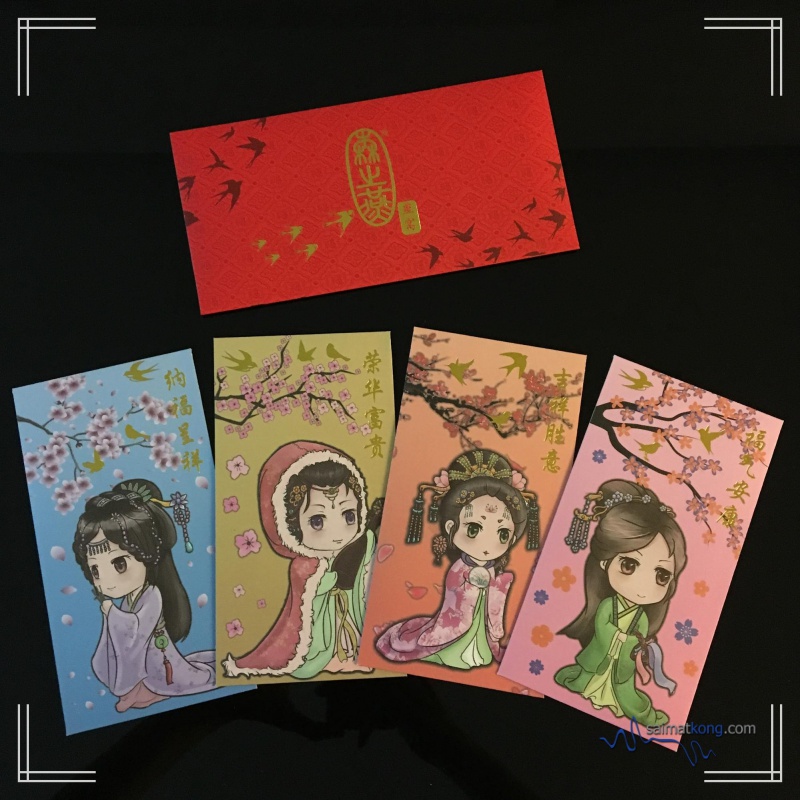 FOREST BIRDNEST HOUSE
Forest Birdnest House or 森之燕 printed a beautiful set of maiden theme ang pow featuring demure looking maiden clad in Chinese costume. Every piece is printed with auspicious greetings.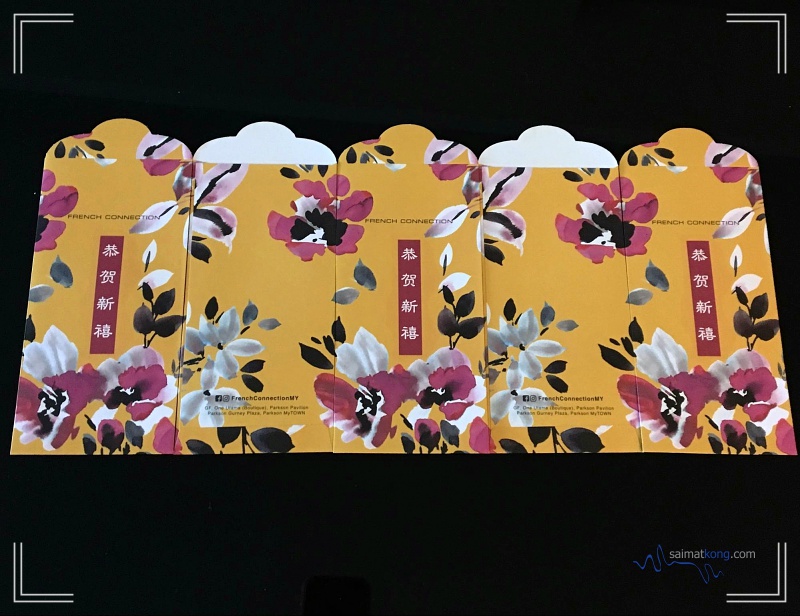 FRENCH CONNECTION MALAYSIA
For CNY this year, French Connection Malaysia offers a pack of vibrant floral theme ang pow for their customers with every purchase of RM288 in a single receipt in store at 1 Utama and in Parkson Pavilion, Parkson MyTOWN and Parkson Gurney Plaza Penang.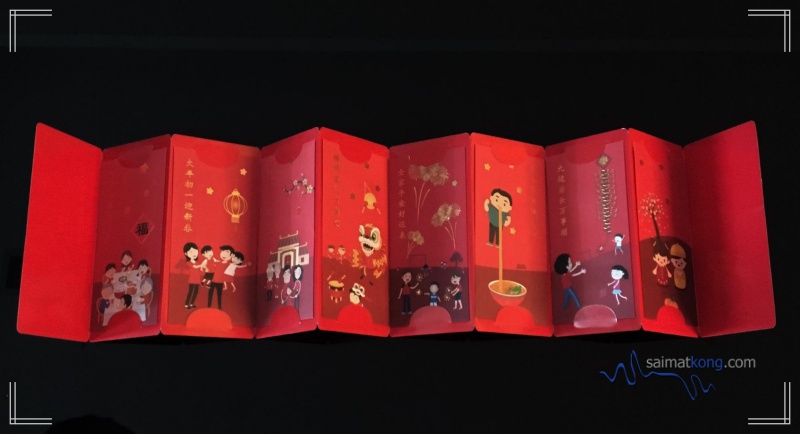 GSK MALAYSIA
GSK printed a beautiful set of family theme ang pow in bright shades of red that comes with a folder. CNY is about reunion dinner, lion dance, fireworks, visiting relatives and each of the red packets show that CNY is filled with so much joy and laughter.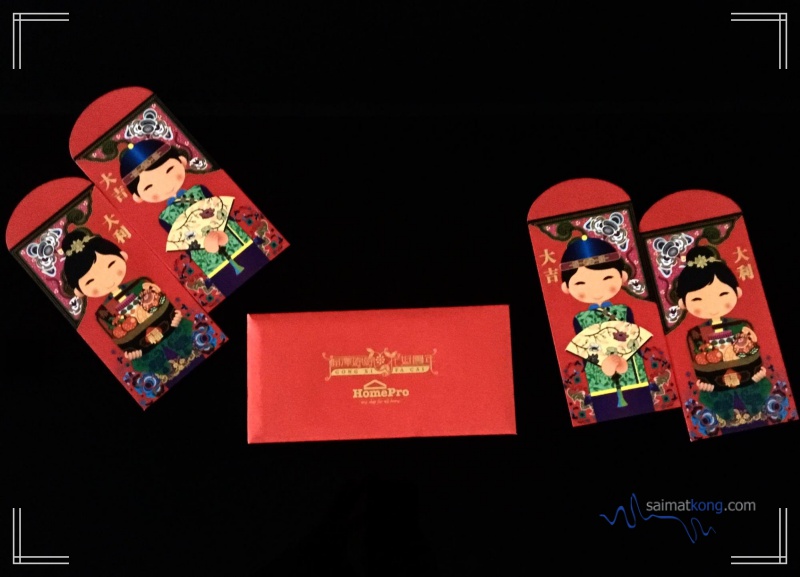 HOMEPRO MALAYSIA
HomePro Malaysia printed a 2 piece set ang pow packets featuring cute kids in pair. The adorable kids are dressed in traditional costume.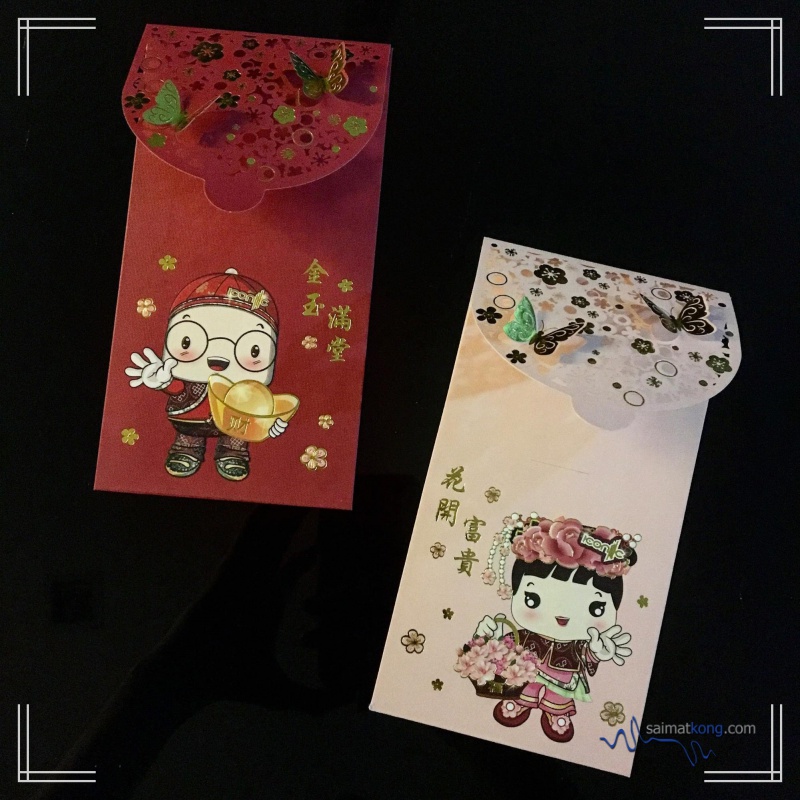 ICONIC GROUP
Iconic Group offers a pair of red packet featuring a cheerful boy and girl with die cut design which create a special visual effect. The red packet is made of high quality paper.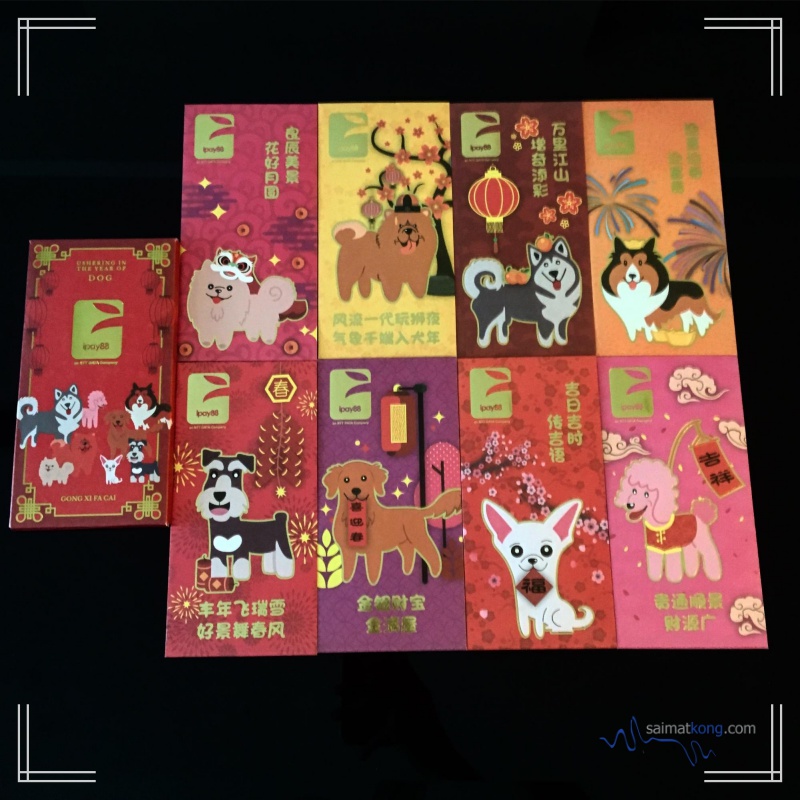 iPAY88
iPay88, a leading Payment Gateway Provider in South East Asia printed a set of zodiac-themed red packets that comes with a cover. Each of the red packets feature a cute and adorable doggy friends with a lovely auspicious greetings.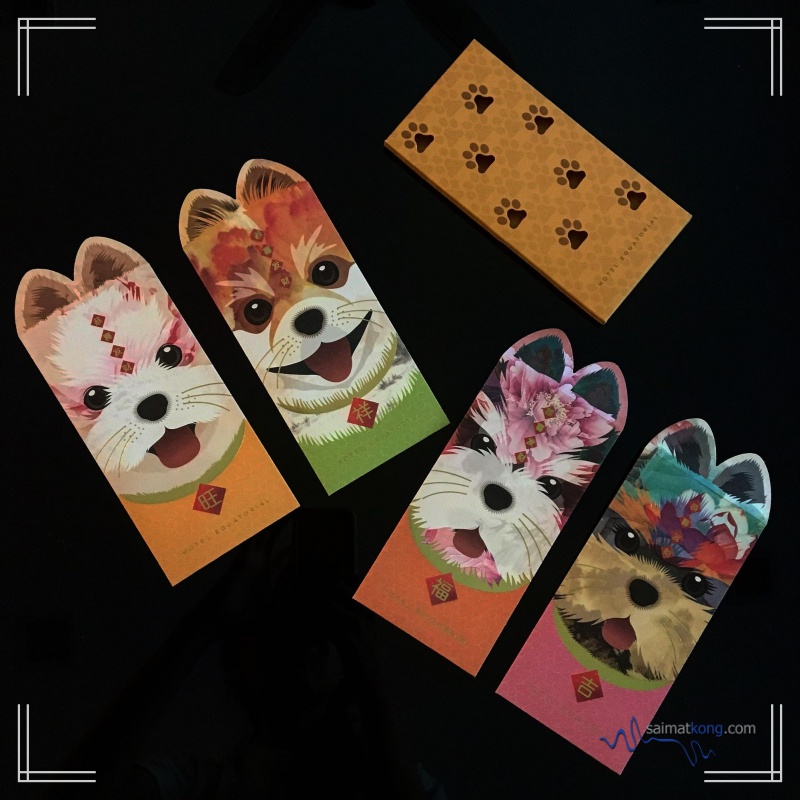 KAMPACHI RESTAURANTS
To welcome the Year of Dog, Kampachi Restaurants printed a beautiful set of ang pow featuring 4 cute doggies. Just look at the adorable dogs, this set is popular among collectors and is definitely a must-have in your ang pow collection!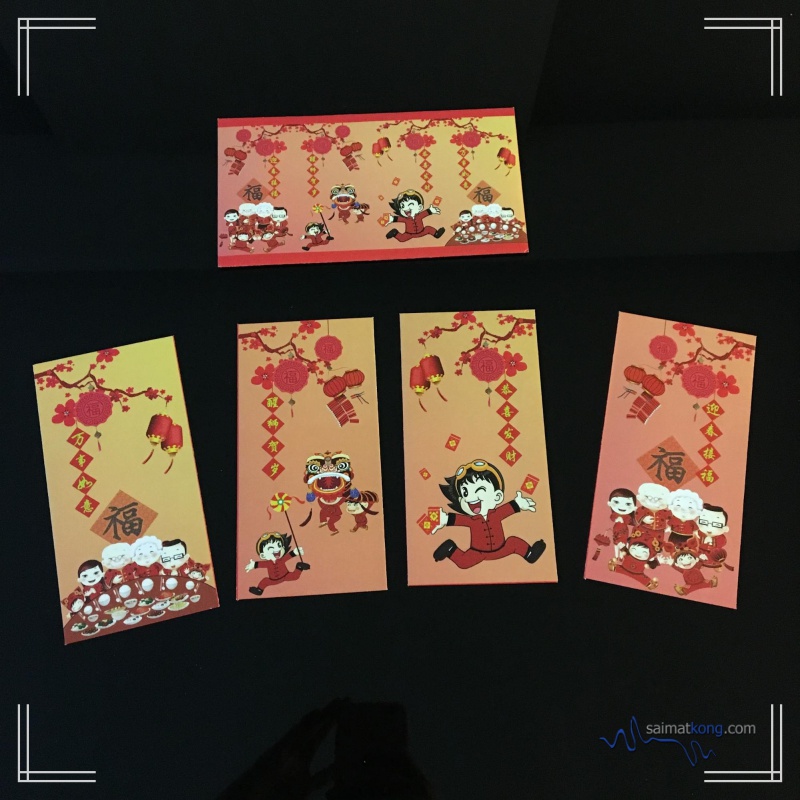 KHIND GALLERIA
Khind Galleria printed a cheerful set of family theme set ang. When you placed the 4pcs of ang pow together, it shows a lovely scene during CNY; family reunion, a happy kid enjoying lion dance, a happy kid receiving lots of ang pow and a family enjoying reunion dinner with a table full with delicious food.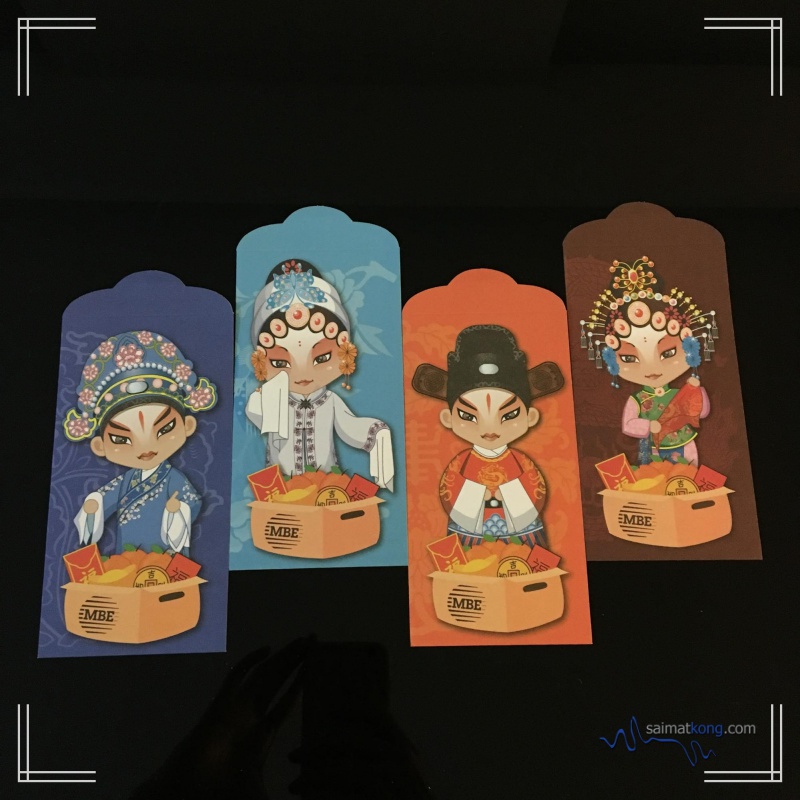 MAIL BOXES ETC @ MBE ROBERTSON
This year, Mail Boxes Etc offers a set of Chinese opera theme ang pow packets for their customers. Each of the ang pow has a box filled with goodies with a Mail Boxes Etc logo printed on it which is in a way describing the services offered by Mail Boxes. How brilliant!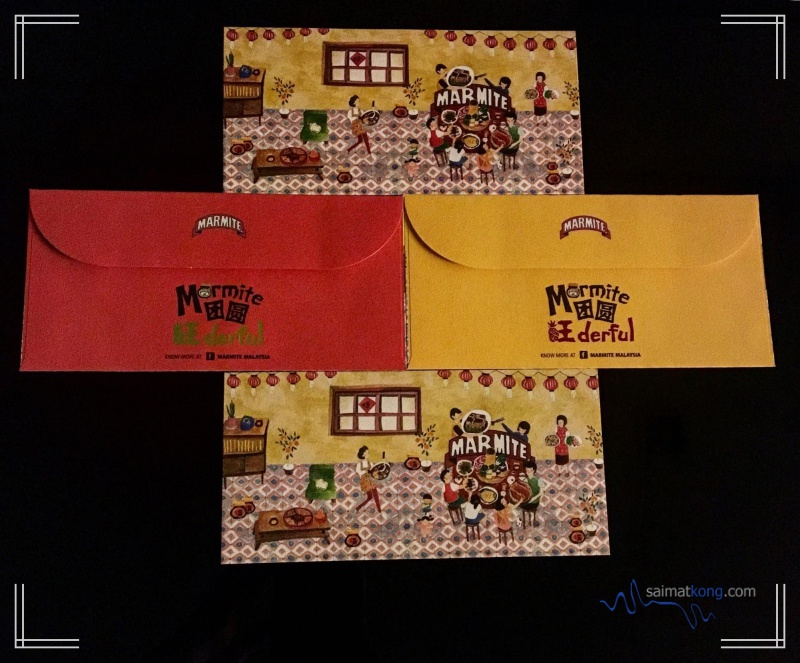 MARMITE MALAYSIA
Marmite Malaysia printed a reunion theme ang pow featuring family with a table full of delicious Chinese New Year dishes possibly cooked using Marmite as one of the ingredients 😉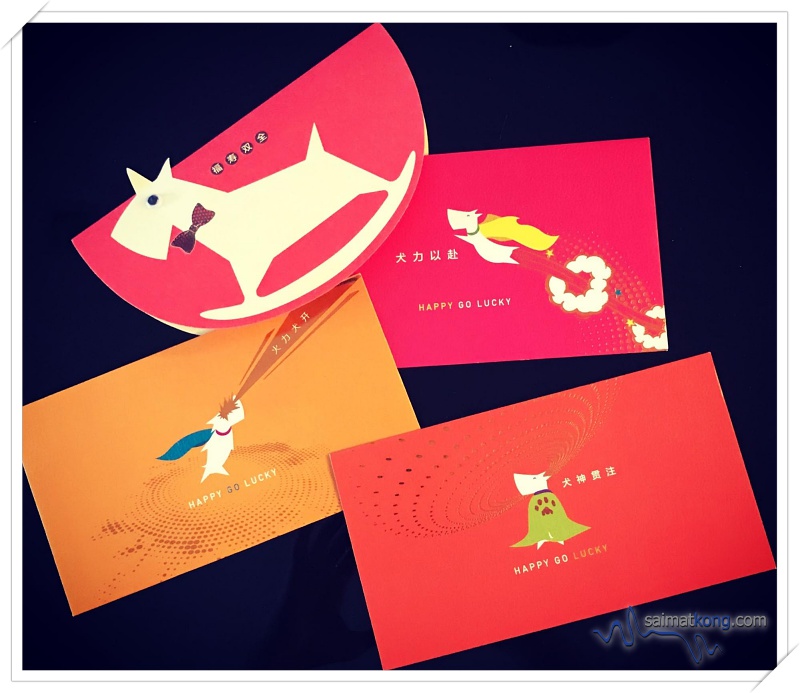 MIDAS TOUCH
Midas Touch printed a set of fun and vibrant set of red packets featuring a doggie dressed in a superhero cape and "Happy GO Lucky" words printed on each of the ang pow.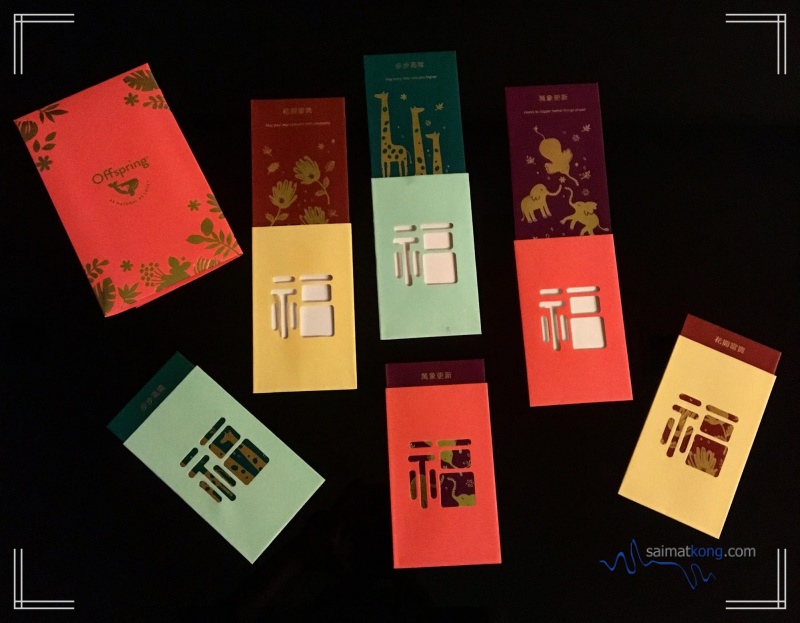 OFFSPRING NATURAL
These set of red packets that comes in 3 designs and lovely spring colours is truly beautiful. You can slide it up to reveal illustrations of different Chinese auspicious greetings or slide it down to reveal "福" which means fortune.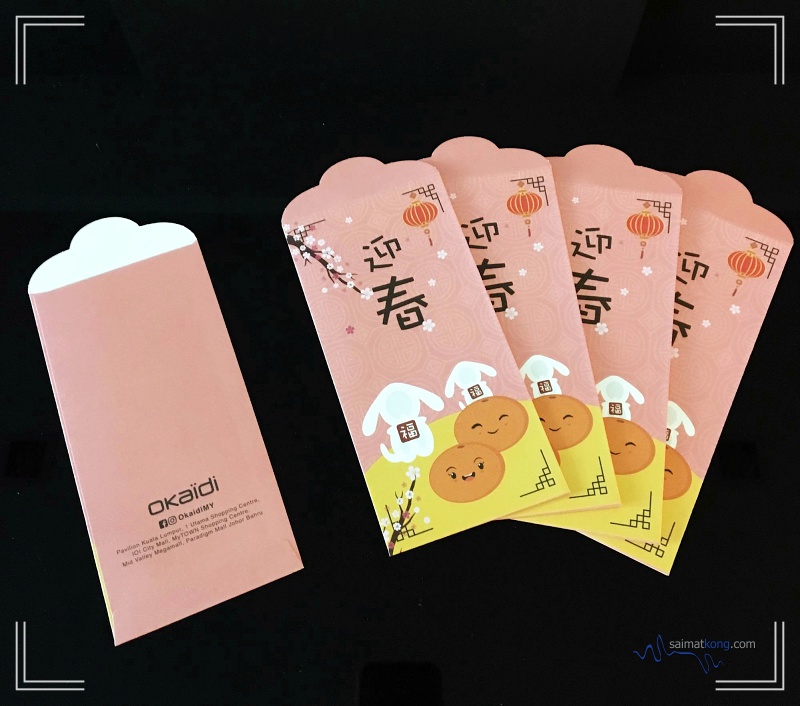 OKAIDI OBAIBI MALAYSIA
Ain't this red packets by Okaidi Obaibi cute? You can get 1 pack for free with every purchase of RM168 in a single receipt in stores at 1 Utama, Mid Valley, Pavilion, MyTOWN, IOI City Mall and Paradigm Mall JB.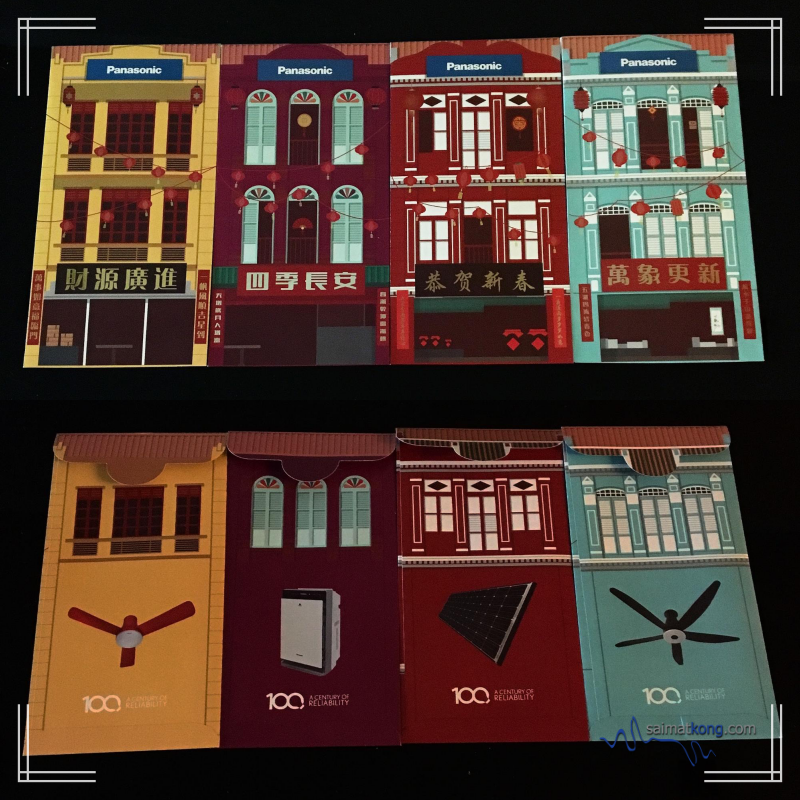 PANASONIC MALAYSIA
This 2018 red packets set from Panasonic is quite unique to me because I rarely come across building theme design ang pow packets. Turning over, each of the red packets show various electrical appliances offered by Panasonic.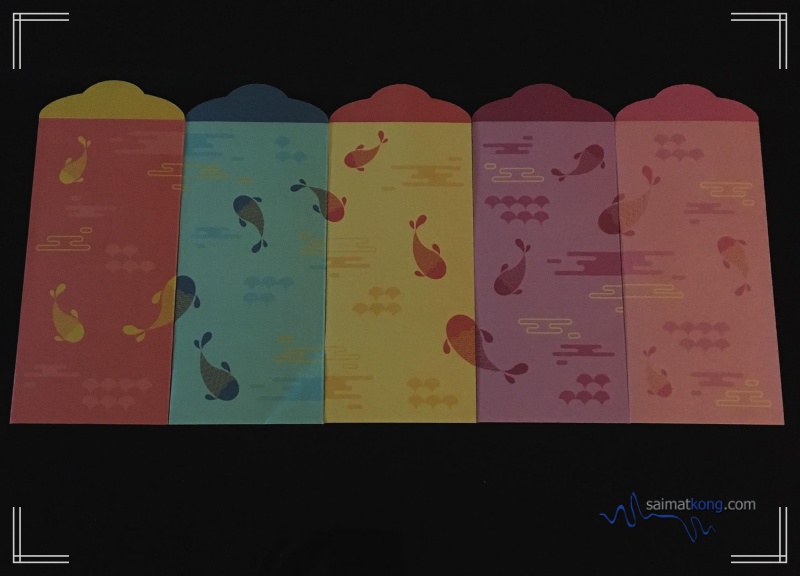 PEZZO-WEST MALAYSIA
Pezzo-West Malaysia offers a lovely set of fish themed ang pow packets in lovely pastel colours for their customers. In Chinese fish is '鱼' which represents abundance. And there's a famous Chinese New Year Greeting "年年有余" which means 'May Every Year Filled with Surplus/ Abundance'.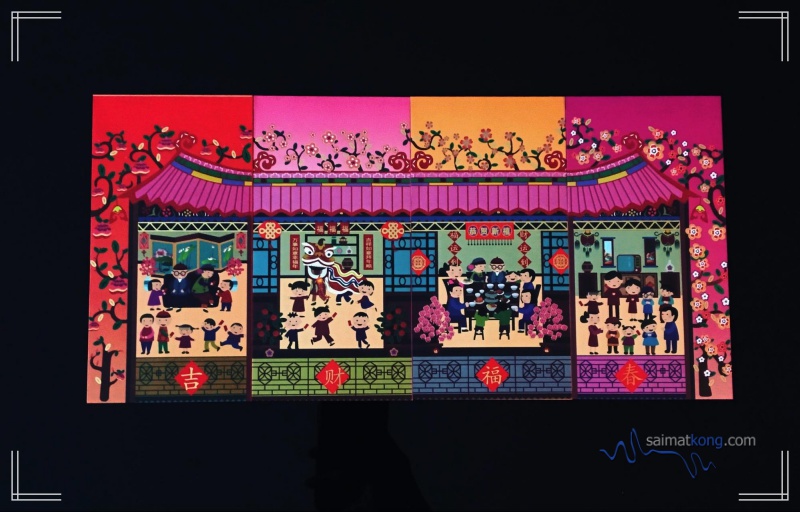 PROMENADE HOTELS & RESORT
To welcome the Spring Festival this year, Promenade Hotels & Resort printed a beautiful set of red packets with each piece showing different joyous scenes during Chinese New Year.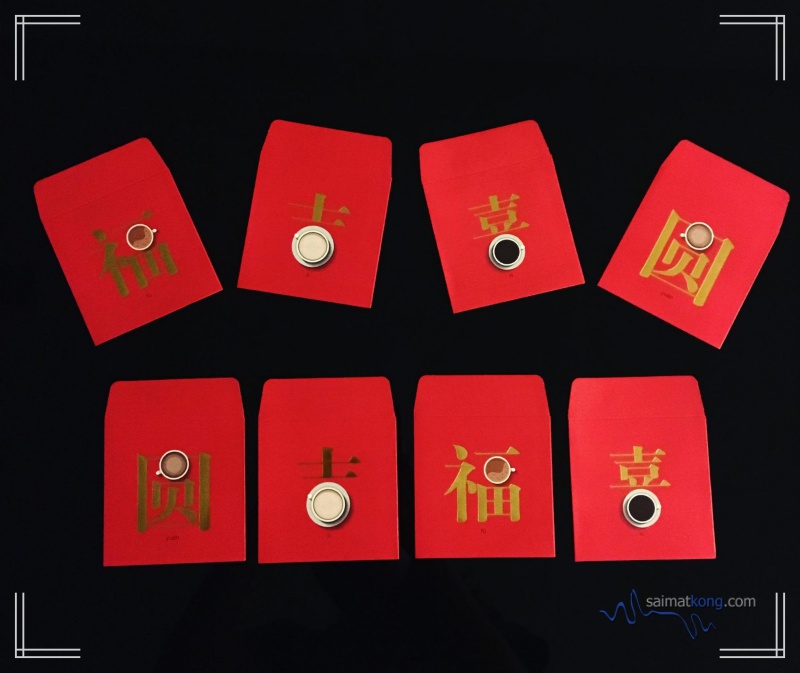 SAN FRANCISCO COFFEE
To celebrate the Lunar New Year, San Francisco Coffee offers a nice set of red packets printed auspicious word of "喜", "圆", "福", "吉" and each piece feature different San Francisco's beverages. How creative!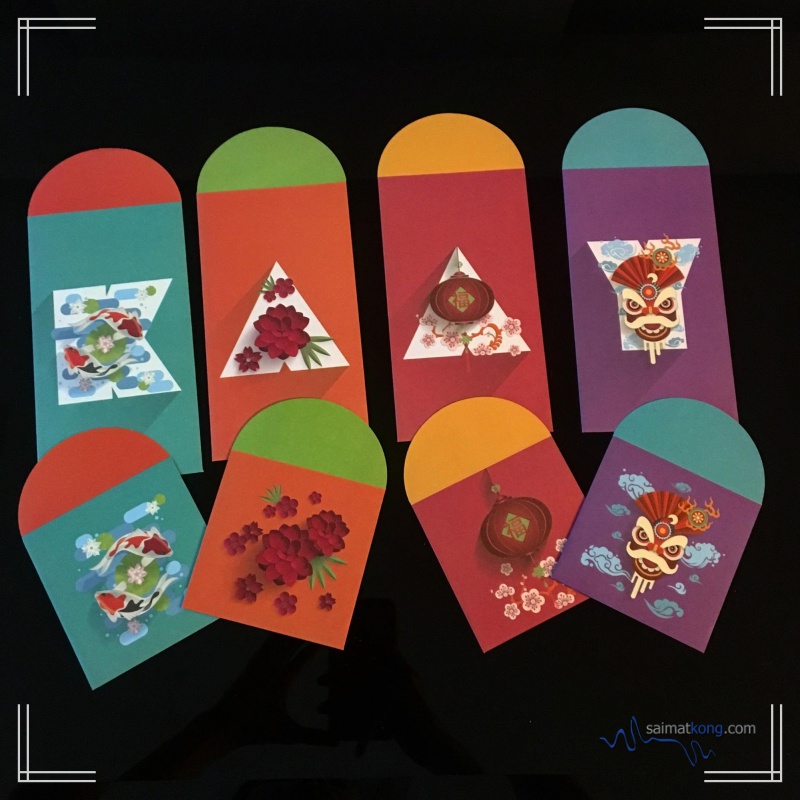 SANGKAYA
For CNY this year, Sangkaya; famous for their luscious coconut ice cream offers a beautiful set of ang pow packets in bright colours. Every piece is printed with different auspicious symbols. Also, do try their Luckxury Set that comes with 3 scoops of Jujube ice cream served with Jujube shake which is available during festive period only.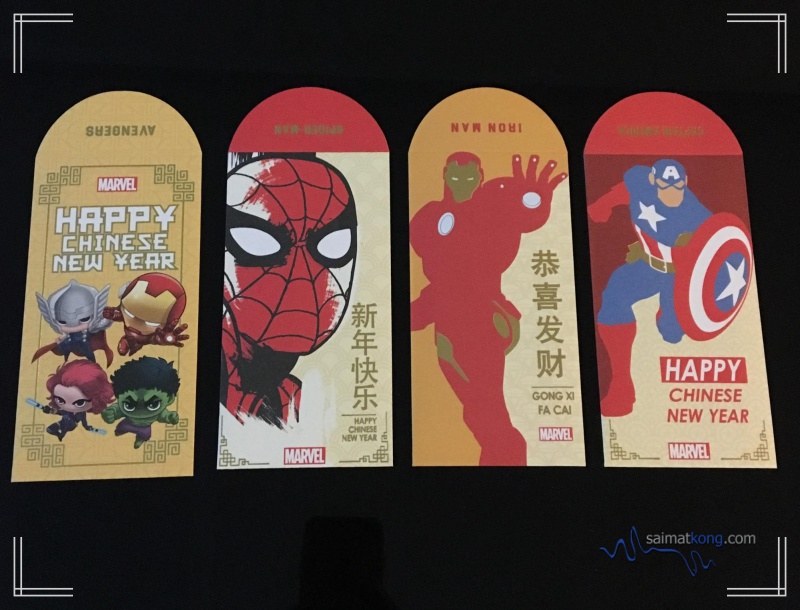 VICTORY'S HEROES PLANET
Victory's Heroes Planet printed a set of Marvel Superheroes ang pow packets featuring Avangers, Spider-Man, Ironman and Captain America. It's made of thick quality paper and it's my favorite coz who doesn't love superheroes right?
Hope you enjoyed viewing the various exclusive and limited red packets collection. Here's wishing you an Awesome PAWsome & Prosperous Dog Year with lots of WANG WANG in your wallet! May each and everyone of us be blessed with abundant good fortune & most importantly good health in the coming Dog Year!
If you would like to have your ang pow packets to be featured in my blog, kindly email me at

Comments
comments