Sony Album-T Launch Details
Ok, after so much confusion and questions from my blog readers, I managed to find out the actual details. So I hope this will clear some of your doubts.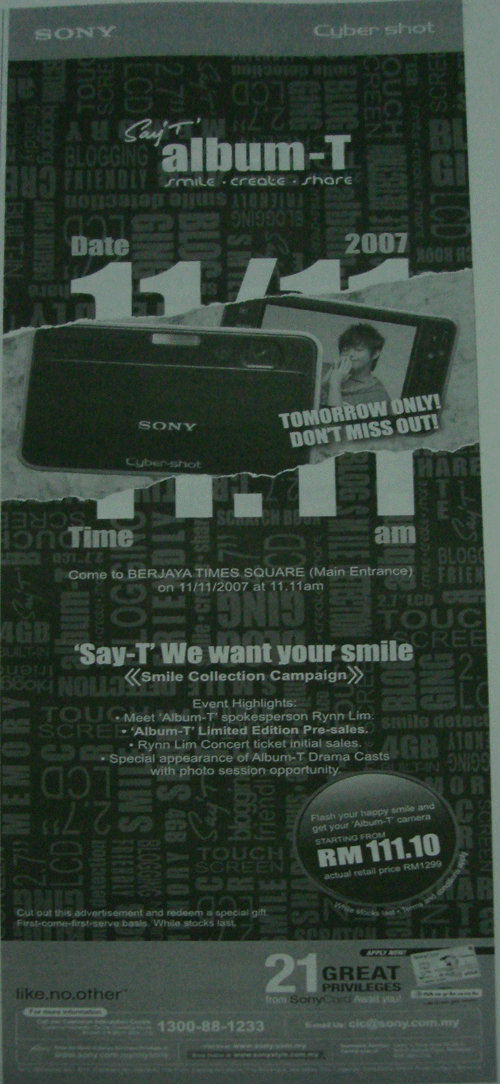 I found this piece of advert in thestar newspaper today, and if you cut out this advertisement, you could redeem a special gift as stated in the advert and it's on first-come-first-serve basis. While stocks last. So if you want to get the special gift make sure be there early to avoid disappointment.
Besides, it says Flash your happy smile and get your "Album-T" camera Starting From RM111.10 actual price RM1299 (in the email invitation it's stated actual price RM1399), and it's while stocks last too (I think it's 1st 50 units). Terms and conditions apply which they never state the terms and conditions in details. So I guess you will have to go there in order to check the "Promotion there".
more details the 200 lucky customers are entitled to buy the nenw Album T cameras at a very special price starting from RM11.11 read on the previous post here
more details on the Sony Album-T contest read on the previous post here
Tomorrow it's also the 1st day start selling the concert tickets for Rynn Lin Concert on Dec 8.
Comments
comments