David Copperfield's World of Wonder
I was so happy that I can go to the David Copperfield's World of Wonder show on October 30 at Stadium Negara, Kuala Lumpur , but today the bad news is it might be canceled due to David Copperfield is wanted by the FBI for some investigation. Arghhh, hope it's not cancel. David Copperfield, come come come, please settle all the problem and come to Malaysia and perform. I want to see Magic!!!
Ticket sales have been suspended since Saturday.
Full refunds will be made through ticketing agent Axcess Tickets once the final confirmation of the tour's cancellation is made this week.
For details, call Access Tickets at 03-7711 5000.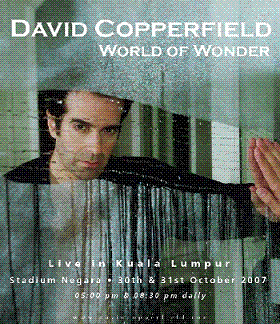 Comments
comments