4th Global Chinese Golden Chart Awards 第四届全球流行音乐金榜颁奖典礼2014
The 4th Global Chinese Golden Chart Awards took place this evening at 7.30pm, at Putra Stadium, Bukit Jalil.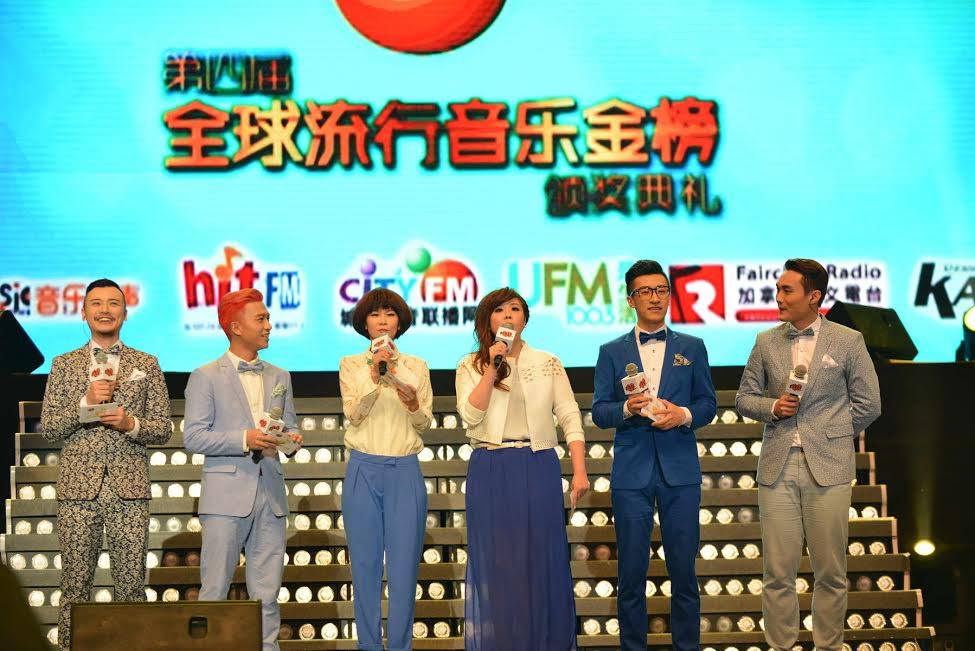 The hosts for the evening consist of 6 radio announcers from 5 main Chinese radio stations, namely Jason Phang 贾森、and Jym Chong 庄靖毅 from MY FM (Malaysia), A-Gwen 阿娟 from HIT FM (Taiwan), Kevin 王文超 from China National Radio – MusicRadio (China), Vincent Lim 林良泉 from UFM 1003 (Singapore) as well as Mandy Chan 陈敏愷 from Fairchild Radio (Canada).
The celebrity who attended tonight's event includes Matilda Tao 陶晶莹, Alien Huang 黄鸿升, Yen-J 严爵, Bii毕书尽, Diana Wang 王诗安, Shang Wenjie 尚雯婕, Koala 刘思涵, Serene Koong 龚芝怡, Z-Chen 张智成, Eric Lim 林健辉, Thomas & Jack 东于哲, Soo Wincci 苏盈之, Bell Yu Tian Bell 宇田 and Fuying & Sam.
A total of 57 awards were presented including awards for the Top 20 Golden Melodies. Meanwhile, winners of the Most Popular series, namely the Most Popular Male/ Female Singer, the Most Popular Newcomer, the Most Popular Group/ Band and the Most Popular Composing Singer, will be announced based on the total results of online voting that were open for public on 7 major Chinese radio stations' official website.
年度最佳新人 >> 金:王诗安 & 最受欢迎系列 (网上投选)
年度最佳新人 >> 银:Fuying & Sam
年度最佳新人 >> 铜:刘思涵
年度最佳电视剧歌曲 : 苏盈之《不应该勇敢》(电视剧:美味的想念)
年度各电台点播冠军 & 年度各电台推崇大奖 :(新加坡UFM 1003)- 龚芝怡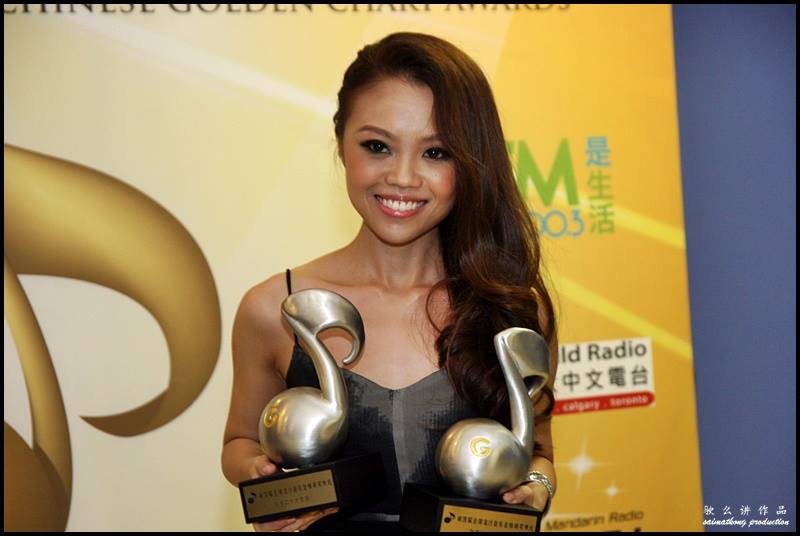 年度最受欢迎创作歌手 : 严爵
年度20大金曲 - Bii毕书尽 《Come Back To Me》
年度20大金曲 : 东于哲《第三个心愿》
年度各电台推崇大奖(MusicRadio音乐之声)- 尚雯婕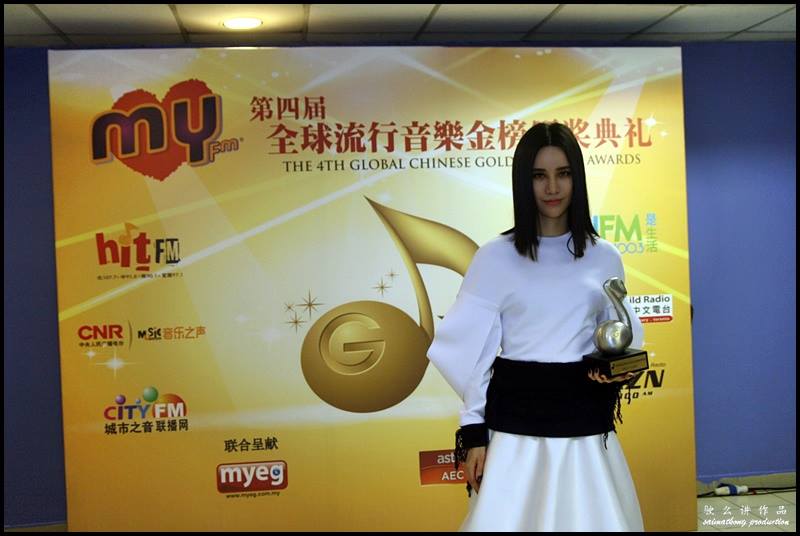 年度20大金曲 - 林建辉《内伤》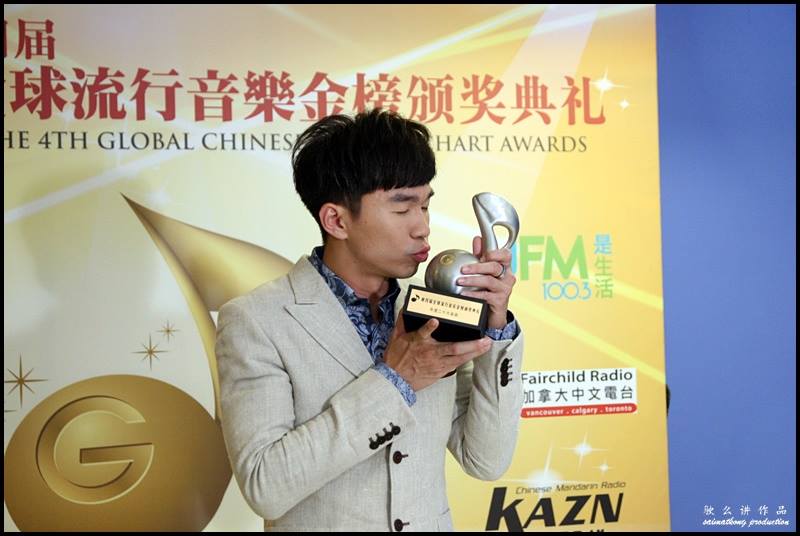 年度最受欢迎男歌手 - 黄鸿升
年度各电台点播冠军(MY FM)- Bell宇田《雨是甜的》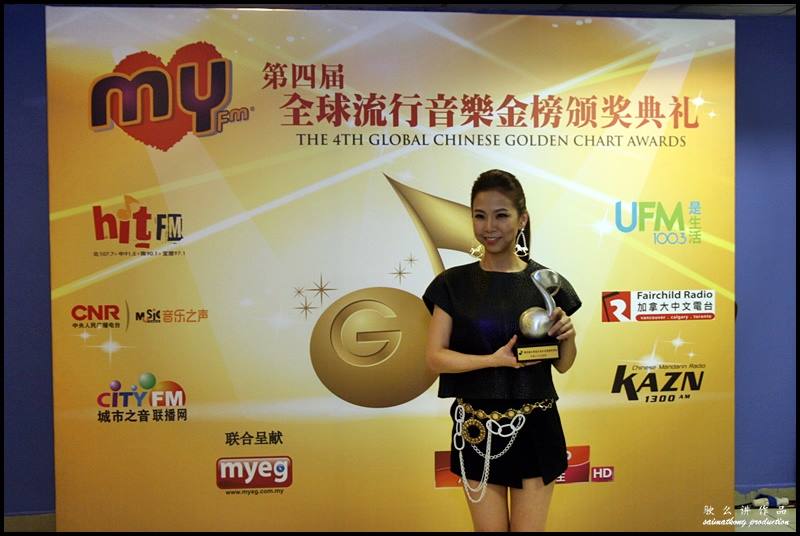 年度各电台推崇大奖(MY FM)- 张智成
久违的陶晶莹这次来马参与盛会抱走"三个半"奖!她首次挑战饶舌的《真的假的》勇夺年度20大金曲和洛杉矶AM1300中文电台的年度点播冠军;和方大同合唱的《是爱》夺得最佳合唱歌曲;最后在荣获年度全能艺人后也压轴演唱《是爱》。
4th Global Chinese Golden Chart Awards 第四届全球流行音乐金榜颁奖典礼
【第四届全球流行音乐金榜颁奖典礼】得奖名单:
奖项

歌手/歌曲

1

年度最佳新人

金:王诗安 银:

Fuying & Sam

铜:刘思涵

2

年度最佳电影歌曲

王菲《致青春》(电影:致我们终将逝去的青春)

3

年度最佳电视剧歌曲

苏盈之《不应该勇敢》(电视剧:美味的想念)

4

年度最佳作词人

李宗盛 – 山丘

5

年度最佳编曲人

蔡健雅 – 单恋曲

6

年度最佳作曲人

青峰 – 我好想你

7

年度最佳创作歌手

严爵

8

年度最佳合唱歌曲

陶晶莹

&

方大同《是爱》

9

年度最佳制作人

陶喆《再见你好吗

Hello Goodbye

》

10

年度最佳组合

动力火车

11

年度进榜最久冠军歌曲

林俊杰《修炼爱情》

&

苏打绿《再遇见》

12

年度最佳专辑

《渺小》田馥甄

13

年度最佳乐团

五月天

14

年度最佳女歌手

蔡健雅

15

年度最佳男歌手

陶喆

16

年度全能艺人

陶晶莹
最受欢迎系列 (网上投选)
| | |
| --- | --- |
| 奖项 | 歌手 |
| 年度最受欢迎新人 | 王诗安 |
| 年度最受欢迎组合/乐队 | 五月天 |
| 年度最受欢迎创作歌手 | 严爵 |
| 年度最受欢迎女歌手 | 田馥甄 |
| 年度最受欢迎男歌手 | 黄鸿升 |
年度各电台点播冠军
电台

歌手

歌曲

CITYFM

城市之音

张靓颖

终于等到你

加拿大中文电台

李宗盛

山丘

新加坡

UFM1003

龚芝怡

幸福不难

洛杉矶

AM1300

中文电台

陶晶莹

真的假的

HIT FM

联播网

林俊杰

修炼爱情

MusicRadio

音乐之声

张杰

爱,不解释

MY FM

Bell

宇田

雨是甜的
年度各电台推崇大奖
电台

歌手

CITYFM

城市之音

魏晨

加拿大中文电台

Olivia Ong

新加坡

UFM 1003

龚芝怡

洛杉矶

AM1300

中文电台

丁噹

HIT FM

联播网

Bii

毕书尽

MusicRadio

音乐之声

尚雯婕

MY FM

张智成
年度20大金曲
(排名不分先后)
歌曲

歌手

好的情人

严爵

手掌心

丁噹

单恋曲

蔡健雅

我好想你

苏打绿

等等

Olivia Ong

超有感

黄鸿升

渺小

田馥甄

爱的海洋

曲婉婷

爱投罗网

罗志祥

COME BACK TO ME

Bii

毕书尽

真的假的

陶晶莹

第三个心愿

东于哲

修炼爱情

林俊杰

记得是最好的遗忘

张智成

一念之间

陶喆

内伤

林健辉

致青春

王菲

伤心的人别听慢歌(贯彻快乐)

五月天

天使之翼

杨丞琳

稳稳的幸福

陈奕迅

—
Follow me on Facebook, Twitter, Instagram for more live updates!
Facebook : https://www.facebook.com/smartkong
Twitter : https://twitter.com/saimatkong
Instagram : http://instagram.com/saimatkong

Comments
comments