SAY YES TO RIO!
Football Fever is here again! Want to win a paid trip to watch the final live in Brazil? You stand a chance with the official launch of YES TO RIO #YesToRio!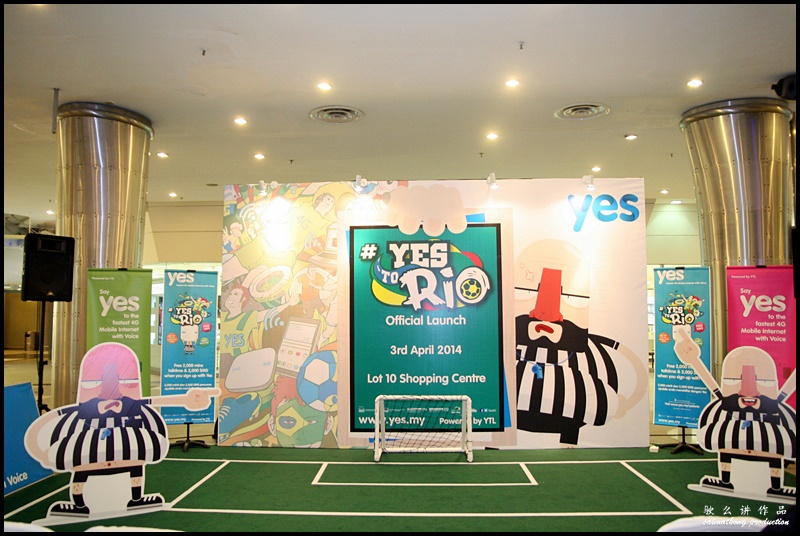 Come football season, I'm reminded of Ricky Martin's song "Ole, Ole, Ole". No idea why but the song just come to mind whenever football fever is here! Hehe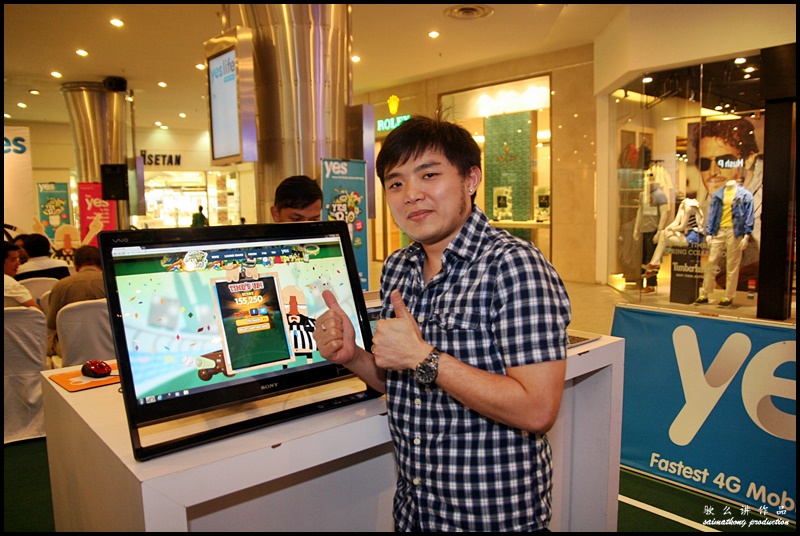 Recently I was invited by Nuffnang Malaysia to attend the official launch of #YesToRio at Lot 10 Shopping Centre. YTL Communications Chief Executive Officer Wing K. Lee and Deputy Chief Executive Officer Jacob Yeoh were present to officiate #YesToRio.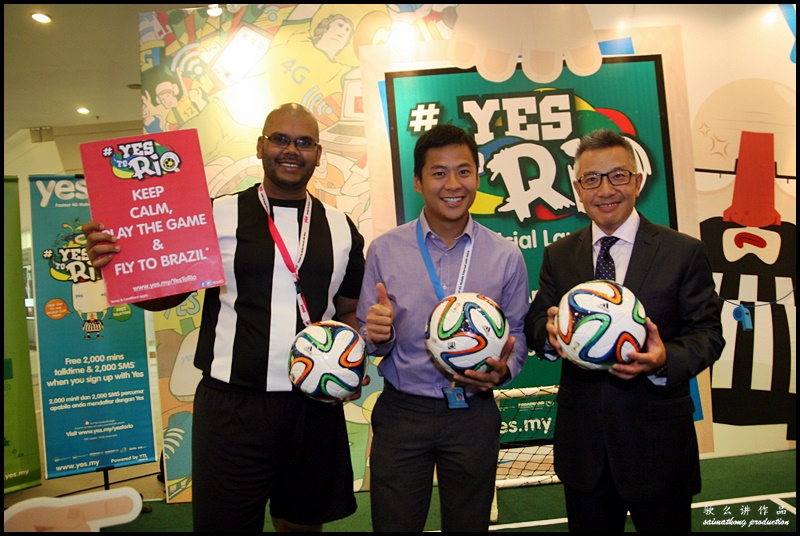 (from left to right) Bob the Referee, YTL Communications Deputy CEO Jacob Yeoh and YTL Communications CEO Wing K. Lee at the launch of #YesToRio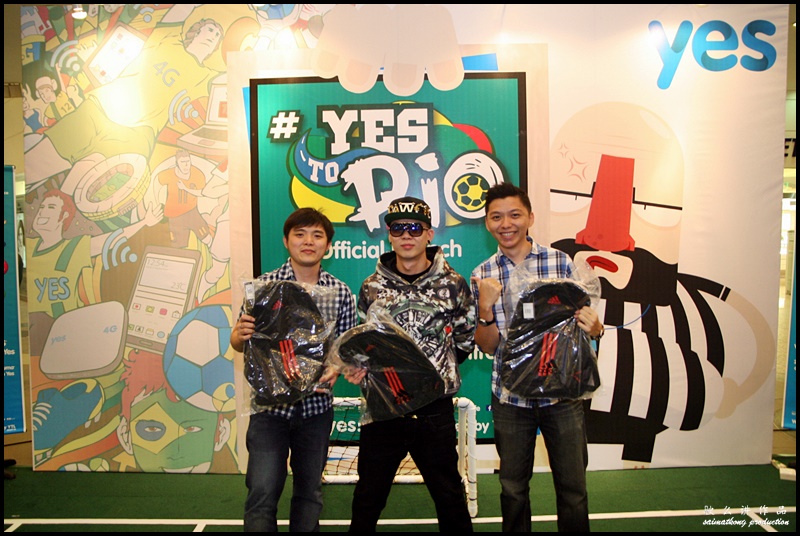 There was a small competition held between media friends at the launch and I won myself a prize 🙂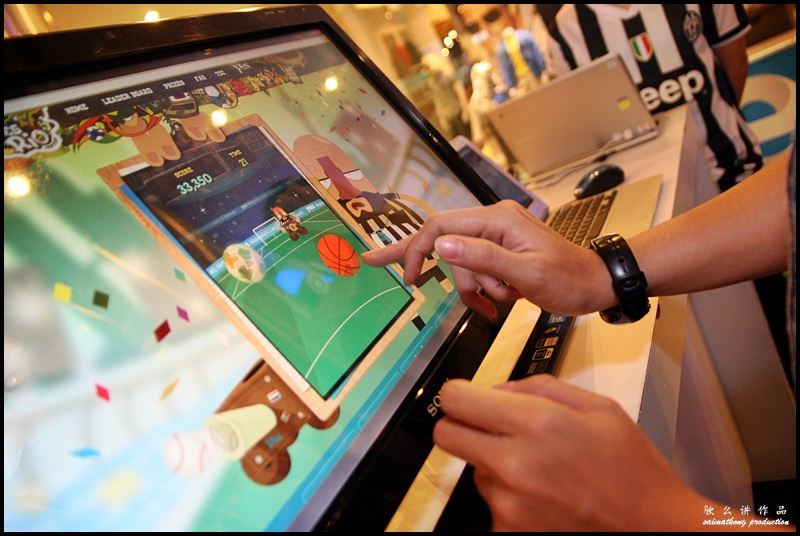 #YesToRio is a new online game contest by Yes to celebrate the football fever with all Yes subscribers and fellow Malaysians. To celebrate the football fever, Yes is giving away fabulous prizes and 2 lucky grand prize winners will go on an all-expenses paid trip to watch the World Cup Final in Rio De Janeiro, Brazil this July 2014. Wahhhhh….so nice kan? What contest??? When??? How to win??? Calm down…..calm down…..the details are just right below :-
When is the contest period?
The nationwide online football game contest runs from 18th March 2014 to 31st May 2014. The top 30 high scorers will be invited to #YesToRio final event, to be held in the middle of June 2014.
How do I participate in the #YesToRio contest?
Not a YES subscriber? Worry not coz YES very nice, they allow both YES and non-YES subscribers to participate in the Contest, which consists of three (3) games to be played throughout the Contest Period, and will culminate in the "#YesToRio" Finals Event for the shortlisted participants.
To participate, just take the following steps: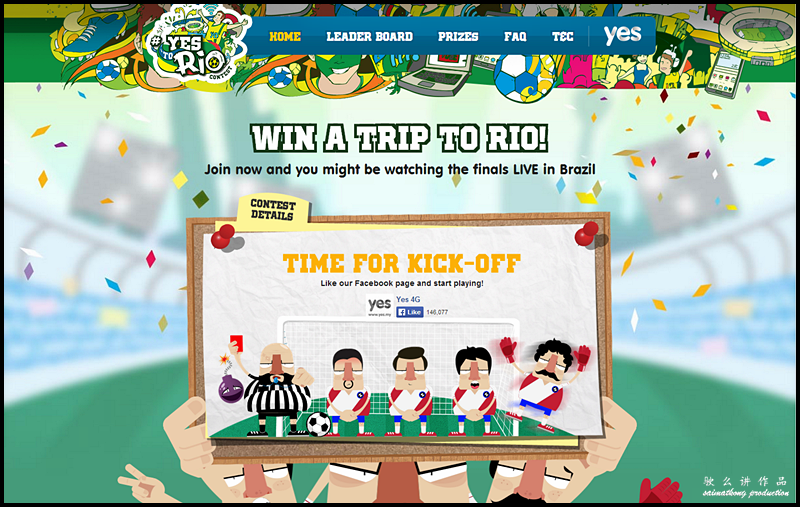 Step 1: LIKE the Yes 4G Facebook Page. The LIKE status must be maintained throughout the entire duration of the Contest Period;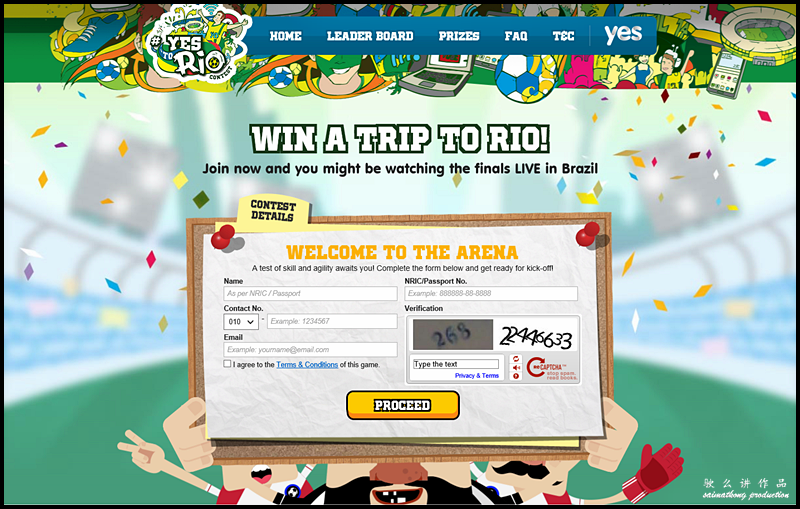 Step 2: Register as a player and provide your details such as YES ID (if any), Name, Contact Number, Email Address, IC/Passport. Make sure your details are correct cox if you win and they can't contact you, then your prize will go to someone else. After completing your details, you can start playing the fun games.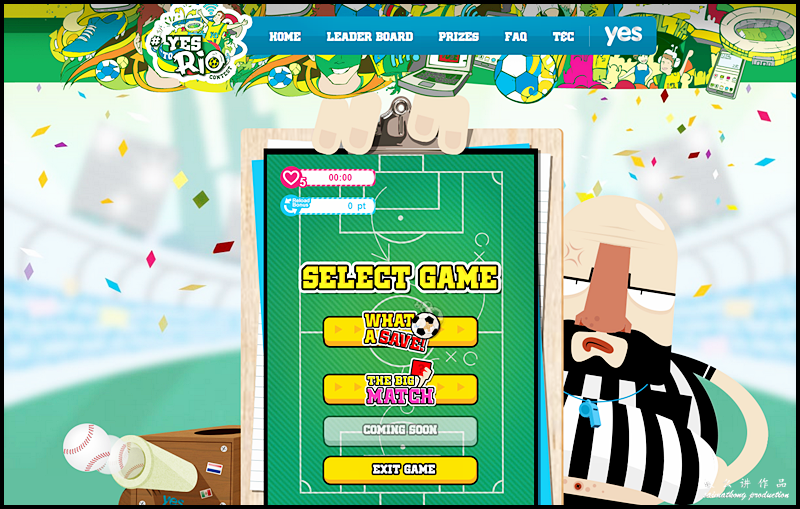 Step 3: Remember to PLAY ALL 3 GAMES which will be released during the Contest Period as follows: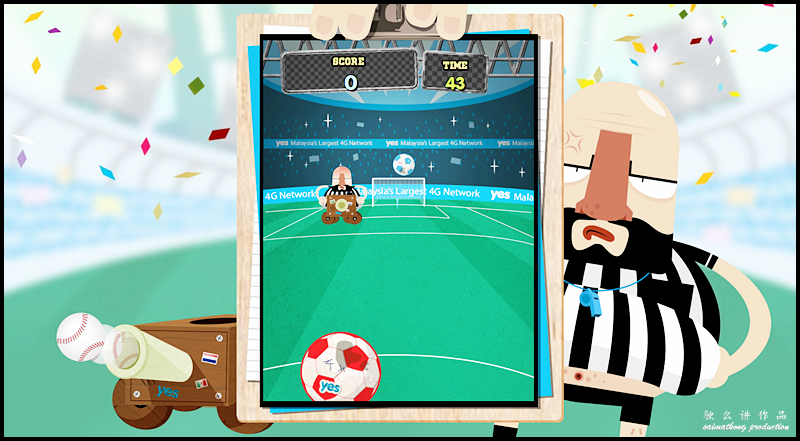 1. What A Save! – released on 18th March 2014 at 12:00am;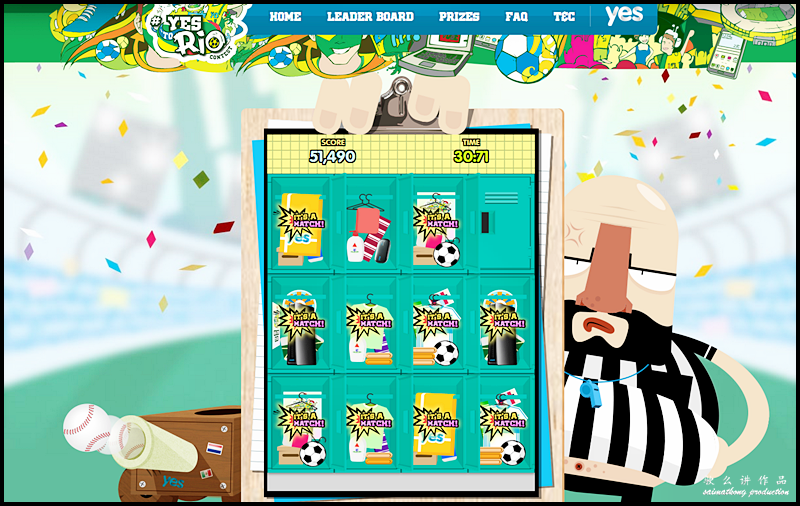 2. The Big Match – released on 16th April 2014 at 12:00pm;
3. G-G-G-Goal – releasing on 7th May 2014 at 12:00pm.
Your objective is to score as many points as you can against the mean and cranky Bob the Referee.
You can play 2 of the Games now! Start practicing now and get yourself to the top scores!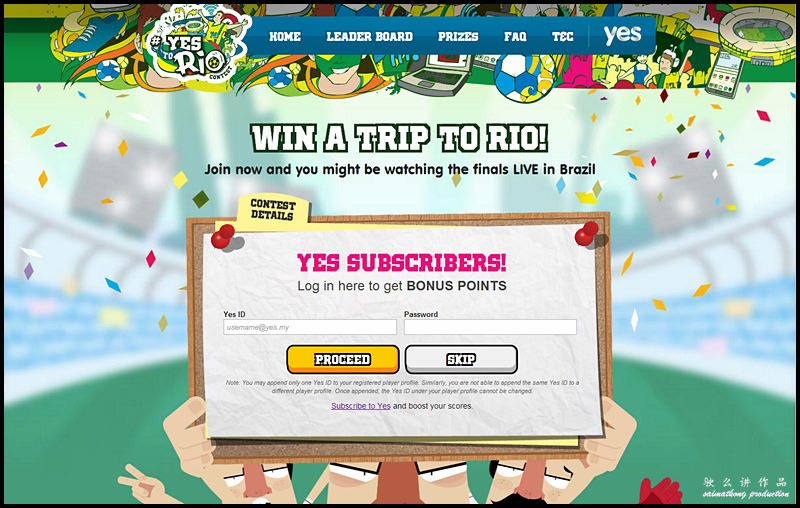 Any exclusive perks for existing YES subscriber when they play #YesToRio games?
If you're a Yes subscriber, you'll get an immediate additional 10% bonus points for every round on top of your score points, and reload bonus points for each purchase of Yes Credit, Valuepack, Datapack, Campuspack and SuperBoosterTM. That simply means higher chances of winning eh!!! Double yay!
How many times can I play these games?
You have 5 attempts for each time you start to play. Once you have used up your 5 attempts, you will have to wait an hour before you receive another 5 attempts. So, my suggestion is to have breaks in between by playing 5 times when you wake up, 5 times when you reach office, 5 times during lunch hour, 5 times after you finish work, 5 times after dinner and another 5 times before you to bed. Remember that your goal is to score as many points as you can against the mean and cranky Bob the Referee.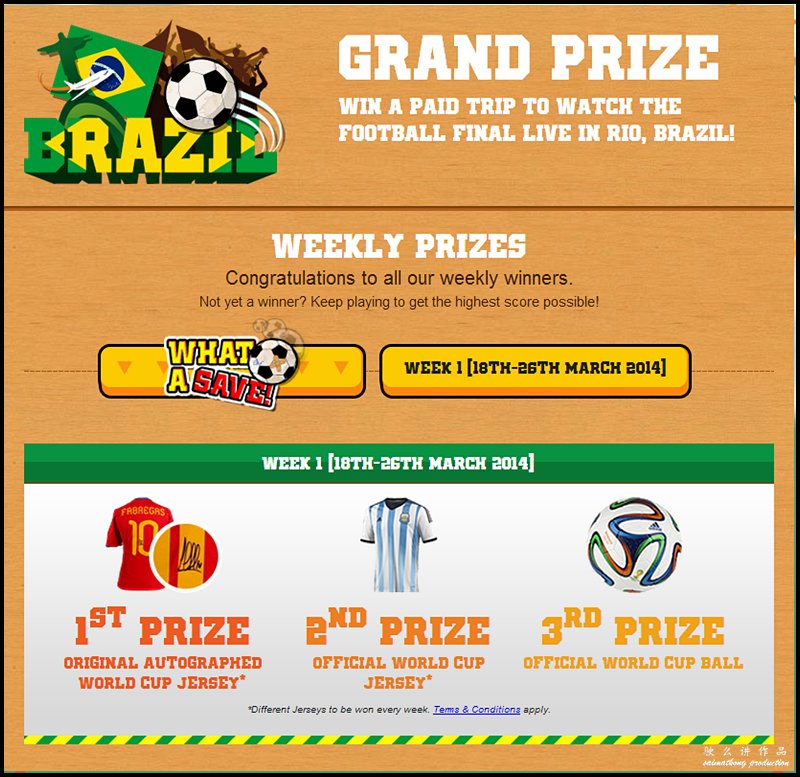 What are the prizes to be won?
There are both grand and weekly prizes to be won.
Grand Prize : Two lucky winners will get an all-expenses paid trip to watch the World Cup Final in Rio De Janeiro, Brazil this July 2014.
Weekly Prizes : If you're the top 3 high scorers for the game of the week, you'll win attractive prizes like Original Autographed World Cup Jersey, Official World Cup Jersey and Official World Cup Ball.
"Here we go, ale, ale, ale
Go, go, go, ale, ale, ale
Tonight's the night we're gonna celebrate
The cup of life, ale, ale, ale
We're gonna get it
Do you really want it
We're gonna get it
Do you really want it
Yeah"
So tell me, do you really want to watch the Football Final live in Brazil? Do you really want it? If YES, then you're gonna get it!
Whatcha waiting for? Join now and play ALL 3 GAMES and who knows, you might win yourself a trip to Rio!
For more details, visit : www.yes.my/yestorio
—
Follow me on Facebook, Twitter, Instagram for more live updates!
Facebook : https://www.facebook.com/smartkong
Twitter : https://twitter.com/saimatkong
Instagram : http://instagram.com/saimatkong

Comments
comments