The Xperia Z1 is arguably Sony's most accomplished smartphone to date, offering an incredible power, a pin-sharp HD screen, amazing photographic prowess and a stylish design. Xperia Z1 is all wrapped up in a case which is both water and dust resistant.

Xperia™ Z1 – all the power and smartness from Sony in a premium smartphone
When I first laid eyes on the new Sony Xperia Z1, I must say that I'm impressed! With better specs and a brand new look, can't find reasons not to love this new Sony Xperia Z1.
Sony has wow smartphone users and Android fans with the launch of Xperia Z earlier this year, now this new Xperia Z1 will put Sony as a top phone maker.
Sony Xperia Z1 major specifications:-
5.0", 1920 x 1080 eIPS LCD display (441 ppi)
Qualcomm Snapdragon 800 SoC
2.3 GHz quad-core CPU, Adreno 330 GPU, 2GB RAM
16 GB internal storage, microSD card slot
20.7 MP camera, 1/2.3" sensor, f/2.0 lens, 1080p video
IP58 water resistance
3,000 mAh, 11.4 Wh battery
LTE, Wi-Fi a/b/g/n/ac, Bluetooth 4.0, NFC
Android 4.2.2 'Jelly Bean'
170 grams, 8.5mm thick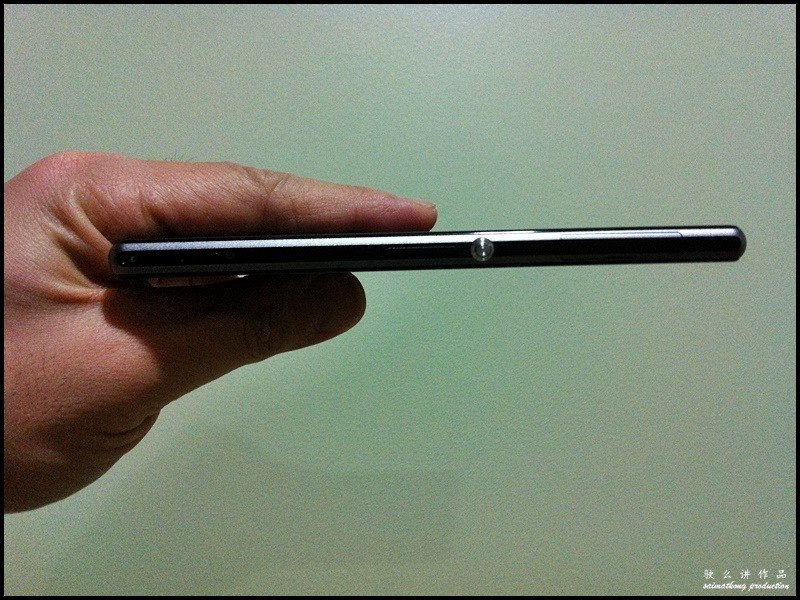 Just like the Xperia Z, the Xperia Z1 is also water-resistant and dust-proof. One of the main highlight of Xperia Z1 is the 20.7 megapixel camera, paired with Sony's in-house G lens and its image processing algorithm called, BIONZ.
The new Xperia Z1 also comes with Sony's new camera user interface, dedicated shutter button, a big and beautiful Full HD 5-inch LCD display, a Snapdragon 800 processor backed by the Adreno 330 GPU, 2GB of RAM, 3000mAh worth of battery and has an aluminium and glass unibody design.
The Sony Xperia Z1 is available in three colours – white, black and purple.
Unboxing the Sony Xperia Z1 – what's inside the box?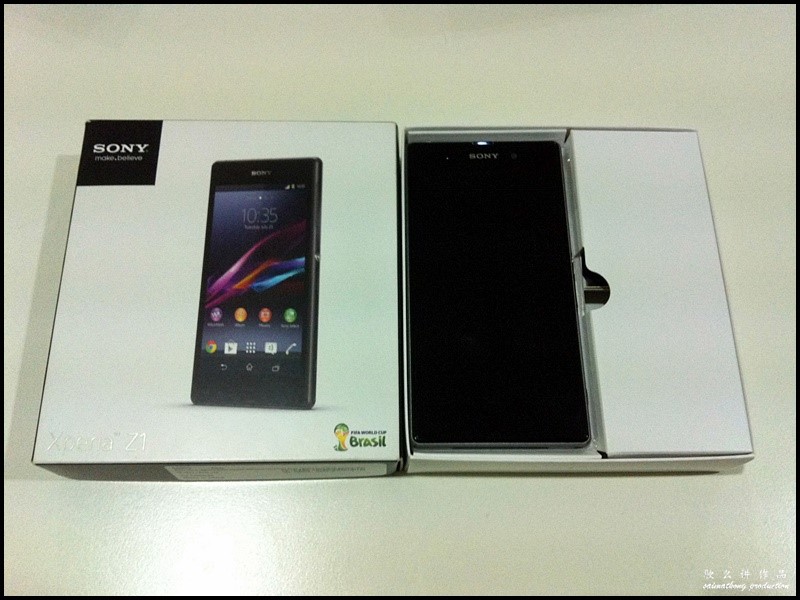 Inside the Sony Xperia Z1 box, you will get:-
– Basic device – Sony Xperia Z1
– Micro USB cable, and
– Wall charger.
Sony Xperia Z1 DESIGN
The Sony Xperia Z1 has an impressive 5-inch LCD display screen, with scratch-resistant glass panels on the front and back. With a measurement of 144 x 74 x 8.5mm, this Xperia Z1 is considered a slim device. The aluminum and glass body no doubt makes the Xperia Z1 look good but it also makes the phone heavier than other smartphones.
Sony Xperia Z1 : Waterproof and Weatherproof
What's the most outstanding about this Sony Xperia Z1 is waterproof and weatherproof! It's kinda cool that you can wash your smartphone 🙂

Sony Xperia Z: waterproof and chocolate-proof?
Overall Conclusion
Just a quick glance at the Xperia Z1 you will know that this new Sony flagship is a premium device. With glass on both front and back and a piece of aluminium wrapped around the edges, this Xperia Z1 is truly gorgeous and feels solid holding it on the hand. The dust and water resistant feature provides a certain degree of ruggedness and it means you can actually take photos and videos underwater.
The physical two-way shutter button and combined with the angular shape of the device makes the Xperia Z1 feels like a compact camera when taking pictures than other smartphones we've seen in the market. A long-press of the shutter button gives you quick access to the camera app so that you could capture the decisive moment.
Nevertheless, the Sony Xperia Z1's reliable exposure and decent image quality in its 8MP mode make it an ideal point-and-shoot smartphone for those users who prefer all-automatic shooting. Thanks to its physical shutter button, quick camera access and angular, "camera-friendly" shape it's one of the awesome smartphone cameras.
—
Follow me on Facebook, Twitter, Instagram for more live updates!
Facebook : https://www.facebook.com/smartkong
Twitter : https://twitter.com/saimatkong
Instagram : http://instagram.com/saimatkong

Comments
comments