Harajuku and Shibuya are the two most lively and happenings districts in Tokyo. We spent one full day exploring Harajuku and Shibuya before heading to Shinjuku (one of Tokyo's vibrant district) at night.
Harajuku (原宿) is known for Japanese youth culture (cosplay) fashion with lots of cute things and also a variety of delicious desserts. For shopping, there are many shops lined on both sides of Harajuku's famous Takeshita Dori (Takeshita Street 竹下通り).
Shibuya (渋谷) is known as one of the busiest districts in Tokyo. Two of the popular landmarks in Shibuya are Shibuya Crossing and Hachiko Statue.
Shinjuku (新宿) is one of the vibrant districts in Tokyo with many skyscrapers and also a shopaholic heaven with many department stores like Isetan, Takashimaya and more.
Here are the highlights of Shibuya, Harajuku & Shinjuku :-
HARAJUKU (原宿)
EXPLORE TAKESHITA STREET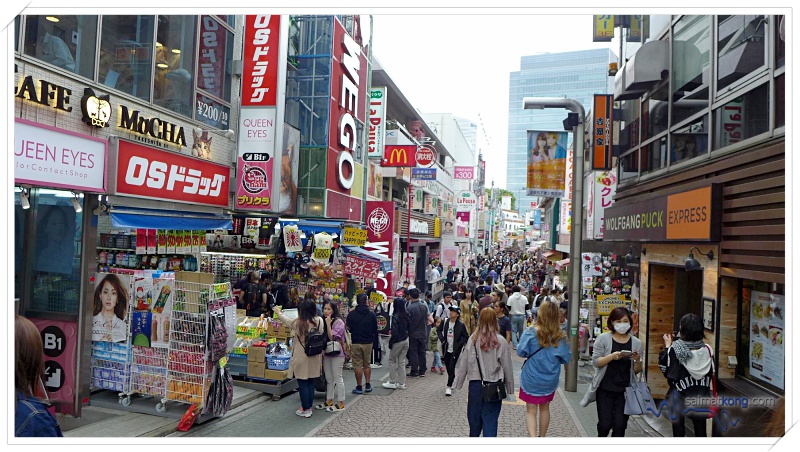 Takeshita Street is one of the busiest shopping street in Tokyo lined with with many boutiques and cafes offering cute (kawaii), colorful, fun and cool fashions and things.
SHOP AT DAISO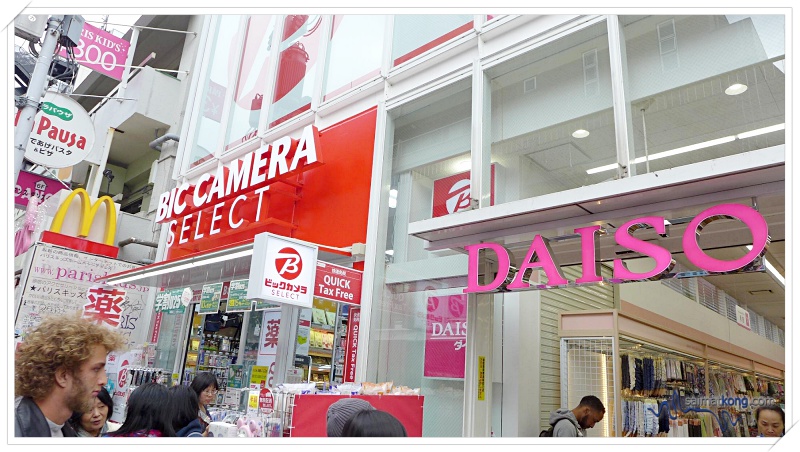 When in Harajuku, shop at Daiso where everything here are ¥100.
This Daiso is one of the largest 100 Yen stores in Tokyo. You can find a wide range of cool, cute and unique things here at Daiso and best of all, everything is priced at 100yen.
EAT DELICIOUS DESSERT & SNACK
Angel's Heart
A visit to Harajuku is not complete trying the crepes. The three famous crepe shops in Harajuku are Angel's Heart, Marion Crepes, and Santa Monica Crepes.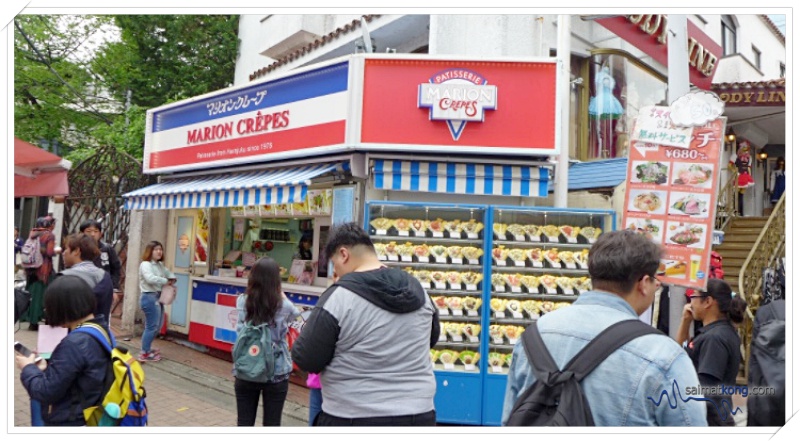 Marion Crepes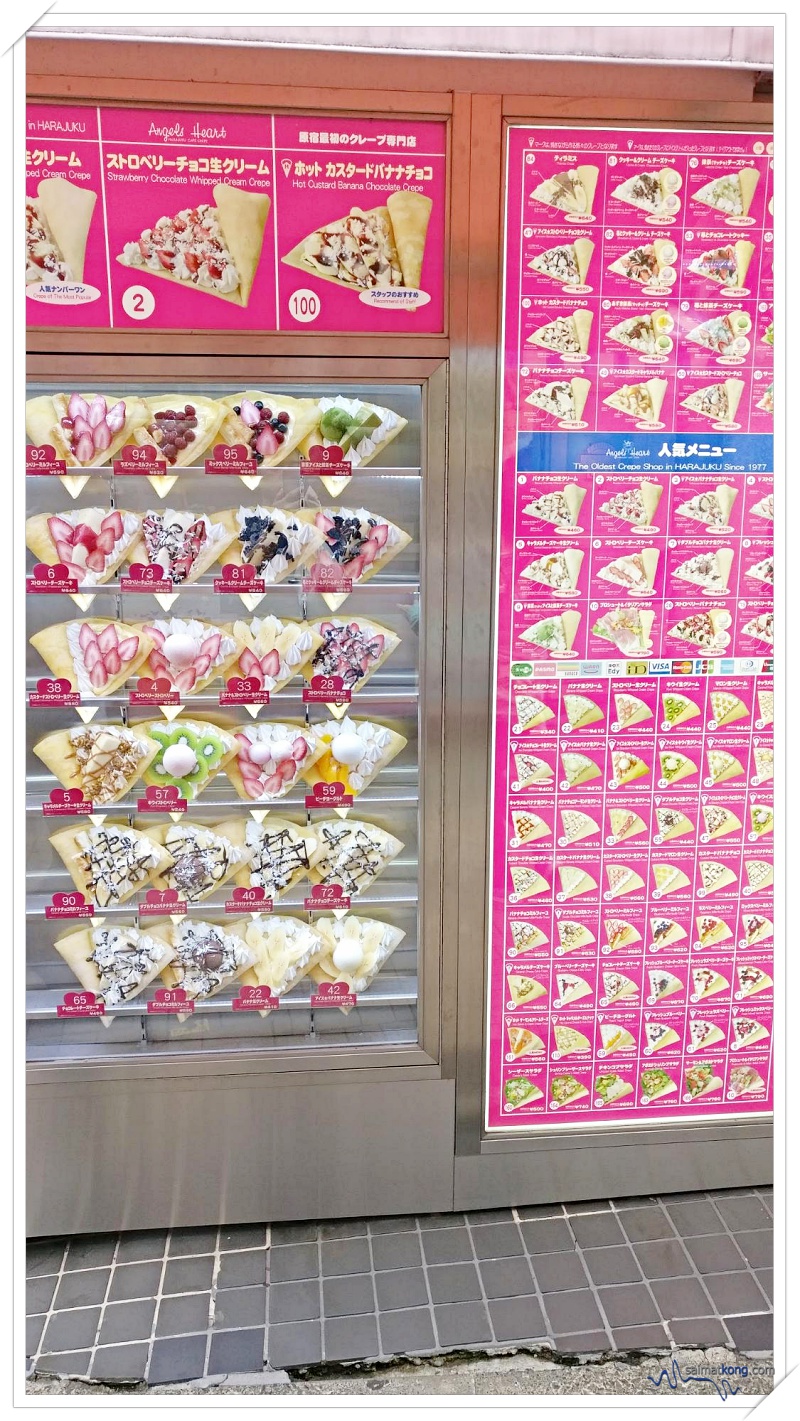 With so many choices of toppings and flavors on the menu, which one to choose? We got one with strawberry, strawberry sauce, whipped cream and chocolate ice cream.
Rainbow Sweets Harajuku
Walk in Rainbow Sweets Harajuku to get a colourful and sweet treats like Rainbow Roll Ice Cream and Rainbow Soft Serve.
Calbee+
Love potato chips? Grab a freshly fried potato chips and Poterico for snacks from Calbee Plus Harajuku.
There are a variety of flavors to choose from. My personal favorite is the Salt & Butter and Poterico sticks. So yummy!!!
Double Cheese Calbee chips
Salt & Butter Calbee Chips
These delicious potato chips is ideal as souvenirs for family and friends. Grab a box or two back.
SHOP FOR CUTE THINGS
Line Friends Store
For fans of Brown the bear, Cony the rabbit and their animated friends, you should visit Line Friends flagship store at Harajuku. You can get a variety of cute things featuring these cute characters from T-shirts, coffee mugs, headphones, stationary to plush toys from here.
Kiddy Land is a store selling all sorts of character-themed stuffs. They have everything from plush toys to stationary, bags and collectibles, perfect as souvenirs for little kids or even adults who are fans of Hello Kitty, Snoopy, Doraemon, Rilakkuma and more.
Random shoutout : Vending machines are almost everywhere in Tokyo offering variety of drinks.
SHIBUYA (新宿)
EXPLORE SHIBUYA
One of the comfortable ways to move around Shibuya is via the Hachiko Bus. You can visit places like Meiji Shrine, Yoyogi Park comfortably. The fare price is 100 yen per ride.
Aogaeru Tourist Information Center
Shibuya Crossing

WORLD'S BUSIEST INTERSECTION : Shibuya Crossing (渋谷スクランブル交差点)
Hachiko Memorial Statue
Also, do visit Yoyogi Park, a very beautiful picnic spots in Tokyo. It's also a very popular Sakura viewing spot in Tokyo. For shopping, Shibuya 109 is a shopping paradise for Japanese fashion. I love visiting Tokyu Hands in Shibuya coz it has everything in one place. From stationery, beauty products to household products, they have basically everything!
SHINJUKU (新宿区)
TAKE A NIGHT STROLL IN SHINJUKU AREA
Shinjuku is a lively place whether it's day or night. It's always crowded with people everywhere. There are so many department stores around (Isetan, Lumine, Tokyu Hands, Takashimaya) for you to shop till you drop and also many restaurants and cafes should you feel hungry and need a rest. We took a night stroll around Shinjuku area and had such a rewarding experience of this amazing place!
Comments
comments