Chinatown's Petaling Street is one of KL's popular tourist destinations. This is the place for you to shop for anything from t-shirts, souvenirs, shoes, bags and perfumes. There are a great selection of Chinese food to eat here at Chinatown. So, be sure to visit Petaling Street with an empty stomach.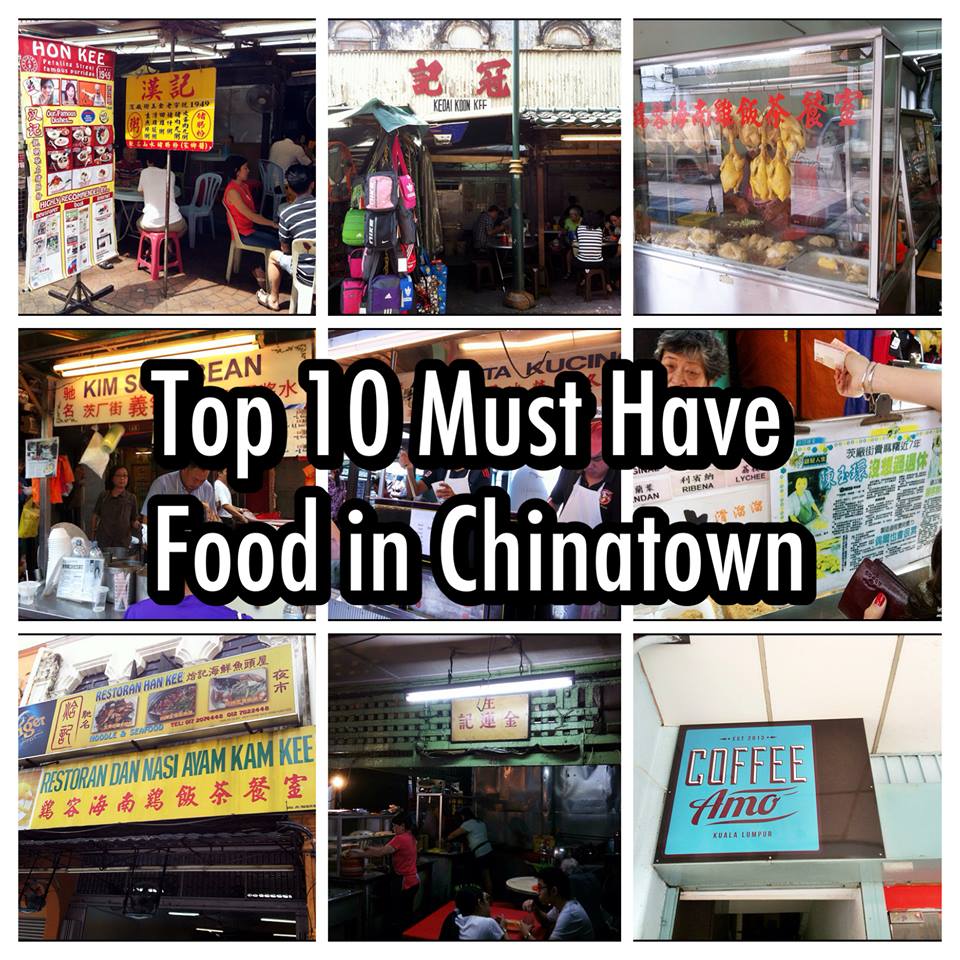 Sze Ngan Chye Salted Roast Duck 四眼仔烧鸭
Sze Ngan Chye 四眼仔 (literally means 4-eyed boy in Cantonese), is famous for its delicious Roast Duck and Duck Feet Parcel (duck feet and duck liver wrapped with intestine and coated with sweet caramelised sauce). Sze Ngan Chye's roast duck is perfectly roasted with juicy and flavorful meat and crispy crackling skin. There's always a queue of people waiting to take away the roast duck. The queue is usually much longer during major Chinese festivals.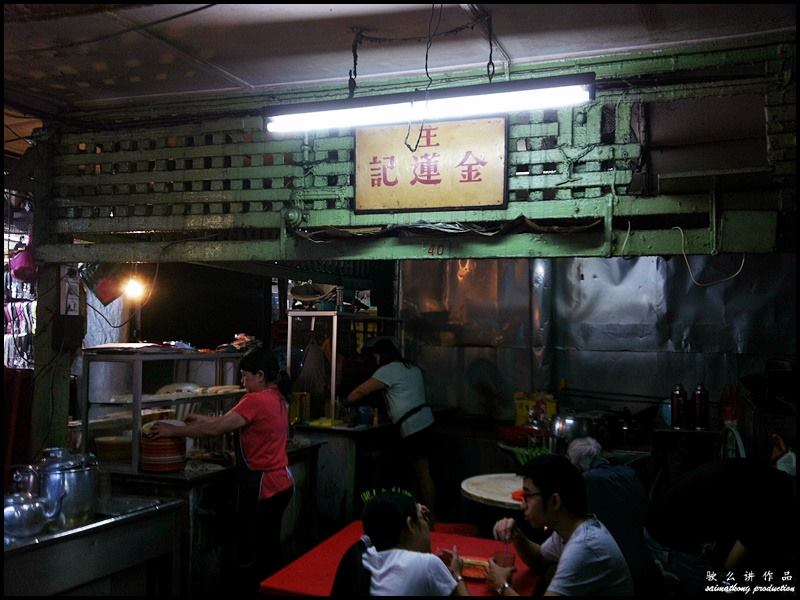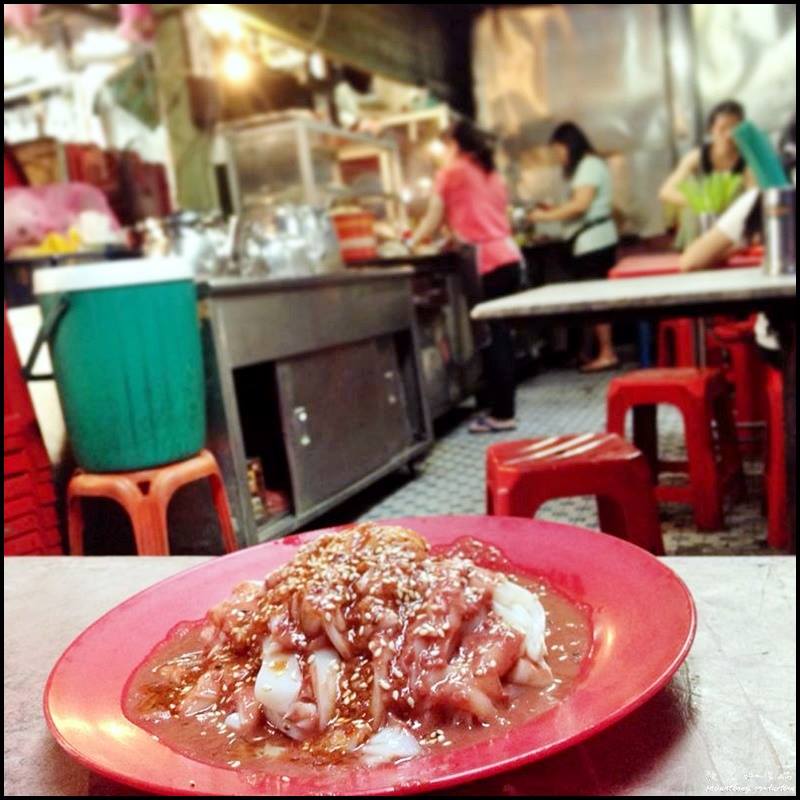 Kim Lian Kee Chee Cheong Fun 金莲记豬腸粉
This Kim Lian Kee Chee Cheong Fun 金莲记豬腸粉 stall serves Cantonese style chee cheong fun with just sweet sauce and chili sauce topped with a sprinkle of sesame seeds. Though it's just plain rice rolls without any 'yong liu', it's absolutely delicious. The business is so good that the chee cheong fun is usually sold out by noon.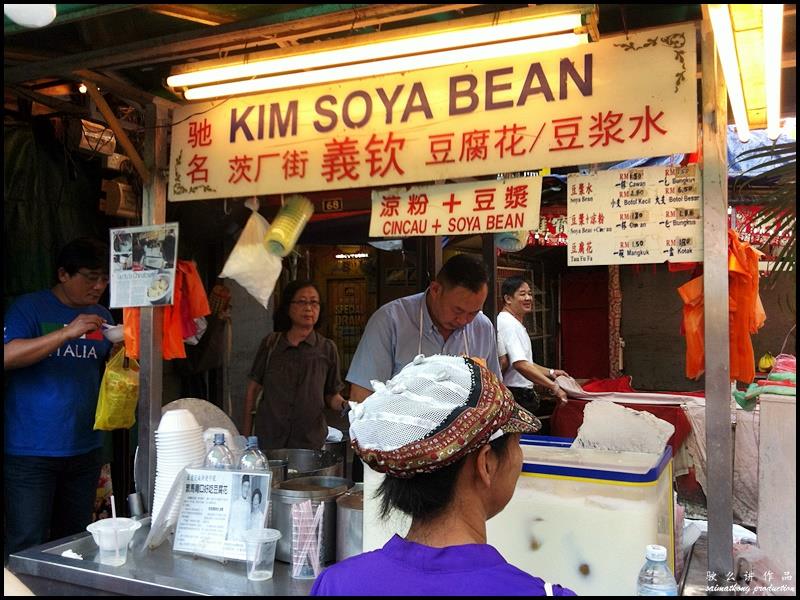 Kim Soya Bean 义钦豆腐花 / 豆浆水
Kim Soya Bean 义钦豆腐花 / 豆浆水 stall is located at the cross junction in Petaling Street and right outside Kim Lian Kee Restaurant which is famous for Hokkien Mee. This soya bean bean stall is famous for its Soya Bean and Tau Fu Fah that even our former PM, Tun Dr Mahathir Mohamad loves the soya bean, as shown from newspaper clippings pasted on the stall. I personally like the Tau Fu Fah which is soft and smooth.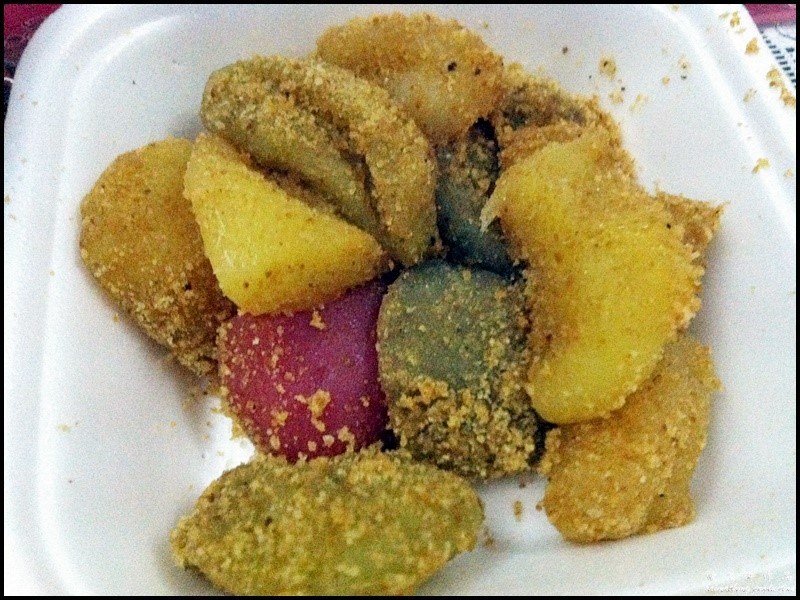 Madam Tang Mua Chi Stall 麻芝皇后陳玉環
This Mua Chi stall is located right opposite the famous Kim Soya Bean stall in Petaling Street. The owner, Madam Tang is a very friendly old lady. Her mua chi are soft, chewy and coated with generous amount of grounded peanuts. The mua chi are available in a variety of flavors such as ribena, lychee, black sesame, pandan and mango.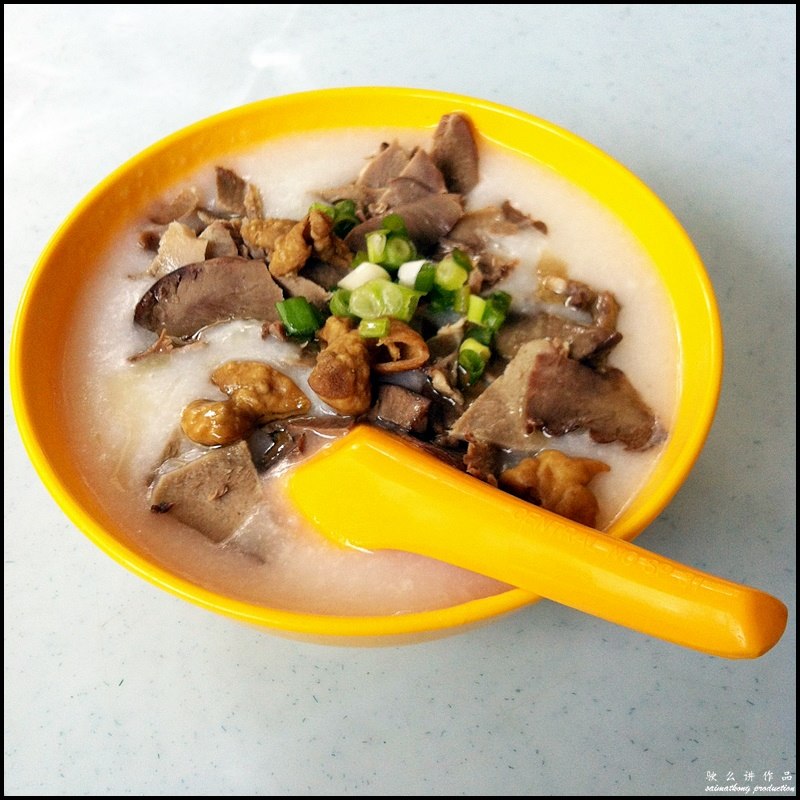 Hon Kee Porridge 漢記靚粥
If you want to have a hot bowl of porridge for breakfast, try the famous original Hon Kee Porridge stall 漢記靚粥 in Petaling Street which has been around for more than 60 years. Hon Kee Porridge offers a wide variety of porridge such as Raw Sliced Fish Porridge, Pork Innards Porridge, Pork Meatballs Porridge, Steamed Chicken Porridge, Century Egg Porridge, Frog Leg Porridge and more. Their porridge which is silky smooth on texture is really delicious. Oh, do order a plate of fried crullers (you tiao) to go with your porridge. Business is so good that they set-up more tables outside Hong Leong Bank to accommodate more patrons.
Air Mata Kucing Stall
This famous Petaling Street Air Mata Kucing Stall is located right in front of Hong Leong Bank. Their famous Loh Han Guo with Longan drink is sweetened with rock sugar. This drink is very refreshing and is perfect to drink on a hot day. This Petaling Street Air Mata Kucing stall which is owned by Mou Tak Ding Sdn. Bhd. now have branches in Mid Valley and Subang Carrefour.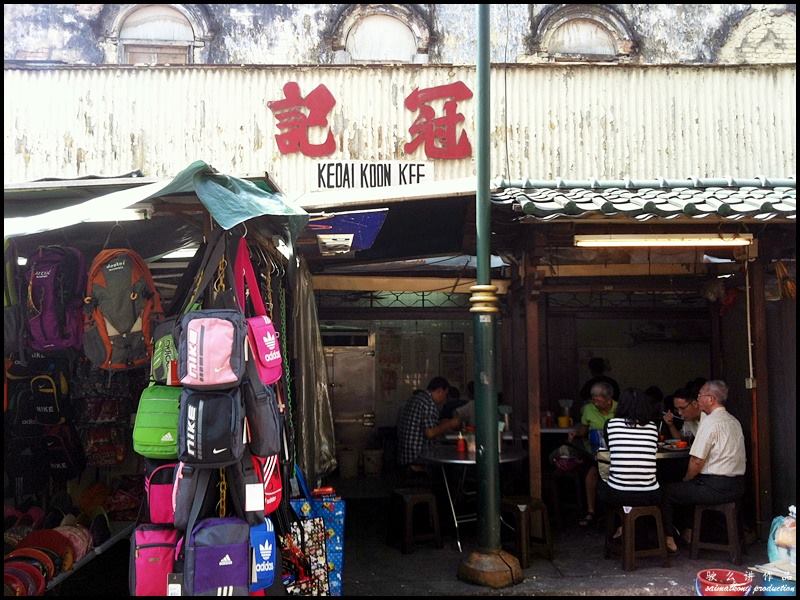 Koon Kee Wantan Mee (冠记云吞面)
Kedai Koon Kee is well known for its Wanton Noodles served with BBQ pork, choy sum and wantons. The other toppings include chicken slices, roasted pork and braised chicken feet with mushroom. This Koon Kee Wantan Mee shop is located just next to the famous Hon Kee Porridge in Petaling Street. The noodles are thin and light with a springy texture. By far, I still think Koon Kee serves one of the best wantan mee in KL.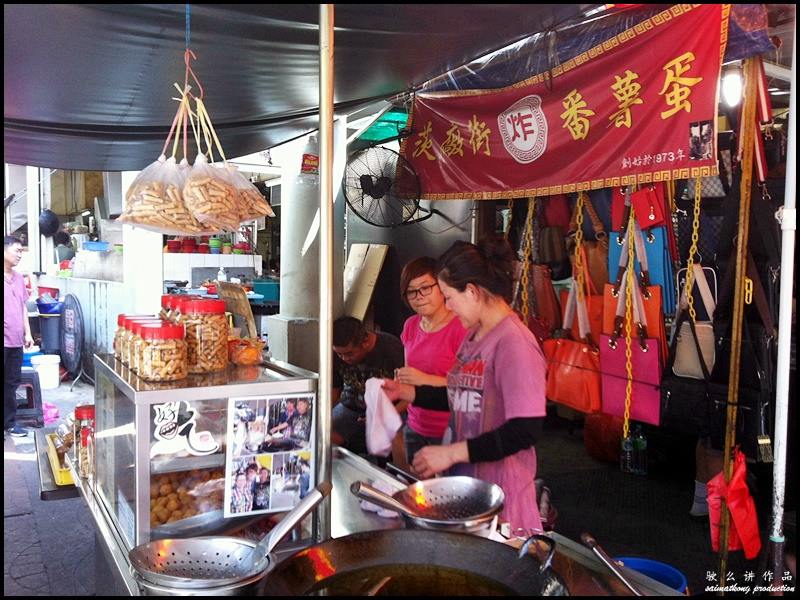 Sweet Potato Balls
This famous sweet potato balls stall is located opposite Koon Kee Wan Tee Mee (lane behind Hong Leong Bank and Tang City Food Court). These sweet potato balls make a good snack and kids love them. I'll grab a packet of the potato balls whenever I visit Petaling Street. The sweet potato balls are crispy and chewy on the outside, mushy inside. I think the sweet potato balls here are better than the ones at Fong Lye Taiwanese Restaurant.
Kam Kee Hainanese Chicken Rice 鸡容海南鸡饭茶餐室
Restoran Dan Nasi Ayam Kam Kee 鸡容海南鸡饭茶餐室 is located few shops away from Nam Heong Chicken Rice in Jalan Sultan, Petaling Street. Both Kam Kee (non air-conditioned) and Nam Heong (air-conditioned) serve the best Hainanese chicken rice in Petaling Street (Chinatown). Kam Kee serves both free range and farm range chicken and other side dishes like bean sprouts, vegetables, taufu and more. This is my favorite place to go for Hainanese chicken rice.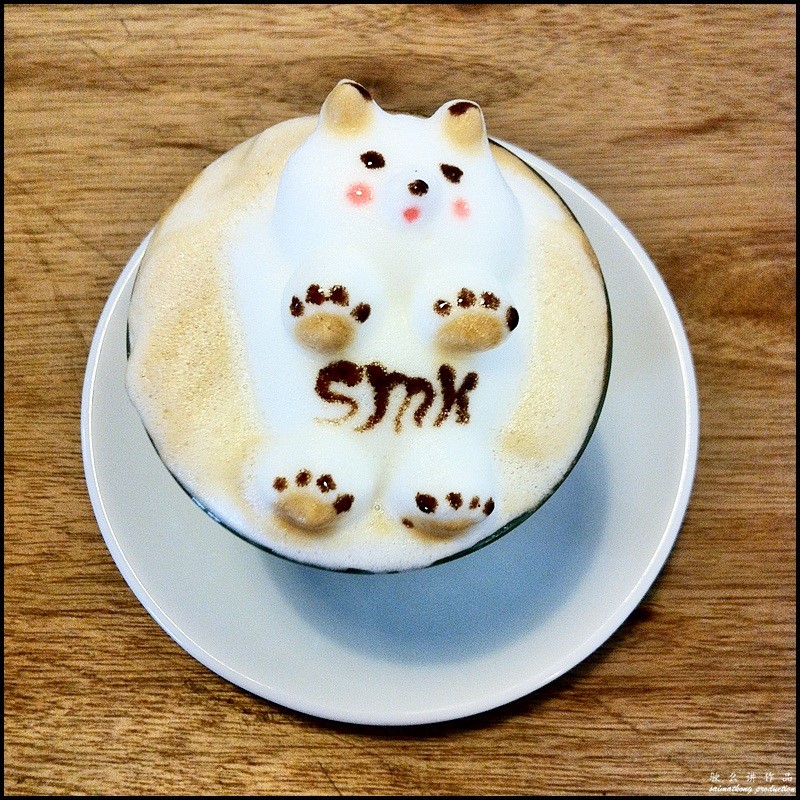 Coffee Amo
If you're looking for a place to chill and relax after walking around in Petaling Street (Chinatown), Coffee Amo is the place for you. This small and cosy cafe is famous for both chalkboard art on its wall and 3D coffee art. Besides coffee, Coffee Amo serves a selection of desserts such as cakes and waffles with ice cream to go with your drinks.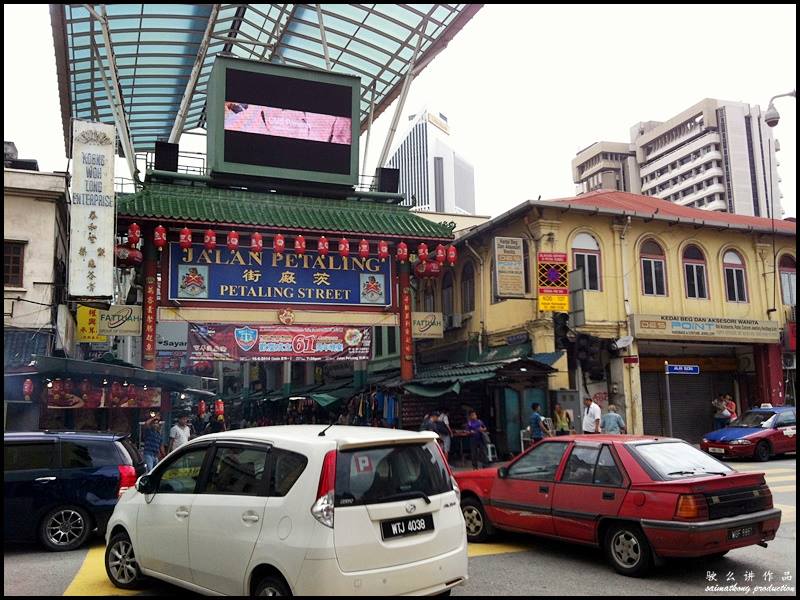 Top 10 Must-Have Foods in Petaling Street 茨厂街 (Chinatown)
Comments
comments