One of the thing I miss most about Bangkok is the Thai street food (besides shopping) coz Thai Street Foods are fast, casual, delicious, affordable and you'll be spoiled for choices! However, traditional and authentic Thai food are hard to find in Malaysia as most Thai restaurants are commercialized and Thai dishes are cooked to suit local taste. So when I knew about Lai Thai Market in Section 17, I was very eager to try it out.
Lai Thai Market is located along the same row as MM Cafe at Happy Mansion in Section 17, PJ.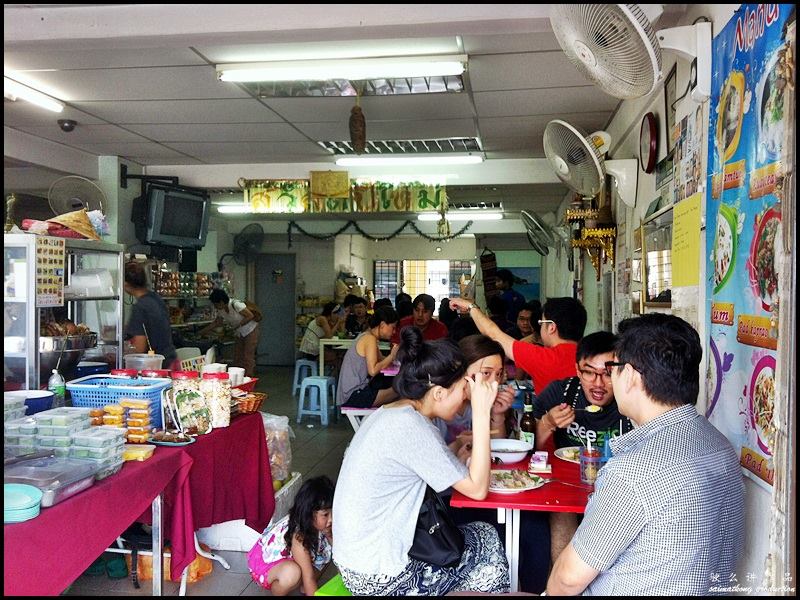 The interior is set up like a grocery store selling Thai imported food stuff with a few rows of tables and chairs for dining. So basically half section of the shop is a restaurant while the other half is a mini market selling a variety of Thai goodies like snacks (Koh Kae Peanuts & Lay's Potato Chips), Mama Brand Thai Instant Noodles, sauces, glutinous rice, vegetables, fruits and more.
The place can get quite cramped, stuffy and hot, so be sure to arrive early to secure a seat or be prepared to wait for a table during lunch hours, especially on the weekend.
Spotted a huge pot of stewed pork knuckle on the food counter. Stewed Pork Leg with Rice (khao kha moo) is a popular Thai dish which is available everywhere in Thailand. Looks real delicious, I'm gonna re-visit to try this.
Most of the dishes are printed with pictures on the simple one-page menu. Lai Thai Market serves a variety of famous Thai Street Foods such as pad thai, som tam (papaya salad), fried rice, green curry, tom yam, fried basil leaves with pork, wide rice noodle with clear soup, stewed pork leg on rice (khao kha moo) and more.
Tom Yum
This spicy and sour tom yum soup contains ingredients like prawns, fish fillets, straw mushrooms, tomato, kaffir lime leaves and garnished with chopped coriander. This is one of my favorite Thai dish.
Pad Thai
This stir fried rice noodle is a popular but common Thai dish. You can't go wrong with ordering this! Just sprinkle condiments like pickled chili peppers, crushed peanuts & chili flakes on top and mix well before eating.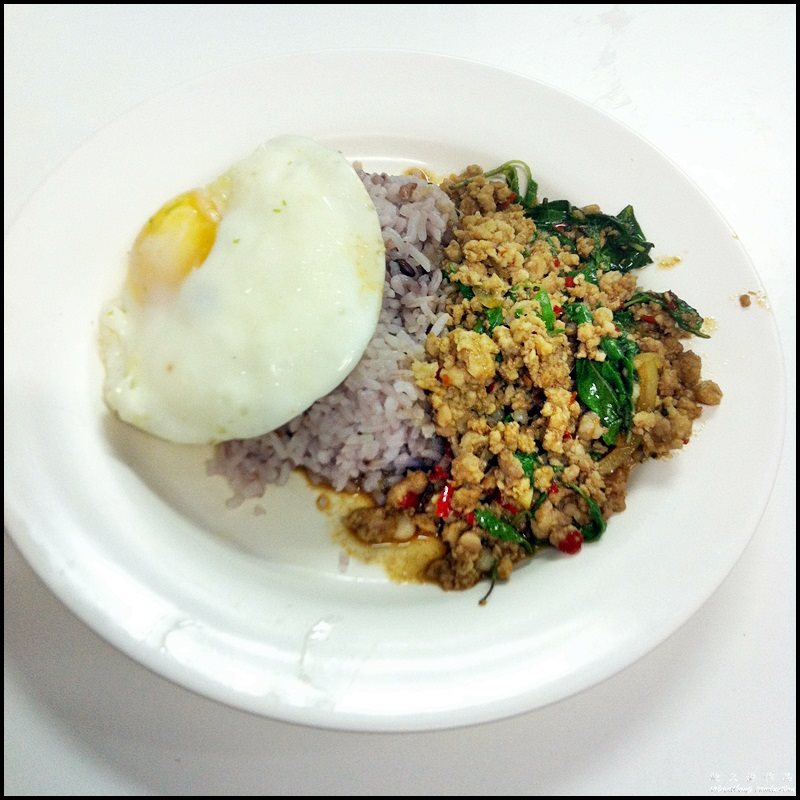 Fried Basil Leaves with Minced Pork Rice
The fried basil leaves with minced pork is served with red cargo rice which has a nutty and chewy texture and topped with a sunny-side up egg. This dish is real appetising.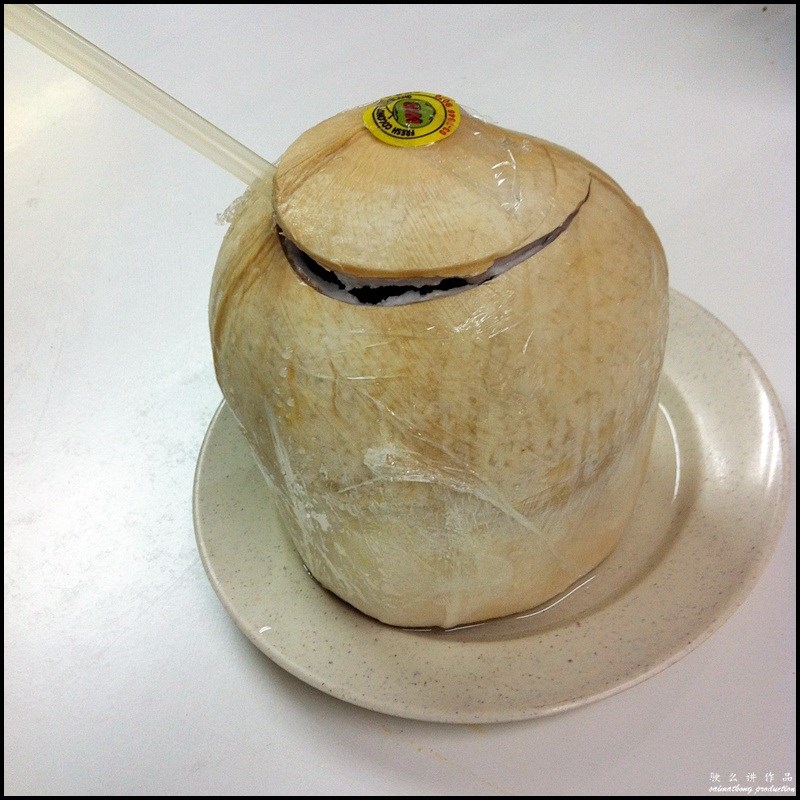 Fresh Coconut
Cool down with a Young Thai Coconut. Very refreshing!
Complete your meal with a selection of Thai desserts like Mango Sticky Rice, Red Rubies in Coconut Milk (Tab Tim Krob) and Tako Siam (Thai coconut pudding) which are packed in boxes at the food counter.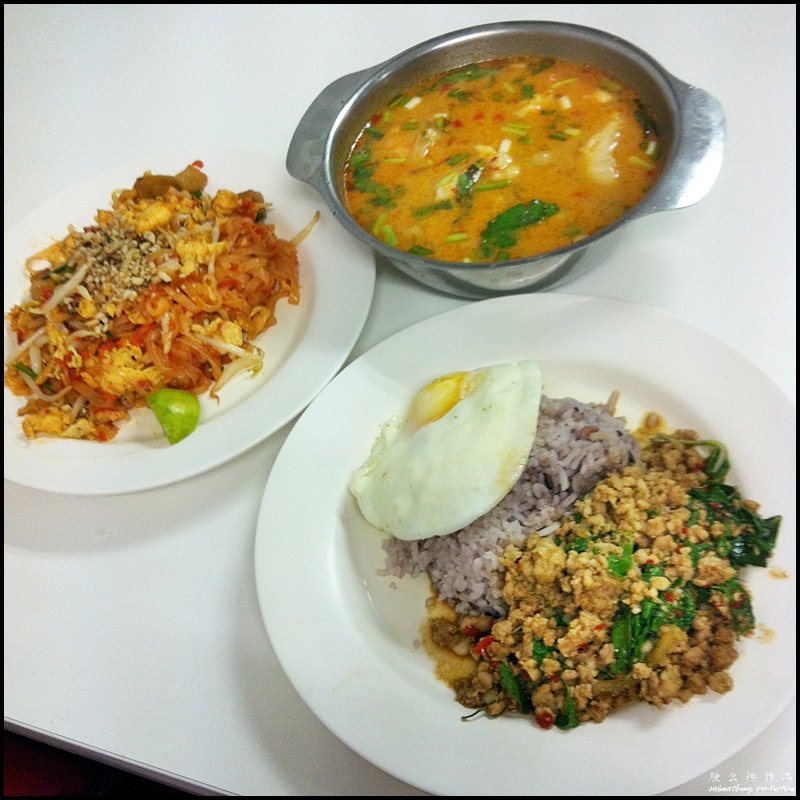 Verdict: When you miss the tasty Thai Street Food in Bangkok, head over to Lai Thai Market in Section 17,PJ for a great variety of authentic Thai food at affordable price. Try their stew pork leg with rice, fried rice, fried basil leaves with pork rice and som tam. Don't expect Lai Thai Market to have dishes with nice presentation like My Elephant or Erawan but you get to taste authentic Thai food which is hard to find in Klang Valley. Also, Lai Thai Market is not open everyday so you might want to call first to check if they are open for business before going.
Updates : Lai Thai Market in Section 17 expands and changes name to Kedai Makanan Frame Thai!
Lai Thai Market @ Section 17, PJ
Address: AG-3, Block A, Happy Mansion, Jalan 17/13, Section 17, Petaling Jaya
Tel: 03-7954 4688
Business hours : 10am onwards, until 5pm.
Comments
comments