This is a long overdue post but I reckon it's better late than not documenting it right? As you know, year end is filled with holidays and it's a good time to bring your kids for a family getaway. This time, I decided to bring the kiddos for a Cuti-Cuti Malaysia; to the north side (Penang and Ipoh) for a foodie trip. We have major love for food and travel, so traveling to Penang and Ipoh is like killing two birds with a stone coz we get jalan-jalan and also eat lots of delicious Penang & Ipoh food!
Here are the interesting highlights of our Northern Escapade to Penang & Ipoh:-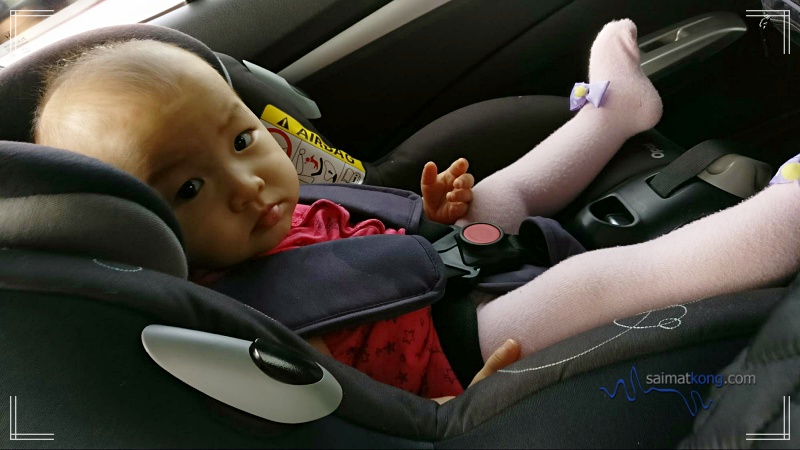 When going on a road trip with baby, infant or toddler, make sure they are strapped in the car seat.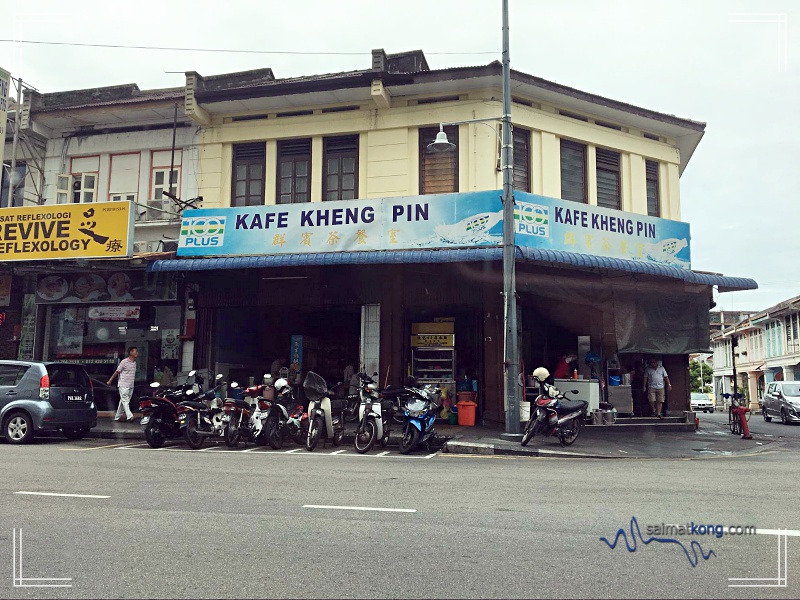 We reached Penang after about 4 hours of driving and were feeling hungry hence our first stop was Kafe Kheng Pin (群賓茶餐室) @ Penang Road for the best lobak in Penang! Ask the locals here, they will agree that Lor Bak @ Kheng Pin is awesome.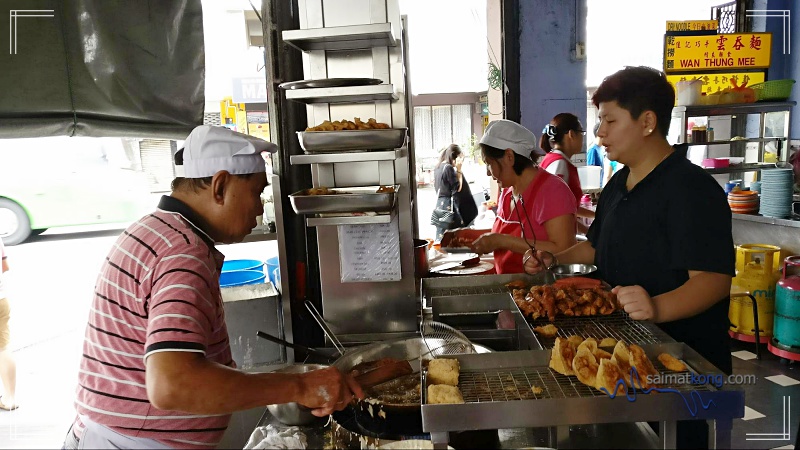 This is the stall to for super delicious Lor Bak @ Kheng Pin Cafe. Love the crispy prawn fritters, lobak (five spice rolls) and tauhu; simply delicious!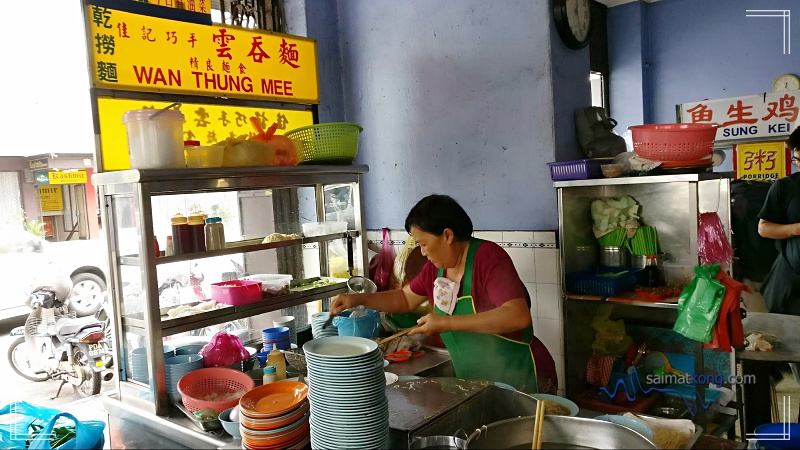 If you want mains to go with the loh bak, can try the wantan mee from the Wan Thung Mee stall. Their noodles are quite wet; tossed with lots of sauce. If you like the "wet" version, you'll love this.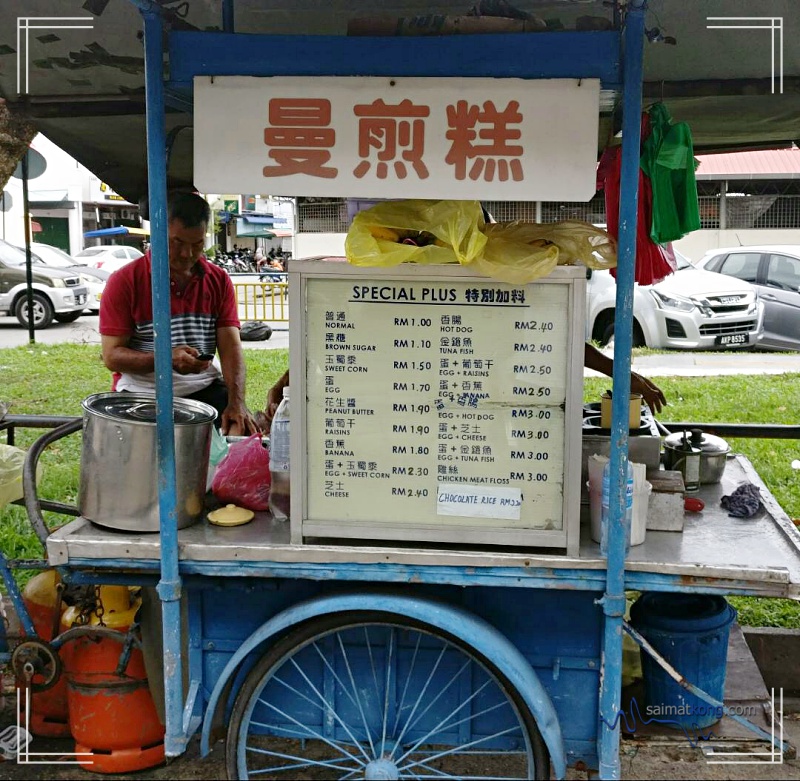 Next stop was to get thin and crispy Ban Chang Kuih (曼煎糕) @ Anson Road. This stall is just opposite Anson Road Market and infront of Lok Pin Cafe. You can choose the standard fillings of crushed peanuts and corn for the Ban Chang Kueh or you can choose from a variety of other savory fillings like ham + cheese, hot dog, chicken meat floss and egg + tuna fish to name a few.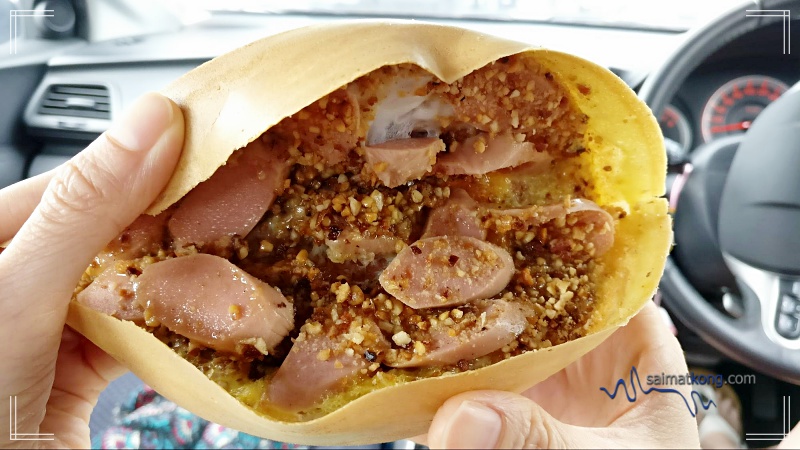 Bought a Sausage + Cheese flavor. Can't stand the nice aroma and so we decided to just makan inside the car only. HoJiak. Love the crispy texture of the Ban Chang Kueh.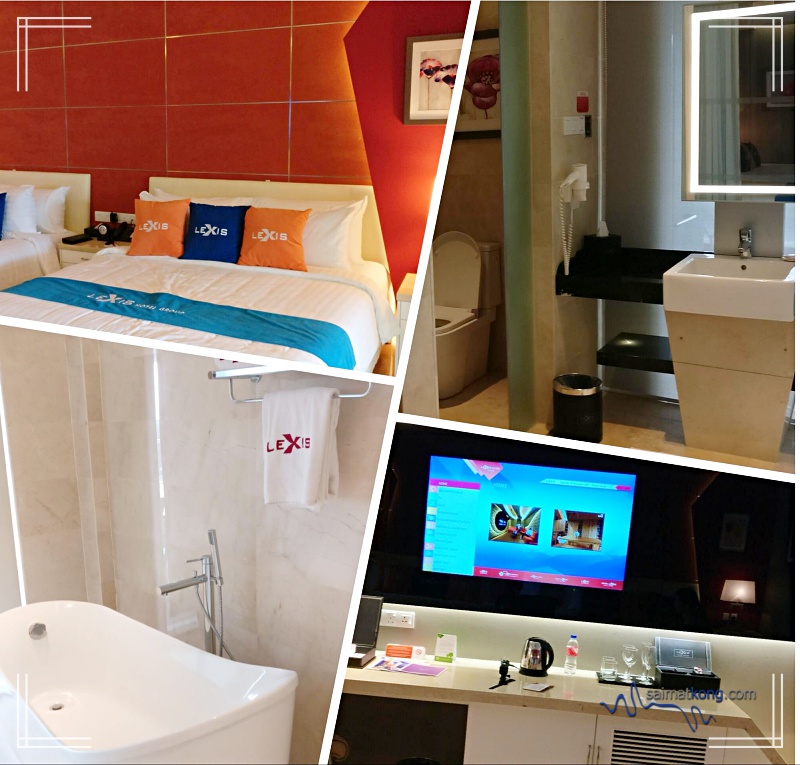 Checked in to Lexis Suites Penang. Our room for the night was Executive Pool Suite which is spacious and perfect for a small family of 4. So happy that I managed to get the best price for Lexis Suites Penang on Agoda. Get your best deal for your stay in Lexis Suites Penang here.
Aiden is super excited coz there's a private pool and he keeps telling us he wanna swim. Lolol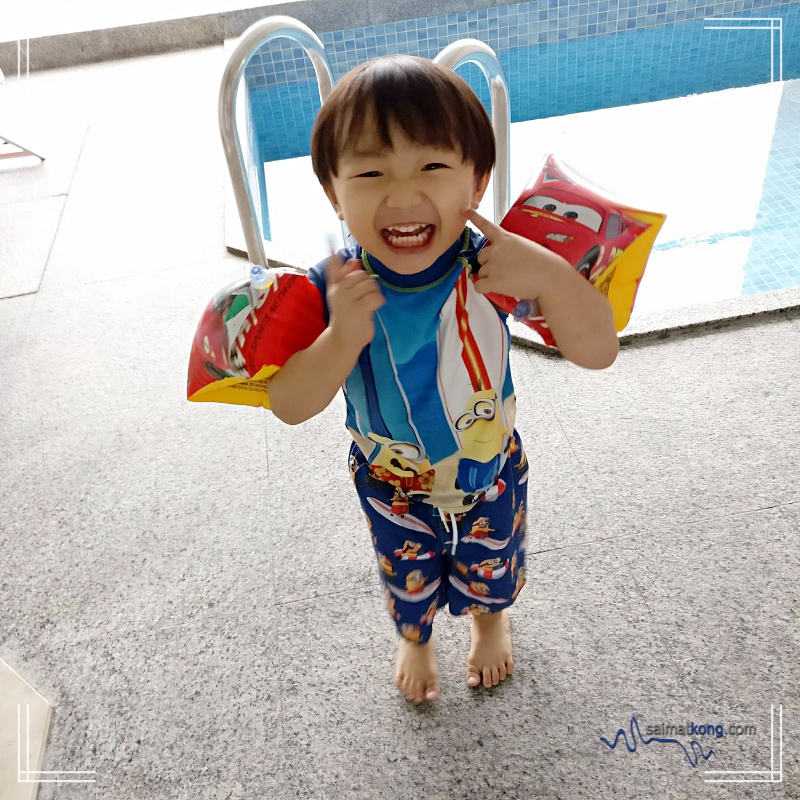 Aiden is all ready to take a dip in the pool.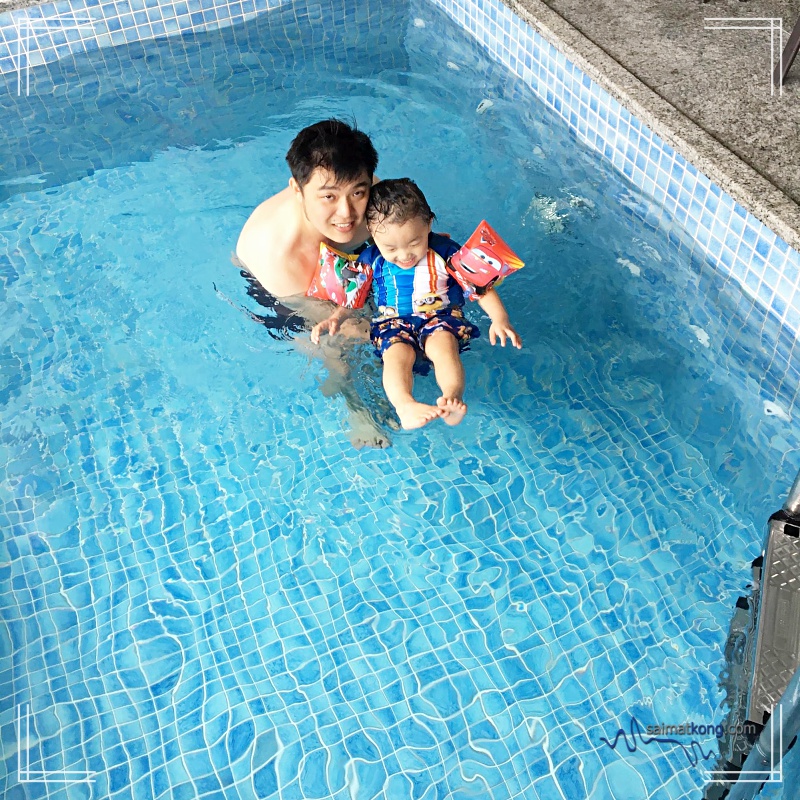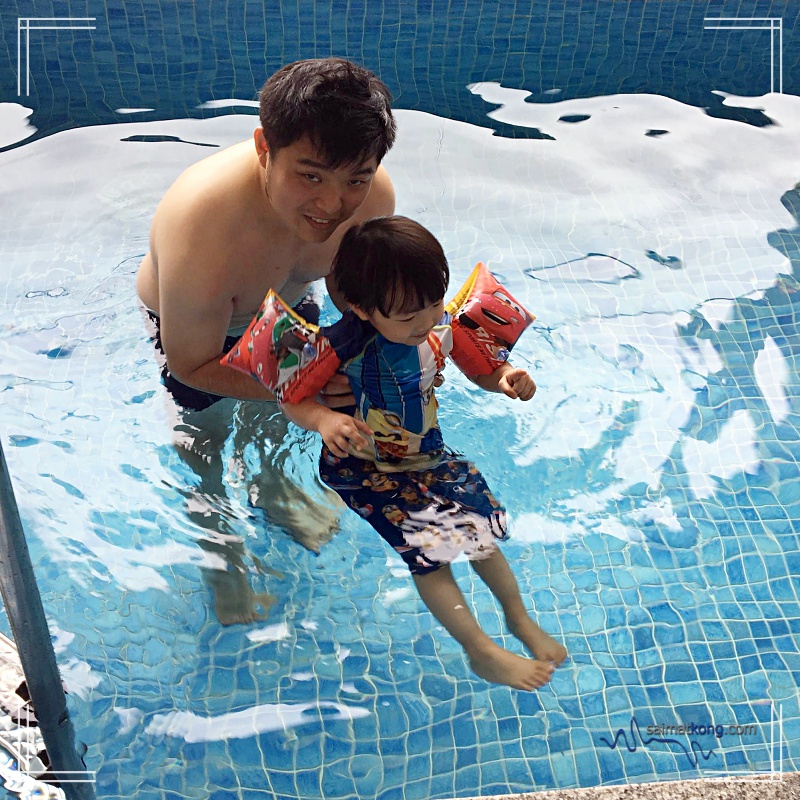 It's Aiden's first time swimming in a pool….wait, not exactly the first time coz he swam before when he was a baby (about 3 years+ ago)

[Video] How to Teach your Child to Swim
We had so much fun in the pool splashing water and getting wet. For parents: swimming is a real fun activity and can also strengthen the parent-child bond.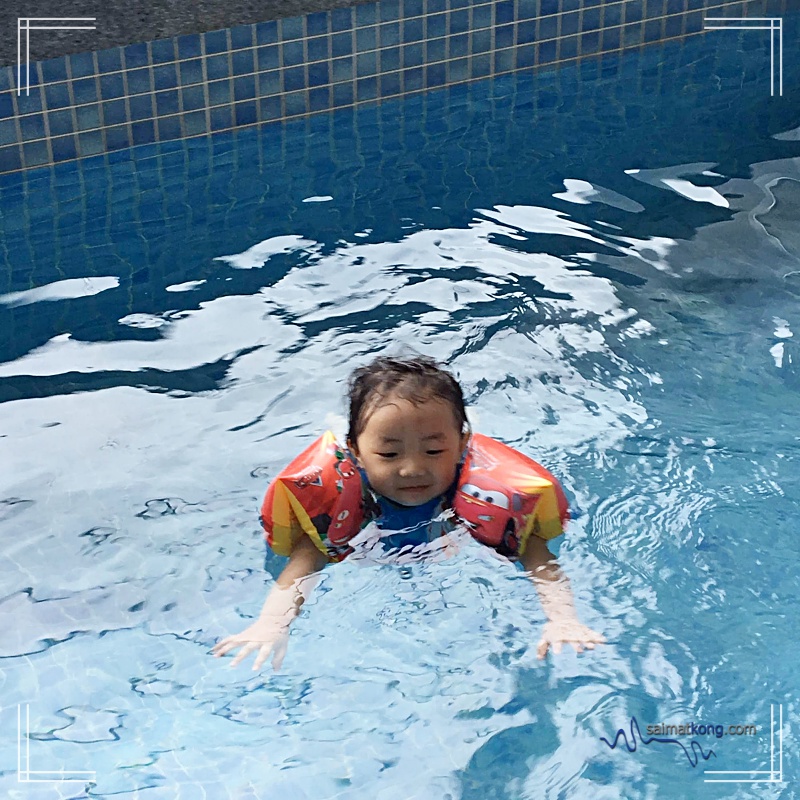 After some coaching, Aiden can finally swim on his own. I'm such a great instructor right! Haha
See how good he is in the water…hehe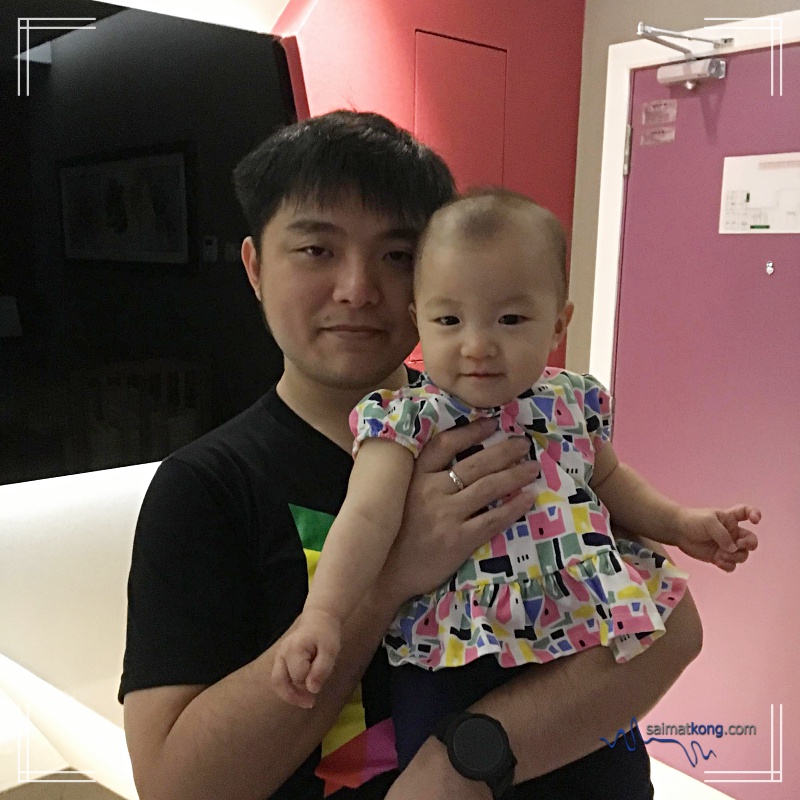 Quick photo with my baby girl before heading out to eat and tarpao yummy Penang food. When in Penang, must eat as much as you can 🙂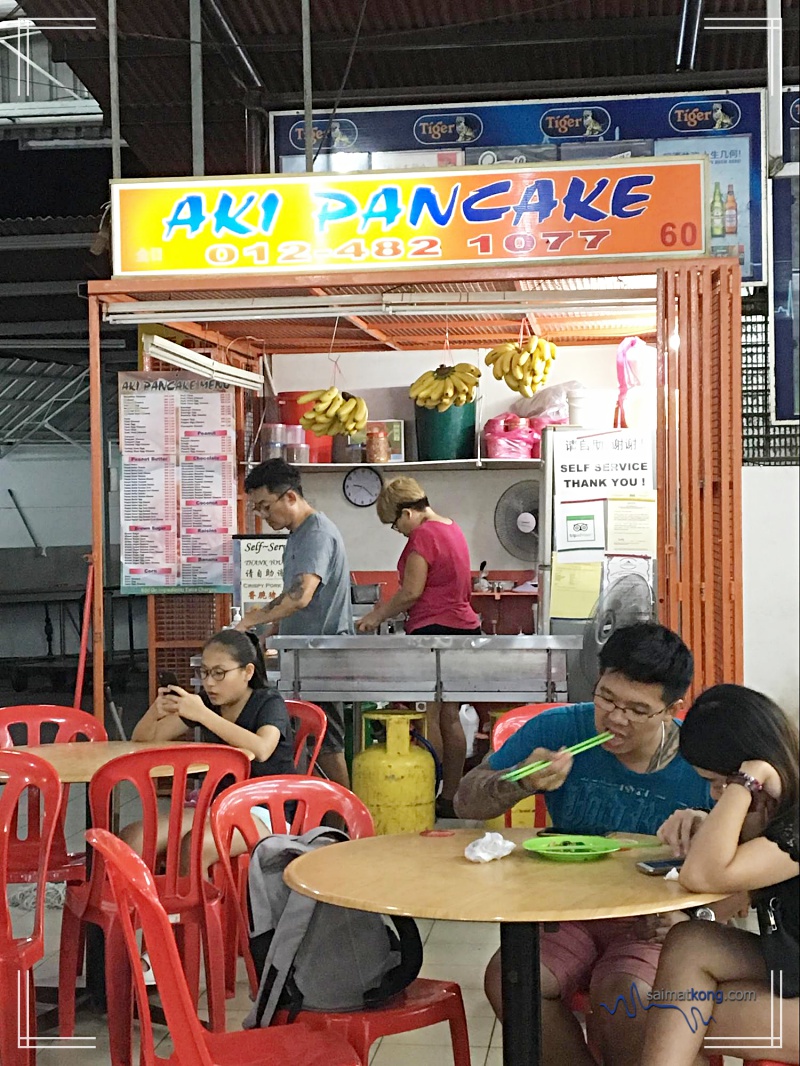 Wanted to get Aki Pancake for dessert but sadly it's all sold out when we arrived and it was just 8+ Really OMG! So if you wanna try Aki Pancake do come early before it's all sold out!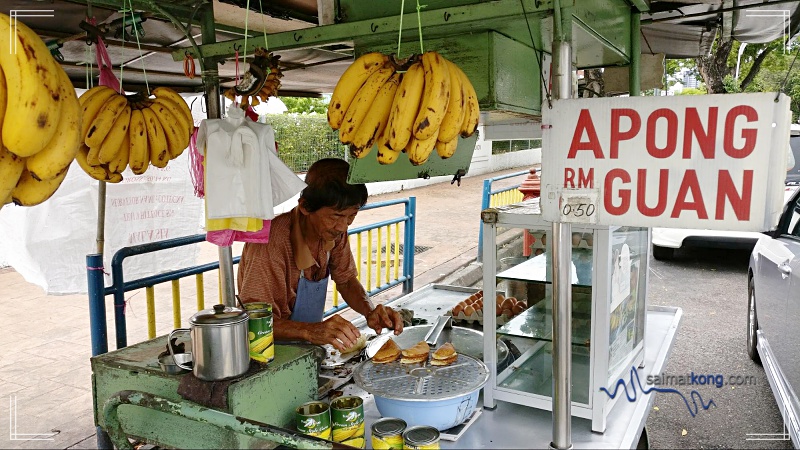 One of the must eat in Penang is pancake from Apong Guan @ Burmah Road. We stopped by Apong Guan to get some of his delicious and fluffy pancakes before leaving Penang to Ipoh. At RM0.50/pc it's fluffy, aromatic and real yummy!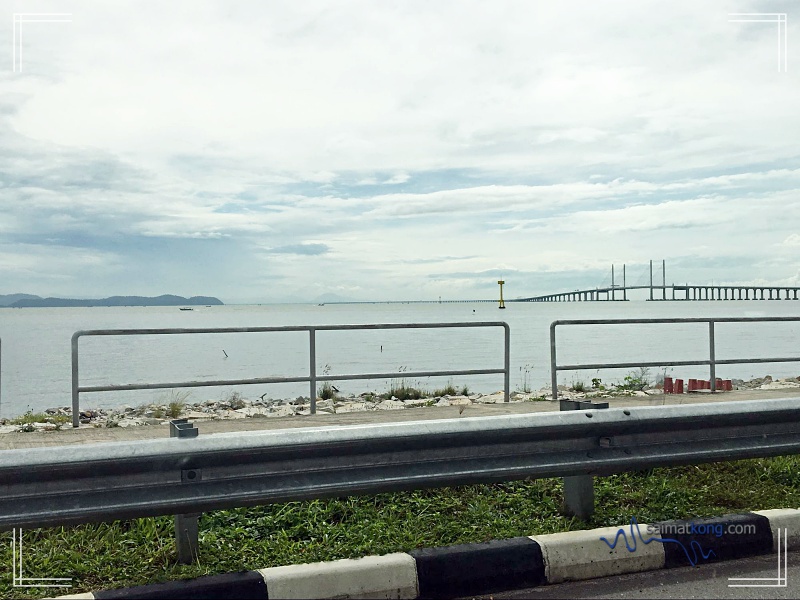 Leaving Penang to Ipoh for a night before heading back to KL city.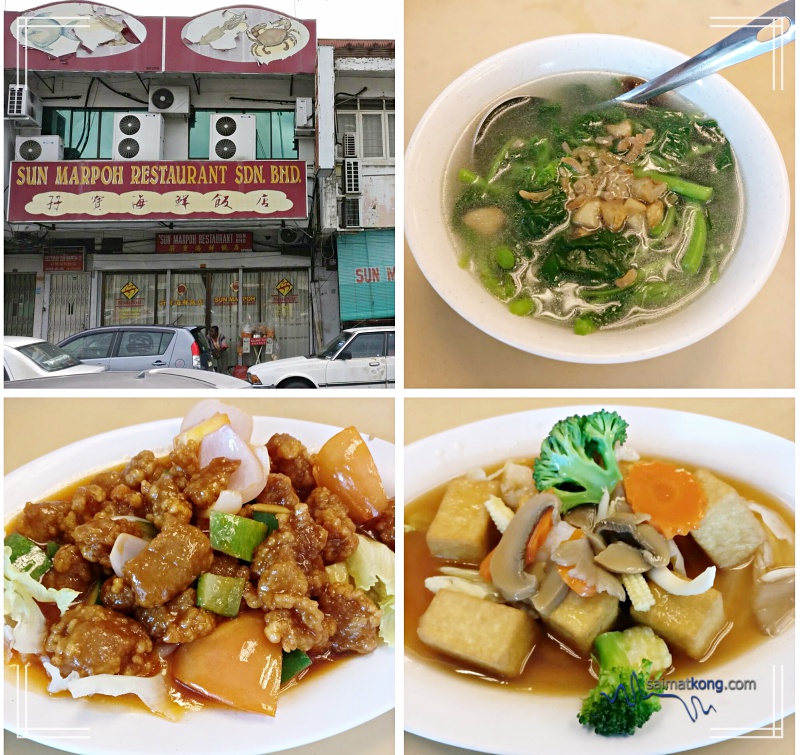 Lunch was Tai Chow at Sun Marpoh Restaurant (孖宝海鲜饭店). This restaurant serves a variety of Chinese dishes and is packed with locals. Love the sweet sour pork which is really appetizing.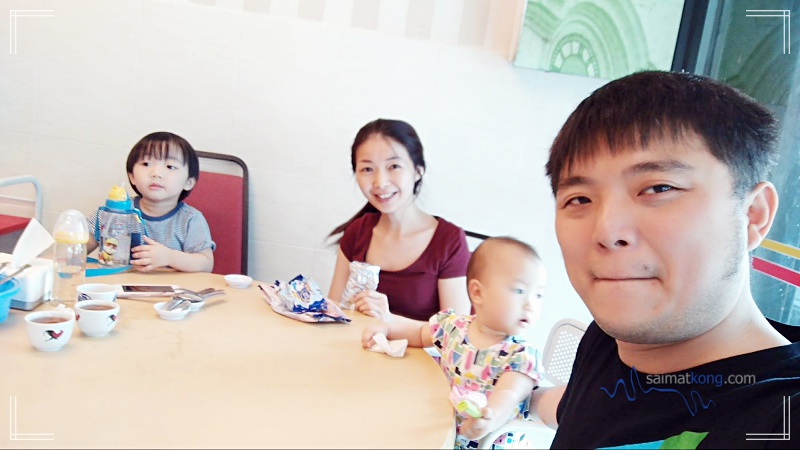 Attempted a perfect family wefie but failed. Haha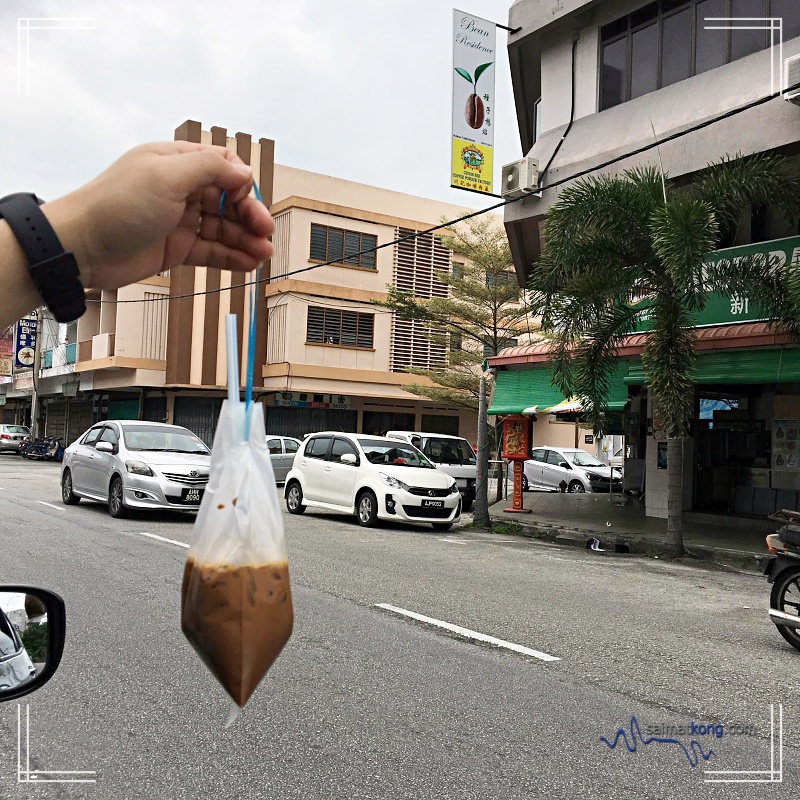 When in Ipoh, one of the must do for coffee lovers is to try their Ipoh White Coffee. Got my caffeine fix from Restoran Xin Xiang Er Nong (新香而浓) and boy, their white coffee is best! The coffee is rich-flavored, smooth with a nice aroma and most importantly,not too sweet! Do try when you're in Ipoh.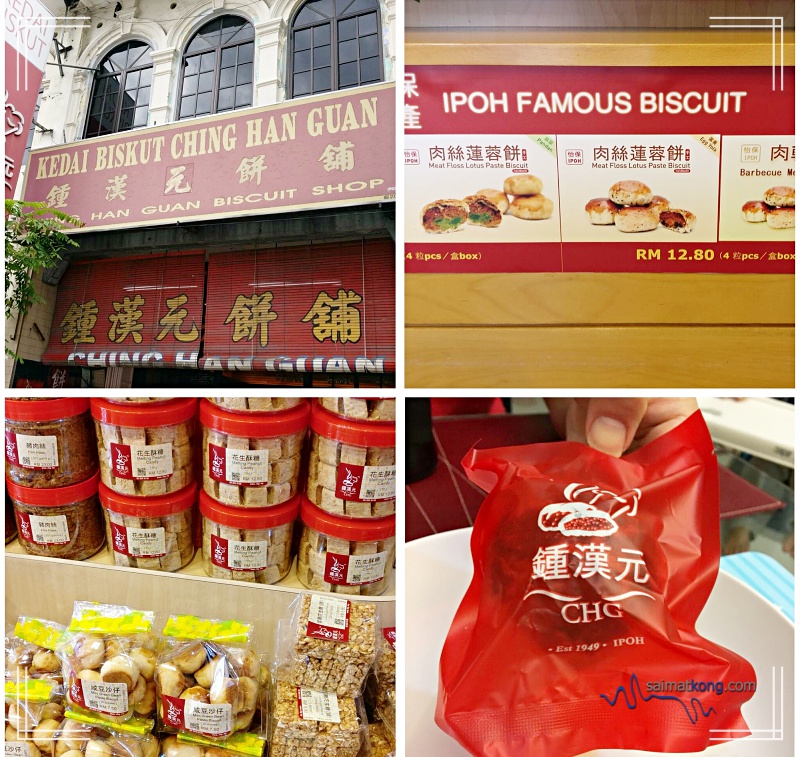 When traveling to Ipoh, the best souvenir to get is food gifts and one of them are the famous meat floss biscuit from Kedai Biscuit Ching Han Guan (鍾漢元餅舖) which is available in 3 flavors; original, Pandan and egg yolk. They sell many varieties of biscuits too but my top favorite is their meat floss biscuit.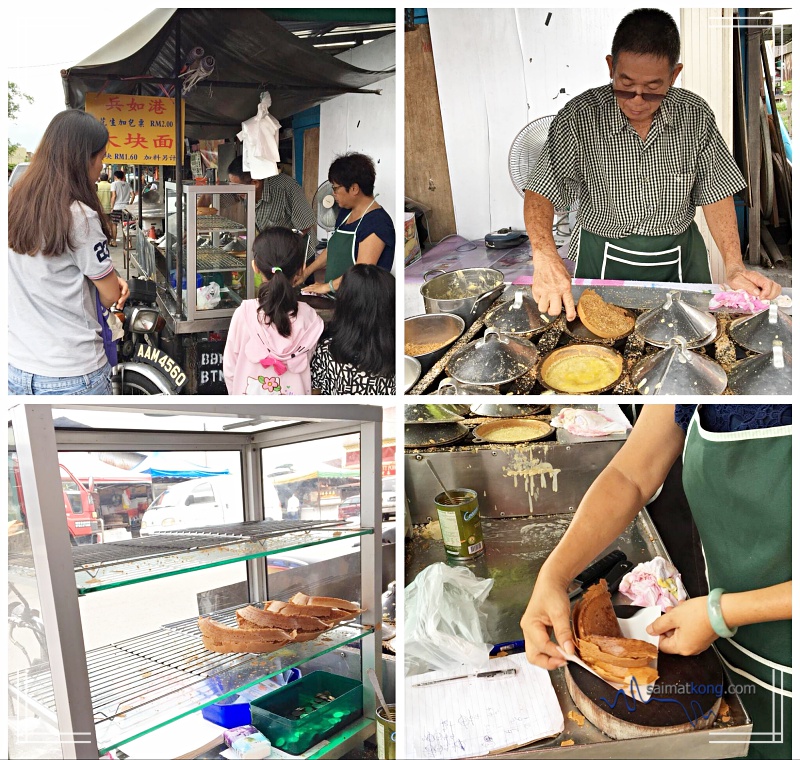 For those who don't know, there are 2 types of Apam Balik; thin and thick version. If you ask me, I like both! Thin version is crispy while the thick apam is like Asian pancake. When in Ipoh, do try this Ipoh famous Pasir Pinji Apam Balik. The fillings include butter, crushed peanuts, sugar and corn.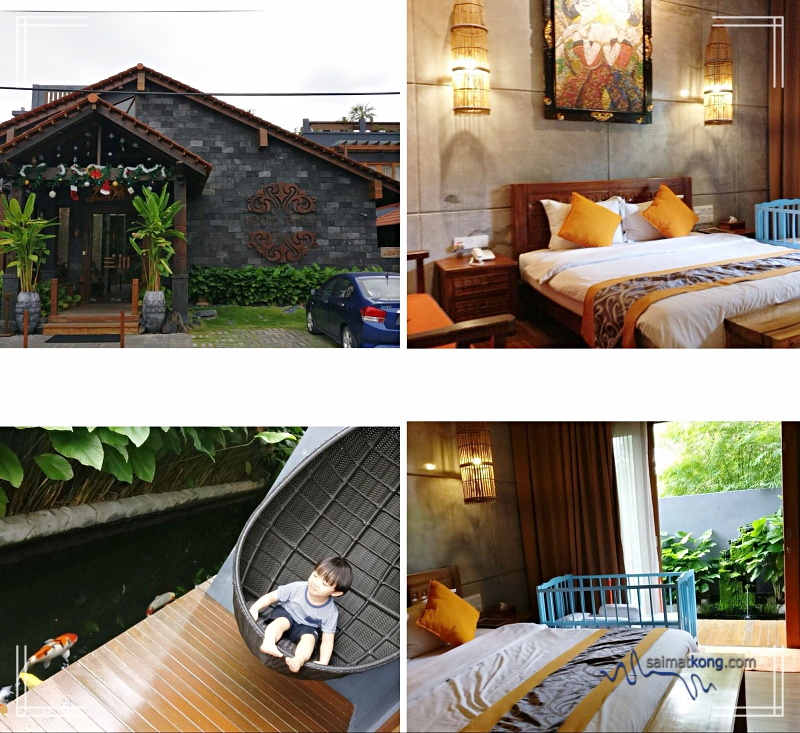 Checked in to Ipoh Bali Hotel in the heart of Ipoh City. Room is big, spacious and gives you a Bali-feel. Aiden loves sitting on the hammock chair and watch the beautiful Japanese Koi Fish. Quite relaxing! Haha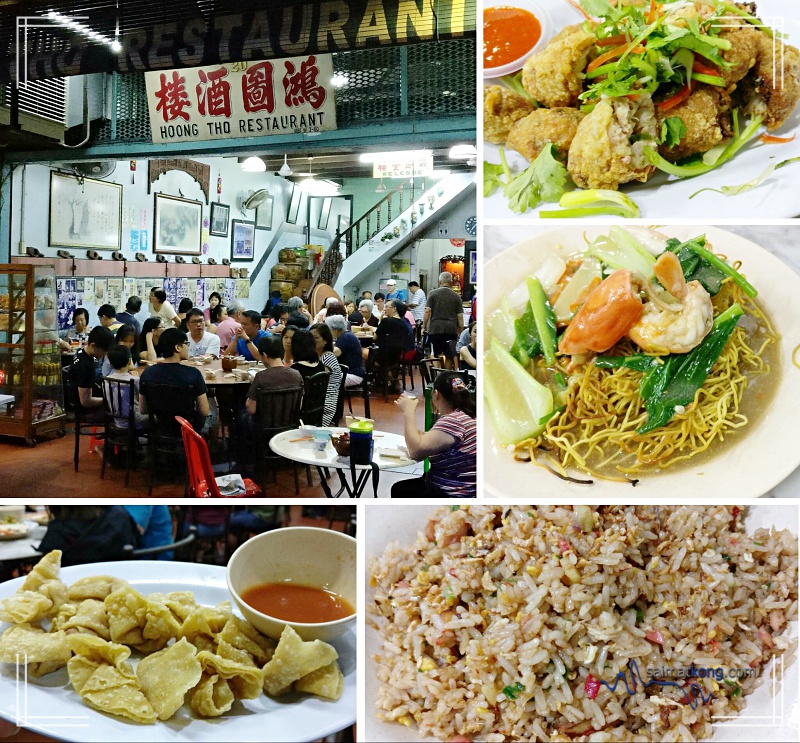 Had our dinner at Hoong Tho Restaurant (鴻圖酒樓) @ Ipoh Old Town. It's a famous classic Chinese eatery that serve a variety of delicious Chinese dishes include fresh water prawn noodles or known as "sang har meen", fried rice with lots of wok hei, fried wantan which is our favorite and a lot more.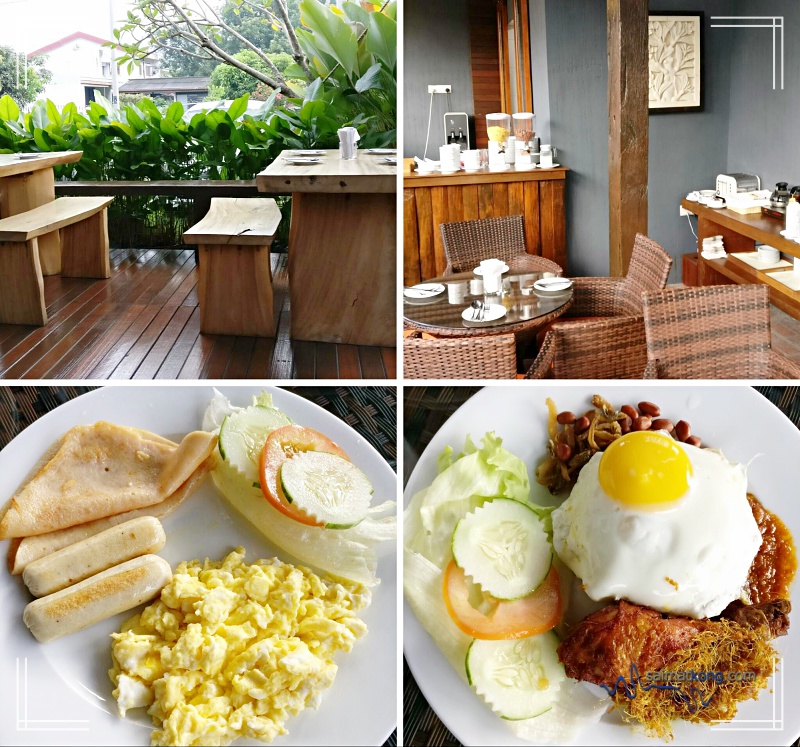 Instead of the usual buffet style breakfast, we get to choose from a variety of breakfast choices. While the American breakfast was normal (kids love it) I think the Nasi Lemak Ayam Goreng Berempah is good!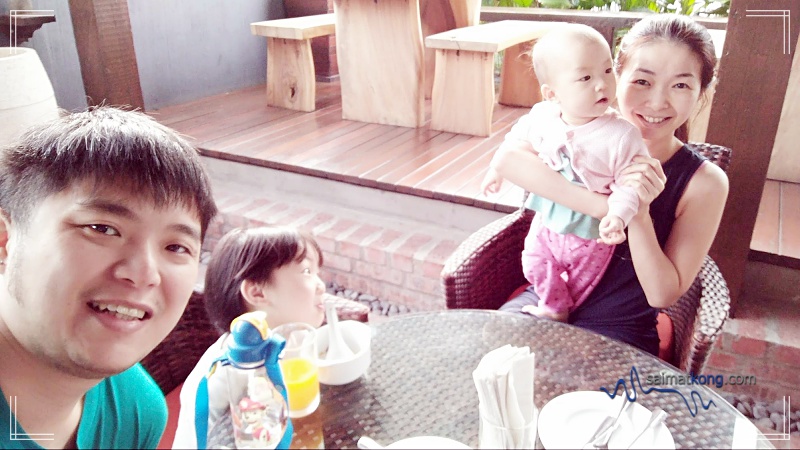 Another failed attempt to take a perfect Family Wefie 🙁 why is it so hard to get the kids to look at the camera???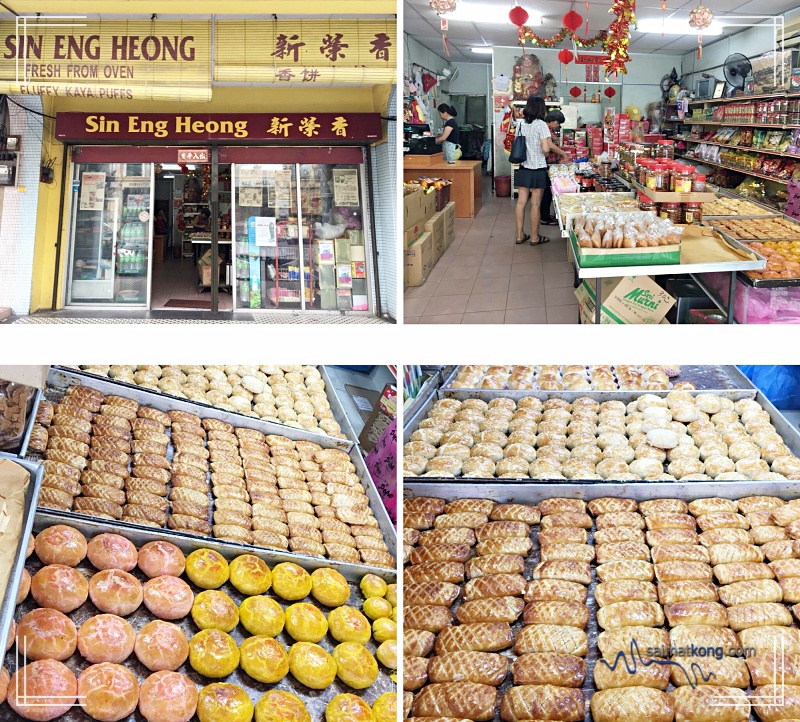 A trip to Ipoh is not complete without buying back few boxes of the Kaya Puff from Sin Eng Heong (新荣香). The Kaya Puff that comes in mini bite-sized have a crispy crust and loaded with generous kaya fillings. It's perfect to eat for breakfast, tea time or whenever you feel hungry. It's also very addictive hence don't be surprise if you finish up a box.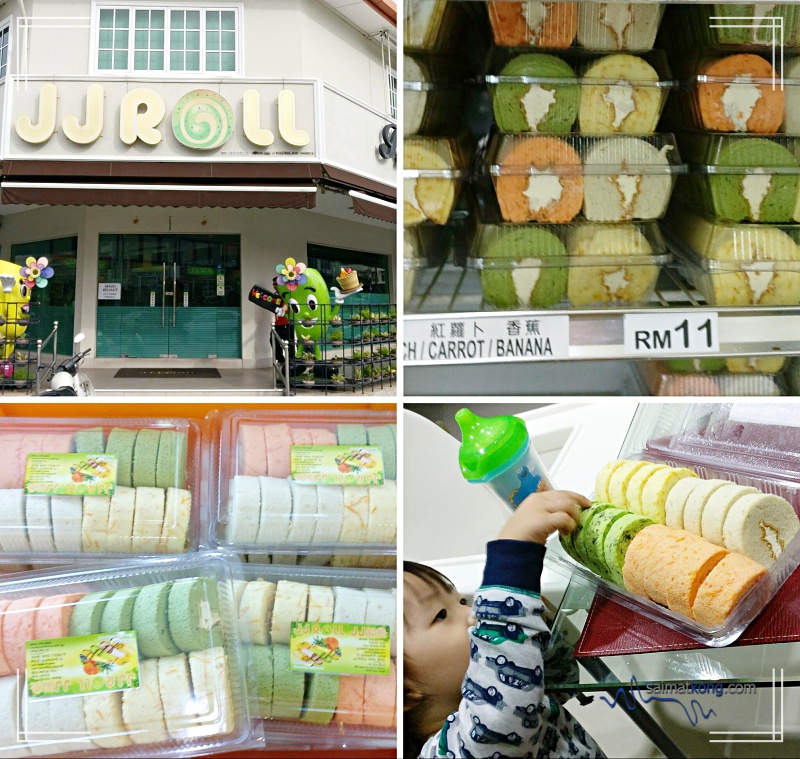 Whenever we are in Ipoh, our last stop before heading back to KL is always JJ Cakes & Swissrolls. JJ Roll offers cake and swissrolls in a variety flavors using only fresh ingredients and no preservatives. We love buying the mini fruity rolls coz it comes in assorted flavors, not too sweet and most importantly, the kids absolutely love it!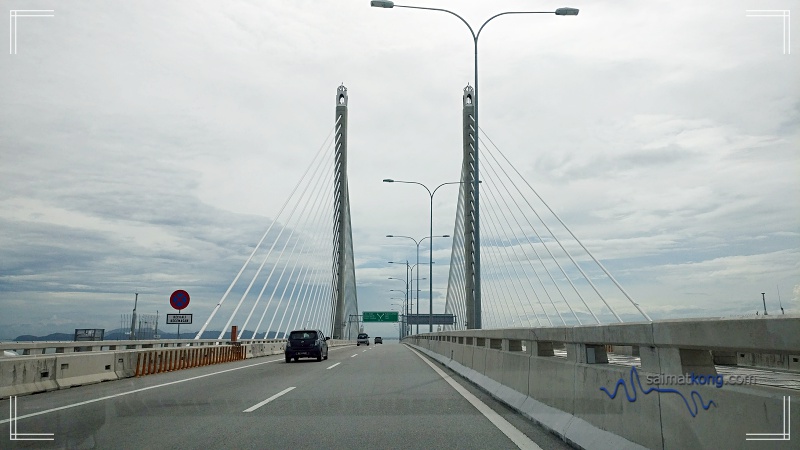 Overall, we had a very fun and memorable family trip. It's a slow-paced and relaxing trip with lots of eating! Glad to say that road trips with the kids are doable and enjoyable. Here's a tip for parents with kids : make sure you pack enough snacks, toys and books to keep them entertained throughout the journey.

[Video] Penang & Ipoh Makan Trip
In case you're interested and wanna look for the food places we went for our Penang & Ipoh Trip, here are the address and details:-
Kafe Kheng Pin (群賓茶餐室)
Address: 20,16, Jalan Penang, George Town, 10050 George Town, Penang
Business Hour: 7.00am – 2.00pm
Famous for: Loh Bak
Anson Road Ban Chang Kuih
Address: Anson Road (opposite Anson Road Market / Lok Pin Cafe)
Business Hour: 12.00pm – 3.00pm
Famous for: Thin and crispy Ban Chang Kuih
Aki Pancake
Address: Super Tanker Food Centre
Business Hour: 6.00pm – 9.00pm (closed on Wednesday)
Apong Guan
Address: Burmah Road (in front of Union Primary School)
Business Hour: 9.30am – 8.30pm (closed on Sunday)
Restoran Xin Xiang Er Nong (新香而浓)
Address: 75, Jalan Tokong, Taman Hoover, 31650 Ipoh, Perak
Famous for: Ipoh White Coffee
Ipoh Famous Pasir Pinji Apam Balik (怡保驰名兵如港巴刹大块面)
Address: Jalan Queen, Pasir Pinji, 31650 Ipoh, Perak
Business Hour: 12.00pm – 5.00pm
Famous for: Apam Balik
Sun Marpoh Restaurant (孖宝海鲜饭店)
Address: 67-69, Jalan Lau Pak Khuan, Ipoh Garden, 31400 Ipoh, Perak
Business Hour: 11.30am – 3.00pm (lunch) 5.30pm – 10.00pm (dinner)
Famous for: Chinese Style 'Tai Chow' : Sweet Sour Pork, 'Kwai Fei' Tofu
Ching Han Guan Biscuits (鍾漢元餅舖)
Address: 145, Jalan Sultan Iskandar, Taman Jubilee, 30000 Ipoh, Perak
Business Hour: 9.30am – 6.30pm (closed on Tuesday)
Famous for: Meat Floss Biscuit, Teochew Mooncake
Hoong Tho Restaurant (鴻圖酒樓)
Address: 20, Jalan Bandar Timah, 30000 Ipoh, Perak
Business Hour: 10.30am – 3.00pm (lunch) & 6.00pm – 9.00pm (dinner) closed on Tuesday
Famous for: Chinese-style tai chow: fried rice, sang har meen, cempedak cake, fried wantan
Kedai Biskut Sin Eng Heong (新榮香)
Address: 64, Jalan Mustapha Al-Bakry, Taman Jubilee, 30300 Ipoh, Perak
Business Hour: 9.00 – 7.00pm
Famous for: Kaya puff
JJ Cakes & Swissrolls
Address: 127, Jalan Bharu, Taman Hoover, 30250 Ipoh, Perak
Business Hour: 8.00am – 7.30pm
Famous for: Swissrolls
Comments
comments