We all know that double parking is fairly common in SS2 as it can be pretty hard to find parking spot especially during peak hours. With this in mind, the owners of this newly opened Double Park cafe & bar in SS2 decided to use a creative and catchy name for their cafe & bar to attract people.
Double Park cafe & bar is located along the same row as BHP Petrol Station, SS2 Police Station and Wings Cafe. The Indomie Mamak Stall is just directly opposite this cafe & bar.
Double Park Cafe & Bar serves a wide array of fusion meals such as sandwiches, burgers, fried rice, noodles, western cuisine and more. The selections include Club Sandwich, Porky King Burger, Signature Spare Ribs with Rice, Double Park Chicken Chop and Seafood Spaghetti with Cream Sauce.
Club Sandwich (RM8.90)
The club sandwich is made with ham, luncheon meat and slices of tomatoes and cucumber. The sandwich is kinda dry cox there's no sauce and I gotta ask for mayonnaise and chili sauce.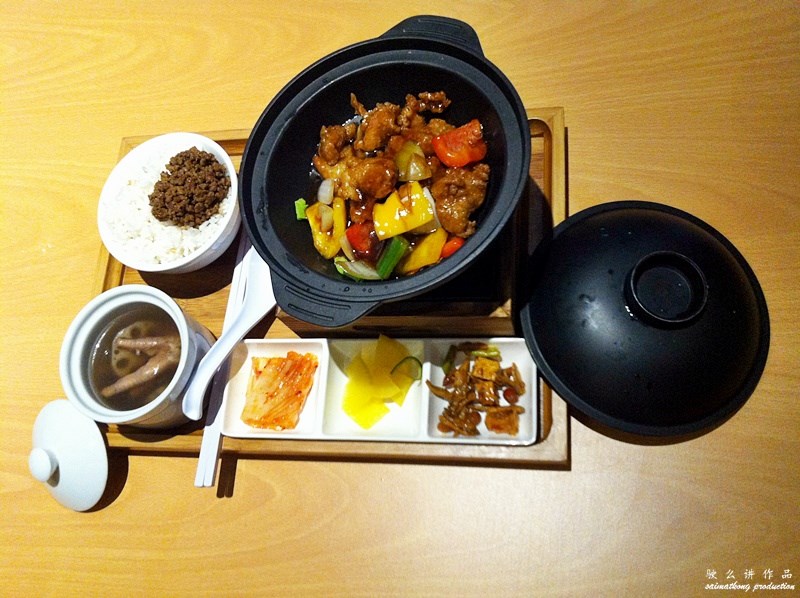 Kyoto Specialty Spare Ribs with Rice (RM12.90)
The rice set comes with the dishes of your choice, boiled lotus root soup, condiments like kimchi, pickles and tofu with peanuts and a bowl of white rice topped with minced pork meat which resemble Taiwanese braised pork rice "Lu Rou Fan".
Salted Butter Chicken with Rice (RM13.90)
I don't really like the rice as I find the rice a bit dry and hard. Further, they used only lean minced pork for the topping thus I find it hard to eat. I suppose the texture will be better if they mix a bit of pork belly.
Salted Butter Fish with Rice (RM13.90)
The portion is not too big and is just nice for me. For the price, I figure the portion is tad reasonable.
UFO Classic Dessert – RM7.50
Green Tea, Fresh Apple Juice, Honey Lemon
Verdict: Double Park cafe & bar at SS2 serves decent food and for a cafe & bar, I think their price is fairly reasonable. This place is cosy, spacious and comfortable to hangout with friends over drinks. They serves alcoholic drinks and their Happy Hours start from 9pm onwards. There's also live band at night, so if you're looking for a place to chill in SS2 with nice music, drinks and food, do consider Double Park cafe & bar at SS2.
Double Park Cafe & Bar @ SS2
Address: 86/88, Jalan SS2/60, 47300 Petaling Jaya (Formerly it was UFO Desserts & Drinks)
Tel: 03-78655875
Facebook: https://www.facebook.com/doubleparkcafebar
Comments
comments