Antipodean Cafe – Bangsar (Coffee.Cafe.Culture)
We have heard of the famous Antipodean Cafe many times and don't know what the hype is all about. And so, on a Saturday morning, I find myself waiting for a table outside the famous Antipodean at Bangsar.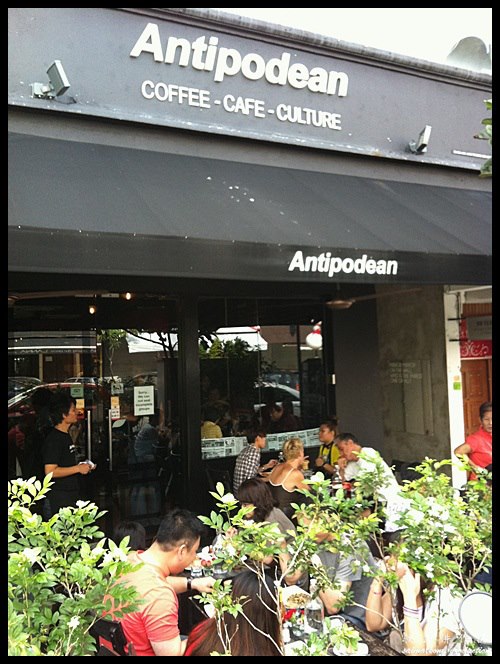 It took us about 20 mins to settle down with a table inside the cafe. Also take note that they only seat complete group, meaning if you have a group of friends, make sure they are not late if not you will have to wait for them! 🙂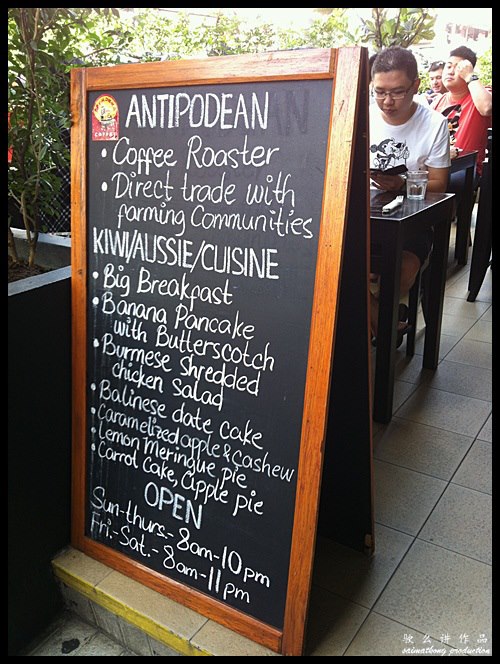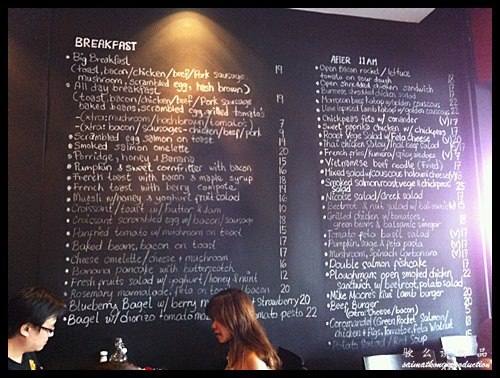 Antipodean opts for paperless menu board. Here, the traditional paper menu is being replaced with a menu written on a large chalk board. Though this go-green concept save paper wastage, I find it hard to read as some are blocked by patrons seating next to the wall.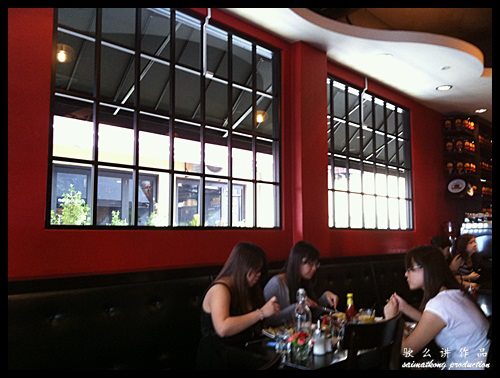 Big Breakfast – RM18
Toast, chicken, beef or pork sausages, mushrooms, hash brown & scrambled eggs.

Extra Bacon – RM9

Smoked Salmon Omelette – RM20
This is one good combination; soft, creamy scrambled egg together with the smoked salmon.

Cappuccino – RM8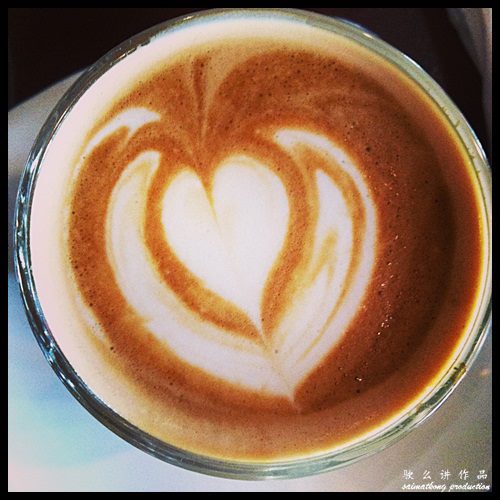 Cafe Latte – RM8
Love the Cappuccino Art and Latte Art, it makes them more appealing. The food portion is rather big and I think most of the customer can't finish the scrambled egg? Lolz. Perhaps they should make the scrambled egg portion a little smaller and charge a little cheaper?
The question is : Why do people keep going back?
The answer is that they feel welcome there. The owner make the effort to get to know their clients, and make regulars feel like they are special.
On top of the delicious food, service was amazing and friendly. We will definitely be back. Wanting to try some other famous breakfast like Muffins, Croissant, French Toast and Pancake.
Antipodean Cafe – Bangsar
Address: 20 Jalan Telawi 2, Bangsar Baru, 59100 Kuala Lumpur (just next to La Bodega Bangsar)
Phone: 03-22820411
Opening Hours:
Sun – Thu; 8:00 am – 10:00 pm
Fri – Sat: 8:00 am – 11:00 pm
Website: www.antipodeancoffee.com
Email: [email protected]
There's another "Antipodean Tan & Tan" outlet at Menara Tan & Tan.
Comments
comments