Last weekend, The Wifey and I brought Aiden to see (and also to show our support) the 1600 Pandas at Publika, Solaris Dutamas. We went there earlier than usual to avoid the crowd (kiasu) and to have our brunch there first before seeing the 1600 pandas. And since The Wifey was as usual craving for Japanese, we decided to have sushi at Mono Sushi, a semi-fine Japanese restaurant serving 120 types of handcrafted sushi.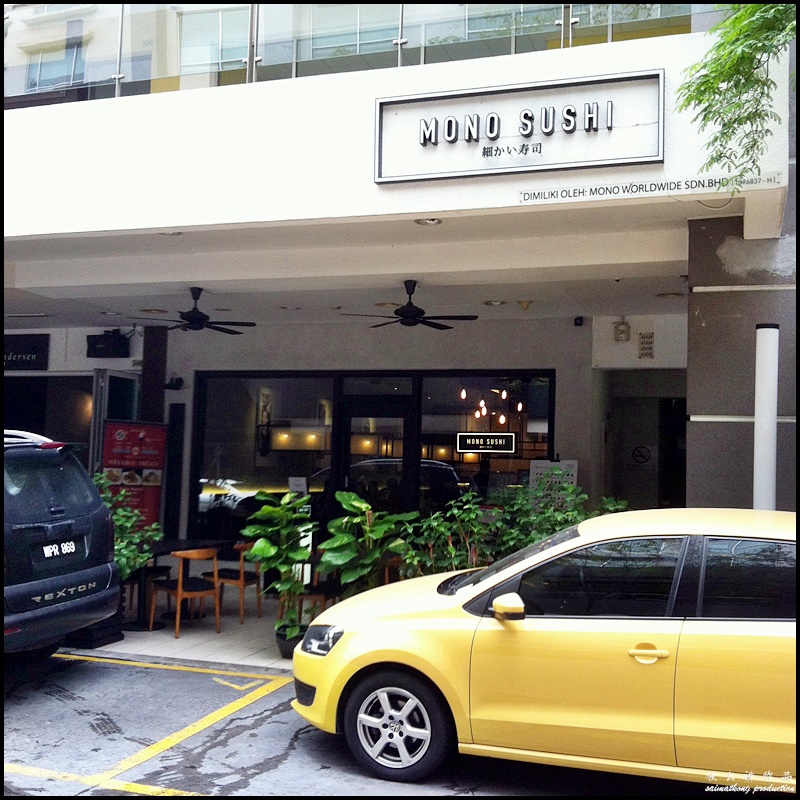 Located along the same row as Beyond Veggie, Mono Sushi has a simple and elegant setting with wood furnishings while the walls are adorned with Japanese art pieces.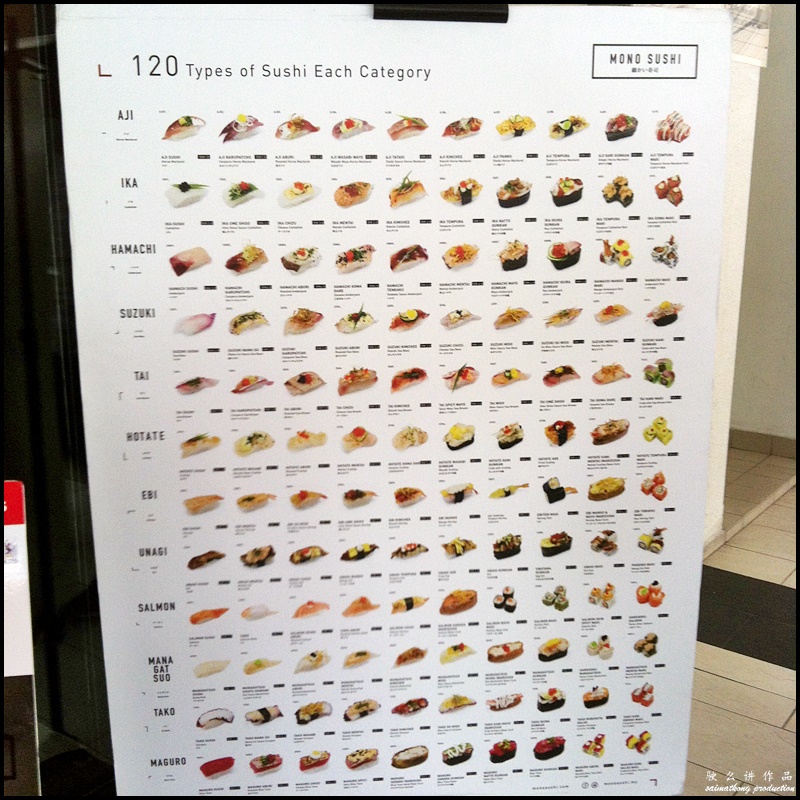 The menu is divided into 12 main categories of seafood and there were 10 different sushi toppings to choose from: Aji (horse mackerel), tako (octopus), ika (squid), hamachi (amberjack), suzuki (sea bass), tai (sea bream), hotate (scallop), maguro (tuna), ebi (shrimp), sake (salmon), managatsuo (butter fish) & unagi (eel). What made the sushi here different from the rest is here at Mono Sushi, you can choose various toppings from mango, cheese, kimchi, mentai, natto and more. Very creative right?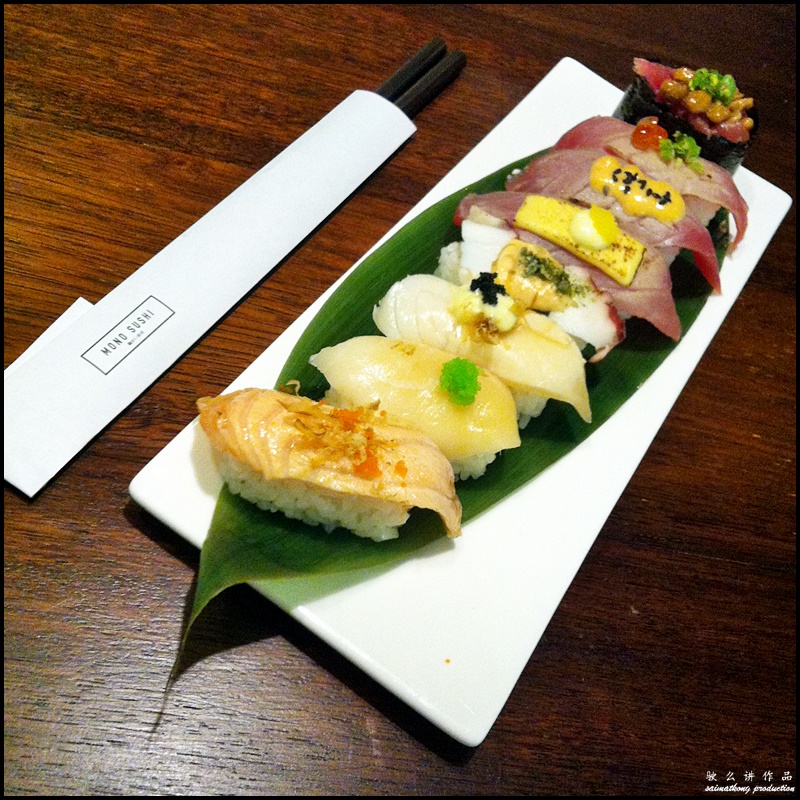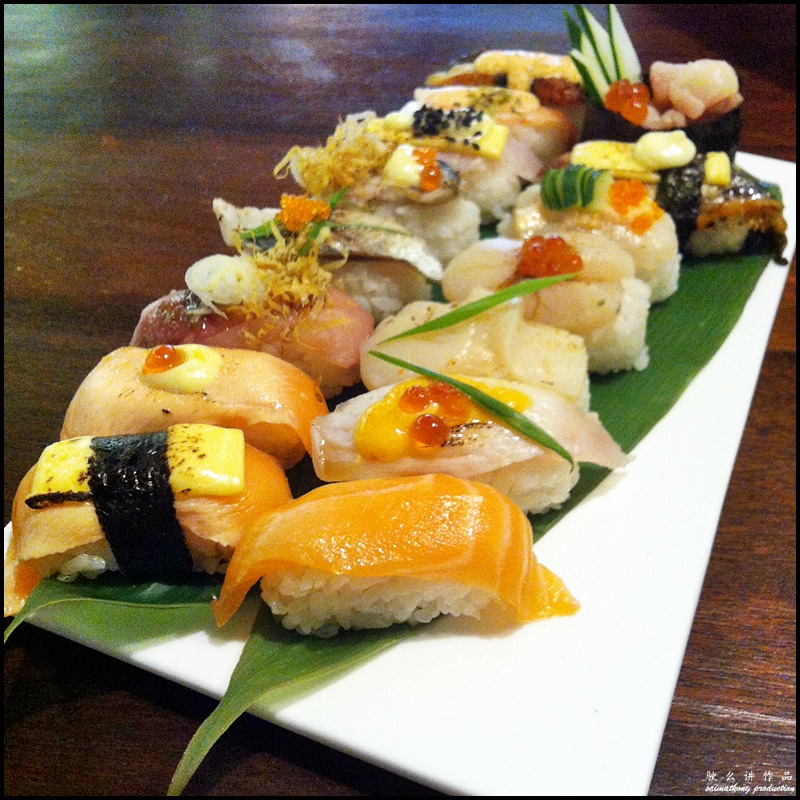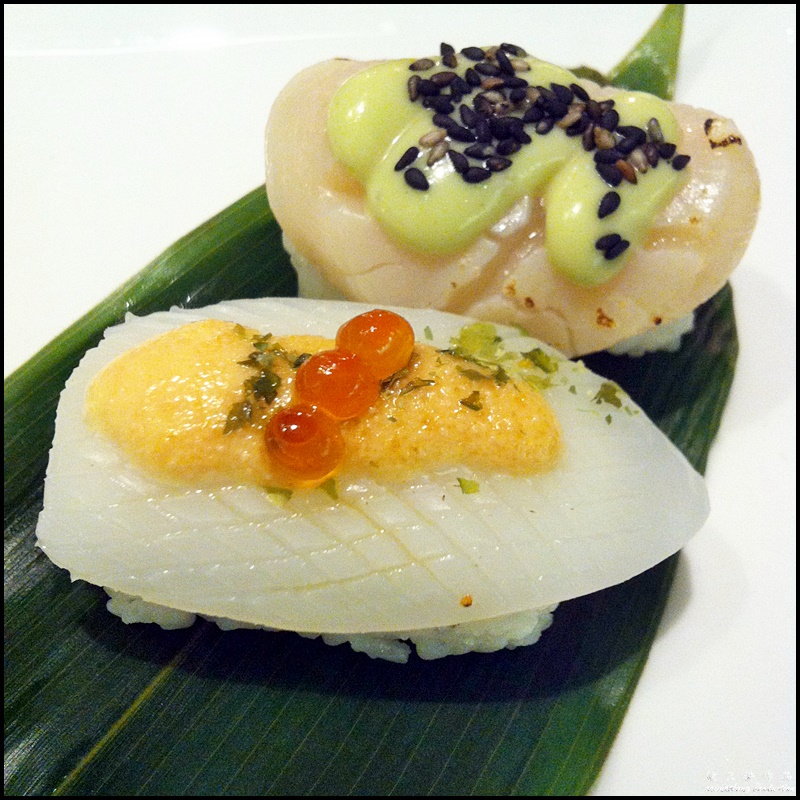 Assorted Sushi Platter
The sushi here are affordably priced from RM2.80 to RM5.80 per price. Overall, I would say Mono Sushi is a nice place for fresh and affordable sushi. This is the place to go if you wanna have some light snacks in between shopping but for a full meal, it can be quite pricey.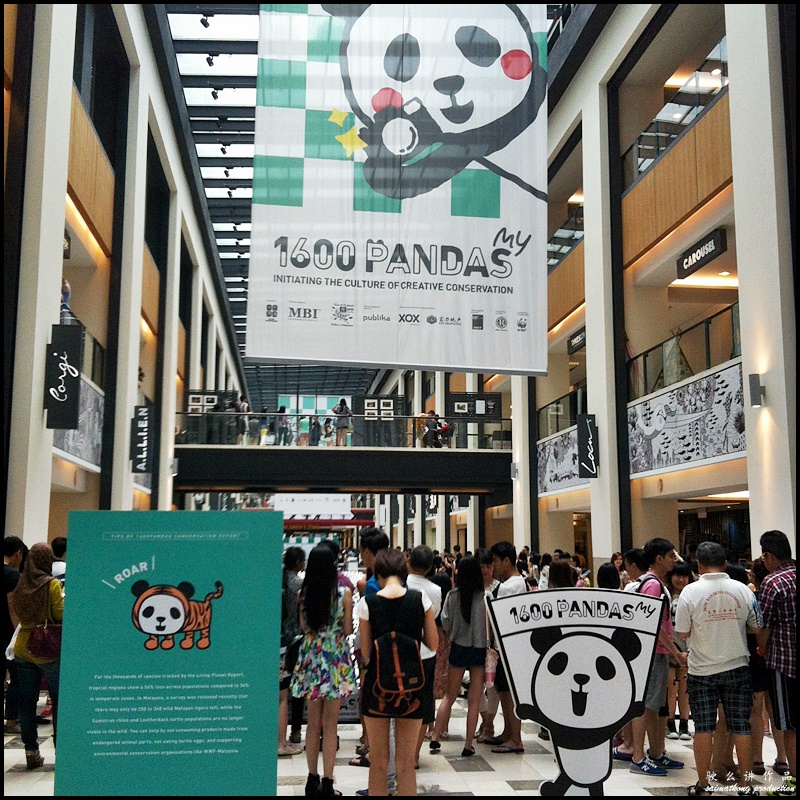 After filling our tummy with sushi, it's time to go see the pandas. Apparently the 1600 Pandas were in Malaysia from 21 Dec 2015 to 25 Jan 2015 as part of their world tour to promote the message of panda conservation and sustainable development.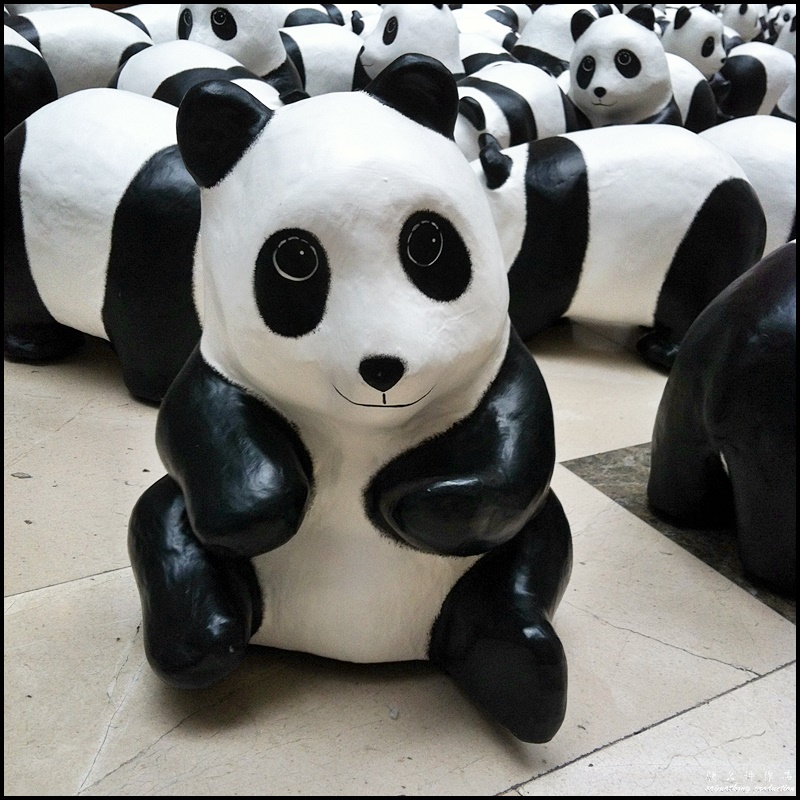 Spotted a panda with such a cute expression *heart melts*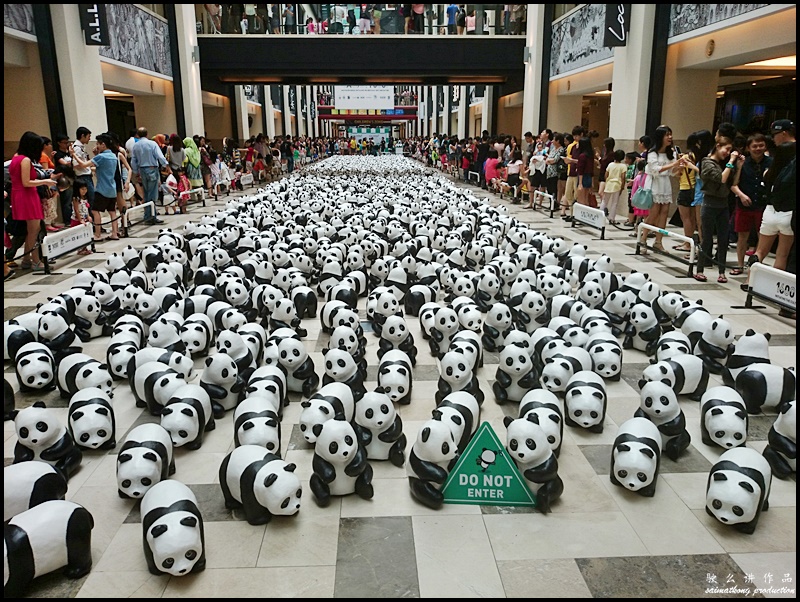 All the 1600 paper mache pandas in various poses, emotions and sizes are created using recycled paper by Paulo Grangeon, an enthusiastic French sculptor with more than 30 years of experience.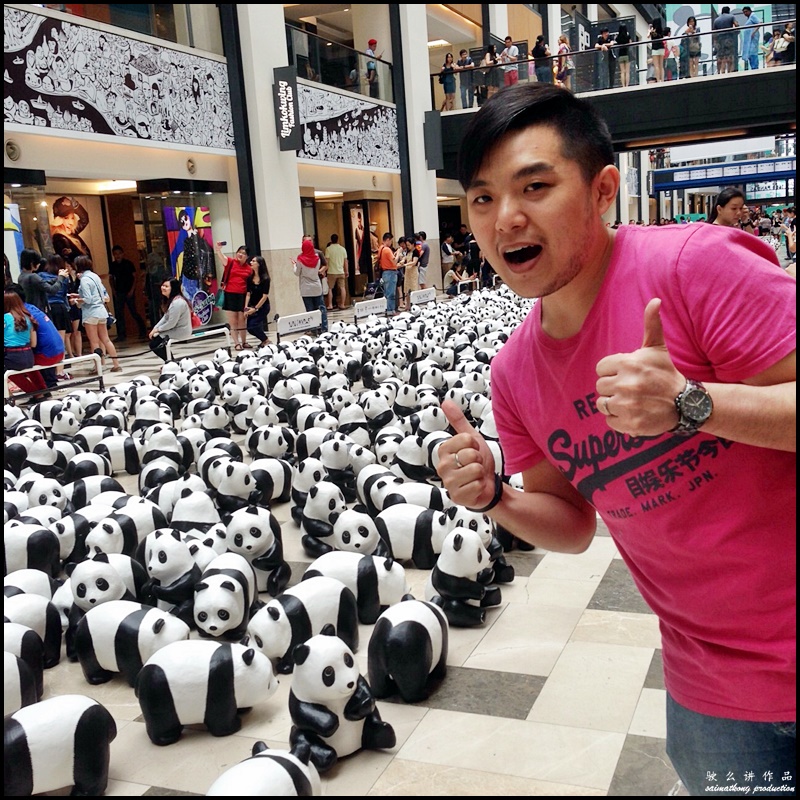 A photo of me with the pandas.
There was a long queue for the photo session with the pandas so we skipped that and only take pictures outside.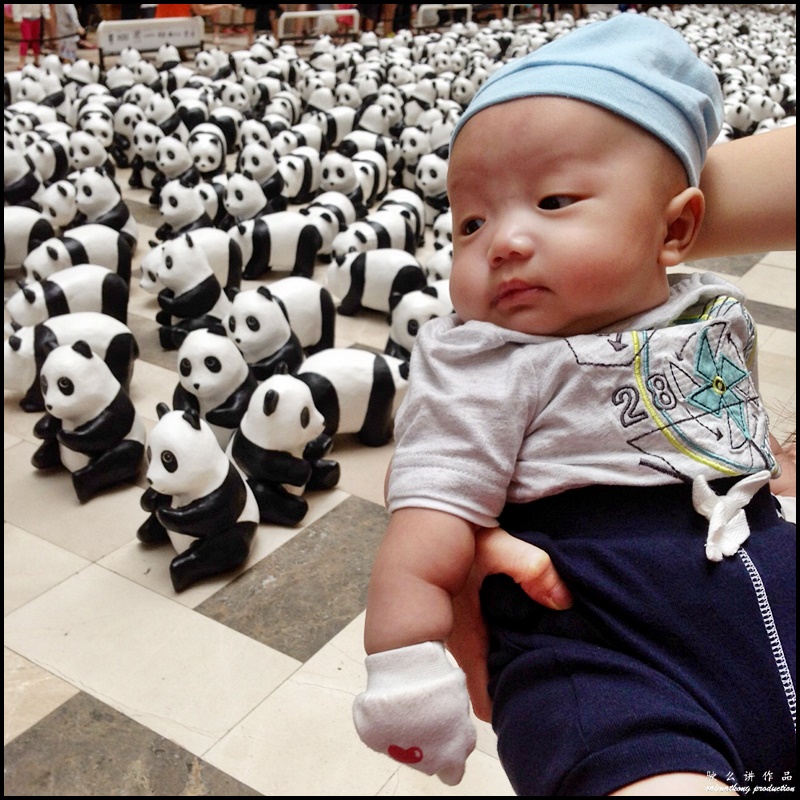 Aiden: "So Daddy, these are the 1600 pandas?! They are so adorable!"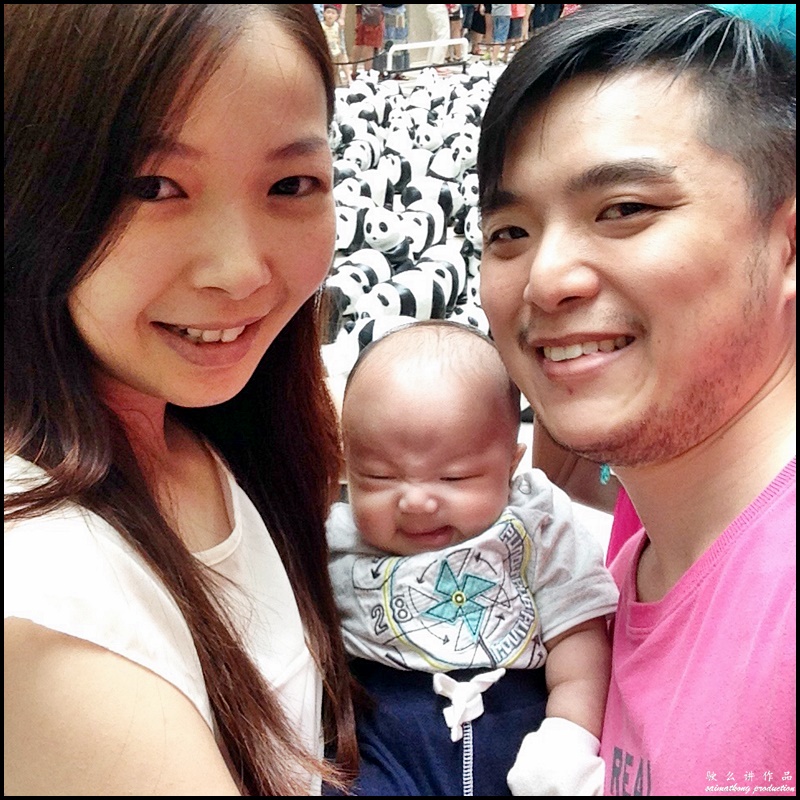 Last but not least, a picture of the three of us with the cute and adorable pandas.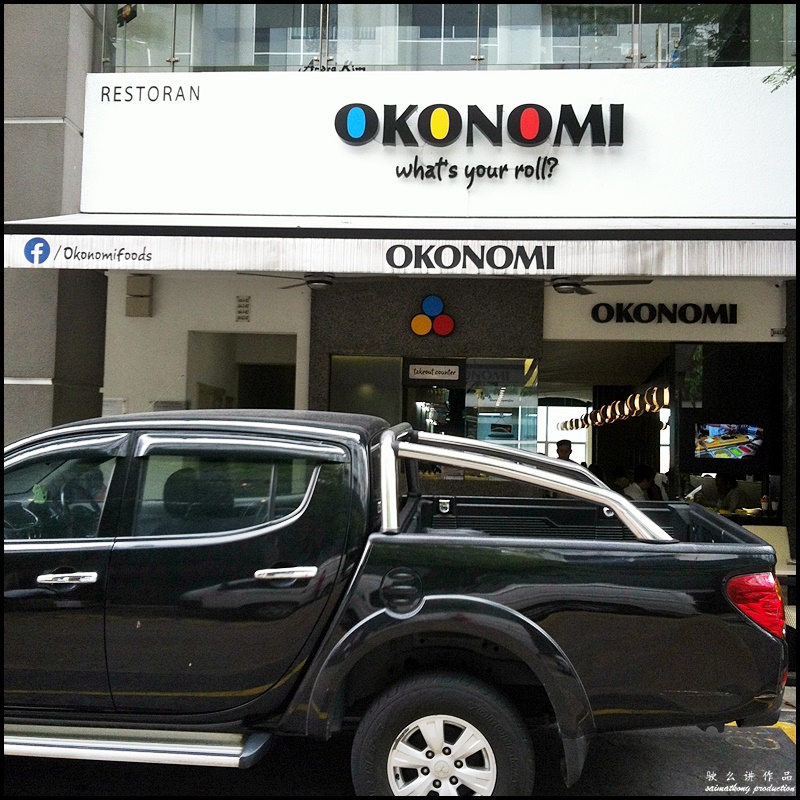 After seeing the pandas, we strolled around the mall for a while before heading to Okonomi for a sweet treat.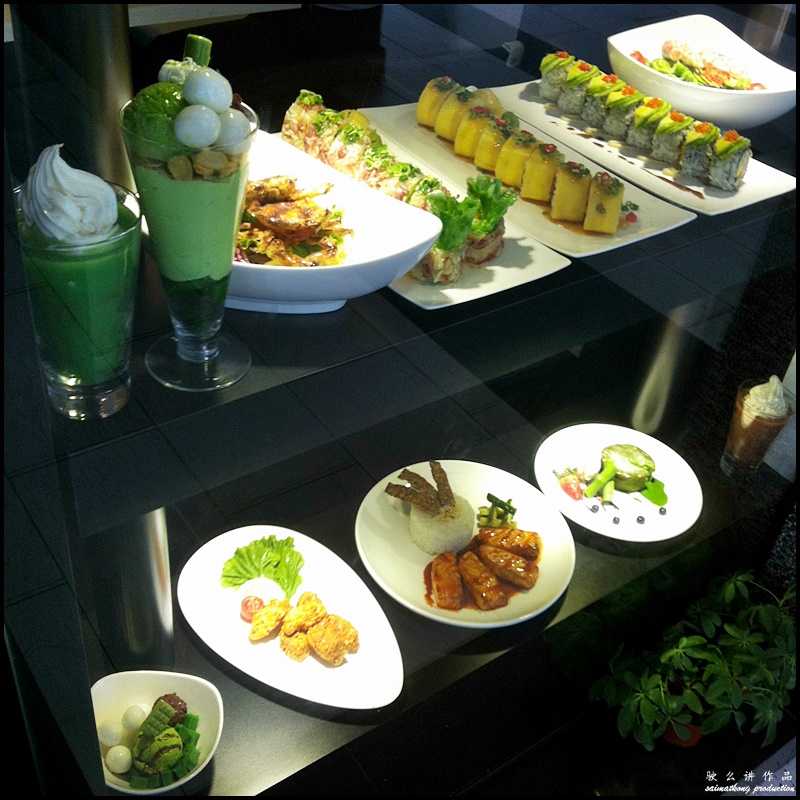 Located below Red Bean Bag and next to Old Town White Coffee, Okonomi is a japanese restaurant serving customised sushi where you can can mix & match your choice of fillings, toppings & sauces. Quite an interesting concept! Since we're still stuffed from the sushi lunch, we ordered a parfait to share but will definitely re-visit to try their maki rolls.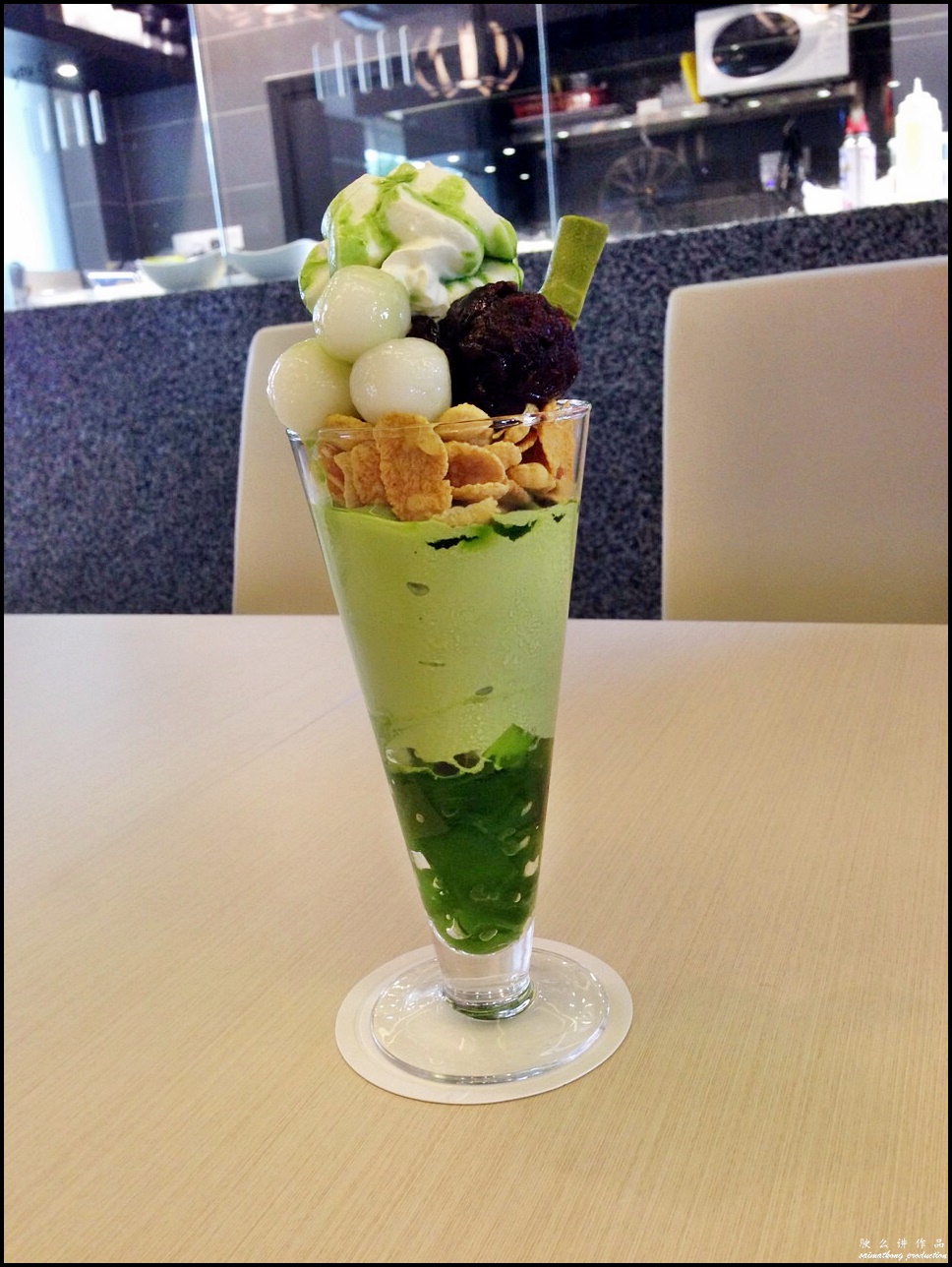 Matcha Lovers Parfait (RM18.90)
If you're a fan of Japanese green tea (matcha), you'll love this!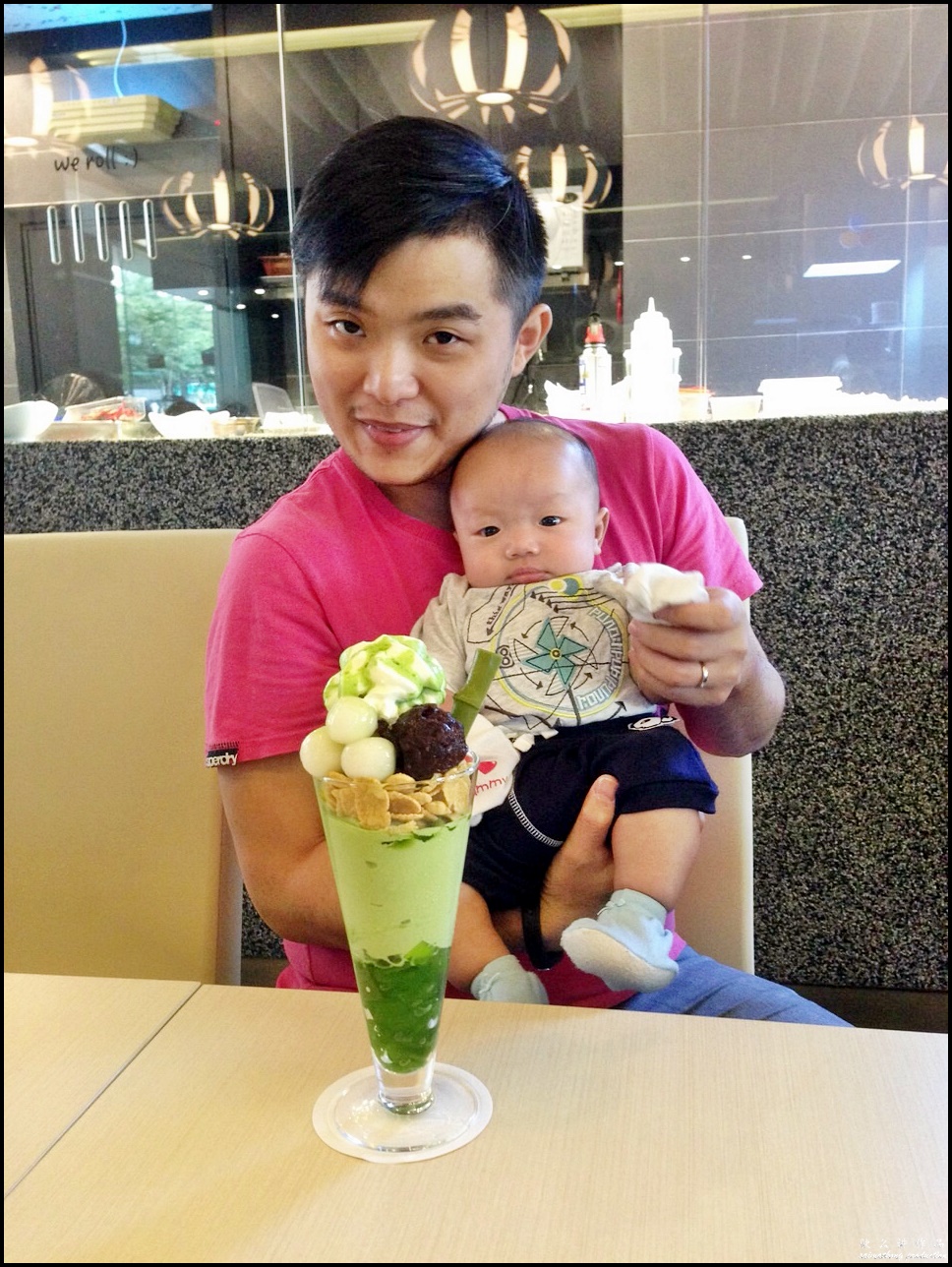 Me and Aiden with our dessert. Aiden can't seem to take his eyes of the Matcha Parfait. Lol. He knows its delicious but too bad he can't eat it yet :/ No worries Aiden, daddy will bring you here next time!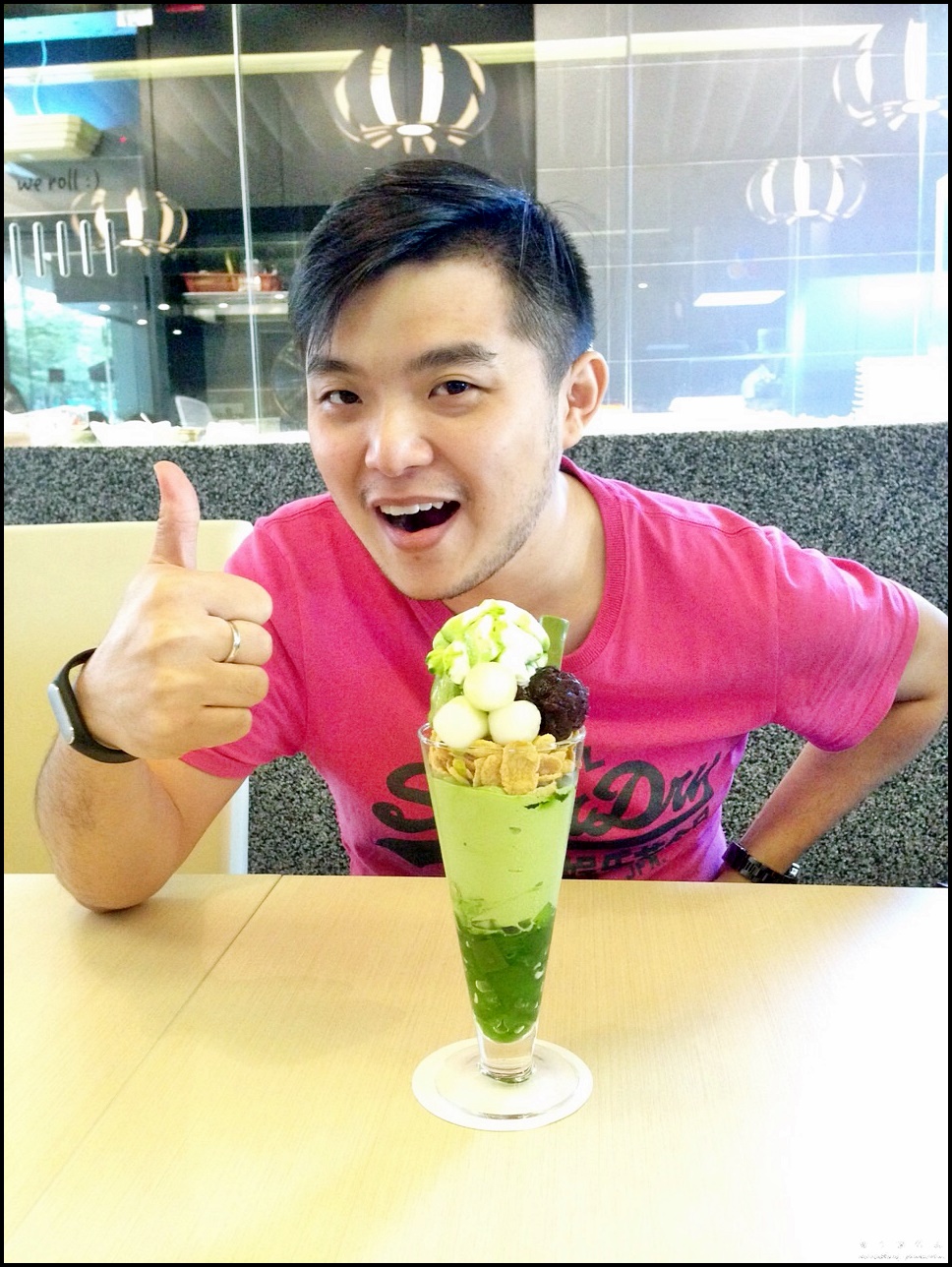 Thumbs up for this excellent Matcha Parfait!
The matcha parfait has got the usual ingredients like mochi, red bean, cornflakes, green tea ice cream and soft serve. Not only it looks heavenly but taste wonderful. Okonomi is definitely the place to go for delicious Japanese desserts.
1600 Pandas World Tour in Malaysia
Location: Publika @ Solaris Dutamas
Date: 13 Jan 2015 to 25 Jan 2015
Time: 10am-10pm
Mono Sushi
Location: A2-G2-3A, Publika Shopping Gallery, Jalan Dutamas 1, Solaris Dutamas, KL
Tel: 03 6206 5239
Opening hours: Sun – Thu: 11am to 11pm, Fri – Sat: 11am to 12midnight
Okonomi
Location: A4-G2-02, Publika Shopping Gallery, Solaris Dutamas, Kuala Lumpur
Comments
comments