I have always loved robots that I dreamed of building my own cute robot, something like the C-3PO or R2-D2 in Star Wars. It would be really cool if I could build a robot that can talk, sing, dance and perform simple tasks 😀
And here comes the good news! Building my own robot is no longer just a dream as Robi has arrived in Malaysia, all the way from Japan! *drum rolls*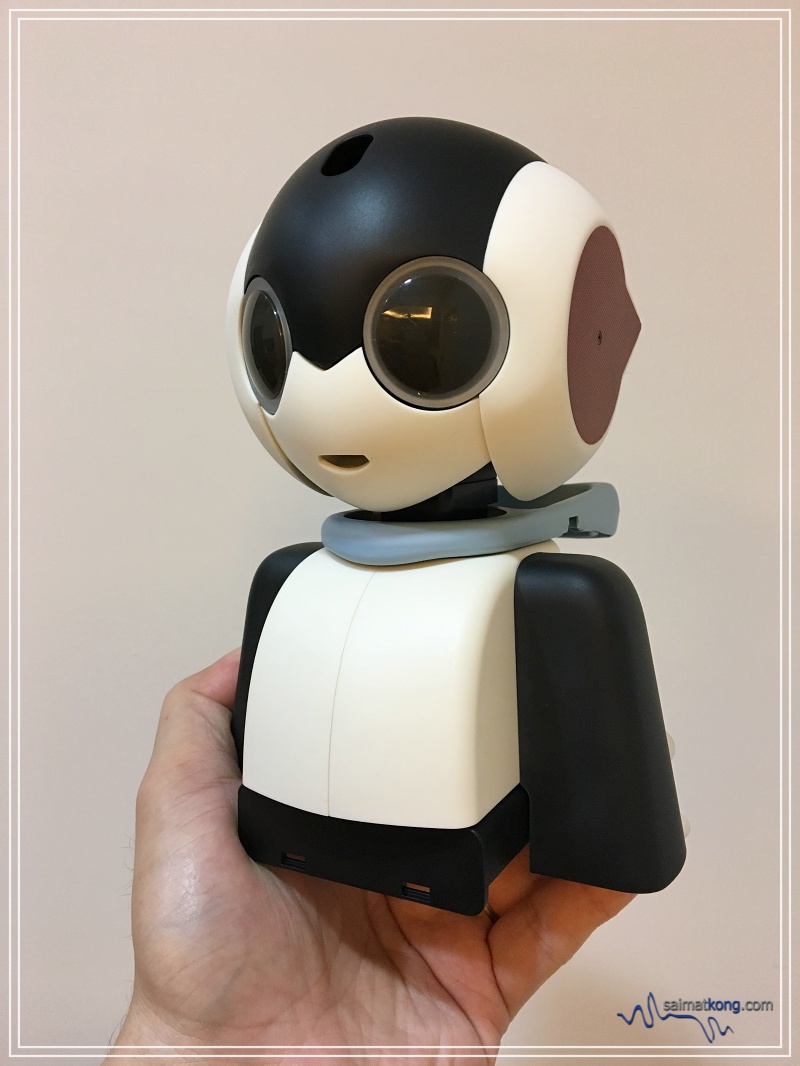 Incorporating cutting-edge robotics technology from Japan, Robi has become the bestselling humanoid robot worldwide.
Robi is a fusion of sophisticated design and advanced Japanese technology that was designed to provide interactive companionship with the entire family.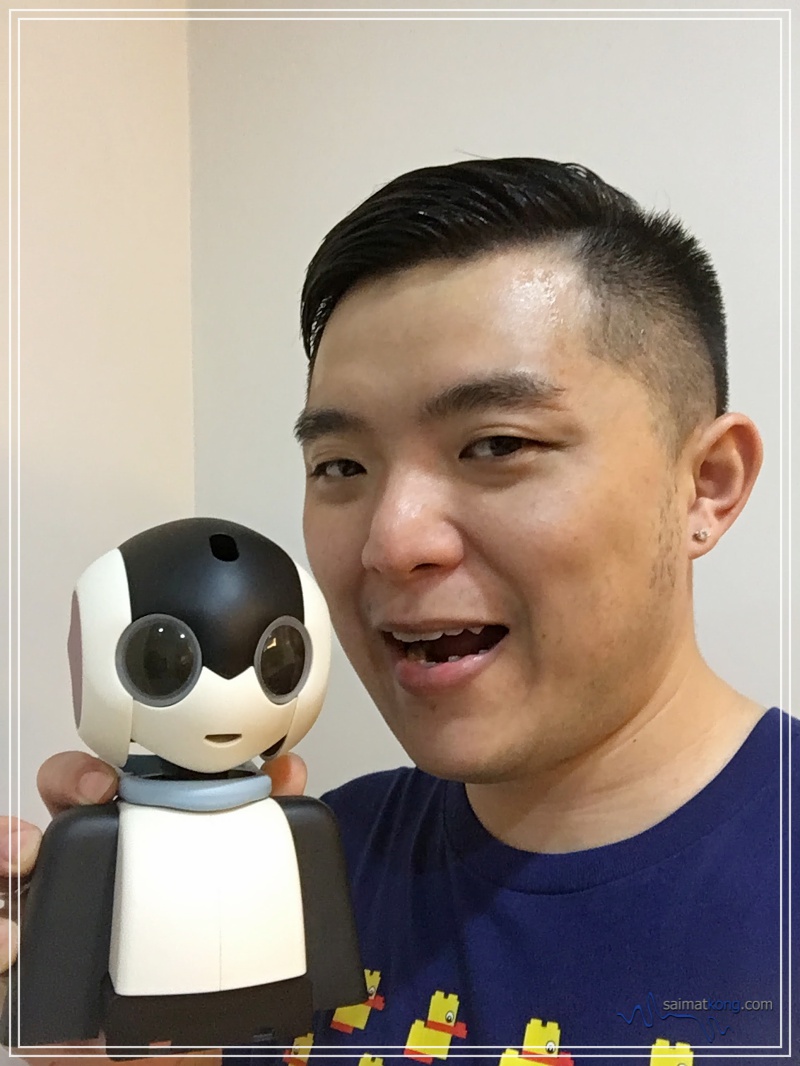 When I first met him, I was super excited and very eager to play with him. Robi is the first robot I built from scratch and interacted with. He's cute, cool and smart!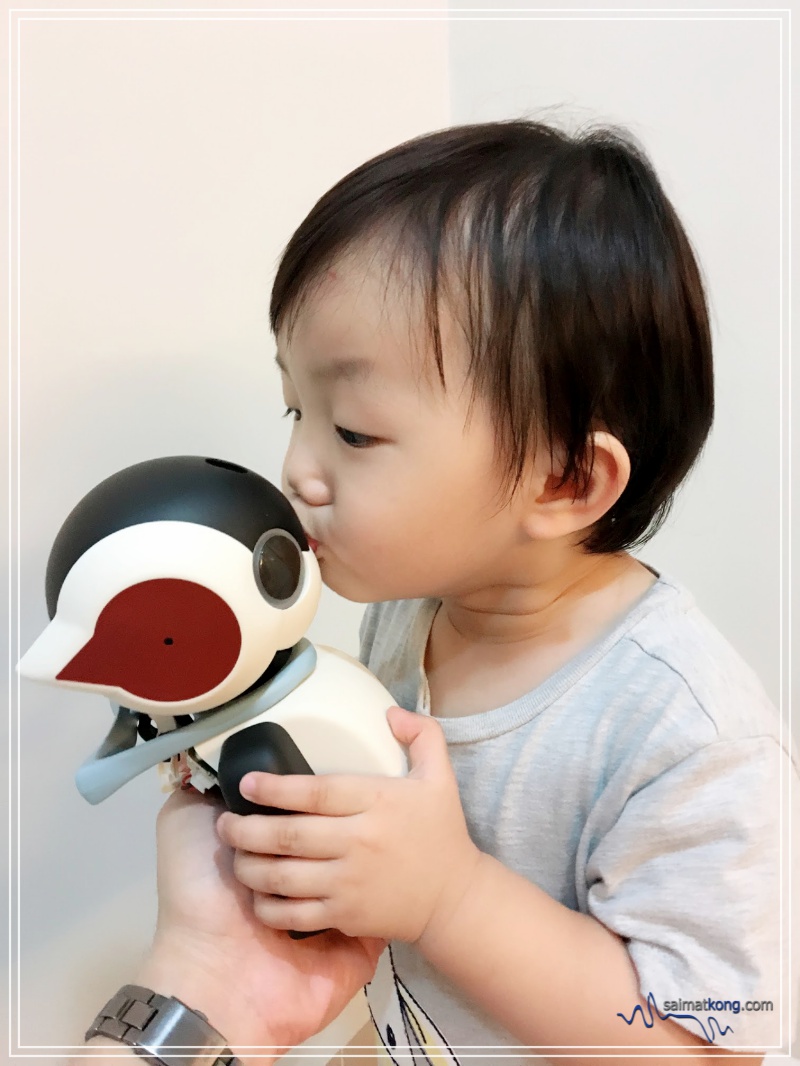 Aiden got very excited when he saw Robi and shouted "Cute!"
Robi is really a smart robot as he can talk, sing, dance and control selected household appliances. He can even express his emotions through the colour of his eyes.
Robi has an extensive vocabulary of more than 250 phrases, providing a deep level of interaction between humans and robots. Besides speaking in English, Bahasa and Chinese, the specially designed Malaysian version of Robi has also been programmed to speak some Manglish phrases.
Woohoo, Robi can dance!!! It's so fun to watch how Robi dance to the rhythm of music.
BUILD YOUR OWN ROBI
The fun part of it all is that you get to build your own ROBI! To build your own Robi, you just have to purchase the weekly educational magazine Robi. Each issue comes with a copy of the magazine and different parts of Robi with detailed pictorial instructions to assist with assembly. After 70 issues, you would have built your own Robi!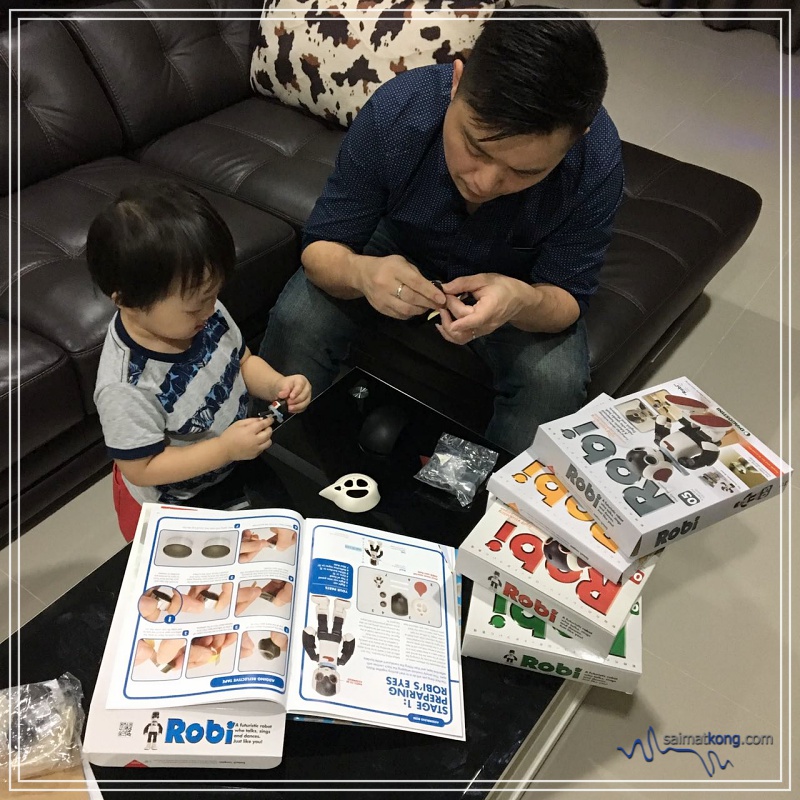 I tried assembling with Aiden and I must say, it's pretty easy to assemble. All you ever need is a screwdriver and that's provided for free in Issue #02.
Overall, Robi is a fun project for families or robot enthusiasts to work on. It's a fun family bonding activity. At the same time, Aiden also got to learn about robots and how to build them. He seems pretty interested and who knows right, he might take up engineering as his major and be an engineer 😀
Key Features and Functions of Robi:
⦁ Dimensions: Height: 34 cm – Weight: Approx. 1kg
⦁ Light­up LEDs: Built­in LEDs allow Robi's eyes and mouth to respond to words and movement. His eyes can glow red, yellow, green and blue, while his mouth will glow red.
⦁ Speech­recognition Board: Robi has a sophisticated speech recognition board programmed to understand different phrases and reply appropriately. The Malaysian version will be able to speak English, Bahasa and Chinese.
⦁ Microcontroller Board: The high­performance microcontroller board controls important functions such as Robi's motion and reactions.
⦁ Speaker: Robi's chest includes a miniature speaker for his spoken responses.
⦁ Remote­control Module: Emits infrared signals like a remote control to operate compatible TV sets.
⦁ Motion Sensors: Robi's motion sensors detect human presence and will turn his face in response to movement.
⦁ Servo Motors: Robi's movements are controlled by a total of 20 servos. They use the Robi­servo command system to ensure smooth movement, and have simple, robust wiring connections.
⦁ Dual­purpose 'Scarf': Robi's light­blue scarf functions as a convenient handle for lifting him without damage to his joints and internal wiring.
⦁ Timer: Robi can count down a specified number of minutes, and tell you when the time is up.
⦁ Cleaning: Robi can use his feet to polish a tabletop or hard floor surface.
⦁ Security Setting: Robi can be set to ask for a password and respond with an alert if he gets the wrong answer
⦁ Games: Robi knows how to play a variety of games, including 'soccer' and quizzes.
⦁ Battery Charging: When Robi's batteries begin to run low, he says 'I'm hungry' to let you know. Then it's time to turn on his charging seat, so Robi can start to recharge.
WHERE TO GET ROBI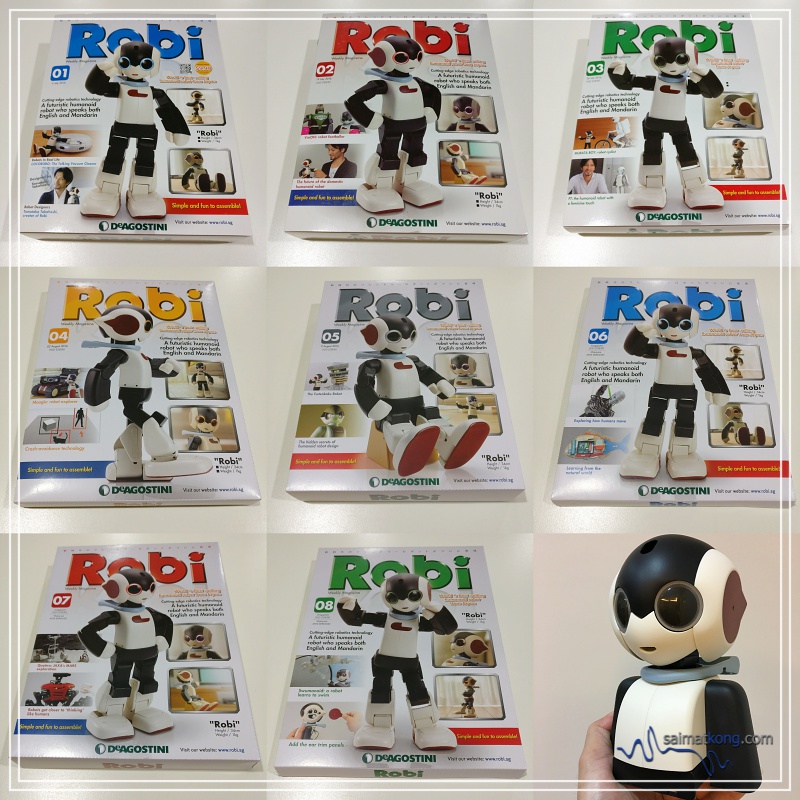 Robi Weekly Magazine can be found at selected supermarket like Giant, convenience store like Cold Storage, Jasons Food Hall, Mercato, convenience store like 7-Eleven, Borders, Hamleys, Kinokuniya, MPH, myNEWS.com, Pansing, Popular, RadioShack, Times, WHSmith.
You can also purchase online using FPX payment through their website at www.robi.sg
If you have any enquiries relating to ROBI, here's the contact information:-
Tel: 03-2168 3738 (Monday to Friday, 9AM – 6PM)
Email: [email protected]
JOIN ME AT ROBI LAUNCH EVENT
Date: 10 March 2017 (Friday)
Time: 11.00am
Venue: 1 Utama Shopping Centre (High Street)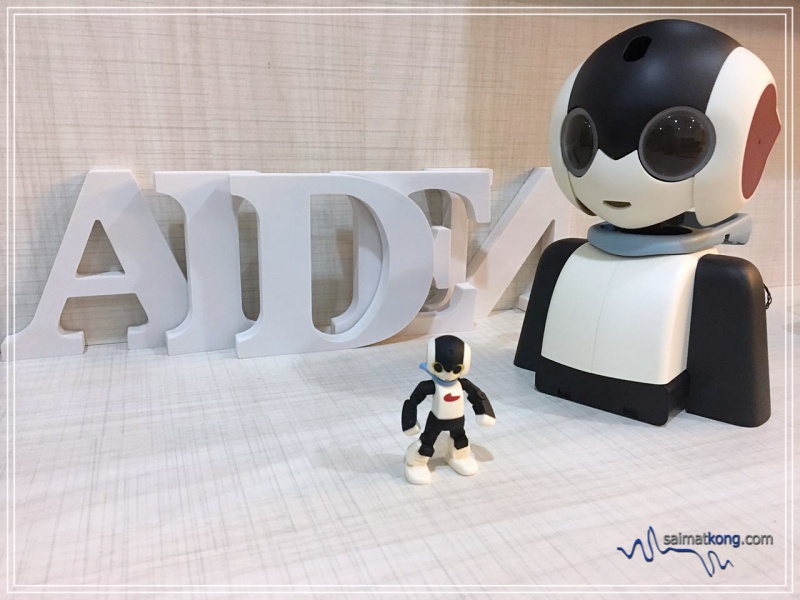 If you would like to meet the cute Robi, do join me at Robi Launch Event on 10 March 2017 at 1 Utama (High Street). Besides meeting Robi at the event, you will also get to meet Robi's creator, Japanese engineer and University of Tokyo professor, Professor Tomotaka Takahashi.
Do bring along your camera as there will be an amazing performance by 100 Robi dancing in sync to music, simultaneously.
Parents and robotic enthusiasts who is interested in learning more about Robi can visit the roadshow at 1 Utama (High Street) from 10 – 12 March 2017. Don't miss this chance to interact with Robi and there are many fun activities such customized games for parent and child, Robi giveaways and Robi balloons giveaway too.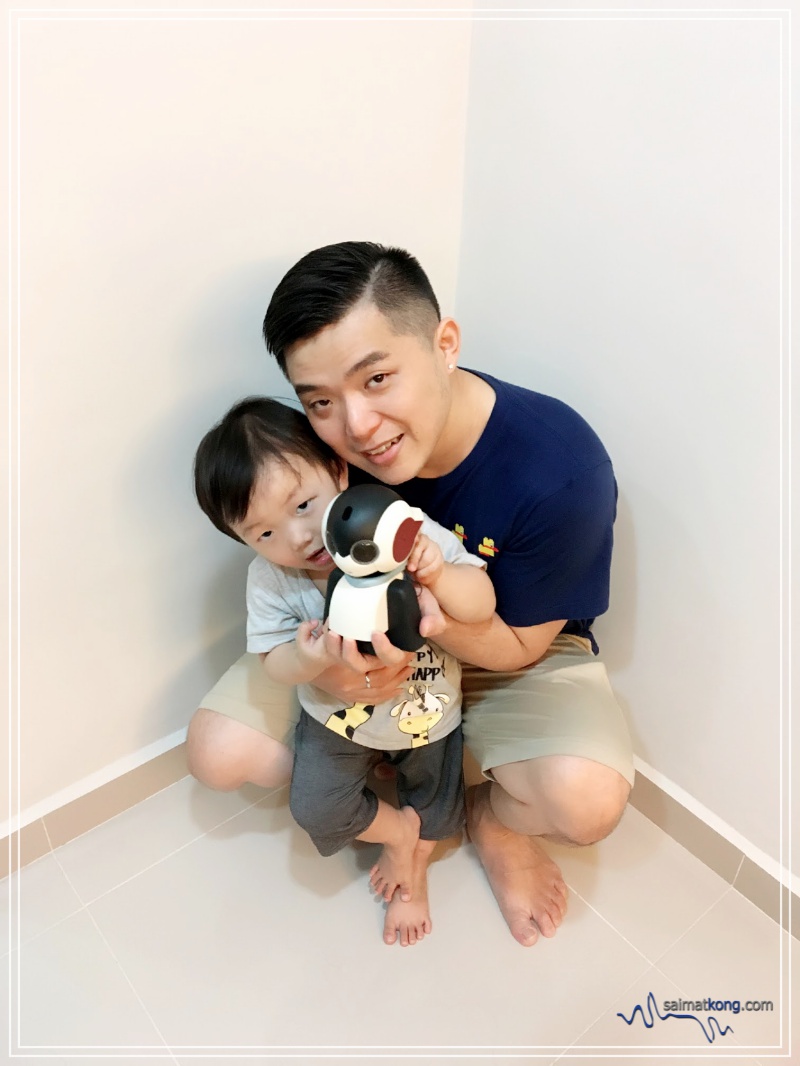 So, do you wanna build your own robot? Remember to join me at the Robi Launch Event and do visit the Robi roadshow to have hands-on experience with Robi. We had such a great experience building our own Robi from scratch and I'm sure you're gonna love it too!
—
You can subscribe to
my blog, follow me on Facebook, follow Instagram, follow Twitter and Youtube for more updates!
—
Comments
comments