CIMB KL Open Squash Championships 08 Berjaya Times Square – Nicole David, Beng Hee Won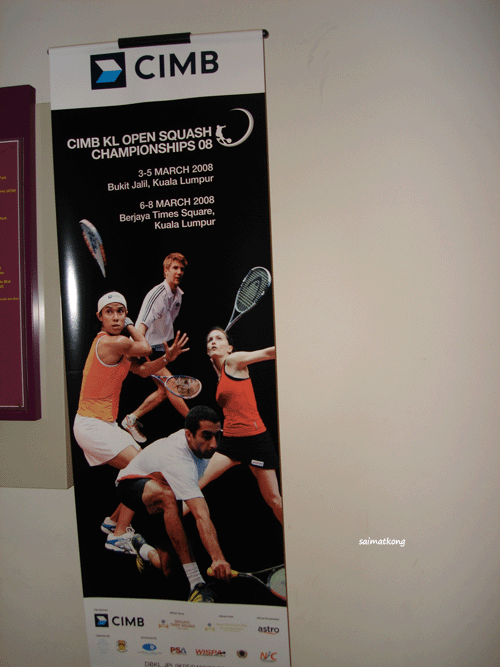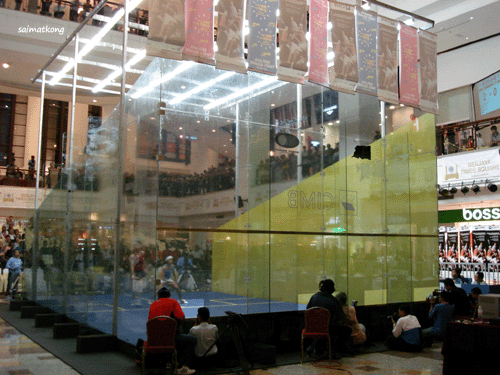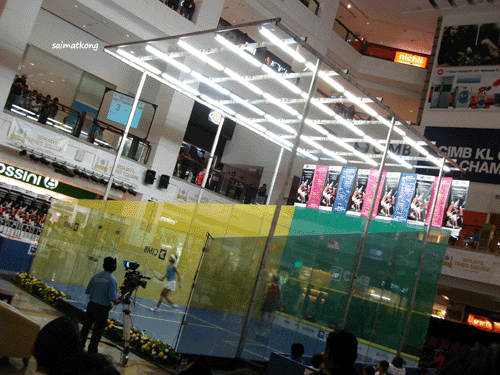 Co-incident I was in Berjaya Times Square for wedding dinner and I saw this CIMB KL Open Squash Championships 08, so I took some of the pictures and video.
Beng Hee ends 28-month drought with first KL Open title

KUALA LUMPUR: Malaysia's Ong Beng Hee captured his first title in over two years when he beat compatriot Mohd Azlan Iskandar 11-8, 11-10 (5-3), 11-10 (2-0) in the men's final of the Kuala Lumpur Open squash championships yesterday.

But what a titanic tussle it turned out to be at the Berjaya Times Square.

Beng Hee, who lost to Azlan in the Asian Championships final in Kuwait last month, needed 66 minutes to clinch victory – his first since winning the Malaysian Open title in November 2005.
Victorious: Beng Hee beat Azlan 11-8, 11-10 (5-3), 11-10 (2-0) in the men's final.

Both players fought tooth-and-nail to entertain the crowd to an exciting final.

Beng Hee received US$7,220 (RM24,500) for his efforts while Azlan pocketed US$4,940 (RM16,700).

Beng Hee took a comfortable 9-5 lead in the first set. He then dropped three points before getting his game back on track to win the set.

The second and third sets proved to be very close affairs as both players went toe-to-toe.

In the second set, Azlan held match point at 10-9 but Beng Hee accidentally hit Azlan's left elbow with the racquet.

Azlan continued to play despite the pain. Beng Hee managed to level the score at 10-10 to force a tiebreak.

Azlan again went ahead at 13-12, needing just point to win the set. But again Beng Hee rose to the occasion, collecting three points to clinch the set.

The third set proved to be just as heart-stopping, with Azlan again taking a 10-9 lead. Beng Hee, never one to say die without trying, fought back to level the score 10-10 and force another tiebreak.

Beng Hee was leading 11-10 when he was accidentally kneed by Azlan in his left calf.

Beng Hee had to be attended to by a doctor before the match resumed three minutes later. The injury failed to stop Beng Hee from collecting the crucial point to win the third set and seal victory.

Beng Hee said he was happy to have proved his critics wrong by ending his 28-month Professional Squash Association (PSA) title drought.

"It was a great win for me as I faced a strong challenge from Azlan. I panicked when I injured my left calf and I wasn't sure whether I would be able to continue playing and get the crucial point," said Beng Hee.

"Luckily I managed to get my act right and win my first KL Open title."

"If I had lost the third set, I think I would have lost the match."

Beng Hee also said that Azlan lost "because he looks mentally tired".

Azlan said he was disappointed at not being able to get the crucial points despite taking the leads in the second and third sets.

"Hats off to Beng Hee for playing such a good match and coming from behind to win the final," said Azlan.
KUALA LUMPUR: World No. 1 Nicol David played the role of a party-pooper when she spoiled Natalie Grinham's second wedding anniversary by beating the Dutchwoman in the final of the CIMB Kuala Lumpur Open squash championships at the Berjaya Times Square here yesterday.

Nicol, the defending champion, played a fast game to win 9-4, 9-2, 9-2 in just 35 minutes for her third title this year and her fifth KL Open crown.

The Penangite won the Apawamis Open in New York in January and also bagged her sixth Asian title in Kuwait last month.

It was Nicol's seventh win over Grinham in eight meetings since last year.

Grinham, who is nursing a sprained foot suffered during the Apawamis Open, gave a good fight in the first set.

But she found it difficult to keep pace with Nicol in the next two sets.

Grinham said that she could not give her best because of her sprained foot.

"However, I will take a break for few days as tomorrow (today) is my second wedding anniversary," said Grinham, who is married to 2001 KL Open champion Tommy Berden.

Two-time World Open champion Nicol pocketed US$8,122 (RM27,600) for her victory while Grinham took home US$5,771 (RM19,600).

Nicol, who also won the KL Open in 2000, 2002 and 2005, said that it was great to have bagged her third title for the year and her fifth KL Open crown.

"I felt good going into the final and Natalie did put up a good fight in the first set," said Nicol, who captured eight Wispa titles last year.

"But in the next two sets she struggled although she gave her best as I believe she is still suffering from the sprained foot."

Nicol was also glad that her training stint under former world No. 1 Sarah Fitz-Gerald in Melbourne in January had paid off.

"I picked up some valuable pointers from her and I hope to get her help to further improve my game," said Nicol.

The 25-year-old player added that she would take a few days' break before resuming her training.

"I will be doing some exhibition matches in London next week and my next tournament will be the British Open in May," added the player, who is coached by Australian Liz Irving in Amsterdam .
Comments
comments