After months of counting down to 2014 FIFA World Cup, the FIFA World Cup Brazil finally kicks off on 12 June 2014 in Sao Paulo, Brazil. All football fans around the world have caught the 'World Cup Fever'. I know some diehard footballs who booked tickets to Brazil to watch all the matches live from stadium. As for me, no budget for Brazil trip so I'll just watch the Live matches on TV via Astro On-The-Go with my favorite snacks and beer 😀 I foresee many sleepless nights but what the heck, it's World Cup season!
Recently, I was invited to attend the #StadiumAstro #OlaBola World Cup Party at Hongdae Moon, One City Mall.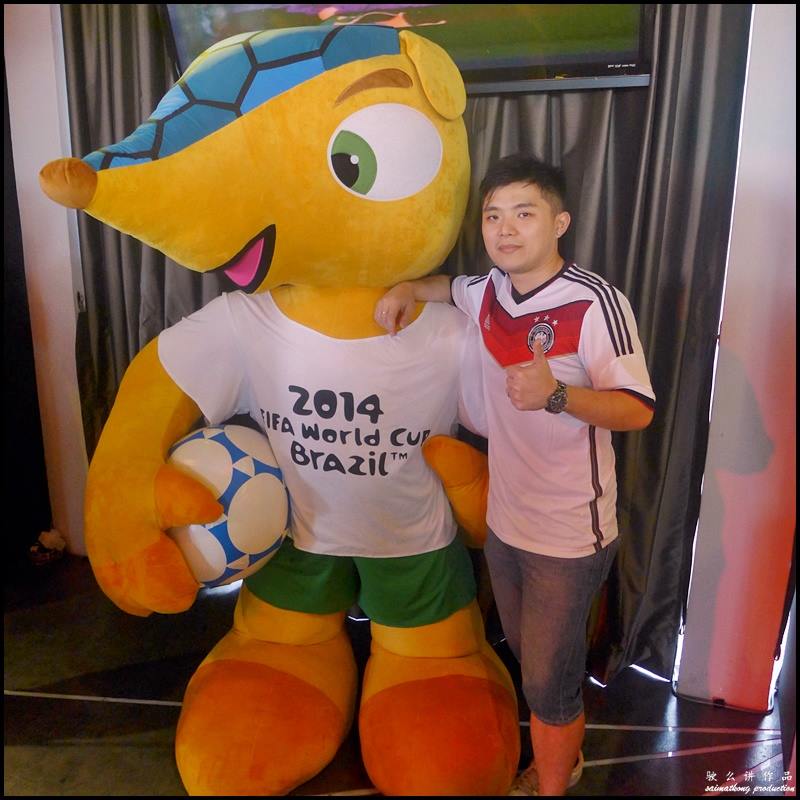 Meet the official mascot for 2014 FIFA World Cup, a three-banded armadillo called "Fuleco".
The bubbly Reuben Kang was the host for Stadium Astro #OlaBola Party with pretty Yong Wan Jun, the winner of Miss Malaysia Tourism 2012, both from Astro SuperSports.
Stadium Astro #OlaBola party's theme was 'Football National Jerseys' thus all bloggers come dressed in their favorite football jerseys.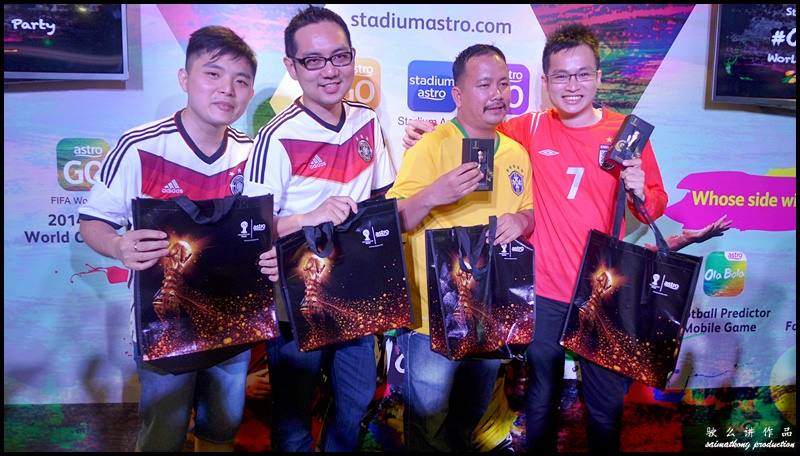 Both Isaac Tan and I teamed up with Reuben Kang for a World Cup Quiz. Most of the questions were about the World Cup's history and we couldn't answer most of it. Haha. My history sucks big time! Lex Lim (KampungBoyCityGal) and his team won the Quiz!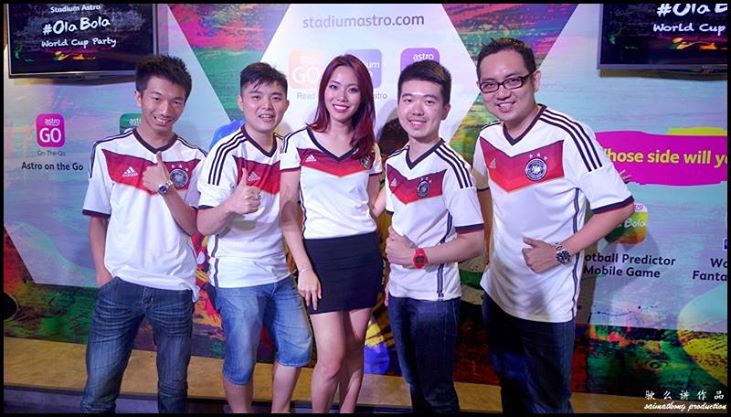 Germany National Football Team Supporters with pretty host Yong Wan Jun at #StadiumAstro #OlaBola World Cup Party.
Astro, the Official Broadcaster of the 2014 FIFA World Cup Brazil, offer Malaysians the most comprehensive and complete coverage of the spectacular football event through Stadiumastro.com and multiple apps for viewers to 'WATCH, PLAY, READ and LISTEN' about the 2014 FIFA World Cup.
Astro has www.stadiumastro.com as the home ground for the 2014 FIFA World Cup Brazil. Malaysians can access STADIUMASTRO.com throughout the World Cup season for everything about FIFA World Cup (e.g latest news, happenings, live updates, fixtures, match highlights/videos, games or even World Cup themed Radio Arena stations and podcast) to stay on top of all things World Cup.
WATCH Platform – Providing The Most Comprehensive Coverage of the World Cup
Astro Football Pass holders can watch all 64 Live matches on 10 dedicated channels (5 Standard Definition (SD) channels and 5 High Definition (HD) channels) on Astro TV and Astro On The Go. To further enhance the World Cup viewing experience, two apps will be available:
"Astro Go 2014 FIFA World Cup" App allow Football Pass holders to watch all 64 LIVE matches through 6 Live multi-camera feeds that fully capture the excitement of matches. It has this unique Event Marker feature which allow us to replay our favorite moments with the tap of a finger during Live matches. So when your favourite team score a goal, can click and watch the moment again! In addition, viewers can also watch key moments of all matches in multi-angle view. This Astro Go 2014 FIFA World Cup App is available for FREE download on iOS/Android and FIFA Web Player via StadiumAstro.com
"Astro on the Go" App will feature all 64 Live matches of the 2014 FIFA World Cup for Astro subscribers. No Astro at home? Nevermind coz Non Astro subscribers can 30 LIVE matches for FREE and then you can purchase single game on Pay Per View basis at RM6 per match. This Astro on the Go app is available for FREE download on iOS/Android and via my.astroonthego.com
PLAY Platform – What Team are you Rooting For?
Brace yourself for the 2014 FIFA World Cup™! Pick your favourite nation and show your team your support! Brazil or Germany?
Get your face-painted and set it as your Facebook profile picture and cover photo to be part of the largest face-painting Drive in Malaysia at olabola.my
Do you know football well enough to make predictions on the World Cup events (eg. free kicks, corners and penalty kicks) during an ongoing LIVE football match? Join football fans around Malaysia and put your football instincts to test this World Cup with the "Ola Bola Football Predictor" App.
Astro has created "Ola Bola Football Predictor" App for iOS and Android devices, where gamers can make prediction on the outcome of free kicks, corner kicks and penalty kicks. There will also be a host of pre-match predictions and half-time mini games that you can participate in and also score points for accurate predictions. Join the Leaderboard Challenge and stand a chance to win a brand new Foosball table by being the Champion of Football Predictor for World Cup 2014! This game is available for FREE download from Apple App store and Google Play.
Malaysians can also participate in games like the "Stadium Astro Fantasy Olabola Edition" on the PLAY platform. This Stadium Astro Fantasy #Olabola Edition game allow football fans to create their dream team, transfer players, join leagues, earn rewards and score points based of real-life performances of their selected players. Play this Stadium Astro Fantasy Olabola Edition game and stand a chance to win attractive prizes. This game is available on www.stadiumastro.com.
READ Platform – "Astro Go Read" App keeps you up to date with the latest World Cup news.
"Astro Go Read" app curates and personalizes content from sources all over the web & digitized print magazines. During the 2014 FIFA World Cup, content from Ola Bola Stadium Astro website (www.stadiumastro.com) and digitized print magazines such as FourFourTwo and other web sources will be curated, keeping fans in the loop for the latest World Cup news!
LISTEN Platform – Get groovy with Radio Arena
Radio Arena on StadiumAstro.com App alongside Astro Radio will be creating and aggregating the best 2014 FIFA World Cup content. This app will keep you updated with the latest World Cup news, updates, interviews, post-game analysis and more so that you won't miss a thing about World Cup. Also, World Cup themed radio station will be playing the best football and samba music to get you in the mood for the biggest football event.

Stadium Astro Ola Bola World Cup Party @ Hongdaemon One City, Skypark
Comments
comments