It's World Cup and everyone has gotten the fever : The World Cup fever!

The 'Three Pillars' of FIFA's mission
The highly anticipated FIFA World Cup 2014 is finally here! For this whole month, people will be talking, breathing, eating and sleeping football everyday. Brazil is favored by many football enthusiasts to win its sixth World Cup while Argentina are second favorites, followed by Spain and Germany.
Brazil 3 : 1 Croatia (Match 1)
The opening match ended with host Brazil winning the match against Croatia. It was a good start for Brazil and of coz its good news for Brazil fans! Brazil leads 2-1 over the Croatians after referee Nishimura awarded Brazil a controversial penalty kick delivered by Neymar.
Mexico 1 : 0 Cameroon (Match 2)
The Mexicans delivered an impressive performance and their victory placed them into second place in Group A. Mexico deserved this World Cup win against Cameroon as they had controlled the game right from the start.
Spain 1 : 5 Netherlands (Match 3)
Netherlands thrashed the Spain in the opening Group B match with Robin van Persie and Arjen Robben scoring two goals each while the fifth goal was scored by Stefan de Vrij.
Chile 3 : 1 Australia (Match 4)
The Australians were good but Chile were even better and went on to win 3-1.
The tournaments has been good thus far with good performances from some of the national team. So looking forward to watch all the upcoming Live matches. As for the Day 3 match, I personally am looking forward to watch England vs Italy 🙂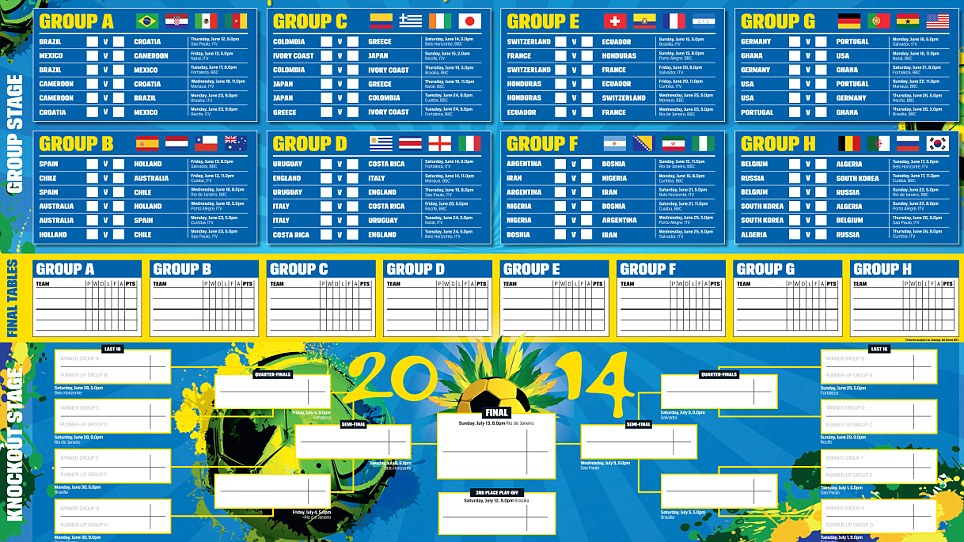 World Cup 2014 Schedule
Where are you watching FIFA World Cup 2014? Home alone, Mamak or Bistro/ Pubs with a group of friends and other football fans?
Where to watch FIFA World Cup 2014 in KL and PJ?
Below are the list of places for football fans to eat, mingle and watch 'LIVE' World Cup action in Malaysia :
Bricks & Barrels
This spacious bar and restaurant has a beer garden where you can expect to sit back and relax with beer and snacks while watching your favorite team playing.
Screenings: Midnight & 3am (subjective to crowd).
76 Jalan 27/70A, Desa Sri Hartamas, 50480 KL.
Zam Zam Café & Satay Club
Get ready to cheer on for your favourite team with other football fans at this halal "Food Street" café. Order a serving of murtabak, briyani and satay with a side of football cheer. Zam Zam will be open 24 hours throughout this World Cup season.
Screenings: All matches.
Lot 51555, Lebuh Bandar Utama 47800 PJ, Selangor.
Healy Mac's
With branches in Bukit Bintang, Hartamas and Jalan P Ramlee, this Irish bar is an ideal place for tourists and expats to gather and watch the World Cup games with a Guinness or Kilkenny in hand.
Screenings: Midnight & 3am (At all outlets).
No.38 Changkat Bukit Bintang 50200 KL.
No.11, Ground Floor, Plaza Prismaville, Jalan 19/70a Desa Sri Hartamas 50480 KL.
Crown Regency No.12 Ground Floor, Jalan P.Ramlee 50200 KL.
Sid's Pub
Sid's Pub is a small and intimate British pub in TTDI which is ideal for people looking for a place to chill with their friends over beer.
Screenings: Midnight, 3am (pending on demand) & 6am (by request). NOTE: Screenings vary at different outlets.
34 Lorong Rahim Kalaj 14, TTDI, 60000 KL
10, Jalan Medan Setia 2, Damansara Heights 50480 KL
M-5A The Village, Bangsar South, 2 Jalan 1/112H, Off Jalan Kerinchi 59200 KL
H2 Taman Tunku, Off Langkat Tunku, Bukit Tunku 50480 KL.
SOULed OUT
SOULed OUT is a popular restaurant boasting a big screen which attracts football fans from all around town.
Screenings: Midnight, 3am, 4am and 6am (selected matches).
No.20, Jalan 30/70A, Desa Sri Hartamas, 50480 KL
Nasi Kandar Pelita
24 hour mamaks are a safe bet for football fans. Nasi Kandar Pelita will be screening all World Cup matches throughout the World Cup month.
Screenings: All matches.
Tingkat G, No. 2, Jalan Telawi 5, 59100 Bangsar Baru, KL.
No. 149, Jalan Ampang, 50450 KL.
McDonald's
Football fans can watch all 64 matches live in HD at all 24-hour McDonald's branches throughout Malaysia. To find a branch near your location, you can refer to McDonald's Malaysia's website at www.mcdonalds.com.my
Screenings: All matches.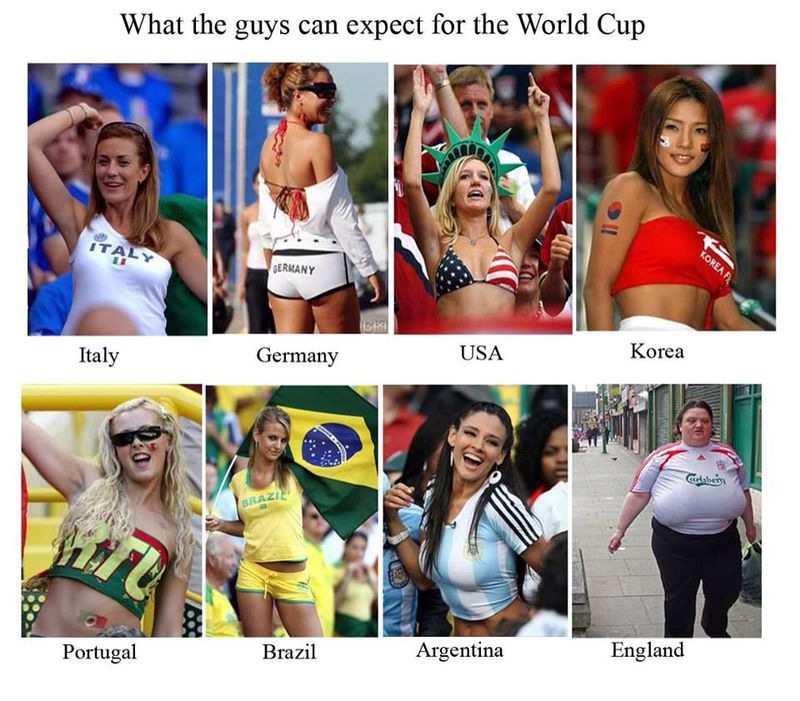 Beautiful World Cup girls supporting their national teams.
Beautiful World Cup girls supporting their national teams.
Many thought men concentrate on football while girls watch the players (especially good looking ones). This is only partially true as there are actually many beautiful World Cup girls for guys to look at 🙂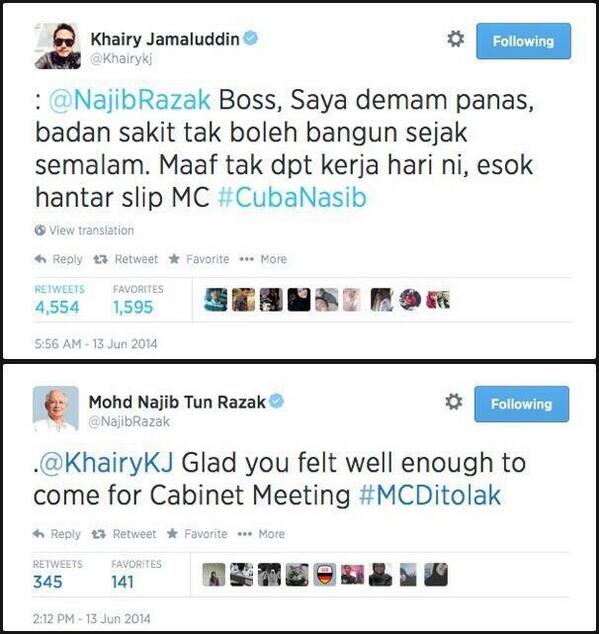 Our PM Datuk Seri Najib Tun Razak showed who is boss when the premier jokingly rejected Youth and Sports Minister Khairy Jamaluddin's medical certificate (MC) tweet. @Khairykj had earlier tweeted to @NajibRazak at 5.56am on Friday, following the opening World Cup 2014 match between Brazil and Croatia: "Boss, I have a high fever. My body aches and I haven't been able to wake up since yesterday. Sorry I can't work today, I will send my MC slip tomorrow. #CubaNasib (#TryingMyLuck)." Najib replied later in the day: "@KhairyKJ Glad you felt well enough to come for cabinet meeting #MCDitolak (#MCRejected)."
This tweet serves as a lesson for those who thought of getting MC after staying up at night to watch the football for your boss might not accept your MC. LOL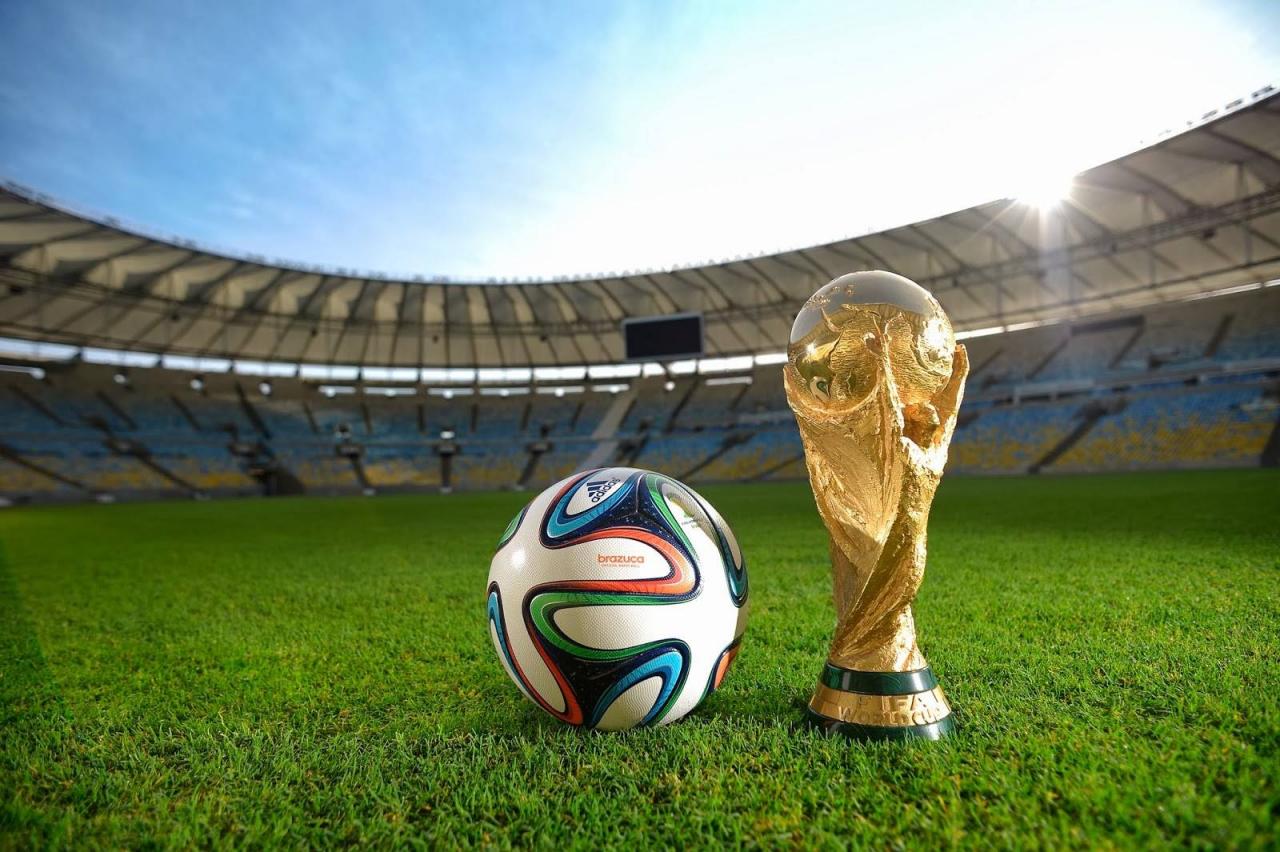 So, which team are you rooting for? Who you think will win the World Cup?
Comments
comments