RedBox School Holiday Promotion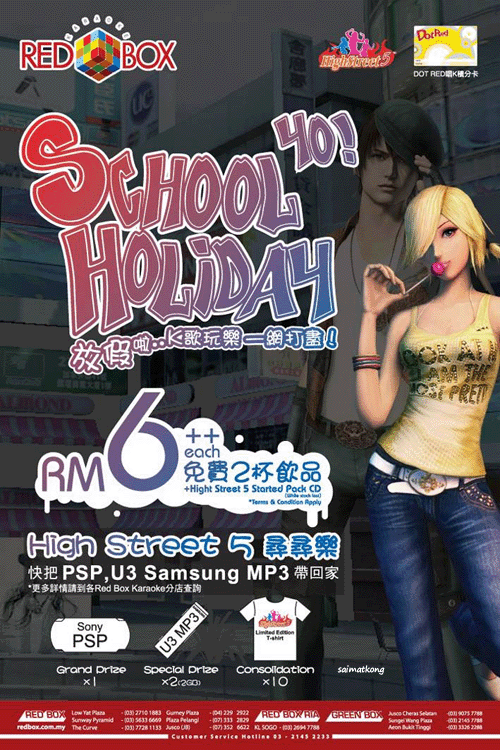 What is Red Box? Red Box Karaoke is a healthy, awesome, young and vibrant entertainment venue that caters to Malaysian public from all walks of life since 2000.

Constantly rejuvenating its distinctive brand of family entertainment with affordable price, Red Box has infused itself as one of the most preferred singing, leisure and genuine gathering place for fellow Malaysians without fail.
From 10th March till 14th March 2008, enjoy your school holiday with Red Box & Red Box Ria only at RM6++ or with Green Box only at RM8++ per student. (2drinks)
Looking for extra fun during this School Holiday other than Games, Karaoke & Party? Hurry! Visit our High Street 5 Workshop and join a Dance Competition to win fabulous prizes! Sony PSP, MP3, T-Shirt too.
Yo Yo 放假啦!!
Red Box & Green Box Karaoke 已迫不及待要和同學們一起 HIGH哦!
同學們除了能K翻天外, 也可通過由Red Box /Green Box Karaoke 和 High Street 5 聯合呈獻的"舞林爭霸賽" 和考眼力的"尋尋樂"中贏走PSP , MP3及High Street 5周邊產品哦!
Red Box & Green Box Karaoke 和你精彩假期每一天 !
詢問熱線 : 03-2145 2233
網路訂房現已啟動
*活動日期 :10/3/2008 – 14/3/2008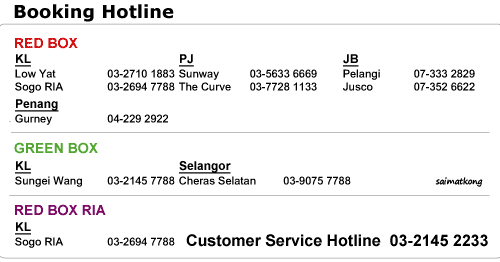 For more information please visit : http://www.redbox.com.my/
or contact them at [email protected]
Comments
comments