30,000 Free Seats Singapore Kuala Lumpur from AirAsia.com
30,000 Free Seats Singapore <-> Kuala Lumpur from AirAsia.com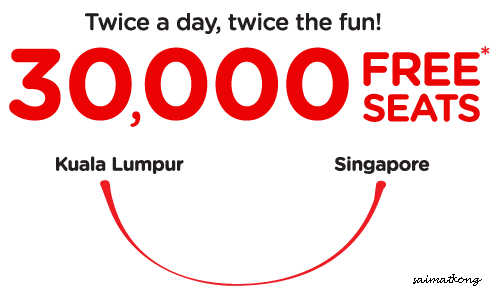 So how much have you been paying all these years to fly
to Singapore? Are you tired of the bumpy 5 hour bus ride?
Start smiling now because you no longer need to pay
through your nose.
And the best part is, to commemorate this historical flight,
AirAsia.com are giving away 30,000 FREE SEATS*!
Book them on airasia.com from 10 Jan 12.00 noon onwards till 13 January 2008. And I don't have to remind you that these seats will be snapped up at the speed of light. But fret not, even if you miss our free seats, our fares start from only RM29.99 one way! At AirAsia, we make things happen.
saimatkong wish you have a happy trip =)
Comments
comments