As a heavy mobile internet user, I've been experiencing slow internet connection once I exceed the usage quota 🙁 It's kinda frustrating especially when I need to access the web or when I need to get some work done. And so, I started to look around and come to know of this new Hero Postpaid P70 plan by U Mobile 🙂

Here's the thing – if you're a U Mobile user and think that U Mobile plans are good, here's an even better plan for you! U Mobile has just introduced a new postpaid plan called "Hero P70" that offers 7GB of data and unlimited calls to all networks for only RM70 a month. For someone who is always surfing the net (like me), 7GB of data sounds good! My current plan has 3GB of data which is insufficient coz I use it very often for social media (Whatsapp, Instagram, Facebook, Twitter, Waze), check & reply emails and blog (yes, I sometimes update my blog posting from my handphone). Hence, the internet connection speed will be throttled down to lower speed once I exceed the monthly usage quota 🙁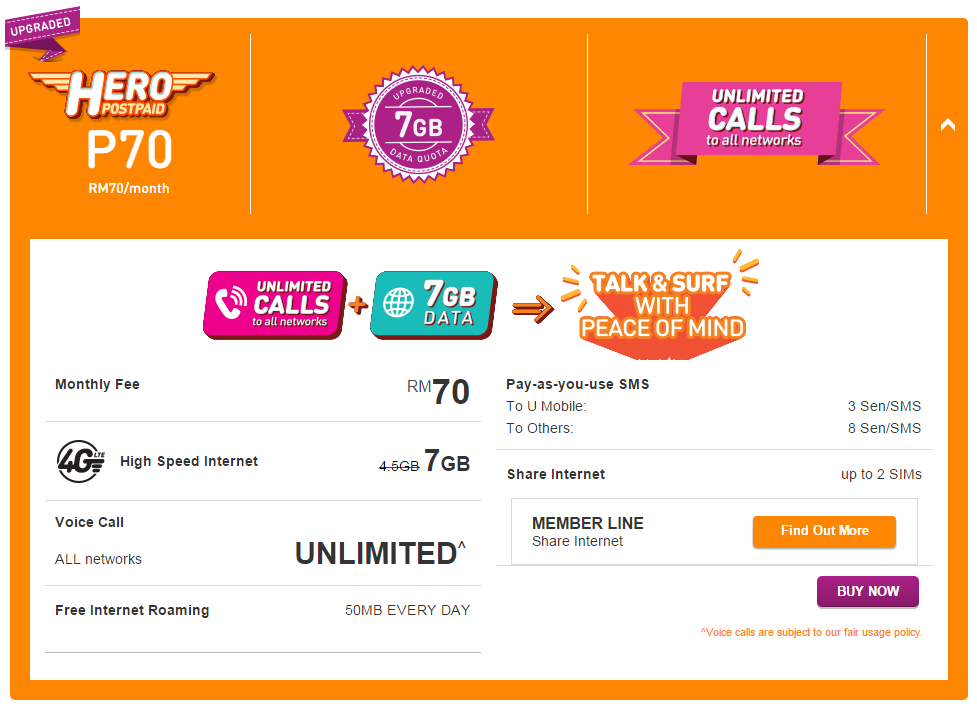 Attractive features of the new U Mobile Hero Postpaid P70:-
– RM70 Monthly Fee
– 7GB High Speed Internet
– Unlimited Calls to all networks
– 3 sen/SMS within U Mobile
– 8 sen/SMS to other networks
– FREE Internet Roaming (50MB Every Day)
The Hero Postpaid P70 is quite a good plan for heavy data users (like me) and at an affordable price of RM70 a month, it's actually cheaper than other providers. If you think 7GB is too much data for you to use, you could actually share your calls and internet plans with up to 2 SIMs, at an additional RM 10/month per SIM card. Additionally, you also will get to enjoy free internet roaming (up to 50 MB daily) when traveling within selected Asian countries.
If you're looking for an affordable postpaid plan that comes with 7GB of data quota and unlimited calls to any networks, do give U Mobile's new Hero Postpaid P70 a try!
For more information, head over to U Mobile's (postpaid page).
Comments
comments