Tai Cheong Bakery (泰昌餅家) @ Central 中環
Tai Cheong Bakery (泰昌餅家) is a traditional bakery in Hong Kong that is most well-known for its egg tarts. Today, there are about 15 branches located throughout Hong Kong and Macau.
After our satisfying dinner at Yat Lok Restaurant (一樂燒鵝), we walked over to Tai Cheong Bakery which is situated at Lyndhurst Terrace in Central 中環. This bakery is apparently a favourite of Chris Patten, the former British Governor of Hong Kong.
Besides egg tart, Tai Cheong is also famous for "Saa Yung" fried egg dough (沙翁) which is also known as Chinese donuts. The bakery also sell breads and pastries such as the coconut tarts, wife cakes, pineapple buns and hotdog rolls.
We bought a half dozen egg tarts. The egg tarts came packaged in a nice box which makes it a very presentable gift.
Close shot of the bright yellow egg custard 😉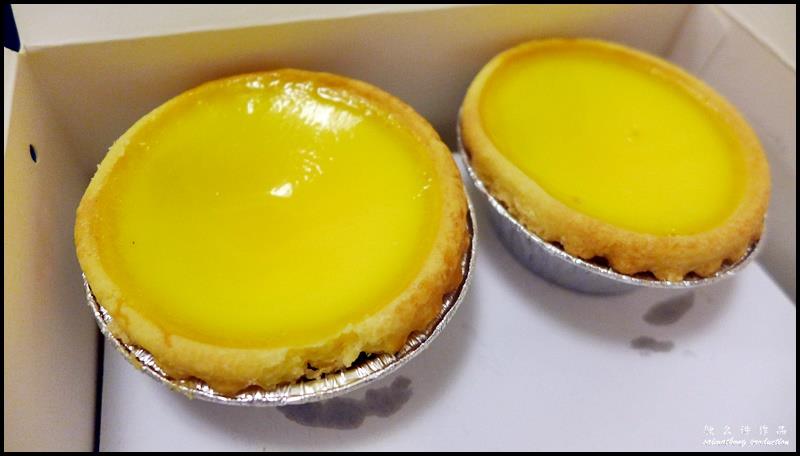 Tai Cheong Bakery Egg Tarts (泰昌餅家蛋撻)
The buttery crust is crumbly and it just melts in your mouth. The very creamy and velvety smooth custard is just perfect. As good as it is, I personally prefer Honolulu egg tarts coz of the flaky pastry but the wife on the other hand, absolutely adore these cookie-crust egg tarts. Also, the wife thinks Honolulu's egg custard are way too sweet while Tai Cheong's custard are just nice.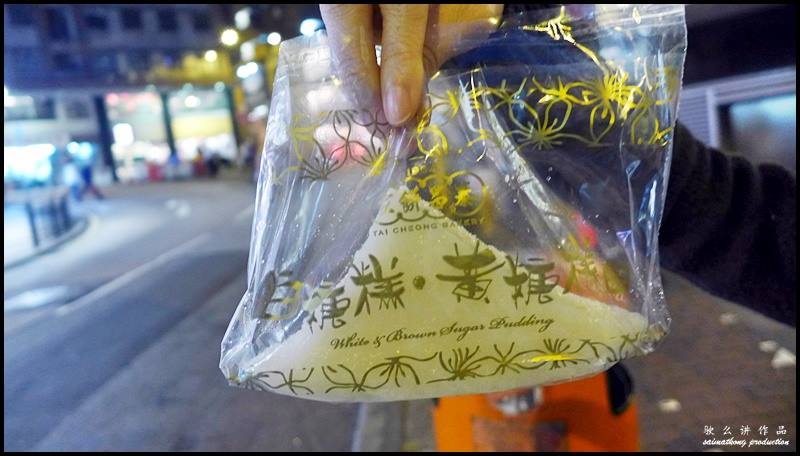 Steamed White Sugar Sponge Cake 白糖糕
We also bought a piece of Steamed White Sugar Sponge Cake or known as "Bak Tong Gou" in Cantonese to try cox it's on promotion. The wife loves it – one of her favorite childhood desserts.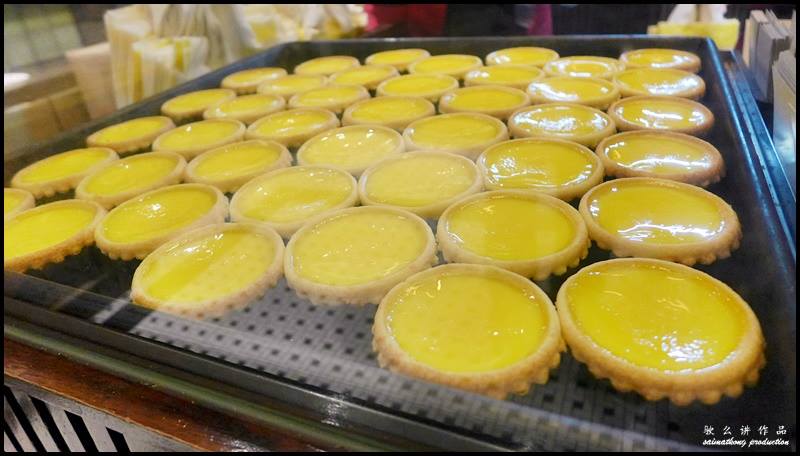 Verdict: Tai Cheong Bakery (泰昌餅家) is famous for its egg tarts. Their egg tarts are known to be one of the best in Hong Kong. Besides the creamy and velvety smooth custard, what truly make Tai Cheong's egg tart special and different from others is the cookie-crust base. Also, instead of normal flour, Tai Cheong uses almond flour giving the crust an amazing fragrance when it's served hot. So, do drop by Tai Cheong early to get the freshly baked egg tarts!
You can check out the full Hong Kong & Macau Travel itinerary here!
Tai Cheong Bakery (泰昌餅家)
Address: 35 Lyndhurst Terrace, Central, Hong Kong
中環擺花街35號地下
Tel: (852) 2544 3475
Opening hours: 7:30am – 9.00pm
Directions: Central MTR Station, Exit D2
—
Follow me on Facebook, Twitter, Instagram for more live updates!
Facebook : https://www.facebook.com/smartkong
Twitter : https://twitter.com/saimatkong
Instagram : http://instagram.com/saimatkong

Comments
comments